Monday 26th September 2011


A big second period set up an outstanding 6-4 victory for the Steelers against the Coventry Blaze on Saturday night.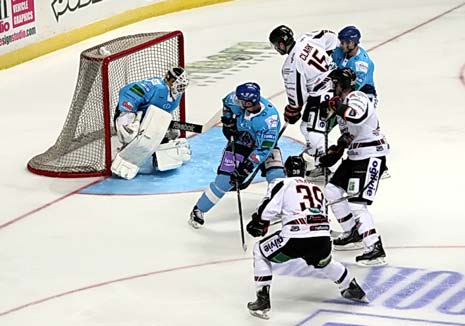 Sheffield Steelers' Clark, Ramsay and League go goal hunting

Neil Clark once again led the way with 2 goals and a 5 point night as his line with Jeff Legue and Mike Ramsay set the tone.



It was the Blaze though that struck first when Luke Fulghum scored the only goal of the first period in the 7th minute

.

Steelers came out the stronger in a dominant second session.

Ryan Finnerty's side scored 3 goals in just 7 minutes with strikes from Legue, Huttle and Ramsay - Neil Clark assisting on all three. Legue added a second, short handed, with only a minute to go in the period with the Blaze just having a second goal from Fulghum to show for their 20 minutes work.



Steelers looked like they had the game done and dusted when Clark scored at 41.23 but the Blaze battled back with two powerplay goals from Arron Nell and Owen Fussey.

Blaze coach Paul Thompson pulled his goalie in the final moments but the Steelers once again pounded and Neil Clark finished off another big night at the arena with his 2nd goal and 5th point.



Other scores on Saturday evening:


Belfast Giants 2-1 Nottingham Panthers

Brahead Clan 6-0 Dundee Stars

Cardiff Devils 4-2 Hull Stingrays



Coach Ryan Finnerty said, 

"Well we don't make it easy for ourselves do we" following the Steelers 6-4 victory over Coventry. "I will say one thing about this team though, we are never beaten and we find a way to win.

 I'm happy with a lot of things tonight but still say we have a long way to go, still say we have a lot to learn.

"At 5-2 the game should be over but somehow, we let Coventry back in and they make it 5-4. If it wasn't for some big saves from DeCaro in the final period, we may have thrown a point away

.

"The big plus was the big line again. Clark is getting open and finding himself in great positions. Legue has picked up with Ramsay just like he ended with Talbot. The three guys get one well and they play like their having fun. They work hard and from that good things come, and they did again tonight."
RECENT STORIES
BRAEHEAD CLAN 2, SHEFFIELD STEELERS 4. MATCH REPORT -
A 2nd period burst from the Steelers that saw them score 3 within the first 7 minutes cemented this win. More...
A SPLIT WEEKEND BUT STEELERS STILL IN CHALLENGE CUP -
The Sheffield Steelers' Challenge Cup hopes remained in place after a 2-1 home victory over the Hull Stingrays on Sunday evening. More...
DOUBLE WIN KEEPS DOUBLE ALIVE -
The Sheffield Steelers recorded two more wins over the weekend that kept their hopes of both league and challenge cup success. More...
STEELERS SHUT OUT THE BLAZE TO IN A 4 POINT WEEKEND -
The UNISON Sheffield Steelers moved into 2nd place in the league standings after a 4 point weekend with victories over Dundee and at Coventry More...
STEELERS 'BOUNCEBACKABILITY' KEEPS THEM IN THE CHALLENGE CUP -
The Unison Sheffield Steelers bounced back from a 3-0 defeat in Nottingham on Saturday to beat the Cardiff Devils 5-3 More...
STEELERS 2, PANTHERS 4. MATCH REPORT -
Sheffield Steelers disappointed a crowd of over 6,500 with a lacklustre performance against the Nottingham Panthers in the Challenge Cup. More...
HUGE WIN FOR THE SHEFFIELD STEELERS IN CARDIFF -
After coming from behind to tie the Blaze 2-2 in the Challenge Cup game on Saturday, Ryan Finnerty's beat Cardiff on Sunday extending their winning streak to 5 games. More...
IT'S ABOUT TIME WE WON THE CHALLENGE CUP - STEELER'S BULL DOG HEWITT -
The Unison Sheffield Steelers commence their Challenge Cup campaign this weekend with a home game against Coventry Blaze, Saturday More...
STEELERS CAPTAIN JONO UNDERGOES SURGERY -
Sheffield Steelers Captain Jonathan Phillips has undergone surgery to repair damaged knee ligaments. More...
NOW IT'S 3 OUT OF 3 FOR THE STEELERS! -
Steelers forward Neil Clark bagged another 2 goals as the Sheffield Steelers made it 3 wins out of 3 with a gutsy performance in Hull on Sunday evening. More...
2 OUT OF 2 FOR THE STEELERS -
The Steelers made it two wins out of two with a 4-1 home opening victory against the Dundee Stars on Saturday evening at the Motorpoint Arena. More...
CLARK GETS GREEN LIGHT FOR HOME OPENER -
Power forward Neil Clark is expected back in the Steelers line up for Saturdays home opener against Dundee Stars More...
A WINNING START FOR THE CHAMPIONS -
A very tight low scoring encounter to open the season in Belfast with the visiting Steelers taking the extra point thanks to a shootout win More...