Wednesday 16th November 2011


The Sheffield Steelers' Challenge Cup hopes remained in place after a 2-1 home victory over the Hull Stingrays on Sunday evening.

The win means that further victories against Coventry (10th Dec) and Cardiff (23rd Dec) will ensure a semi final place for Ryan Finnerty's side.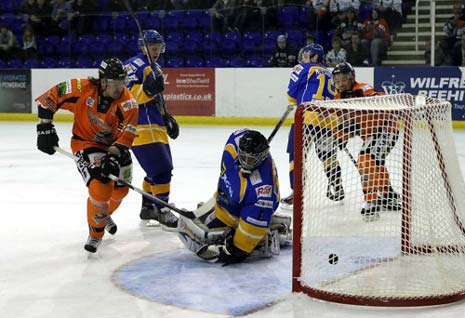 Colt King scores the first Steelers goal v Hull Stingrays

Steelers looked comfortable with a first period goal from Colt King doubled by a R G Flath strike in the middle session. The Stingrays hit back with a controversial goal at the end of the second period. It seemed like the puck was kicked in by Andrew McKinney but Referee Neil Wilson was unsighted and allowed the goal.

It meant an uncomfortable final period for the Steelers, knowing that only a victory would ensure semi final progression remained in their own hands.

Player assistant coach Ashley Tait said "That was more like the real Steelers. I thought we played well all night. We created many scoring chances, the score didn't really show the real story of the game. Hull were playing without any pressure and they played well, they competed and put us under the cosh for periods.

"We stood tall and I always felt were in control. The final period was nervous just because you know you can't concede. We knew that a win meant the cup hopes remaining in our own hands. You play a little tighter knowing that."

24 hours earlier the Steelers went down 1-0 to the Nottingham Panthers with David Clarke scoring the only goal of the encounter

Steelers Head Coach Ryan Finnerty thought the Steelers did enough to win the game and put much of the blame for not doing so on his own shoulders, "We took stupid penalties, especially in the middle period. We lost control. I lost control, both on the ice and in controlling my bench. How can I demand discipline off my players when I didn't show it myself. I let them, the team and myself down. I learnt a lot about coaching in those heated situations on Saturday and it won't happen again.

"When we arrived back in Sheffield, I gathered the team together for a meeting and I apologised to them. This was a game we should have won, we played so well when we were 5 on 5.

"The penalty killing took it out of us. You can't give Nottingham 7 or 8 power plays. They are always going to score if you keep giving them the advantage. Our penalty killers were amazing and to allow just the one power play goal was an incredible achievement."
Nottingham Next at Home on Sunday
The Steelers entertain the Nottingham Panthers on Sunday 20th November, face off 5pm.

The Steelers trial the Panthers by 4 points but do have 5 games in hand.

The Panthers have had the upper hand over the Steelers in the two Challenge Cup games and one league encounter so far this season losing all three games

Defenseman Chad Huttle believes that Sundays game will see a halt to the Panthers recent success, "The fist two games against Nottingham were a disaster," he says "On Saturday we were the better team. We dominated large passages of the play and we deserved to win. We just shot ourselves in the foot with the penalties. We knew walking back into the room that we had let a game go, let 2 points go. We also knew that we had put the Nottingham hoodoo behind us.

"Every player in our room knows we have enough to beat Nottingham. It's time we stopped telling people that though and started showing them on the ice. Sunday is a great opportunity to do that in front of our own fans. They will have doubts that we can beat Nottingham. I can tell you that there aren't any doubts inside our team."
RECENT STORIES
STEELERS FAIL THE PANTHERS TEST -
The Unison Sheffield Steelers suffered a reality check with back to back defeats in their festive games against arch rivals Nottingham More...
COACH HAILS 'CHARACTER WIN' -
Sheffield Steelers came back in dramatic fashion in Fife to claim two of the most unlikely points of the season. More...
RAMSAY STINGS THE STINGRAYS WITH OVERTIME WINNER -
Mike Ramsay scored the overtime winner 24 seconds into the extra period for the Steelers in Hull on Sunday to complete a 4 point weekend for Ryan Finnerty's men. More...
STEELERS SIGN D MAN TRUDEL -
The Steelers have moved quickly for defensive cover following the season ending injury to Rod Sarich by signing 28 year old Francis Trudel. More...
DISAPPOINTING END TO STEELERS' EUROPEAN JOURNEY -
Steelers ended their Continental Cup experience with a 6-3 defeat at the hands of Hungarian champions Dunaujveros Bull's. More...
"FRUSTRATED, DISAPPOINTED AND UPSET" FINNERTY -
Head coach Ryan Finnerty said he was frustrated, disappointed and upset after the Steelers 3-0 loss to Herning on Saturday evening. More...
STEELERS AWAIT CLARIFICATION ON ROD SARICH -
Rod Sarich spent time in hospital following the Steelers 3-2 victory against the Nottingham Panthers on Sunday night. More...
BRAEHEAD CLAN 2, SHEFFIELD STEELERS 4. MATCH REPORT -
A 2nd period burst from the Steelers that saw them score 3 within the first 7 minutes cemented this win. More...
DOUBLE WIN KEEPS DOUBLE ALIVE -
The Sheffield Steelers recorded two more wins over the weekend that kept their hopes of both league and challenge cup success. More...
STEELERS SHUT OUT THE BLAZE TO IN A 4 POINT WEEKEND -
The UNISON Sheffield Steelers moved into 2nd place in the league standings after a 4 point weekend with victories over Dundee and at Coventry More...
STEELERS 'BOUNCEBACKABILITY' KEEPS THEM IN THE CHALLENGE CUP -
The Unison Sheffield Steelers bounced back from a 3-0 defeat in Nottingham on Saturday to beat the Cardiff Devils 5-3 More...
STEELERS 2, PANTHERS 4. MATCH REPORT -
Sheffield Steelers disappointed a crowd of over 6,500 with a lacklustre performance against the Nottingham Panthers in the Challenge Cup. More...
HUGE WIN FOR THE SHEFFIELD STEELERS IN CARDIFF -
After coming from behind to tie the Blaze 2-2 in the Challenge Cup game on Saturday, Ryan Finnerty's beat Cardiff on Sunday extending their winning streak to 5 games. More...
IT'S ABOUT TIME WE WON THE CHALLENGE CUP - STEELER'S BULL DOG HEWITT -
The Unison Sheffield Steelers commence their Challenge Cup campaign this weekend with a home game against Coventry Blaze, Saturday More...
STEELERS 6 - COVENTRY BLAZE 4. MATCH REPORT -
A big second period set up an outstanding 6-4 victory for the Steelers against the Coventry Blaze on Saturday night. More...
STEELERS CAPTAIN JONO UNDERGOES SURGERY -
Sheffield Steelers Captain Jonathan Phillips has undergone surgery to repair damaged knee ligaments. More...
NOW IT'S 3 OUT OF 3 FOR THE STEELERS! -
Steelers forward Neil Clark bagged another 2 goals as the Sheffield Steelers made it 3 wins out of 3 with a gutsy performance in Hull on Sunday evening. More...
2 OUT OF 2 FOR THE STEELERS -
The Steelers made it two wins out of two with a 4-1 home opening victory against the Dundee Stars on Saturday evening at the Motorpoint Arena. More...
CLARK GETS GREEN LIGHT FOR HOME OPENER -
Power forward Neil Clark is expected back in the Steelers line up for Saturdays home opener against Dundee Stars More...
A WINNING START FOR THE CHAMPIONS -
A very tight low scoring encounter to open the season in Belfast with the visiting Steelers taking the extra point thanks to a shootout win More...