Friday 30th January 2015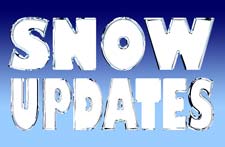 FRIDAY 30th JANUARY - 09:10
Due to the heavy snow yesterday and icy conditions through the day - it's likely that disruptions will occur over the next few days.

We have already received notification that some schools have closed today (Friday 30th January) and travel around the area may be tricky.

We will update our list of school, transport and service disruptions below, along with any news we get for any other cancelllations or delays.

However, if you work at a business that is closed - or have an event which is cancelled due to the severe weather - please let us know HERE and we will update it below.

Please take care though when you're out and about.


School Closures
Schools that we can confirm are either:
CLOSED, CHANGED OPENING TIMES or OPEN
ALL SAINTS INFANTS SCHOOL, MATLOCK - OPENS AT 10am
ALL SAINTS CE JUNIOR SCHOOL, MATLOCK - OPENS AT 10am
ARKWRIGHT PRIMARY SCHOOL - CLOSED
ASHGATE CROFT SCHOOL - CLOSED
ASHOVER PRIMARY SCHOOL - CLOSED
BARLOW CE PRIMARY SCHOOL - OPENS AT 9:45am
BAKEWELL CE INFANT SCHOOL - CLOSED
BARLOW PRE-SCHOOL - CLOSED
BARROW HILL PRIMARY SCHOOL - CLOSED
BIRK HILL INFANT SCHOOL - CLOSED
BRAMPTON PRIMARY SCHOOL - OPENS AT 10am
BRASSINGTON PRE-SCHOOL - CLOSED
BRIMINGTON MANOR INFANT & NURSERY SCHOOL - CLOSED
BRIMINGTON JUNIOR SCHOOL - CLOSED
BROCKLEY PRIMARY & NURSERY SCHOOL - CLOSED
BROOKFIELD SCHOOL - CLOSED
CAVENDISH JUNIOR SCHOOL - CLOSED
CHESTERFIELD COLLEGE - OPENS AT 10:30am
CHRIST CHURCH CE PRIMARY SCHOOL - CLOSED
CUTTHORPE PRIMARY SCHOOL - OPENS AT 10am
DARLEY CHURCHTOWN CE PRIMARY SCHOOL - CLOSED
DARLEY DALE PRIMARY SCHOOL - CLOSED
DEER PARK SCHOOL - OPENS AT 10am
DRONFIELD HENRY FANSHAWE SCHOOL - CLOSED
DRONFIELD JUNIOR & INFANT SCHOOLS - OPEN AT 10am
DUNSTON PRIMARY SCHOOL - CLOSED
ECKINGTON CAMMS ENDOWED CE PRIMARY SCHOOL - CLOSED
GILBERT HEATHCOTE SCHOOL - OPENS AT 9:30am
HASLAND HALL SCHOOL - OPENS AT 11am
HENRY BRADLEY SCHOOL - CLOSED
HIGHFIELD HALL SCHOOL - CLOSED
HOLMESDALE INFANT SCHOOL - CLOSED
LADY MANNERS SCHOOL - CLOSED
LEA PRIMARY SCHOOL - CLOSED
MARSH LANE PRIMARY SCHOOL - CLOSED
MARY SWANWICK PRIMARY SCHOOL - CLOSED
NETHERTHORPE HIGH SCHOOL - Reg at 9:45am, LESSONS AT 10am
NEWBOLD CE PRIMARY SCHOOL - CLOSED
NEWBOLD COMMUNITY SCHOOL - OPENS AT 9:25am
NORBRIGGS PRIMARY SCHOOL - OPENS AT 10am
PARKSIDE COMMUNITY SECONDARY SCHOOL - OPENS AT 9:55
POOLSBROOK PRIMARY SCHOOL - CLOSED
QUEEN ELIZABETH'S GRAMMAR SCHOOL - CLOSED
RENISHAW PRIMARY SCHOOL - CLOSED
ROWSLEY CE PRIMARY SCHOOL - CLOSED
St MARY'S RC HIGH SCHOOL - OPEN - LESSONS START AT 10am
St MARY'S RC PRIMARY SCHOOL - OPENS AT 11am
SHARLEY PARK PRIMARY SCHOOL - CLOSED
SHIREBROOK ACADEMY - CLOSED
SPRINGWELL COMMUNITY COLLEGE - CLOSED
TEMPLE NORMANTON SCHOOL - OPENS AT 10am
TIBSHELF COMMUNITY SCHOOL - CLOSED
TREASURES NURSERY, STAVELEY - CLOSED
TUPTON HALL SCHOOL - CLOSED
WIGLEY PRIMARY SCHOOL - CLOSED
WILLIAM LEVICK SCHOOL - CLOSED
WILLIAM RHODES PRIMARY SCHOOL - CLOSED
WOODTHORPE PRIMARY - OPENS AT 10am


All other local Schools seem to be OPEN at this time

Buses
Bus services are likely to be partial, not running to time, or even stopped today.

DETAILS TO COME

Check the Stagecoach website (CLICK HERE) regularly and on this page for any latest updated service information and check before you travel.

For more information please call Traveline 0871 200 22 33


Roads
Derbyshire Police are urging motorists to take extra care as snow continues to fall in parts of the county.

Officers working in the Peak District, Derbyshire Dales and Chesterfield areas have reported heavy snowfall and are asking drivers to only attempt journeys if essential. The following roads are currently closed:
A57 Snake Pass
A54/A537 Cat and Fiddle
A53 Axe Edge
Rushup Edge
Winnatts Pass
Monks Road, Torside
For the latest updates on road closures and gritting, visit the Derbyshire County Council website www.derbyshire.gov.uk
Chesterfield Business Closures
Let us know HERE if your Business is closed today due to the weather - and any details for people with appointments to contact you


Events Cancelled
Let us know HERE if your event, or one you are attending is reported closed or altered due to the weather.
OTHER STORIES
UK GAMBLING INDUSTRY ON THE RISE -
If you have taken a walk down one of the nation's High Streets in the past few years, you will have likely noticed the explosion of household-name bookies and betting shops, all occupying up-until-recently disused lots. More...
WAKE UP AND SMELL THE COFFEE! -
The nation's favourite coffee shop, Costa, is trialing a new service from April that lets customers nod off and have a power nap when they hit an afternoon slump. More & Video...
BUS FARE CHANGES FOR STAGECOACH CHESTERFIELD SERVICES -
Stagecoach confirmed today that it is introducing a number of changes to bus fares in Chesterfield. More...
HELP TO STOP THE 'QUIET' DANGER BLIGHTING OUR ROAD SAFETY -
Leading charity Guide Dogs has teamed up with Paralympian Libby Clegg to call on the public to back a change.org petition, to protect pedestrians from the dangers posed by quiet cars. More & Video...
ARE YOU THIS LADY'S 'GUARDIAN ANGEL'? -
The Chesterfield Post has been contacted by a couple who are looking for a 'Good Samaritan' who aided an elderly visitor to the town in adverse weather conditions. More...
VISIT CHESTERFIELD - AND WIN PRIZES! -
Visitors to Chesterfield town centre this week can win prizes in a series of competitions run by Chesterfield Visitor Information Centre. More...
EYE CANCER TEEN CUTS RIBBON TO OPEN NEW VISION EXPRESS STORE -
Vision Express has officially opened its new Chesterfield store with a local eye cancer survivor, who is a budding Olympian, cutting the ribbon. More...
MOTHER'S PRIDE! LOCAL LAD WINS PUB CHAIN'S MOTHER'S DAY COMPETITION -
A local schoolboy is celebrating after winning a competition run by a pub chain to design the logo for their all-important upcoming Mother's Day events. More...
LOCAL JEWELLERS HAS DESIGNS ON REPAIRS AS WORKSHOP OPENS -
The Mayor and Mayoress of Chesterfield were in attendance on Monday morning to open a new phase in the life of local jewellery shop, Green+Benz. More...
STUDENTS PLEDGE 'NEVER AGAIN' FOR HOLOCAUST MEMORIAL DAY -
Chesterfield College hosted a moving and emotional Holocaust Memorial Day event yesterday, to mark the 70th Anniversary of the liberation of Auschwitz. More...
STAVELEY DEPARTMENT STORE GETS A MAKEOVER AND RE-OPENS -
The Original Factory Shop is investing in Staveley, as its store undergoes a major makeover to make the shopping experience for the people of Chesterfield even better. More...
SNOW UPDATES. A LIST OF SCHOOLS, BUSES AND OTHER SERVICES AFFECTED -
The snow has arrived- and it's likely that disruptions will occur for at least today. Updated Regularly. More...
BBC's ANTIQUES ROADSHOW TO VISIT BOLSOVER CASTLE THIS SUMMER -
BBC ONE's ever popular Sunday evening programme, Antiques Roadshow, will be filming for its 38th series in the grounds of English Heritage's Bolsover Castle, on Thursday 9th July. More...
HOLOCAUST SURVIVOR TO SPEAK AT CHESTERFIELD EVENT -
A Holocaust survivor is to speak at an event in Chesterfield to mark Holocaust Memorial Day. More...
PM ANNOUNCES HUGE BOOST FOR TOURISM AND UP TO 1,300 JOBS IN CHESTERFIELD -
A £400 million tourism development that will bring more than 1,300 jobs to Chesterfield has been welcomed as a further sign of the borough's economic strength. More...
NEDDC ANNOUNCE NEW ALDI STORE SET FOR ECKINGTON -
Eckington is set for a regeneration boost as North East Derbyshire District Council has given approval for a new Aldi store to be built in the town. More...
CHESTERFIELD BORN ARTISTS LEAD THE LOCAL NEW YEARS HONOURS LIST -
Two people from Chesterfield are amongst those granted honours by The Queen in her 2015 New Year's Honours list. More...
CHESTERFIELD
ROADS AND PUBLIC TRANSPORT UPDATE AS SNOW ARRIVES -
Despite the glorious sunny weather today (Saturday 27th December), there is still road and public transport disruption in Chesterfield and Derbyshire. More...
APPLICATION IS SUBMITTED FOR NEW RETAIL SITE IN CLAY CROSS -
The regeneration of Clay Cross, Derbyshire, has taken a step forward as the owner of a 204 acre site, St. Modwen, has applied for planning consent for a 21,500 sq ft discount food store and restaurant on the A61. More...
47 NEW JOBS ARE AN EARLY CHRISTMAS PRESENT AT MARKHAM -
A new family pub and restaurant development has opened on Derbyshire County Council's flagship regeneration site in time for Christmas bringing 47 jobs to the area. More...
SANTA REALLY IS IN 'WONDERLAND' IN ECKINGTON THIS CHRISTMAS -
Santa is not just living next door to, but living with, Alice In Wonderland in Eckington. More...
EVERY CAMPAIGNER HELPS!
TESCO BACKS DOWN IN PUB TAKE OVER -
Celebrations tonight after it was confirmed that Tesco are no longer planning to turn the Crispin Pub into a Tesco Express. More...
CAN YOU HELP FIND THE CHESTERFIELD FAMILY OF A YOUNG WWI SOLDIER? -
We have received a letter from Australia, asking readers of The Chesterfield Post for their help in tracing the family, possibly from Staveley, of a young soldier killed in action. More...
ICONIC CHESTERFIELD CHURCH 'BRANCHES OUT' TO CELEBRATE COMMUNITY -
The most iconic church in Chesterfield is 'branching out' in the community this Christmas, with visitors flocking to the newest exhibition in the town - and organisers saying they are humbled by its success. More...
LIFE IS STILL SWEET FOR CHESTERFIELD APPRENTICE FIRED
BY LORD SUGAR -
Lord Sugar, condemned Chesterfield lad James Hill to a week 8 exit from the BBC1 flagship show 'The Apprentice' earlier this evening. James spoke with the Chesterfield Post
More & Audio...
'STRICTLY' FESTIVE
AS CHESTERFIELD'S CHRISTMAS LIGHTS ARE SWITCHED ON -
The stage was set for the festive season in Chesterfield yesterday as thousands packed into New Square to celebrate the switching on of the Christmas lights by stars of this year's panto and local dignitaries (oh, and Santa himself!).
More & Video...
'MOST WANTED'
MARK LEESON
OPENS NEW SALON
IN CHESTERFIELD -
The Mayor and Mayoress of Chesterfield attended the opening of the salon of a Global hairdressing icon - and local lad - who has now opened a salon in the town, bringing not only his famous brand, but several jobs.
More & Audio...
CHESTERFIELD PHOTOGRAPHER SHORTLISTED FOR NATIONAL AWARD -
Bryn Graves, a professional photographer from Staveley in Chesterfield, has been shortlisted for a prestigious national award in the 5th annual EEF/Lombard 'Make it Britain' photography competition. More...
TOWN 'STEELS' ITSELF DURING 'MADE IN CHESTERFIELD' WEEK -
The unveiling of a new sculpture kicked off an entire week dedicated to celebrating the town's manufacturing heritage, with help from apprentices and students from Parkside School. More...
LAUNCH FOR CHESTERFIELD'S LATEST LANDMARK - 'GROWTH' -
Chesterfield's latest landmark, 'Growth', the sculpture at Hornsbridge Island, has been officially launched.
More & Audio...
TRIBUTES PAID TO ESA CENTRE IN CHESTERFIELDS TWIN TOWN OF DARMSTADT-
Tributes paid to the efforts of scientists at the ESA, in Chesterfield's twin town of Darmstadt, as they analyse and celebrate the success of the Rosetta Mission More...
"WE HAVE REMEMBERED THEM" CHESTERFIELD HONOURS THE
FALLEN -
On the 11th hour, of the 11th day of the 11th month, Chesterfield, as it always does, fell silent to honour and remember those who have fallen in conflicts recent and past.
More, Audio & Video...
CHESTERFIELD TOWN TAKES PRIDE IN REMEMBERING -
They came to remember, Chesterfield's veterans shared their private memories of war on the most public of occasions - Remembrance Sunday More, Audio & Video...
LOCAL CHESTERFIELD VETERAN TO MARCH AT THE CENOTAPH IN LONDON -
A registered blind ex-soldier from Derbyshire will be remembering friends and family killed in action when he takes part in the Remembrance Sunday march to the Cenotaph with Blind Veterans UK. More...
CHESTERFIELD REMEMBERS THE DEAD -
Chesterfield residents will come together to remember those who have died in conflicts since 1914. More...
CHESTERFIELD CHURCH AND ROTARY CLUB JOIN FORCES TO SELL POPPIES -
Chesterfield's Church of Jesus Christ of Latter-day Saints along with members of the Rotary Club, have joined forces to sell poppies for the poppy appeal. More...
NEW ROC CAFE IN CHESTERFIELD HELPS YOUNG PEOPLE OFF THE STREETS -
A local drop-in centre, at Grace Chapel, has recently been made a ROC Cafe for the work it does within the community. More...
'COMPUTER SAYS YES' IN CHESTERFIELD JOBCENTRE -
Old-fashioned 'signing-on', job cards in windows, and Full Monty-style dole queues have been consigned to the past as Chesterfield Jobcentre is among those to undergo a digital revolution. More...
THE LARGEST FALL
IN UNEMPLOYMENT FIGURES SINCE RECORDS BEGAN -
Unemployment has seen the largest annual fall since records began over 40 years ago. More...
CHESTERFIELD APPRENTICE SCOOPS FOUR NATIONAL AWARDS -
An auto-electrician apprentice from Chesterfield has been recognised as one of the best in the country after scooping four awards at a national ceremony. More...
"ALL ABOUT LOVE!" CHESTERFIELD UNVEILS NEW CANNELE TWIST RING-
An award-winning designer was at a Chesterfield jewellery store on Saturday - showcasing his range of statement pieces and unveiling his Cannele twist engagement ring.
More...
FUNERAL PLANS FOR DOWAGER DUCHESS OF DEVONSHIRE ARE ANNOUNCED -
It's been announced that the funeral service for Deborah, Dowager Duchess of Devonshire will be held at 12 noon, at St Peter's Church, Edensor on Thursday 2nd October 2014. More...
POSSIBLE STRIKE ACTION MAY HIT
TRAIN SERVICES
THIS WEEKEND -
Chesterfield train commuters may face a week of disruption to services as East Midlands Trains' engineering and maintenance staff will strike unless an agreement can be reached More...
BOROUGH COUNCIL SCHEME TO HELP FIRST TIME BUYERS
IS EXTENDED -
A scheme to get house buyers in Chesterfield on the first step of the property ladder is being extended so applicants can buy homes costing up to £150,000. More...
POUNDLAND DOUBLES IT'S VALUE AS NEW STORE OPENS IN CHESTERFIELD -
Poundland, Europe's biggest single price discount retailer, will be opening a second store in Chesterfield on Ravenside Retail Park on 27th September - creating 30 jobs for the local community. More...
DEBORAH, DOWAGER DUCHESS OF DEVONSHIRE DIES, AGED 94 -
Chatsworth has announced that Deborah, Dowager Duchess of Devonshire passed away this morning, Wednesday, September 24th. More...

STAGECOACH BUS DRIVERS BIDDING FOR PASSENGERS VOTES TO WIN STAR TITLE -
Bus passengers in Chesterfield are being encouraged to vote for their favourite driver and be in with a chance of winning a top prize. More...
TV STAR VISITS THE PROACT STADIUM
AND TALKS UNKNOWN QUANTITIES -
Jesse McClure, star of Storage Hunters - currently airing on satellite channel Dave - was in town on Friday visiting the PROACT stadium More & Audio...
CASA ADDS UNIQUE WEDDING SPLENDOUR AT WALTON LODGE AND WEDDING FAYRE-
Casa Hotel is adding a further string to its wedding bow by offering weddings at the captivating Walton Lodge as well as staging their own Autumn Wedding Fayre on Sunday 21st September. More...
HIGHWAYS AGENCY WANT YOUR VIEWS
ON PLANNED M1 IMPROVEMENTS -
The Highways Agency has said it is planning to undertake improvements to the M1 through delivering a smart motorway between junctions 28 to 31 and between junctions 32 to 35a. More...
CLARENCE HOUSE ANNOUNCE A NEW ROYAL BABY IS ON THE WAY! -
It's been announced this morning that HRH The Duke and Duchess of Cambridge are expecting their second baby. More...
JEWELLERY DESIGNER PAYS HOMAGE TO HER DERBYSHIRE ROOTS -
One local designer, who says the hills and landscapes of her home county - Derbyshire - provides inspiration for her unique creations, is now showcasing her wares in Chesterfield More...
INQUEST RESPONSE TO INSPECTION REPORT ON HMYOI HINDLEY -
The Chief Inspector of Prisons has today published an inspection report on HMYOI Hindley that notes, despite 'significant improvements', Hindley was 'still struggling to keep some of the boys it held safe'. More...
CHESTERFIELD ARMY CADET PASSES OUT FROM SANDHURST MILITARY ACADEMY -
A young cadet from Chesterfield has joined around 200 fellow graduates in a prestigious ceremony as she passed out from the Royal Military Academy Sandhurst More...
'FARM TO FORK' ROADSHOW HITS CHESTERFIELD'S TESCO EXTRA -
Tesco customers are being invited TODAY (Friday, 125th August) to the Chesterfield Tesco Extra store at Lockoford Lane, for a 'Farm to Fork' roadshow. More...
THE SHORTLIST FOR THE 2014 FOOD AND DRINK AWARDS IS ANNOUNCED -
24 food and drink businesses have been shortlisted across nine categories in the 2014 Chesterfield Food and Drink Awards, organised in association with Chesterfield College - headline sponsor of the awards for the second year running. More...
FLOODING AND ROAD COLLAPSE CHAOS FOLLOWING HEAVY DOWNPOURS -
Chesterfield was once again left struggling with flooding at major junctions into the town tonight following heavy rain in the early evening. More...
NEW MARKHAM DEVELOPMENT BRINGS FURTHER JOBS BOOST -
A new family pub and restaurant development is to open on Derbyshire County Council's flagship regeneration site bringing 40 jobs to the area. More...
LOCAL MCDONALD'S VOLUNTEERS CLEAN UP CHESTERFIELD SKATE PARK -
Local McDonald's franchisee, Walter Wright and crew from the two restaurants in Chesterfield joined forces to tackle litter in the local skate park situated in-between the two restaurants. More...
DERBYSHIRE COMPANIES URGED TO EXPLORE OMAN AND QATAR -
Forward-thinking local companies are being urged to make the most of business opportunities in some of the fastest growing areas in the world, as export body UK Trade & Investment (UKTI) launch a high profile market visit to Oman and Qatar. More...
HAVE WE GOT A HANDLE ON ONLINE GAMBLING? (GUEST ARTICLE) -
With the World Cup finally ended, sports betting and online gambling in general has been making the headlines for more than a few reasons recently. More...
COUNCILLORS CAMPAIGN FOR
SAFER EXIT FROM WHITTINGTON STORE -
Cllrs David and Paul Stone have been campaigning on behalf of local residents for a clearer and improved view of passing vehicles when cars are exiting the Tescos Store on the High Street at Whittington. More...
NEXT STOP, AWARD WINNING APPRENTICESHIP PROGRAMME -
Three talented young people are being given the opportunity to join one of the transport industry's leading engineering apprenticeship programmes. More...

CHESTERFIELD TURNS OUT TO WELCOME HOME THE LANCERS -
The 9/12th Lancers, marched through Chesterfield this morning as part of their homecoming parade after returning from an eight month tour of duty in Afghanistan.
More, Pics & Audio...
CHESTERFIELD SOLDIER READY TO PARADE THROUGH HER HOME TOWN -
Soldiers from the 9/12th Royal Lancers (Prince of Wales') are looking forward to marching through the streets of Chesterfield tomorrow - Thursday, 3rd July More...
NEW FOOTBRIDGE IS OPENED AT CHESTERFIELD CANAL FESTIVAL -
The new Constitution Hill Footbridge, built over Chesterfield Canal in Staveley has been officially opened More...