One of the more fun events the Mayor and Mayoress have taken part in recently was attending Chesterfield's Medieval Market.

The weather was great and the Town was filled with not only local residents but many hundreds of visitors from all over the country. The whole market area was filled with charity stalls where every one was dressed in medieval costumes.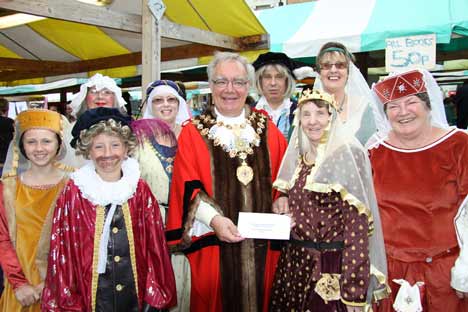 Pictured (l to r): Bethany Thompson, Jeanette Hamer (Mop Cap), Nathan Hamer, The Mayoress, The Mayor, Shaun Hamer, the Winner with her crown - Barbara Wallace, Geryon Bagshaw (Lady in Green), Kathryn Thompson.

The Mayor and Mayoress had to choose the winning stall which was Barbara Wallace for the Nenna Kind Centre's Stall(Chesterfield Cancer Drop In Centre).
RECENT STORIES
MAKING LIFE BETTER FOR LOCAL
CHARITIES -
A local supermarket is making life better for local charities as it undergoes a major refurbishment of its premises. More...
NEW LOCAL CHARITY LAUNCHES -
A new charity 'Embracing Life', has opened in Chesterfield, aiming to provide an opportunity for carers, and family members of local residents affected by long term and debilitating illnesses. More...
NEW BASE FOR CHESTERFIELD CHARITY -
A major charity in Chesterfield that provides help, support and advice for elderly people in the town has moved into new premises. More...
COULD YOU BE A GOOD SAMARITAN? -
"We're the listening ear"... That's Wendy, volunteer with Chesterfield Samaritans, talking about the Charity's work and how it's there for the people of Chesterfield on a daily basis. More...
CAN YOU GIVE A DOG (OR KITTEN) A HOME? -
Chesterfield RSPCA is asking for your help in re homing dogs (and kittens) like this one. More...