Friday 1st October 2010
Matlock boss Mark Atkins laid the blame for his side's second defeat of the season firmly at the door of Mansfield referee Mark Jones after Chasetown edged a seven-goal thriller at the Reynolds Stadium on Tuesday night.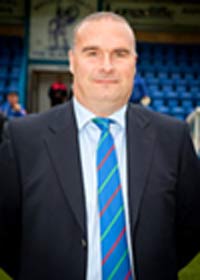 "I've been involved in the game now for twenty five years and I can quite easily say that's the worst refereeing performance I've ever seen." Atkins blasted.
Jones left the field to a chorus of boos after denying the Gladiators what looked to be one definite and one possible penalty, disallowing what again looked to be two legal headed goals from Dene Cropper and Colin Marrison, and ignoring a foul challenge in the build up to Chasetown's second goal.
Atkins visited the official's dressing room to discuss the incidents after the match and was not impressed with the explanation he received.
"I can't and don't want to say too much about what was said. For one I don't want to get into trouble and we may take things further. What he did say didn't make sense. We've been summoned to managers meetings to discuss refereeing and other issues. Neale Barry, a former Premiership referee talked to us about what is expected from referees at this level, but the one tonight in my view and in just about everyone that was here at the match was well below standard.

" Big decisions can cost you the game and they did for us tonight. We had two perfectly good goals disallowed. That could cost us the league or a place in the play offs at the end of the season. The two disallowed goals changed the complexion of the game with Chasetown scoring more or less straight after the first one and then the second one would have put us 3-2 ahead and in a great position to go on and win the game. Then we should have had a free kick in the build up to their second goal. Again, it's cost us."
Atkins said he praised his players for their performance afterwards.
"That was our best attacking ninety minutes all season. Their keeper's played ever so well. The desire levels from everyone were excellent. We passed the ball very very well. I've told them that I cannot fault their effort and they must take that performance without the result into the games which lie ahead."
Looking ahead


Matlock will be hoping for better luck when they visit table topping Northwich Victoria on Saturday. But the Vics will be smarting from a shock 2-1 FA Cup 2nd Qualifying Replay home defeat by Evo-Stik First Division South Sheffield on Tuesday.
"It'll be a tough game, for they're not top of the league for nothing, but we'll go there looking to express ourselves just as we've done tonight, work hard and do our level best to come home with the points."
Atkins says there are a few 'knocks and bumps' in the Town camp but he expects everyone to recover for the weekend, including striker Nathan Joynes who sat out the Chasetown defeat through food poisoning.
"Dene Cropper has come in for his first start and we have to be careful with him because of his knee. We thought if we could get sixty or so minutes off him we'd be pleased, but he's been on for more like seventy five. He's won his headers, led the line well and been a constant danger, he was excellent." said Atkins.


FA Cup



Matlock have a clear midweek ahead of their home FA Cup tie with Eastwood Town on Saturday week after hearing that their scheduled Tuesday night opponents Worksop Town have a Sheffield and Hallamshire Senior Cup tie at Brodsworth on Wednesday.
Kris Bowler scored the only goal of the Gladiators 2nd Qualifying Round win at Carlton to set up a third successive tie against Nottinghamshire opponents in this season's competition. Eastwood needed a 3-1 replay win at Stafford Rangers to make it through to a date at the Reynolds Stadium.
"We've got a home draw so we've got to be pleased with that. We'll go into the tie as underdogs, Eastwood are in Blue Square North with some good players but I've seen them a few times and we're looking forward to the tie."
Matlock made rather heavy weather of eliminating a Carlton side managed by ex Gladiators full back Les McJannett and including their former midfielder Curtis Shaw. They should have been out of sight instead of just one goal to the good at the interval, given their dominance. But the Millers fought back in a more even second half and staged a late rally after Colin Marrison's sending off.
This time Atkins had no complaints with the referee's decision.
"The referee got it right, Colin shouldn't have reacted in the way he did after being belted in the face himself. He lost his head and he'll learn from this. We should have put the game to bed by half time. We scored the goal but then lacked composure in anround their penalty box. To be fair Carlton made more of a go of it in the second half. Adam Sollitt saved well and they had the shot that hit the post but I never thought we'd not win it. I always felt comfortable."
Atkins also revealed that the Gladiators have put seven days notice in on an attacker and he hopes to have an answer by the weekend.
The Gladiators two outstanding league fixtures have been rearranged. They will visit Nantwich Town on Tuesday October 19 and host Worksop on Tuesday November 16.
IAN RICHARDSON
RECENT STORIES
GLADIATORS BATTLE ARCTIC CONDITIONS -
Matlock Town boss Mark Atkins fears that his side could face a big fixture backlog as the arctic conditions bit into the Evo-Stik League fixture programme this week. More...
BACK TO WINNING WAYS -
Manager Mark Atkins was pleased and relieved that defensive errors failed to rear up again as Matlock recorded two 3-0 home wins inside a week More...
GLADIATORS
FIGHT ON -
Without a win in five games, Matlock Town will be desperate to grab maximum points against second placed Colwyn Bay on Saturday. More...
ATKINS: GIVING CHEAP GOALS AWAY MUST STOP -
Matlock boss Mark Atkins says his side must stop giving cheap goals away after their second 2-1 home defeat in four days. More...
MILESTONE APPEARANCE FOR GLADIATORS PLAYER -
There's two very good reasons why Matlock Town will want Saturday's visitors Hucknall Town to feel the backlash More...
GLADIATORS FIGHT BACK AFTER 1st AWAY DEFEAT OF THE SEASON -
Mark Atkins will be looking for his Matlock side to bounce back quickly and positively from their first away defeat of the season against Worksop More...
YOU CAN'T KEEP A GOOD MAN DOWN -
They say you can't keep a good man down... Matlock striker Ross Hannah has certainly proved the point this last week. More...
NEW STAND IN ACTION AT MATLOCK -
It's taken 10 years and a mammoth fundraising effort - but Matlock Town Football Club's new 300-seater stand is now providing a welcome home for supporters. More...
WILL HISTORY REPEAT ITSELF? -
Matlock will travel to the Bill Stokeld Stadium hoping history repeats itself this weekend as they take on Evo Stik League first Divison South Carlton Town in the 2nd Qualifying Round of the FA Cup. More...
TOP OF THE LEAGUE - Two wins in forty-eight hours placed Matlock Town on top of the league as they embark on their latest FA Cup adventure on Saturday at home to fellow Evo-Stik Premiership side Worksop Town. More...
NO EXCUSES -
Matlock boss Mark Atkins offered no excuses after a disappointing Bank Holiday return of just one point out of six. More...
MORE TO COME -
"I feel there's more to come from us." declared Matlock boss Mark Atkins after his side strengthened their Evo Stik League Premier Division campaign with a 3-0 win against Burcough. More...
RARING TO GO -
"The lads are raring to go" was the message from Matlock Town boss Mark Atkins after a long pre season programme of seven weeks and nine matches. More...

Related Links