Friday 19th November 2010
by Ian Richardson

Without a win in five games stretching over a month, Matlock Town will be desperate to grab maximum points against second placed Colwyn Bay at the Reynolds Stadium on Saturday.

Since the home victory against Ossett Town on October 23rd, the Gladiators have suffered three successive 2-1 league defeats against Worksop, Hucknall and lastly league leaders FC Halifax Town on Tuesday, and lost a home FA trophy replay to Kendal Town, also by a 2-1 scoreline, after grabbing a 1-1 draw in the first game.

Matlock are now down in 12th spot, still handily placed for a play off assault given their games in hand, but the pressure is now building to win those spare matches.

Manager Mark Atkins and his assistant Mark Haran are united in saying that defensive errors are holding them back and that the margin between success and failure for their side is a very thin one.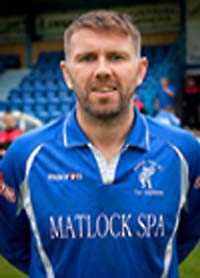 Haran, pictured left, who saw a specialist yesterday (Thursday) to assess the extent of a cruciate ligament injury that could keep him out for some time, believed that Matlock could easily have got some reward from the Halifax game.

"Individual errors are killing us and they've got to stop. Then when we scored we were right back in it, they were rocking and I could only see one winner. But then Fez (Lee Featherstone) gets himself sent off, you can't defend what he did and he knows it, but I also feel we're not quite getting the rub of the green as well."

Atkins was generally pleased with the performance that needed to be strong against the likely future champions.

"Overall I thought we put in an excellent performance" said Atkins. "We showed great determination and we had to in that first half, and then we played some great football and created some very good chances. I felt we did enough to deserve at least a point.

"The one disappointment, apart from the sending off, is that both goals should have been stopped. Adam Sollitt should have come out and claimed the ball for their first goal and Lee Featherstone didn't clear his lines for the second. We've shot ourselves in the foot again.

"It's individual mistakes that have cost us in each of the last five games, there's not a lot you can do about that unless you start changing the players, but we can take heart from the performances of the players and their desire levels against a side who without doubt will win the league, or put it another way, if anyone does finish above them well they'll win it.

"At present, there's a very small margin between winning and losing for us. In the last two home games the goalkeeper's been the opponents man of the match, but it comes back to the fact that the recipe for losing football matches is giving bad goals away. As a unit I feel we can compete with any team".
Matlock's relatively small squad is likely to be stretched in the coming weeks, not only from Haran's probable lengthy lay off, but through knee injuries also to Danny Wood and Kris Bowler, plus a three match ban for Featherstone which will be due to start the week after next.
"I'm hoping we might have Woody and Kris back to play some part against Grantham in the League Cup on Tuesday night" Atkins admitted. "As for Mark Haran, we'll just have to wait to see what the specialist says, but it doesn't look good for him at the moment.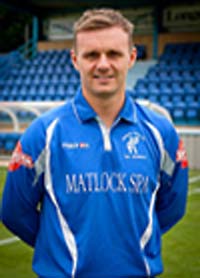 "Lee Featherstone's (pictured left) sending off probably cost us the game on Tuesday. I can't condone it, I don't like it from my team or any other, so there'll be no backing for him for doing that. It does mean that we're short of another body for three games.

"People are playing out of position as it is with Liam King, doing splendidly filling in at full back, and Lee Morris doing well in midfield. We're filling gaps. We'll probably need a few more bodies in but at the right price and they've got to be better than what we already have at the football club."

Atkins was considering signing a defender ahead of last weekend's postponed visit to Bradford Park Avenue when water lying on the Horsfall Stadium pitch led to the match being called off shortly before lunchtime.

"We had a chat and decided against it this time as we felt we had players able to cover and we've also a budget we need to stick to" Atkins revealed. "But it's not out of the question that new faces could arrive but at the right deal for us."

The Gladiators boss remains far from downhearted in spite of the present barren run.

"In my team talk, I told the players we needed to get a good performance from them and we did on Tuesday. It's a matter of giving 100% in every game and I'm sure the results will come.

"If we'd played any other tem than Halifax, we'd have probably won. Colwyn Bay will be a tough game, we want that type of performance again without the errors and we want it in every game. Our desire levels have got to be bang on."


UPCOMING FIXTURES:

Saturday 20th November - Colwyn Bay (H)
Evo-Stik League Premier Division, K.O. 3.00pm

Tuesday 23rd November - Grantham Town (H)
Evo-Stik League Challenge Cup, K.O. 7.45pm

Saturday 27th November - Marine (A)
Evo-Stik League Premier Division, K.O. 3.00pm
RECENT STORIES
MATLOCK TOWN SEEKS INVESTORS -
"A few thousand pounds could make a real difference to the club". That's the message from Matlock Town Football Club. More...
ALL CHANGE FOR THE GLADIATORS -
Fans shouldn't be surprised to see a couple of changes to the Matlock Town team that takes on Marine at the Reynolds Stadium on Saturday More...
KEEP IT UP -
Having won four out of their last five league matches, Mark Atkins' Matlock Town now find themselves up in third spot, More...
FLU HITS MATLOCK CAMP -
Matlock boss Mark Atkins rose from his sick bed on Monday to orchestrate a vital home win against Burscough, and then was back in it straight after the match. More...
ATKINS, "2010 HAS BEEN A GOOD YEAR" -
...but the Gladiators' fate in 2011 could be decided on how they cope with fixture congestion in what is expected to be a crowded end to the campaign. More...
PROVERBIAL 'SIX POINTER' -
Matlock Town v Buxton on Christmas Monday at the Reynolds Stadium looks to be the proverbial six pointer as the local rivals seek a play off spot More...
GLADIATORS BATTLE ARCTIC CONDITIONS -
Matlock Town boss Mark Atkins fears that his side could face a big fixture backlog as the arctic conditions bit into the Evo-Stik League fixture programme this week. More...
BACK TO WINNING WAYS -
Manager Mark Atkins was pleased and relieved that defensive errors failed to rear up again as Matlock recorded two 3-0 home wins inside a week More...
ATKINS: GIVING CHEAP GOALS AWAY MUST STOP -
Matlock boss Mark Atkins says his side must stop giving cheap goals away after their second 2-1 home defeat in four days. More...
MILESTONE APPEARANCE FOR GLADIATORS PLAYER -
There's two very good reasons why Matlock Town will want Saturday's visitors Hucknall Town to feel the backlash More...
GLADIATORS FIGHT BACK AFTER 1st AWAY DEFEAT OF THE SEASON -
Mark Atkins will be looking for his Matlock side to bounce back quickly and positively from their first away defeat of the season against Worksop More...
YOU CAN'T KEEP A GOOD MAN DOWN -
They say you can't keep a good man down... Matlock striker Ross Hannah has certainly proved the point this last week. More...
NEW STAND IN ACTION AT MATLOCK -
It's taken 10 years and a mammoth fundraising effort - but Matlock Town Football Club's new 300-seater stand is now providing a welcome home for supporters. More...
MATLOCK GAFFER BLASTS REFEREE -
Matlock boss Mark Atkins laid the blame for his side's second defeat of the season firmly at the door of Mansfield referee Mark Jones. More...
WILL HISTORY REPEAT ITSELF? -
Matlock will travel to the Bill Stokeld Stadium hoping history repeats itself this weekend as they take on Evo Stik League first Divison South Carlton Town in the 2nd Qualifying Round of the FA Cup. More...
TOP OF THE LEAGUE - Two wins in forty-eight hours placed Matlock Town on top of the league as they embark on their latest FA Cup adventure on Saturday at home to fellow Evo-Stik Premiership side Worksop Town. More...
NO EXCUSES -
Matlock boss Mark Atkins offered no excuses after a disappointing Bank Holiday return of just one point out of six. More...
MORE TO COME -
"I feel there's more to come from us." declared Matlock boss Mark Atkins after his side strengthened their Evo Stik League Premier Division campaign with a 3-0 win against Burcough. More...
RARING TO GO -
"The lads are raring to go" was the message from Matlock Town boss Mark Atkins after a long pre season programme of seven weeks and nine matches. More...

Related Links