Thursday 30th December 2010
by Ian Richardson

Matlock boss Mark Atkins reckons 2010 has been a good year. The Gladiators' fate though in 2011 could be decided on how they cope with fixture congestion in what is expected to be a crowded end to the campaign.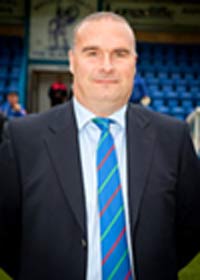 He believes that he has a stronger side than at this time twelve months ago, but still says that the depth in the squad could be an issue.

2010 began with three successive league defeats and by the time they were due to host Kendal Town on February 6th, Matlock were in the relegation zone.

But a 3-0 victory was the start of a run of impressive results that saw them finish in a healthy seventh spot and beat Belper Town in the Derbyshire Senior Cup at Pride Park. This term has seen their hopes of retaining the trophy disappear following a 2-1 defeat to Glapwell, but Town lie in a highly respectable sixth spot in spite of only playing sixteen league fixtures and they look well placed for an assault on the end of season play offs.
"It's been a good year for we've won a lot of games and improved as a team" Atkins remarked. "Our squad is far better than it was at the start of the year. We've improved over the year which is good and I'm very pleased with our efforts. That said, we can still do more and I feel there's more in the tank for us to progress further."

Atkins reflected on two memorable games in 2010.

"Winning the Senior Cup at Pride Park was obviously a highlight, we had a great day out down there. Beating Bedworth 10-0 was also very special, as you don't see that kind of scoreline too often. But there's been lots of games where the lads have worked hard and that's pleasing for they're putting into practice what we've been telling them."
Looking forward to 2011, Atkins wants more of the same, but he acknowledged that the depth of his squad could be a problem.

"The rest of the season is likely to be difficult given the amount of games we've got to play with our small squad," he conceded. "That's why it's important that we win as many games as we can in the next ten to fifteen as the season might take its toll on us. If we can stay injury free and have the rub of the green then there's no reason why we shouldn't remain in the top six and be looking for a play off position, but it's not often that you go into the new year having played only sixteen games."

2010 ended in familiar fashion as Monday afternoon's home derby against Buxton was frozen off.

2011 begins with another derby at Mickleover Sports on New Years Day before Burscough are the scheduled first visitors of the new year to the Reynolds Stadium on Bank Holiday Monday afternoon (3pm).

Large pools of water were on the pitch on Tuesday afternoon and the Gladiators have asked fans to come to the ground if they can on New Years Eve to help get the surface firt for play.

Mickleover surprisingly won 2-1 at the Reynolds Stadium on August Bank Holiday Monday, and if Matlock are to exact revenge, Atkins admits that Matlock will need to play well as he forecasts a tough time at Station Road.

"The first twenty or twenty five minutes of that game was probably the worst we'd played since I came to the club, we gifted them both goals to go 2-0 down but after that we had enough chances to have won it. But-full credit to Mickleover on the day.

"Our players though are ready to get playing again, they've trained well and we'll be looking for all three points as we'll be doing in every game from now on. Mickleover have some good forwards and are on a good run, so we definitely can't take them lightly despite their lowly position in the table."

Both James Lukic and Lee Featherstone complete disciplinary bans on New Years Day but will be back in the frame for the Burscough game as Matlock seek a first league double of the season having won 3-0 at Victoria Park in August. Otherwise Matlock should have a clean bill of health, as the New Year will hopefully see all Evo-Stik League clubs return to action.
RECENT STORIES
AND THE WINNER IS... -
A brace of awards have come Matlock Town's way for boss Mark Atkins and the Gladiators new stand being acclaimed as the best new stand of 2011... More...
GLADIATORS FIGHT TO THE FINISH -
A perfect February has given Matlock Town an excellent chance of making the end of season play offs but boss Mark Atkins is taking nothing for granted. More...
ATKINS PLEASED AFTER WEEKEND WIN -
Matlock boss Mark Atkins reckons the 4-0 win at Retford United was a massive result for his side in more ways than one. More...
ATKINS SEEKS NEW BLOOD -
A busy Mark Atkins is trying to strengthen Matlock's squad ahead of a run of 18 league games and at least one, hopefully more, League Cup tie to play before the season's end. More...
MATLOCK TOWN SEEKS INVESTORS -
"A few thousand pounds could make a real difference to the club". That's the message from Matlock Town Football Club. More...
ALL CHANGE FOR THE GLADIATORS -
Fans shouldn't be surprised to see a couple of changes to the Matlock Town team that takes on Marine at the Reynolds Stadium on Saturday More...
KEEP IT UP -
Having won four out of their last five league matches, Mark Atkins' Matlock Town now find themselves up in third spot, More...
FLU HITS MATLOCK CAMP -
Matlock boss Mark Atkins rose from his sick bed on Monday to orchestrate a vital home win against Burscough, and then was back in it straight after the match. More...
PROVERBIAL 'SIX POINTER' -
Matlock Town v Buxton on Christmas Monday at the Reynolds Stadium looks to be the proverbial six pointer as the local rivals seek a play off spot More...
GLADIATORS BATTLE ARCTIC CONDITIONS -
Matlock Town boss Mark Atkins fears that his side could face a big fixture backlog as the arctic conditions bit into the Evo-Stik League fixture programme this week. More...
BACK TO WINNING WAYS -
Manager Mark Atkins was pleased and relieved that defensive errors failed to rear up again as Matlock recorded two 3-0 home wins inside a week More...
GLADIATORS
FIGHT ON -
Without a win in five games, Matlock Town will be desperate to grab maximum points against second placed Colwyn Bay on Saturday. More...
ATKINS: GIVING CHEAP GOALS AWAY MUST STOP -
Matlock boss Mark Atkins says his side must stop giving cheap goals away after their second 2-1 home defeat in four days. More...
MILESTONE APPEARANCE FOR GLADIATORS PLAYER -
There's two very good reasons why Matlock Town will want Saturday's visitors Hucknall Town to feel the backlash More...
GLADIATORS FIGHT BACK AFTER 1st AWAY DEFEAT OF THE SEASON -
Mark Atkins will be looking for his Matlock side to bounce back quickly and positively from their first away defeat of the season against Worksop More...
YOU CAN'T KEEP A GOOD MAN DOWN -
They say you can't keep a good man down... Matlock striker Ross Hannah has certainly proved the point this last week. More...
NEW STAND IN ACTION AT MATLOCK -
It's taken 10 years and a mammoth fundraising effort - but Matlock Town Football Club's new 300-seater stand is now providing a welcome home for supporters. More...
MATLOCK GAFFER BLASTS REFEREE -
Matlock boss Mark Atkins laid the blame for his side's second defeat of the season firmly at the door of Mansfield referee Mark Jones. More...
WILL HISTORY REPEAT ITSELF? -
Matlock will travel to the Bill Stokeld Stadium hoping history repeats itself this weekend as they take on Evo Stik League first Divison South Carlton Town in the 2nd Qualifying Round of the FA Cup. More...
TOP OF THE LEAGUE - Two wins in forty-eight hours placed Matlock Town on top of the league as they embark on their latest FA Cup adventure on Saturday at home to fellow Evo-Stik Premiership side Worksop Town. More...
NO EXCUSES -
Matlock boss Mark Atkins offered no excuses after a disappointing Bank Holiday return of just one point out of six. More...
MORE TO COME -
"I feel there's more to come from us." declared Matlock boss Mark Atkins after his side strengthened their Evo Stik League Premier Division campaign with a 3-0 win against Burcough. More...
RARING TO GO -
"The lads are raring to go" was the message from Matlock Town boss Mark Atkins after a long pre season programme of seven weeks and nine matches. More...

Related Links