Wednesday 5th January 2011
by Ian Richardson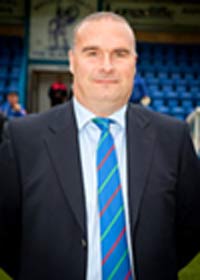 Matlock boss Mark Atkins (left) rose from his sick bed on Monday to orchestrate a vital home win against Burscough, and then was back in it straight after the match.
Atkins is just one of several members of the Gladiators dressing room suffering from winter flu like effects, and the boss did not even make it to last Saturday's clash at Mickleover which ended in a 1-0 defeat for his charges.
He revealed that it was time for some straight talking after losing in Derby, as lowly Sports inflicted only a second away defeat of the season on Matlock and a first league double.
"Monday's was a very big game for us especially after being beaten on Saturday" Atkins revealed. "I'd said in the week before that we wanted six points from the two games, nothing less would be good enough. I couldn't say as much about the Mickleover performance as I wasn't there due to illness, but the reports I received back from several sources were ones of a lack of effort and desire and that is plainly unacceptable.

"If you get beat giving everything then you hold your hands up and say the better side won. But I was told the players let themselves down and I let them know that I wasn't prepared to put up with that kind of performance."

Nick Buxton was in charge on Saturday with his selection options severely restricted. Both Lee Featherstone and captain James Lukic were serving the final games of disciplinary bans while the likes of stand in skipper Steve Warne, Gareth Davies and Dene Cropper were suffering from chest infections.

Those options were hardly improved for the Burscough visit as Lukic was missing with a back spasm injury which will make him doubtful again on Saturday when the Gladiators travel to Frickley Athletic.

Warne, who lasted just an hour at Mickleover, had recovered sufficiently to start and at least his personal luck changed as he grabbed his first goal of the campaign to put Matlock in front shortly before the interval. But a foot injury robbed Town of Kris Witcombe's services; Cropper was again ruled out, while Kris Bowler was forced off with a dead leg after only half an hour.

"I'm pleased to say that the lads took on board what we'd told them beforehand to fully deserve their win on Monday" Atkins reflected. "There was a lot of coughing and spluttering in the dressing room afterwards, the lads had put everything in."

The win against Burscough was finished off by a late winner from substitute Nathan Joynes which was sufficient to see Town return to sixth after dropping briefly to seventh over the weekend. A busy January lies ahead and it is now important that Matlock build on this massive victory.

Witcombe's injury meant that Atkins handed a full debut to Ben Turner who didn't disappoint with a man of the match performance in the number two shirt.

Atkins said he had no reservations about including the former Burton Albion youngster.

"Ben came to us in pre season and then went elsewhere briefly before deciding he wanted to be with us. It's important that you bed in young lads who've been at league clubs nice and quietly as it can be difficult coming from a league club to play at this level.

"He was man of the match by a country mile, I'd no hesitation in putting him in. There were other encouraging performances too. We're chuffed for Steve Warne now that he's got his first goal of the season, quite honestly he could be up to ten goals now with the chances he's had.

"He never stops giving 100% in every game, his goal was a great team goal and it's credit to him that he took to the field on Saturday and gave us an hour that was exceptional.

"I was also delighted for Lee Morris who came here to prove himself and we gave him a deal which was far less than he'd been on previously. He's come to play football, he's filled in on the right of midfield and never complained, before on Monday we put him in his usual position up front and he was excellent.

His contribution in nodding the ball to Nathan Joynes for the winner was outstanding as was his workrate and effort throughout. And Joynesy did well to come on and get the winner, he'd been playing well in most of the games previously and the goal was a good reward for him.

Morris will be returning to one of his old clubs on Saturday and although Atkins says that it will probably be a different kind of Frickley side now that new boss Peter Rinkcavage has taken over, he still expects a tough battle.

"Peter has brought new players in so they'll probably play more football than before but it's always tough at Frickley. It's the sort of place where you have to go and win the battle first before hopefully your football can do the talking and that's something I'll be impressing on the players."

Play off rivals North Ferriby United are due at the Reynolds Stadium on Tuesday night.

"The games are coming thick and fast and we'll be up against a side who've been excellent in the last three or four years in reaching the play offs on a couple of occasions. It'll be a good test, they've got great movement and play how we like and want to play, they're not a big side, a bit like us at the moment with the injuries we've got."

Atkins had been hoping to add a loan player to his squad before the Mickleover match but the move fell through due to injuries at his parent club.

"We're back to square one in that regard, we were hoping to bring the lad in for a month but his club have three injuries in their squad so they needed him to stay with them. that's on ice for now, but we'll see how things go."
RECENT STORIES
GLADIATORS BATTLE TO HANG ON TO HANNAH -
Matlock Town boss Mark Atkins says that claims from Torquay that the Gulls had signed Gladiators star striker are "premature to say the very least." More...
AND THE WINNER IS... -
A brace of awards have come Matlock Town's way for boss Mark Atkins and the Gladiators new stand being acclaimed as the best new stand of 2011... More...
GLADIATORS FIGHT TO THE FINISH -
A perfect February has given Matlock Town an excellent chance of making the end of season play offs but boss Mark Atkins is taking nothing for granted. More...
ATKINS PLEASED AFTER WEEKEND WIN -
Matlock boss Mark Atkins reckons the 4-0 win at Retford United was a massive result for his side in more ways than one. More...
ATKINS SEEKS NEW BLOOD -
A busy Mark Atkins is trying to strengthen Matlock's squad ahead of a run of 18 league games and at least one, hopefully more, League Cup tie to play before the season's end. More...
MATLOCK TOWN SEEKS INVESTORS -
"A few thousand pounds could make a real difference to the club". That's the message from Matlock Town Football Club. More...
ALL CHANGE FOR THE GLADIATORS -
Fans shouldn't be surprised to see a couple of changes to the Matlock Town team that takes on Marine at the Reynolds Stadium on Saturday More...
KEEP IT UP -
Having won four out of their last five league matches, Mark Atkins' Matlock Town now find themselves up in third spot, More...
ATKINS, "2010 HAS BEEN A GOOD YEAR" -
...but the Gladiators' fate in 2011 could be decided on how they cope with fixture congestion in what is expected to be a crowded end to the campaign. More...
PROVERBIAL 'SIX POINTER' -
Matlock Town v Buxton on Christmas Monday at the Reynolds Stadium looks to be the proverbial six pointer as the local rivals seek a play off spot More...
GLADIATORS BATTLE ARCTIC CONDITIONS -
Matlock Town boss Mark Atkins fears that his side could face a big fixture backlog as the arctic conditions bit into the Evo-Stik League fixture programme this week. More...
BACK TO WINNING WAYS -
Manager Mark Atkins was pleased and relieved that defensive errors failed to rear up again as Matlock recorded two 3-0 home wins inside a week More...
GLADIATORS
FIGHT ON -
Without a win in five games, Matlock Town will be desperate to grab maximum points against second placed Colwyn Bay on Saturday. More...
ATKINS: GIVING CHEAP GOALS AWAY MUST STOP -
Matlock boss Mark Atkins says his side must stop giving cheap goals away after their second 2-1 home defeat in four days. More...
MILESTONE APPEARANCE FOR GLADIATORS PLAYER -
There's two very good reasons why Matlock Town will want Saturday's visitors Hucknall Town to feel the backlash More...
GLADIATORS FIGHT BACK AFTER 1st AWAY DEFEAT OF THE SEASON -
Mark Atkins will be looking for his Matlock side to bounce back quickly and positively from their first away defeat of the season against Worksop More...
YOU CAN'T KEEP A GOOD MAN DOWN -
They say you can't keep a good man down... Matlock striker Ross Hannah has certainly proved the point this last week. More...
NEW STAND IN ACTION AT MATLOCK -
It's taken 10 years and a mammoth fundraising effort - but Matlock Town Football Club's new 300-seater stand is now providing a welcome home for supporters. More...
MATLOCK GAFFER BLASTS REFEREE -
Matlock boss Mark Atkins laid the blame for his side's second defeat of the season firmly at the door of Mansfield referee Mark Jones. More...
WILL HISTORY REPEAT ITSELF? -
Matlock will travel to the Bill Stokeld Stadium hoping history repeats itself this weekend as they take on Evo Stik League first Divison South Carlton Town in the 2nd Qualifying Round of the FA Cup. More...
TOP OF THE LEAGUE - Two wins in forty-eight hours placed Matlock Town on top of the league as they embark on their latest FA Cup adventure on Saturday at home to fellow Evo-Stik Premiership side Worksop Town. More...
NO EXCUSES -
Matlock boss Mark Atkins offered no excuses after a disappointing Bank Holiday return of just one point out of six. More...
MORE TO COME -
"I feel there's more to come from us." declared Matlock boss Mark Atkins after his side strengthened their Evo Stik League Premier Division campaign with a 3-0 win against Burcough. More...
RARING TO GO -
"The lads are raring to go" was the message from Matlock Town boss Mark Atkins after a long pre season programme of seven weeks and nine matches. More...

Related Links