Thursday 11th November 2010
by Ian Richardson

Matlock boss Mark Atkins says his side must stop giving cheap goals away after they slipped to their second 2-1 home defeat in four days against Hucknall Town last weekend.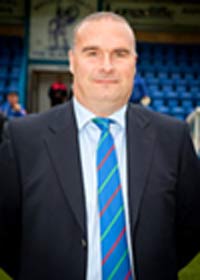 As against Kendal in the FA Trophy, both goals against Hucknall could easily have been avoided and on this occasion, Matlock were also guilty of missing some great chances as Hucknall's awayday hoodoo ended - the Nottinghamshire side having lost their last five matches on the road.

"We should have won," said a frustrated Atkins. "We had enough chances to have won two games and their goalkeeper was man of the match. But we conceded two sloppy goals again, we're letting in goals far too easily and that has got to stop.

"What made things worse was that we talked about that in the dressing room beforehand. For their first goal - you're not always going to win the first header, especially with a striker like Gary Ricketts about, the most important thing is winning the second ball but we never stopped the runner who had a free header.

"We rallied well and scored the equaliser from a good passing move and then to concede again straight from the kick off when they came straight down the middle was nothing short of criminal."

The Gladiators players were a long time emerging from the dressing room after the final whistle.

"You can't let these things go," said Atkins. "We spoke beforehand about being strong at the back and then that happens. Things had got to be said. The players and myself have to be frank and honest with each other. If you switch off in this league, then you'll be punished. We've got to knuckle down and be a lot more wary and switched on and stronger defensively."

Matlock lost Mark Haran with a potentially serious knee injury early in the game and ,with that in mind, he hopes to have another defender on board in time for Saturday's trip to Bradford Park Avenue.

There was a new face signed on in time for the Hucknall fixture as striker Lee Morris, formerly with Buxton and Frickley Athletic, joined up on Friday after Colin Marrison had his contract cancelled by mutual consent. Marrison has since signed for Stocksbridge Park Steels.
"I've known Lee a long time having been with him at both Harrogate and Stalybridge" Atkins reflected. "He's a proven scorer who knows the game. I felt we just needed more firepower. I spoke with Colin after the Kendal game. The management team had discussed the matter at length and we also had the budget to think of. Colin was one of our higher paid players and we simply could not afford to have him not playing. But he's never really got going for us, with his suspension doing him no favours. So we decided to let him go and bring someone else in - Lee Morris."
Atkins believes that despite two league defeats on the trot, Matlock are still handily placed in the league.
"It's not all doom and gloom," he insisted. "Every game we've played in the league this year, we've had a chance of winning. Looking at the games we've lost at home, we had enough chances to have beaten both Mickleover and Hucknall, while against Chasetown we fully deserved to win but for the refereeing decisions. We've got a good squad of players on paper, it's a matter of proving that consistently on the field."

As well as Haran, Matlock still have Danny Wood and Kris Bowler on the injured list. Wood's knee injury looks like keeping him out for another couple of weeks while Bowler, who also has a knee injury, has not improved and may need to seek further medical advice.

With Haran being taken off on Saturday, Adam Yates was forced into the centre to deputise and this blunted Matlock's attacking options as Yates likes to bomb down the wing to add another dimension to the attack.

"We to play in a certain way and the full backs are important for us. Losing Adam from the flank didn't help us but we still created enough to have won the game" Atkins suggested.

The home defeat spoilt the celebrations of James Lukic's 500th appearance for Matlock. Chairman Tom Wright presented Lukic with a silver decanter before kick off and The Supporters Club also gave Lukic gifts to mark the day.

Mick Fenoughty on 676 appearances is Matlock's record holder so all things being equal, Lukic could beat that total.

Atkins believes that Saturday's trip to Bradford, and Tuesday night's home game with top of the table AFC Halifax are games that his side will relish.

"Both started the campaign as title favourites. Bradford's always a tough place to go. They've not done as well as a lot of people thought they would but they've got a new manager in so the players will be keen to do well.

"Halifax have started very, very well but these two games are good games for us. It's more down to what we do. We need to get our house in order by returning to the way we were defending early on in the season by getting back to basics."
RECENT STORIES
ALL CHANGE FOR THE GLADIATORS -
Fans shouldn't be surprised to see a couple of changes to the Matlock Town team that takes on Marine at the Reynolds Stadium on Saturday More...
KEEP IT UP -
Having won four out of their last five league matches, Mark Atkins' Matlock Town now find themselves up in third spot, More...
FLU HITS MATLOCK CAMP -
Matlock boss Mark Atkins rose from his sick bed on Monday to orchestrate a vital home win against Burscough, and then was back in it straight after the match. More...
ATKINS, "2010 HAS BEEN A GOOD YEAR" -
...but the Gladiators' fate in 2011 could be decided on how they cope with fixture congestion in what is expected to be a crowded end to the campaign. More...
PROVERBIAL 'SIX POINTER' -
Matlock Town v Buxton on Christmas Monday at the Reynolds Stadium looks to be the proverbial six pointer as the local rivals seek a play off spot More...
GLADIATORS BATTLE ARCTIC CONDITIONS -
Matlock Town boss Mark Atkins fears that his side could face a big fixture backlog as the arctic conditions bit into the Evo-Stik League fixture programme this week. More...
BACK TO WINNING WAYS -
Manager Mark Atkins was pleased and relieved that defensive errors failed to rear up again as Matlock recorded two 3-0 home wins inside a week More...
GLADIATORS
FIGHT ON -
Without a win in five games, Matlock Town will be desperate to grab maximum points against second placed Colwyn Bay on Saturday. More...
MILESTONE APPEARANCE FOR GLADIATORS PLAYER -
There's two very good reasons why Matlock Town will want Saturday's visitors Hucknall Town to feel the backlash More...
GLADIATORS FIGHT BACK AFTER 1st AWAY DEFEAT OF THE SEASON -
Mark Atkins will be looking for his Matlock side to bounce back quickly and positively from their first away defeat of the season against Worksop More...
YOU CAN'T KEEP A GOOD MAN DOWN -
They say you can't keep a good man down... Matlock striker Ross Hannah has certainly proved the point this last week. More...
NEW STAND IN ACTION AT MATLOCK -
It's taken 10 years and a mammoth fundraising effort - but Matlock Town Football Club's new 300-seater stand is now providing a welcome home for supporters. More...
MATLOCK GAFFER BLASTS REFEREE -
Matlock boss Mark Atkins laid the blame for his side's second defeat of the season firmly at the door of Mansfield referee Mark Jones. More...
WILL HISTORY REPEAT ITSELF? -
Matlock will travel to the Bill Stokeld Stadium hoping history repeats itself this weekend as they take on Evo Stik League first Divison South Carlton Town in the 2nd Qualifying Round of the FA Cup. More...
TOP OF THE LEAGUE - Two wins in forty-eight hours placed Matlock Town on top of the league as they embark on their latest FA Cup adventure on Saturday at home to fellow Evo-Stik Premiership side Worksop Town. More...
NO EXCUSES -
Matlock boss Mark Atkins offered no excuses after a disappointing Bank Holiday return of just one point out of six. More...
MORE TO COME -
"I feel there's more to come from us." declared Matlock boss Mark Atkins after his side strengthened their Evo Stik League Premier Division campaign with a 3-0 win against Burcough. More...
RARING TO GO -
"The lads are raring to go" was the message from Matlock Town boss Mark Atkins after a long pre season programme of seven weeks and nine matches. More...

Related Links