Wednesday 1st December 2010
by Ian Richardson

Matlock Town boss Mark Atkins (below) fears that his side could face a big fixture backlog as the arctic conditions bit into the Evo-Stik League fixture programme this week.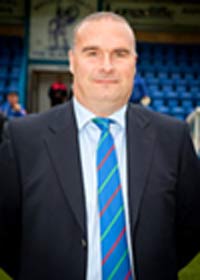 Last Saturday's scheduled trip to Marine was called off on Saturday morning with the Arriva Stadium pitch frozen, and when the snow arrived in Derbyshire over the weekend, that combined with the frost already in the ground meant that the postponement of Tuesday evening's home meeting with North Ferriby United was a formality, with the "off" verdict even coming as early as Monday night.
Then an avalanche of the white stuff on Tuesday with more threatened throughout the country as the cold snap tightened its vice like grip looks certain to mean that Matlock will again be left kicking their heels again this weekend.

The Gladiators are due at Kendal, but with conditions even worse in the north than the East Midlands, the chances of play look to be extremely slim. Matches at neighbouring Barrow and Workington were both postponed last Saturday.

Only one Premier Division club has played fewer league fixtures than Matlock - FA Cup heroes FC United of Manchester - who have played fourteen matches, just one less than Town.

Matlock's cause has not been helped as scheduled opponents have been involved in County Cup ties which take precedence over league games, plus a recent Saturday game at Bradford being called off due to a waterlogged pitch. Matlock have as many as six games in hand on other clubs.

"It's all very disappointing and very frustrating" said Atkins. "If everyone had played virtually the same number of games, then we'd be in a very healthy position in the league. But with opposing teams having County Cup games, plus we got through a few rounds in the national cup competitions, it's got us behind other clubs. The weather has now taken it's toll. There's nothing we can do about it, we'll just have to keep training, even if it's just doing fitness work."

But even training had to be cancelled on Tuesday night due to the horrendous conditions. "It's snowed non stop for five hours so we had no alternative but to call the training session off. Let's hope we can get a session in on Thursda,y though to be honest I can't really see us playing on Saturday." Atkins continued.

The danger is that Matlock could be faced with long midweek trips later in the campaign. The home game with North Ferriby has been rearranged for Tuesday January 11, but if Kendal is off, that will have to be given a new date along with trips to Whitby, Bradford, North Ferriby and Marine.

With Matlock currently in tenth spot, but still handily placed for a play off challenge, fixture congestion could hamper them later in the season, as they may be forced to play two games between weekend fixtures.

"The silver lining is that James Lukic (thigh), Liam King (groin) and Lee Morris (rib) would all have been forced to have fitness tests before the Marine game." Atkins admitted. "At least now they've got some extra time to get 100% fit, for if they'd have been forced to play, the injuries could have got worse. So it ws probably a blessing in disguise."

Full back Lee Featherstone begins a three match ban after his sending off against FC Halifax when Matlock eventually return to action. Kris Bowler or Ben Algar will be in line to replace him. Algar filled in at left back for the final twenty minutes or so against Halifax while Bowler, who would have had a full ninety minutes in the recent Legue Cup win against Grantham had he not been ill, has played in this position while at Alfreton Town.

A loan player could be brought in to supplement Matlock's small squad.

"I spoke to another club about bringing a lad in on loan and they're going to let me know in the next few days. But we won't have him until we're back playing again, whenever that may be" Atkins concluded.
That date could now be Saturday December 11th when basement side Retford United visit the Reynolds Stadium.
RECENT STORIES
ATKINS PLEASED AFTER WEEKEND WIN -
Matlock boss Mark Atkins reckons the 4-0 win at Retford United was a massive result for his side in more ways than one. More...
ATKINS SEEKS NEW BLOOD -
A busy Mark Atkins is trying to strengthen Matlock's squad ahead of a run of 18 league games and at least one, hopefully more, League Cup tie to play before the season's end. More...
MATLOCK TOWN SEEKS INVESTORS -
"A few thousand pounds could make a real difference to the club". That's the message from Matlock Town Football Club. More...
ALL CHANGE FOR THE GLADIATORS -
Fans shouldn't be surprised to see a couple of changes to the Matlock Town team that takes on Marine at the Reynolds Stadium on Saturday More...
KEEP IT UP -
Having won four out of their last five league matches, Mark Atkins' Matlock Town now find themselves up in third spot, More...
FLU HITS MATLOCK CAMP -
Matlock boss Mark Atkins rose from his sick bed on Monday to orchestrate a vital home win against Burscough, and then was back in it straight after the match. More...
ATKINS, "2010 HAS BEEN A GOOD YEAR" -
...but the Gladiators' fate in 2011 could be decided on how they cope with fixture congestion in what is expected to be a crowded end to the campaign. More...
PROVERBIAL 'SIX POINTER' -
Matlock Town v Buxton on Christmas Monday at the Reynolds Stadium looks to be the proverbial six pointer as the local rivals seek a play off spot More...
BACK TO WINNING WAYS -
Manager Mark Atkins was pleased and relieved that defensive errors failed to rear up again as Matlock recorded two 3-0 home wins inside a week More...
GLADIATORS
FIGHT ON -
Without a win in five games, Matlock Town will be desperate to grab maximum points against second placed Colwyn Bay on Saturday. More...
ATKINS: GIVING CHEAP GOALS AWAY MUST STOP -
Matlock boss Mark Atkins says his side must stop giving cheap goals away after their second 2-1 home defeat in four days. More...
MILESTONE APPEARANCE FOR GLADIATORS PLAYER -
There's two very good reasons why Matlock Town will want Saturday's visitors Hucknall Town to feel the backlash More...
GLADIATORS FIGHT BACK AFTER 1st AWAY DEFEAT OF THE SEASON -
Mark Atkins will be looking for his Matlock side to bounce back quickly and positively from their first away defeat of the season against Worksop More...
YOU CAN'T KEEP A GOOD MAN DOWN -
They say you can't keep a good man down... Matlock striker Ross Hannah has certainly proved the point this last week. More...
NEW STAND IN ACTION AT MATLOCK -
It's taken 10 years and a mammoth fundraising effort - but Matlock Town Football Club's new 300-seater stand is now providing a welcome home for supporters. More...
MATLOCK GAFFER BLASTS REFEREE -
Matlock boss Mark Atkins laid the blame for his side's second defeat of the season firmly at the door of Mansfield referee Mark Jones. More...
WILL HISTORY REPEAT ITSELF? -
Matlock will travel to the Bill Stokeld Stadium hoping history repeats itself this weekend as they take on Evo Stik League first Divison South Carlton Town in the 2nd Qualifying Round of the FA Cup. More...
TOP OF THE LEAGUE - Two wins in forty-eight hours placed Matlock Town on top of the league as they embark on their latest FA Cup adventure on Saturday at home to fellow Evo-Stik Premiership side Worksop Town. More...
NO EXCUSES -
Matlock boss Mark Atkins offered no excuses after a disappointing Bank Holiday return of just one point out of six. More...
MORE TO COME -
"I feel there's more to come from us." declared Matlock boss Mark Atkins after his side strengthened their Evo Stik League Premier Division campaign with a 3-0 win against Burcough. More...
RARING TO GO -
"The lads are raring to go" was the message from Matlock Town boss Mark Atkins after a long pre season programme of seven weeks and nine matches. More...

Related Links