Thursday 10th February 2011
by IAN RICHARDSON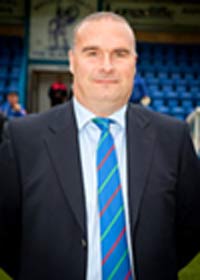 Matlock boss Mark Atkins (left) reckons that last Saturday's 4-0 win at foot of the table Retford United was a massive result for his side in more ways than one.
Not only did it end a run of three successive league defeats but, on a day when half of the Evo-Stik League Premier Division programme was washed out, the Gladiators gained valuable ground in the play off race.
"It was a vital game for us especially with a lot of the other sides not playing" Atkins admitted. "Points on the board are better than games in hand as we've found out recently. But we've managed to take fifteen points from our last eight games that can be classed as championship winning form. If we can continue with a return like that, we'll be right up there. Other clubs will have to face the type of demanding schedule like we faced in January when we had to play a lot of games.

"Injuries, tiredness and suspensions can all kick in with a programme like that, so there is pressure on the other clubs to get the points that they need."
Atkins was pleased with both the result and the performance in testing conditions at Cannon Park as goals from James Lukic, James Knowles, Ross Hannah and Anthony Wilson earned the Gladiators the win that was universally expected against a Retford side, yet to taste victory on home soil this campaign.

The fixture presented Matlock with a nasty banana skin and it was essential that they did not slip up on a mudbath of a surface that only just passed the referee's inspection, and in torrential rain.
"It was always going to be a tricky game for us bearing in mind Retford's position, coupled with the conditions we found when we got there" said Atkins.

"But I have to say that I thought that it was a thoroughly professional performance from us. It was an important three points and it could have ended up seven or eight nil but for the Retford keeper (who also saved a Ross Hannah penalty) and better finishing."
After the recent glut of fixtures, Atkins welcomed a clear midweek ahead of Saturday's home clash with play off rivals Kendal Town.

"The lads were very tired at the end on Saturday having played on a mudbath of a pitch so the free midweek was ideal. We're training just the once, it'll give the lads the chance to get their breath back and have a well-earned rest. Gareth Davies will be available again on Saturday after suspension which gives us another option."

Matlock will be looking to set the record straight after Kendal visited the Reynolds Stadium in November and won 2-1 in an FA trophy replay.

"We didn't play well in the Trophy replay, we gifted them both of their goals, so that's something we musn't do on Saturday for Kendal are a good side.

"With this match and all of our games, it's a matter of taking each one as it comes and if we can give 100%, then we'll stand a good chance of winning" Atkins declared.

Then on Tuesday, Matlock travel to Stocksbridge Park Steels for the second time in three weeks, this time in the quarter finals of the League Challenge Cup.

Again, revenge will be in the Gladiators' thoughts, for the Steels won 3-1 in controversial circumstances. Matlock will be aware also that the South Yorkshire side appears to be hitting form after a disappointing season to date. Since the win against them, Stocksbridge have also knocked highflying North Ferriby United out of the League Cup and then last weekend, won 3-2 at Kendal.

"We got beat in the league so obviously we want to go there and put things right" said Atkins. "If we can play as well as we did then but this time take our chances and have the rub of the green, then we'll stand a good chance of going through. It's a chance to get into the semi finals and we'll be going all out to get a positive result as it's a good draw for us."

Atkins was hoping to have added to his squad prior to the Retford trip having put seven days notice in on two players, but it appears as if he might need to look elsewhere.

"One of them is staying with his club, the other's thinking about it, but we've heard nothing as yet, so I'm not optimistic about him coming. But we have other avenues to go down, but we must ensure we keep within the funds we've got available."

The Gladiators boss though was quick to praise the recent contribution of Liam King who this season has operated in midfield, central defence and as a full back. He believes that the former Rotherham United youngster has been Matlock's best player over the last few weeks.

"Liam had a bad time of it early on in the season when his tonsilitis set him back a bit. Consequently we had to leave him out of the side but since coming back in, whether it's been in midfield, at centre half or full back, he's been absolutely outstanding and his fitness levels have been fantastic.

"His attitude's been spot on and it's a lesson others should learn and follow Liam's example, in that having been left out, he worked so hard to earn his place back and then keep it. He's been our best player this past few weeks."
RECENT STORIES
IS THE GLADIATOR'S BATTLE OVER? -
Manager Mark Atkins has conceded that his side's hopes of reaching the play offs are all but over. More...
NOW OR NEVER FOR GLADIATORS -
Monday night's 1-0 Evo-Stik League Challenge Cup semi final defeat at Ashton United gives the Gladiators just the play offs to aim for. More...
FIGHT GOES ON FOR GLADIATORS -
Their play off hopes may be fading but Matlock Town boss Mark Atkins insists that the fight goes on. More...
BATTLE AHEAD FOR THE GLADIATORS -
Make no bones about it, Matlock need to beat Whitby Town in Saturday's lunchtime kick off (1pm) at the Reynolds Stadium. More...
NEW BLOOD FOR THE GLADIATORS -
Matlock Town boss Mark Atkins has fulfilled his promise to strengthen his Gladiators squad More...
GLADIATORS BATTLE TO HANG ON TO HANNAH -
Matlock Town boss Mark Atkins says that claims from Torquay that the Gulls had signed Gladiators star striker are "premature to say the very least." More...
AND THE WINNER IS... -
A brace of awards have come Matlock Town's way for boss Mark Atkins and the Gladiators new stand being acclaimed as the best new stand of 2011... More...
GLADIATORS FIGHT TO THE FINISH -
A perfect February has given Matlock Town an excellent chance of making the end of season play offs but boss Mark Atkins is taking nothing for granted. More...
ATKINS SEEKS NEW BLOOD -
A busy Mark Atkins is trying to strengthen Matlock's squad ahead of a run of 18 league games and at least one, hopefully more, League Cup tie to play before the season's end. More...
MATLOCK TOWN SEEKS INVESTORS -
"A few thousand pounds could make a real difference to the club". That's the message from Matlock Town Football Club. More...
ALL CHANGE FOR THE GLADIATORS -
Fans shouldn't be surprised to see a couple of changes to the Matlock Town team that takes on Marine at the Reynolds Stadium on Saturday More...
KEEP IT UP -
Having won four out of their last five league matches, Mark Atkins' Matlock Town now find themselves up in third spot, More...
FLU HITS MATLOCK CAMP -
Matlock boss Mark Atkins rose from his sick bed on Monday to orchestrate a vital home win against Burscough, and then was back in it straight after the match. More...
ATKINS, "2010 HAS BEEN A GOOD YEAR" -
...but the Gladiators' fate in 2011 could be decided on how they cope with fixture congestion in what is expected to be a crowded end to the campaign. More...
PROVERBIAL 'SIX POINTER' -
Matlock Town v Buxton on Christmas Monday at the Reynolds Stadium looks to be the proverbial six pointer as the local rivals seek a play off spot More...
GLADIATORS BATTLE ARCTIC CONDITIONS -
Matlock Town boss Mark Atkins fears that his side could face a big fixture backlog as the arctic conditions bit into the Evo-Stik League fixture programme this week. More...
BACK TO WINNING WAYS -
Manager Mark Atkins was pleased and relieved that defensive errors failed to rear up again as Matlock recorded two 3-0 home wins inside a week More...
GLADIATORS
FIGHT ON -
Without a win in five games, Matlock Town will be desperate to grab maximum points against second placed Colwyn Bay on Saturday. More...
ATKINS: GIVING CHEAP GOALS AWAY MUST STOP -
Matlock boss Mark Atkins says his side must stop giving cheap goals away after their second 2-1 home defeat in four days. More...
MILESTONE APPEARANCE FOR GLADIATORS PLAYER -
There's two very good reasons why Matlock Town will want Saturday's visitors Hucknall Town to feel the backlash More...
GLADIATORS FIGHT BACK AFTER 1st AWAY DEFEAT OF THE SEASON -
Mark Atkins will be looking for his Matlock side to bounce back quickly and positively from their first away defeat of the season against Worksop More...
YOU CAN'T KEEP A GOOD MAN DOWN -
They say you can't keep a good man down... Matlock striker Ross Hannah has certainly proved the point this last week. More...
NEW STAND IN ACTION AT MATLOCK -
It's taken 10 years and a mammoth fundraising effort - but Matlock Town Football Club's new 300-seater stand is now providing a welcome home for supporters. More...
MATLOCK GAFFER BLASTS REFEREE -
Matlock boss Mark Atkins laid the blame for his side's second defeat of the season firmly at the door of Mansfield referee Mark Jones. More...
WILL HISTORY REPEAT ITSELF? -
Matlock will travel to the Bill Stokeld Stadium hoping history repeats itself this weekend as they take on Evo Stik League first Divison South Carlton Town in the 2nd Qualifying Round of the FA Cup. More...
TOP OF THE LEAGUE - Two wins in forty-eight hours placed Matlock Town on top of the league as they embark on their latest FA Cup adventure on Saturday at home to fellow Evo-Stik Premiership side Worksop Town. More...
NO EXCUSES -
Matlock boss Mark Atkins offered no excuses after a disappointing Bank Holiday return of just one point out of six. More...
MORE TO COME -
"I feel there's more to come from us." declared Matlock boss Mark Atkins after his side strengthened their Evo Stik League Premier Division campaign with a 3-0 win against Burcough. More...
RARING TO GO -
"The lads are raring to go" was the message from Matlock Town boss Mark Atkins after a long pre season programme of seven weeks and nine matches. More...

Related Links