Wednesday 3rd November 2010

There's two very good reasons why Matlock Town will want Saturday's visitors Hucknall Town to feel the backlash from the midweek home FA Trophy replay defeat to Kendal Town.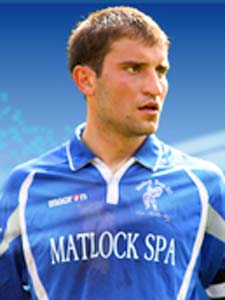 They will want a return to winning ways to keep up the pressure on the leading clubs, but also to celebrate a major milestone for their popular skipper James Lukic (pictured left), for whom it will be his 500th appearance for the Gladiators.

Kendal returned to the Lake District victorious after a narrow 2-1 win which saw Matlock's hopes of a much awaited local derby at neighbours and Blue Square North leaders Alfreton in the next round go down the pan.

Matlock manager Mark Atkins had said after the weekend's 1-1 draw at the Lakeland Radio Stadium that he felt Matlock had played well enough to have gone through at the first time of asking. He maintained that even after a not as convincing performance as on Saturday, his team should still have progressed.

"Over the two games, we've not played badly, the lads showed full commitment and high desire levels.

"Obviously though we shot ourselves in the foot by conceding two poor goals when we didn't pick up from the free kick for their first and didn't clear our lines effectively for the second. But also a big decision has gone against us, the ball was clearly over the line, and we should have been given the goal. But there's nothing we can do about it, things like that happen at this level.

"The defeat was a big disappointment, you can accept it if someone plays you off the park, you hold your hands up and say the better team won. But we've conceded the goals through bad errors and then not had the chance to come back with that bad decision at the other end. The ball was a mile over the line!"

Ross Hannah scored in both ties to take his season's tally to twenty and fourteen in his last six appearances. Of Matlock's last eighteen goals, Hannah has contributed all but four and Atkins agrees that goals are also needed from other areas.

"Ross is taking his chances and we're all very pleased for him, but he and the team does need that extra help from other areas, so that's something we'll be working on and trying to address" Atkins admitted.

Hucknall are having a torrid time on the road with just one away win so far this season, 4-0 at Buxton. They are without a win in their last eight away matches, losing five on the trot.

Atkins says it is important that Matlock approach the derby game in the right way.

"It will be another tough game, there's no easy ones in this league." he warned.

"They may be having a bad time of it away from home but they've got good experienced players and it's up to us to win the battle first and then start playing our game. I saw them earlier this season and they looked a decent side."

The sixteen on duty in the Kendal games could be supplemented by the return of both Kris Bowler and Danny Wood after knee injuries.

For 27-year-old Lukic, Saturday will be a special day.

Not many players, especially at non-league level end up playing 500 games for one club, a point made by Atkins in his tribute to the talismatic central defender.

"It's a magnificent achievement at any level, never mind non league where players tend to move more between clubs. He's a magnificent captain, a fantastic player, he's one hundred per cent for this club and I have to say that it's an absolute pleasure to say he's my captain.

"He's also a quiet lad and a lovely family man. He looks after them so well. He has my sincere congratulations in reaching this major milestone."

Lukic has had just one season away at Gainsborough Trinity during 2008/09 but Atkins was quick to secure his services when the chance to sign him came up in the summer of 2009.

Atkins' assistant, Mark Haran, himself a veteran of over 600 appearances, but for a number of clubs, reckons that Lukic has it all.

"Of all the many centre halves I've played with - and there's been a lot in my non league career - Lukey's definitely one of the most all round good centre halves I've come across.

"He's a true leader of men and a model professional. You couldn't meet a nicer guy off the field and he's got Matlock Town Football Club firmly in his heart."
 
Chairman Tom Wright says Lukic is a true clubman.

"It's not often we get the chance to celebrate a player making 500 appearances for our club and James deserves all the accolades and tributes he's getting. It's a tremendous landmark for him.

"Over the years he's been Mr Matlock Town, coming up through the ranks and making his first team debut at just sixteen years of age. Circumstances dictated that not long afterwards he got thrust into the heat and battle of the Northern Premier League and he's just got better and better.

"It's been a real privilege to watch him and have him at our club and we hope he'll be part of the furniture here for years to come."

Lukic though preferred to remain silent ahead of his big day.

"We've lost tonight and I'd rather concentrate on us getting the right result on Saturday, I don't want us to lose again." was all that he would say for now, but no doubt he will have his own anecdotes and memories to share with people in the weeks ahead.

A special James Lukic tribute brochure is on sale at Saturday's game priced £1.00.
RECENT STORIES
KEEP IT UP -
Having won four out of their last five league matches, Mark Atkins' Matlock Town now find themselves up in third spot, More...
FLU HITS MATLOCK CAMP -
Matlock boss Mark Atkins rose from his sick bed on Monday to orchestrate a vital home win against Burscough, and then was back in it straight after the match. More...
ATKINS, "2010 HAS BEEN A GOOD YEAR" -
...but the Gladiators' fate in 2011 could be decided on how they cope with fixture congestion in what is expected to be a crowded end to the campaign. More...
PROVERBIAL 'SIX POINTER' -
Matlock Town v Buxton on Christmas Monday at the Reynolds Stadium looks to be the proverbial six pointer as the local rivals seek a play off spot More...
GLADIATORS BATTLE ARCTIC CONDITIONS -
Matlock Town boss Mark Atkins fears that his side could face a big fixture backlog as the arctic conditions bit into the Evo-Stik League fixture programme this week. More...
BACK TO WINNING WAYS -
Manager Mark Atkins was pleased and relieved that defensive errors failed to rear up again as Matlock recorded two 3-0 home wins inside a week More...
GLADIATORS
FIGHT ON -
Without a win in five games, Matlock Town will be desperate to grab maximum points against second placed Colwyn Bay on Saturday. More...
ATKINS: GIVING CHEAP GOALS AWAY MUST STOP -
Matlock boss Mark Atkins says his side must stop giving cheap goals away after their second 2-1 home defeat in four days. More...
GLADIATORS FIGHT BACK AFTER 1st AWAY DEFEAT OF THE SEASON -
Mark Atkins will be looking for his Matlock side to bounce back quickly and positively from their first away defeat of the season against Worksop More...
YOU CAN'T KEEP A GOOD MAN DOWN -
They say you can't keep a good man down... Matlock striker Ross Hannah has certainly proved the point this last week. More...
NEW STAND IN ACTION AT MATLOCK -
It's taken 10 years and a mammoth fundraising effort - but Matlock Town Football Club's new 300-seater stand is now providing a welcome home for supporters. More...
MATLOCK GAFFER BLASTS REFEREE -
Matlock boss Mark Atkins laid the blame for his side's second defeat of the season firmly at the door of Mansfield referee Mark Jones. More...
WILL HISTORY REPEAT ITSELF? -
Matlock will travel to the Bill Stokeld Stadium hoping history repeats itself this weekend as they take on Evo Stik League first Divison South Carlton Town in the 2nd Qualifying Round of the FA Cup. More...
TOP OF THE LEAGUE - Two wins in forty-eight hours placed Matlock Town on top of the league as they embark on their latest FA Cup adventure on Saturday at home to fellow Evo-Stik Premiership side Worksop Town. More...
NO EXCUSES -
Matlock boss Mark Atkins offered no excuses after a disappointing Bank Holiday return of just one point out of six. More...
MORE TO COME -
"I feel there's more to come from us." declared Matlock boss Mark Atkins after his side strengthened their Evo Stik League Premier Division campaign with a 3-0 win against Burcough. More...
RARING TO GO -
"The lads are raring to go" was the message from Matlock Town boss Mark Atkins after a long pre season programme of seven weeks and nine matches. More...

Related Links