Wednesday 30th March 2011
by IAN RICHARDSON

Their play off hopes may be fading but Matlock Town boss Mark Atkins insists that the fight goes on.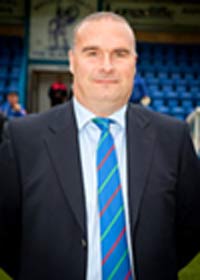 Two precious points went astray as a two goal lead was squandered at home to relegation threatened Whitby Town on Saturday, a result which saw the Gladiators slip down to seventh spot.

But Tuesday night brought about a second successive defeat for fellow challengers Worksop Town who lost 1-0 at Frickley Athletic after another single goal home loss to Colwyn Bay at the weekend, which at least was evidence of other teams starting to feel the heat.

As for his Matlock side, Atkins admitted that their task is now a lot more difficult than it was in early March with their point against the Seasiders ending a run of four straight defeats.

"We've definitely made things a lot harder for ourselves than was the case three weeks ago. But there are still seven games left and twenty-one points to play for and we need to pick up as many points as we can.

"There's no point in us feeling sorry for ourselves. What has happened has happened. But I agree that we seem to keep on pressing the self-destruct button. Up to the Buxton game we'd been excellent defensively, we'd got the second best record in the division. But at present we keep on giving away cheap goals, teams are finding it too easy to get through us."

Whitby was a case in point. Matlock looked to be cruising as half time approached as Nathan Joynes and Lee Morris had scored in the opening half hour to give the hosts a 2-0 lead, but by the interval, two soft goals had got Whitby back on level terms.

Atkins does not believe in the 'curse' of the Manager of the Month with March seeing the Gladiators collect a miserly five out of twenty one points on offer after six wins out of six had earned him the February accolade.

"That's all in peoples heads, the truth of the matter is that we've not shown the mental toughness, we've crumbled, we've not stood up to be counted. The lads look nervous when they get in front, even at 2-0 on Saturday the nerves seemed to set in, they concede one and then things get worse. 2-0 up at home earlier in the season would probably have been game over, but clearly we've got to keep on working on things to overcome this problem."

Matlock could not face a more difficult task on Saturday when they travel to The Shay to take on runaway leaders and champions elect FC Halifax Town. But Atkins feels that his side should go there with a positive attitude.

"We've nothing to lose and people will be saying that Halifax will beat us, but I feel we've got the chance to go there and express ourselves and play without fear. They're a very good side, their league position tells you that they are clearly the best side in the league, but we'll go there looking to win the game as we always do."

Monday night sees Matlock visit Ashton United in the Evo-Stik League Challenge Cup semi final. Atkins says the competition has always been high on his agenda and Matlock will be going all out to earn a place in the final against either Northwich Victoria or Bradford Park Avenue.

"This game was always important and has the same importance had we not had those poor results recently in the league. It might appear that we've fallen out of play off contention but we'd still have been treating this game seriously if we'd been better off in the league. At the end of the day, there's a chance of getting to a cup final and then picking up some silverware. Ashton will make things difficult for us that's for sure, but we're more than capable of going there and winning the tie."

Atkins will be hoping that the hamstring injury that has kept top scorer Ross Hannah out of the last two games clears up in time for the weekend.

"He had a fitness test and wasn't close enough on Saturday but we've a full free week ahead of Halifax so hopefully we'll see some improvement. We'll assess him on Thursday at training to see how he responds to various situations and take it from there."

Former Chesterfield midfielder Gareth Davies could be doubtful for both games. After coming on as a 73rd minute substitute for Nathan Joynes against Whitby, Davies himself had to leave the field with a shoulder injury and left the ground afterwards with his arm strapped up.

Atkins does not foresee any additions to the Gladiators ranks ahead of Thursday's transfer deadline, but he did bring in defender Paul Sykes from Ossett Town last Friday.

"Paul's a big strong lad who I knew from my time at Stalybridge who's been around the non league scene at this level and the one above for a long time. He asked if he could come here for the rest of the season and really it was a no brainer, for he can play in a number of positions which will certainly help us. He just needs to get his full match fitness now, we weren't sure how he was, match fitness wise, that's why we didn't stick him in against Whitby. Hopefully we'll be able to get him in the squad on Saturday."

Recent acquisitions John McAliskey and Ryan Mallon are both cup tied for the semi final and Matlock will also be checking if Sykes has appeared in the competition earlier this season ahead of the trip to Hurst Cross.

Meanwhile Matlock's new Social Club opened last weekend and has received rave reviews. Atkins spoke for many fans as he expressed his delight at the club being full on a match day.

"It was fantastic to see it full afterwards on Saturday and to see people enjoying themselves even though we hadn't got the result we wanted in the game. It will be a big help in getting fans through the gate and it's a fantastic achievement. I can only say a huge well done to all those involved."
RECENT STORIES
GLADIATORS BOSS PRAISES BUXTON -
Matlock boss Mark Atkins this week paid tribute to his number two Nick Buxton for his contribution both on and off the field. More...
MATLOCK TOWN'S HANNAH JOINS BRADFORD CITY -
Ross Hannah finally got his wish of a career in the Football League when he joined League Two outfit Bradford City. More...
PRAISE FOR GLADIATORS' YOUNG STAR -
2011 has seen the emergence of a bright young talent at the Reynolds Stadium as 18 year old full back Ben Turner has stepped up to the plate. More...
HANNAH STRIKES GOLD -
Ross Hannah has surely hit legendary status at Matlock Town as his hat trick in Easter Monday's final league game this term saw him shatter the club record of 49 goals in a season. More...
STAY OF EXECUTION FOR THE GLADIATORS-
Boss Mark Atkins admitted it was "a huge relief" to beat Nantwich Town and end their sequence without a league win More...
NEW FACILITIES FOR GLADIATORS -
Success for Evo-Stik League Premier Division outfit Matlock Town hasn't come on the field this season, but off it. More...
IS THE GLADIATOR'S BATTLE OVER? -
Manager Mark Atkins has conceded that his side's hopes of reaching the play offs are all but over. More...
NOW OR NEVER FOR GLADIATORS -
Monday night's 1-0 Evo-Stik League Challenge Cup semi final defeat at Ashton United gives the Gladiators just the play offs to aim for. More...
BATTLE AHEAD FOR THE GLADIATORS -
Make no bones about it, Matlock need to beat Whitby Town in Saturday's lunchtime kick off (1pm) at the Reynolds Stadium. More...
NEW BLOOD FOR THE GLADIATORS -
Matlock Town boss Mark Atkins has fulfilled his promise to strengthen his Gladiators squad More...
GLADIATORS BATTLE TO HANG ON TO HANNAH -
Matlock Town boss Mark Atkins says that claims from Torquay that the Gulls had signed Gladiators star striker are "premature to say the very least." More...
AND THE WINNER IS... -
A brace of awards have come Matlock Town's way for boss Mark Atkins and the Gladiators new stand being acclaimed as the best new stand of 2011... More...
GLADIATORS FIGHT TO THE FINISH -
A perfect February has given Matlock Town an excellent chance of making the end of season play offs but boss Mark Atkins is taking nothing for granted. More...
ATKINS PLEASED AFTER WEEKEND WIN -
Matlock boss Mark Atkins reckons the 4-0 win at Retford United was a massive result for his side in more ways than one. More...
ATKINS SEEKS NEW BLOOD -
A busy Mark Atkins is trying to strengthen Matlock's squad ahead of a run of 18 league games and at least one, hopefully more, League Cup tie to play before the season's end. More...
MATLOCK TOWN SEEKS INVESTORS -
"A few thousand pounds could make a real difference to the club". That's the message from Matlock Town Football Club. More...
ALL CHANGE FOR THE GLADIATORS -
Fans shouldn't be surprised to see a couple of changes to the Matlock Town team that takes on Marine at the Reynolds Stadium on Saturday More...
KEEP IT UP -
Having won four out of their last five league matches, Mark Atkins' Matlock Town now find themselves up in third spot, More...
FLU HITS MATLOCK CAMP -
Matlock boss Mark Atkins rose from his sick bed on Monday to orchestrate a vital home win against Burscough, and then was back in it straight after the match. More...
ATKINS, "2010 HAS BEEN A GOOD YEAR" -
...but the Gladiators' fate in 2011 could be decided on how they cope with fixture congestion in what is expected to be a crowded end to the campaign. More...
PROVERBIAL 'SIX POINTER' -
Matlock Town v Buxton on Christmas Monday at the Reynolds Stadium looks to be the proverbial six pointer as the local rivals seek a play off spot More...
GLADIATORS BATTLE ARCTIC CONDITIONS -
Matlock Town boss Mark Atkins fears that his side could face a big fixture backlog as the arctic conditions bit into the Evo-Stik League fixture programme this week. More...
BACK TO WINNING WAYS -
Manager Mark Atkins was pleased and relieved that defensive errors failed to rear up again as Matlock recorded two 3-0 home wins inside a week More...
GLADIATORS
FIGHT ON -
Without a win in five games, Matlock Town will be desperate to grab maximum points against second placed Colwyn Bay on Saturday. More...
ATKINS: GIVING CHEAP GOALS AWAY MUST STOP -
Matlock boss Mark Atkins says his side must stop giving cheap goals away after their second 2-1 home defeat in four days. More...
MILESTONE APPEARANCE FOR GLADIATORS PLAYER -
There's two very good reasons why Matlock Town will want Saturday's visitors Hucknall Town to feel the backlash More...
GLADIATORS FIGHT BACK AFTER 1st AWAY DEFEAT OF THE SEASON -
Mark Atkins will be looking for his Matlock side to bounce back quickly and positively from their first away defeat of the season against Worksop More...
YOU CAN'T KEEP A GOOD MAN DOWN -
They say you can't keep a good man down... Matlock striker Ross Hannah has certainly proved the point this last week. More...
NEW STAND IN ACTION AT MATLOCK -
It's taken 10 years and a mammoth fundraising effort - but Matlock Town Football Club's new 300-seater stand is now providing a welcome home for supporters. More...
MATLOCK GAFFER BLASTS REFEREE -
Matlock boss Mark Atkins laid the blame for his side's second defeat of the season firmly at the door of Mansfield referee Mark Jones. More...
WILL HISTORY REPEAT ITSELF? -
Matlock will travel to the Bill Stokeld Stadium hoping history repeats itself this weekend as they take on Evo Stik League first Divison South Carlton Town in the 2nd Qualifying Round of the FA Cup. More...
TOP OF THE LEAGUE - Two wins in forty-eight hours placed Matlock Town on top of the league as they embark on their latest FA Cup adventure on Saturday at home to fellow Evo-Stik Premiership side Worksop Town. More...
NO EXCUSES -
Matlock boss Mark Atkins offered no excuses after a disappointing Bank Holiday return of just one point out of six. More...
MORE TO COME -
"I feel there's more to come from us." declared Matlock boss Mark Atkins after his side strengthened their Evo Stik League Premier Division campaign with a 3-0 win against Burcough. More...
RARING TO GO -
"The lads are raring to go" was the message from Matlock Town boss Mark Atkins after a long pre season programme of seven weeks and nine matches. More...

Related Links