Monday 18th April 2011
by IAN RICHARDSON

Success for Evo-Stik League Premier Division outfit Matlock Town hasn't come on the field this season, but off it.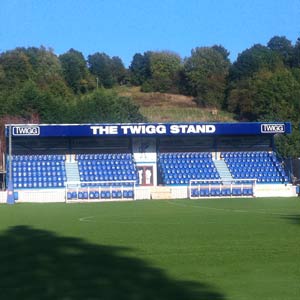 After years of painstaking planning, graft and fund raising, their dream of a new stand and clubhouse became reality at their picturesque Reynolds Stadium arena.

A 288-seater stand, complete with changing, laundry and medical facilities was used for the first time in September and at the home game with Whitby Town on March 26th, the new Social Club was open for the very first time.

Many Matlock stalwarts remember the old main stand that housed outdated changing rooms plus boardroom and offices, and the tiny old 'Scout Hut' type building that was their Social Club, originally opened during the 1976 / 77 campaign.

"We've had many years of good use from the stand and seen some memorable games watching from there" said Chairman Tom Wright. "But it was time to move on, that stand structure wouldn't have lasted much longer. We had some great times in the Social Club despite it being small, but it was homely. However the new Club will allow us to hold more social functions and increase income as well as being a focal point for the local community, both from in Matlock itself and the area beyond."

Fortunately Matlock have always had fantastic backing from not only their fans, but also from local businesses who again have given tremendous help. The Gladiators are also grateful for the advice and financial assistance from the Football Foundation in the stand construction.

Monetary backing from the County Club, who were forced out of their County Hall headquarters in the town four years ago, was also crucial in the building of the massive Social Club which can house 500 punters.

Gladiators official Jason Beaumont, who played a leading role in the £500,000 scheme paid tribute to everyone who had assisted the Derbyshire side in their biggest ever development project.

"Everyone at the club has an immense sense of pride when they look at the superb facilities we have here now and we must also share that pride with everyone who has contributed to their construction. Many supporters and local people have backed us in this project and they are no doubt as pleased as we are. The stand is fantastic, there's a tremendous view of the action and we have excellent facilities here that the local community can come and use for sporting purposes.

"Now we have the Social Club up and running, I'm sure that we've got one of the very best entertainment and community facilities in the region. Our special thanks go to the Football Foundation, the County Club, Twiggs, Longcliffe, Reynolds Sydnope and Arlingtons for their great help.

"Also we musn't forget each and every fund raiser and people who have bought raffle tickets and sponsored a seat or bought a brick, plus those people who took part in events such as sponsored walks, one such walk being for our game at Hednesford on Easter Monday 2008, a trek of 48 miles!"

Certainly the new facilities have brought congratulatory comments the Gladiators way.

Last month Matlock were presented with an award from the Groundtastic sports magazine as their new stand was acclaimed as the Best New Stand of 2010/2011.

Their manager Mark Atkins, a Premiership title winner as a midfielder with Blackburn Rovers in 1994/95 is full of praise for everyone's efforts. Atkins actually carried out the plastering work in the new Social Club.

"The ground here has come on leaps and bounds with this new development. The stand looks magnificent and it's fantastic to go in the Social Club after a game to see it busy and people enjoying themselves. Everyone who has played a part in these marvellous improvements deserves a very big pat on the back."
RECENT STORIES
GLADIATOR'S SIGN EXPERIENCED DUO -
Manager Mark Atkins reckons he's found experience that was lacking after agreeing deals with Chris Bettney and Simon Sturdy. More...
TWO NEW FACES FOR GLADIATORS -
Matlock Town's first two signings of the summer are a former fan's favourite and an up and coming utility player. More...
DUE TO RETURN TO THE GLADIATORS ARENA NEXT SEASON-
2 of Matlock Town's brightest young stars have signed new 1-year contracts ahead of the new campaign. More...
GLADIATORS BOSS PRAISES BUXTON -
Matlock boss Mark Atkins this week paid tribute to his number two Nick Buxton for his contribution both on and off the field. More...
MATLOCK TOWN'S HANNAH JOINS BRADFORD CITY -
Ross Hannah finally got his wish of a career in the Football League when he joined League Two outfit Bradford City. More...
PRAISE FOR GLADIATORS' YOUNG STAR -
2011 has seen the emergence of a bright young talent at the Reynolds Stadium as 18 year old full back Ben Turner has stepped up to the plate. More...
HANNAH STRIKES GOLD -
Ross Hannah has surely hit legendary status at Matlock Town as his hat trick in Easter Monday's final league game this term saw him shatter the club record of 49 goals in a season. More...
STAY OF EXECUTION FOR THE GLADIATORS-
Boss Mark Atkins admitted it was "a huge relief" to beat Nantwich Town and end their sequence without a league win More...
IS THE GLADIATOR'S BATTLE OVER? -
Manager Mark Atkins has conceded that his side's hopes of reaching the play offs are all but over. More...
NOW OR NEVER FOR GLADIATORS -
Monday night's 1-0 Evo-Stik League Challenge Cup semi final defeat at Ashton United gives the Gladiators just the play offs to aim for. More...
FIGHT GOES ON FOR GLADIATORS -
Their play off hopes may be fading but Matlock Town boss Mark Atkins insists that the fight goes on. More...
BATTLE AHEAD FOR THE GLADIATORS -
Make no bones about it, Matlock need to beat Whitby Town in Saturday's lunchtime kick off (1pm) at the Reynolds Stadium. More...
NEW BLOOD FOR THE GLADIATORS -
Matlock Town boss Mark Atkins has fulfilled his promise to strengthen his Gladiators squad More...
GLADIATORS BATTLE TO HANG ON TO HANNAH -
Matlock Town boss Mark Atkins says that claims from Torquay that the Gulls had signed Gladiators star striker are "premature to say the very least." More...
AND THE WINNER IS... -
A brace of awards have come Matlock Town's way for boss Mark Atkins and the Gladiators new stand being acclaimed as the best new stand of 2011... More...
GLADIATORS FIGHT TO THE FINISH -
A perfect February has given Matlock Town an excellent chance of making the end of season play offs but boss Mark Atkins is taking nothing for granted. More...
ATKINS PLEASED AFTER WEEKEND WIN -
Matlock boss Mark Atkins reckons the 4-0 win at Retford United was a massive result for his side in more ways than one. More...
ATKINS SEEKS NEW BLOOD -
A busy Mark Atkins is trying to strengthen Matlock's squad ahead of a run of 18 league games and at least one, hopefully more, League Cup tie to play before the season's end. More...
MATLOCK TOWN SEEKS INVESTORS -
"A few thousand pounds could make a real difference to the club". That's the message from Matlock Town Football Club. More...
ALL CHANGE FOR THE GLADIATORS -
Fans shouldn't be surprised to see a couple of changes to the Matlock Town team that takes on Marine at the Reynolds Stadium on Saturday More...
KEEP IT UP -
Having won four out of their last five league matches, Mark Atkins' Matlock Town now find themselves up in third spot, More...
FLU HITS MATLOCK CAMP -
Matlock boss Mark Atkins rose from his sick bed on Monday to orchestrate a vital home win against Burscough, and then was back in it straight after the match. More...
ATKINS, "2010 HAS BEEN A GOOD YEAR" -
...but the Gladiators' fate in 2011 could be decided on how they cope with fixture congestion in what is expected to be a crowded end to the campaign. More...
PROVERBIAL 'SIX POINTER' -
Matlock Town v Buxton on Christmas Monday at the Reynolds Stadium looks to be the proverbial six pointer as the local rivals seek a play off spot More...
GLADIATORS BATTLE ARCTIC CONDITIONS -
Matlock Town boss Mark Atkins fears that his side could face a big fixture backlog as the arctic conditions bit into the Evo-Stik League fixture programme this week. More...
BACK TO WINNING WAYS -
Manager Mark Atkins was pleased and relieved that defensive errors failed to rear up again as Matlock recorded two 3-0 home wins inside a week More...
GLADIATORS
FIGHT ON -
Without a win in five games, Matlock Town will be desperate to grab maximum points against second placed Colwyn Bay on Saturday. More...
ATKINS: GIVING CHEAP GOALS AWAY MUST STOP -
Matlock boss Mark Atkins says his side must stop giving cheap goals away after their second 2-1 home defeat in four days. More...
MILESTONE APPEARANCE FOR GLADIATORS PLAYER -
There's two very good reasons why Matlock Town will want Saturday's visitors Hucknall Town to feel the backlash More...
GLADIATORS FIGHT BACK AFTER 1st AWAY DEFEAT OF THE SEASON -
Mark Atkins will be looking for his Matlock side to bounce back quickly and positively from their first away defeat of the season against Worksop More...
YOU CAN'T KEEP A GOOD MAN DOWN -
They say you can't keep a good man down... Matlock striker Ross Hannah has certainly proved the point this last week. More...
NEW STAND IN ACTION AT MATLOCK -
It's taken 10 years and a mammoth fundraising effort - but Matlock Town Football Club's new 300-seater stand is now providing a welcome home for supporters. More...
MATLOCK GAFFER BLASTS REFEREE -
Matlock boss Mark Atkins laid the blame for his side's second defeat of the season firmly at the door of Mansfield referee Mark Jones. More...
WILL HISTORY REPEAT ITSELF? -
Matlock will travel to the Bill Stokeld Stadium hoping history repeats itself this weekend as they take on Evo Stik League first Divison South Carlton Town in the 2nd Qualifying Round of the FA Cup. More...
TOP OF THE LEAGUE - Two wins in forty-eight hours placed Matlock Town on top of the league as they embark on their latest FA Cup adventure on Saturday at home to fellow Evo-Stik Premiership side Worksop Town. More...
NO EXCUSES -
Matlock boss Mark Atkins offered no excuses after a disappointing Bank Holiday return of just one point out of six. More...
MORE TO COME -
"I feel there's more to come from us." declared Matlock boss Mark Atkins after his side strengthened their Evo Stik League Premier Division campaign with a 3-0 win against Burcough. More...
RARING TO GO -
"The lads are raring to go" was the message from Matlock Town boss Mark Atkins after a long pre season programme of seven weeks and nine matches. More...

Related Links