Wednesday 2nd February 2011
by IAN RICHARDSON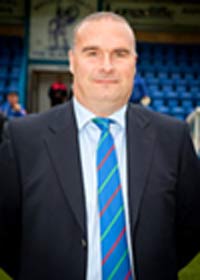 A busy Mark Atkins is trying to strengthen his Matlock squad ahead of a run that includes eighteen league games and at least one, hopefully more, League Cup tie to play before the season's end.

In a bid to find support in the scoring department for goal machine Ross Hannah, the Matlock boss has brought in striker Anthony Wilson on a month's loan from Blue Square North neighbours Alfreton Town.

And Wilson made a scoring debut, netting Matlock's final goal in the 3-0 League Cup win over Barwell on Tuesday night.

The fact that Hannah and Wilson are old pals, having forged a prolific partnership at Belper Town three seasons ago, was probably a factor in Atkins pursuit of the tall bustling hit man.

"Over the past two months, we've had three centre forwards and although they've all worked tremendously hard, they've not hit it off in terms of scoring goals.

"We needed another potent goalscorer alongside Ross. I tried to bring Anthony in three weeks ago but couldn't. I heard that he had become available last Thursday. Two other clubs were in for him, but he's decided to come to Matlock and we're delighted.

"It'd be great if he could get his partnership back with Ross as it was before at Belper. The lad was keen to come here and he'll offer us something different up front. He made a big difference to us on Tuesday for he passed the ball around very well, led the line well and having him means we're not looking to Ross to get us the goals all the time.

"I'm ever so pleased he scored, he worked his socks off and could probably have got another couple of goals. He's still not fully fit, so I can't wait to see what he's like when he is fully fit."

Wilson joins winger James Naylor who is at the Reynolds Stadium on a dual signature basis with his parent club Harrogate Town.

Atkins hinted that there might be more additions to the ranks, possibly before the weekend's trip to foot of the table Retford United. "We've got seven day notices in on two players and we hope that we will be able to speak to them on Wednesday" said Atkins directly after the Barwell victory.

"I'm hoping we'll have one of them if not both sorted out for the weekend. Now is the time for us to try and bring in one more quality player so we can have a big push towards the end of the season."

Atkins was not too upset that last Saturday's scheduled visit to Colwyn Bay was frozen off, even though his players now face an awkward midweek trip to the North Wales coast.

"We've had a tough few weeks, so I wasn't too disappointed when we heard the game was off - it gave us a chance to regroup. We had fourteen players available on Saturday, and four or five of those were carrying knocks, so it gave those lads a little extra time to regain some fitness."

Retford, yet to win at home this season, present the third placed Gladiators with the proverbial banana skin. It is a game Matlock must win to reignite their challenge for the play offs, but Atkins says he and his Matlock side must take nothing for granted.

"Anything can happen in this league as proved by Ossett Town's 4-1 away win against Worksop last Saturday" he warned. "There are no 'give-me' games in this league, but we're going there with something to prove after losing three on the trot in the league.

"We have to ensure we go there in the right frame of mind and get the right result. Hopefully the win on Tuesday will be a big confidence booster for us. It was important that we got back to winning ways as soon as possible and it was a good, strong, committed performance where our passing game was very good indeed."

Atkins has no new injury worries, but existing casualties Lee Featherstone, Kris Bowler, Mark Haran and Nathan Joynes stand no chance of featuring.
Upcoming Fixtures
Sat 5th February - Retford United (A) - Evo-Stik League Premier Division
Sat 12th February - KENDAL TOWN (H) - Evo-Stik League Premier Division
RECENT STORIES
NOW OR NEVER FOR GLADIATORS -
Monday night's 1-0 Evo-Stik League Challenge Cup semi final defeat at Ashton United gives the Gladiators just the play offs to aim for. More...
FIGHT GOES ON FOR GLADIATORS -
Their play off hopes may be fading but Matlock Town boss Mark Atkins insists that the fight goes on. More...
BATTLE AHEAD FOR THE GLADIATORS -
Make no bones about it, Matlock need to beat Whitby Town in Saturday's lunchtime kick off (1pm) at the Reynolds Stadium. More...
NEW BLOOD FOR THE GLADIATORS -
Matlock Town boss Mark Atkins has fulfilled his promise to strengthen his Gladiators squad More...
GLADIATORS BATTLE TO HANG ON TO HANNAH -
Matlock Town boss Mark Atkins says that claims from Torquay that the Gulls had signed Gladiators star striker are "premature to say the very least." More...
AND THE WINNER IS... -
A brace of awards have come Matlock Town's way for boss Mark Atkins and the Gladiators new stand being acclaimed as the best new stand of 2011... More...
GLADIATORS FIGHT TO THE FINISH -
A perfect February has given Matlock Town an excellent chance of making the end of season play offs but boss Mark Atkins is taking nothing for granted. More...
ATKINS PLEASED AFTER WEEKEND WIN -
Matlock boss Mark Atkins reckons the 4-0 win at Retford United was a massive result for his side in more ways than one. More...
MATLOCK TOWN SEEKS INVESTORS -
"A few thousand pounds could make a real difference to the club". That's the message from Matlock Town Football Club. More...
ALL CHANGE FOR THE GLADIATORS -
Fans shouldn't be surprised to see a couple of changes to the Matlock Town team that takes on Marine at the Reynolds Stadium on Saturday More...
KEEP IT UP -
Having won four out of their last five league matches, Mark Atkins' Matlock Town now find themselves up in third spot, More...
FLU HITS MATLOCK CAMP -
Matlock boss Mark Atkins rose from his sick bed on Monday to orchestrate a vital home win against Burscough, and then was back in it straight after the match. More...
ATKINS, "2010 HAS BEEN A GOOD YEAR" -
...but the Gladiators' fate in 2011 could be decided on how they cope with fixture congestion in what is expected to be a crowded end to the campaign. More...
PROVERBIAL 'SIX POINTER' -
Matlock Town v Buxton on Christmas Monday at the Reynolds Stadium looks to be the proverbial six pointer as the local rivals seek a play off spot More...
GLADIATORS BATTLE ARCTIC CONDITIONS -
Matlock Town boss Mark Atkins fears that his side could face a big fixture backlog as the arctic conditions bit into the Evo-Stik League fixture programme this week. More...
BACK TO WINNING WAYS -
Manager Mark Atkins was pleased and relieved that defensive errors failed to rear up again as Matlock recorded two 3-0 home wins inside a week More...
GLADIATORS
FIGHT ON -
Without a win in five games, Matlock Town will be desperate to grab maximum points against second placed Colwyn Bay on Saturday. More...
ATKINS: GIVING CHEAP GOALS AWAY MUST STOP -
Matlock boss Mark Atkins says his side must stop giving cheap goals away after their second 2-1 home defeat in four days. More...
MILESTONE APPEARANCE FOR GLADIATORS PLAYER -
There's two very good reasons why Matlock Town will want Saturday's visitors Hucknall Town to feel the backlash More...
GLADIATORS FIGHT BACK AFTER 1st AWAY DEFEAT OF THE SEASON -
Mark Atkins will be looking for his Matlock side to bounce back quickly and positively from their first away defeat of the season against Worksop More...
YOU CAN'T KEEP A GOOD MAN DOWN -
They say you can't keep a good man down... Matlock striker Ross Hannah has certainly proved the point this last week. More...
NEW STAND IN ACTION AT MATLOCK -
It's taken 10 years and a mammoth fundraising effort - but Matlock Town Football Club's new 300-seater stand is now providing a welcome home for supporters. More...
MATLOCK GAFFER BLASTS REFEREE -
Matlock boss Mark Atkins laid the blame for his side's second defeat of the season firmly at the door of Mansfield referee Mark Jones. More...
WILL HISTORY REPEAT ITSELF? -
Matlock will travel to the Bill Stokeld Stadium hoping history repeats itself this weekend as they take on Evo Stik League first Divison South Carlton Town in the 2nd Qualifying Round of the FA Cup. More...
TOP OF THE LEAGUE - Two wins in forty-eight hours placed Matlock Town on top of the league as they embark on their latest FA Cup adventure on Saturday at home to fellow Evo-Stik Premiership side Worksop Town. More...
NO EXCUSES -
Matlock boss Mark Atkins offered no excuses after a disappointing Bank Holiday return of just one point out of six. More...
MORE TO COME -
"I feel there's more to come from us." declared Matlock boss Mark Atkins after his side strengthened their Evo Stik League Premier Division campaign with a 3-0 win against Burcough. More...
RARING TO GO -
"The lads are raring to go" was the message from Matlock Town boss Mark Atkins after a long pre season programme of seven weeks and nine matches. More...

Related Links