Tuesday 4th February 2014

There's not just a new chef and a new approach to dining at The Devonshire Arms, Middle Handley, but now there's another new award too.

The multi award-winning, Michelin listed inn, has recently welcomed new Head Chef Russell Caines.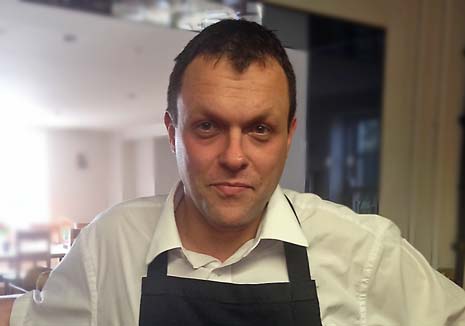 With a wealth of experience gained around the country - and especially throughout North Yorkshire - Russell (above), is the holder of a prestigious Michelin Bib Gourmand accolade, awarded when he was the owner and Head Chef at the Bruce Arms in Ripon.

For his first season at the Devonshire Arms, he has introduced two new menus, offering a greater choice and greater range and complexity within each dish.

The a la carte menu now features five starters and also five main courses: slow cooked shoulder of lamb; molasses cured belly of pork; pan fried fillet of sea bass; roast chicken supreme and roast vegetable croquettes as well as a selection of steaks.

The inn's ever changing Market Menu also features five starters and six mains, including such favourites as Famers Blonde beer battered cod and chips, roast sirloin of beef, fillet steak burger, whole baked plaice, gammon steak and seared calves liver.

"At the Devonshire Arms, we have always prided ourselves on our use of seasonal, locally sourced produce," said owner Jill Swift. "Following our recent successes - particularly our Michelin listing and our victory in the Informal Dining category at the Eat Sheffield Awards - things have moved on enormously.

"Russell's extensive experience in many varied settings brings a whole new world of knowledge and experience to our kitchen and we are delighted that he has agreed to head our team.

"His new menus will change much more regularly than in the past, which means we will be able even more successfully to reflect the changing seasons in all the dishes we offer."

And following Russell's recruitment, the latest good news for the Devonshire Arms - as well as it's diners - is that they have now been awarded a further accolade having been awarded the highest level of official accreditation from Quality in Tourism, part of Visit England, becoming the only inn in the region to have achieved this recognition.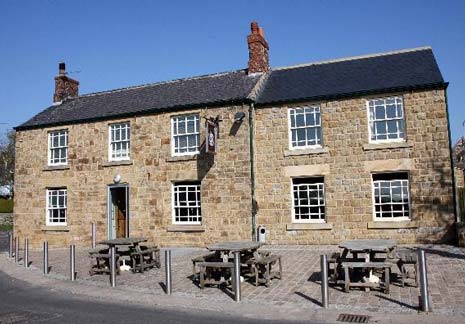 The Quality in Tourism assessment provides useful information to consumers about the quality of establishments that are currently available in and around the UK.

Acting as a reliable regulatory body for the accommodation and tourism industry, it recognises quality, differentiates levels of facilities and services and makes potential guests aware of what they can expect before they make a booking.

The Quality in Tourism assessor commented: "The Devonshire Arms offers a very warm welcome from friendly staff in a well presented surroundings.

"The open kitchen gives diners the opportunity to watch their food being prepared and the menu offers a varied range of dishes, which incorporate much seasonal and locally produced ingredients."
OTHER STORIES
STAVELEY CLUB HOUSE AVAILABLE FOR PARTIES AND FUNCTIONS -
The beautifully appointed Club House at Staveley MWFC's Inkersall Road Football Ground is now available to book as the perfect venue for your Party or Function More...
DERBYSHIRE MEETS SPAIN IN STEVE PEREZ'S NEW 'MI CASA' COOKBOOK -
Hot on the heels of Casa Hotel being voted 5th best hotel in the UK, in Trip Advisor's 2015 Travellers Choice Awards, Steve Perez has unveiled a Spanish influenced cookbook, 'Mi Casa: Spanish-Inspired Recipes from the Heart of Derbyshire'.
More & Audio...
CHESTERFIELD McDONALDS GOES DIGITAL AFTER REVAMP -
Chesterfield is set to be given a significant investment boost with the bold transformation of the McDonald's restaurant, creating up to 10 new jobs. More & Audio...
NANDO'S BRINGS PERI-PERI CHICKEN
TO CHESTERFIELD -
Chesterfield residents and visitors are in for a tasty treat as Nando's, home of legendary Portuguese flame-grilled PERi-PERi chicken, opened to the public More & Audio...
FANCY THE CHANCE TO BUILD YOUR OWN DREAM BURGER? -
Ever wanted to make your mark on the menu at your local pub? Well now's your chance with Chesterfield's Donkey Derby Pub. More...
HISTORIC PUB IN WINGERWORTH IS REBORN! -
The Wingerworth Pub & Kitchen (formerly known as the Hunloke Arms) is to re-open tomorrow - Friday November 8th - following a £500,000 refurbishment. More...
A MICHELIN LISTING FOR THE DEVONSHIRE ARMS -
The award-winning Devonshire Arms at Middle Handley has been given a place in the prestigious Michelin Hotel and Restaurant Guide for Great Britain and Ireland 2014. More...
MERRY CHRISTMAS FROM DEVONSHIRE ARMS OR MAYBE HOLA! INSTEAD... -
Is it ever too soon to wish everybody a Happy Christmas? Not according to the team at The Devonshire Arms! More...
BURGERS FOR INDEPENDENCE DAY AT THE DEVONSHIRE ARMS -
Celebrate American Independence Day with the food that made (another) nation great, at The Devonshire Arms at Middle Handley More...
ARMED FORCES GET A FREE CROWN ON ARMED FORCES DAY -
Crown Carveries in Chesterfield are celebrating Armed Forces Day 2013 by treating all Army, Navy and Air Force men and women, past and present, to a free meal. More...
JOIN ST GEORGE FOR A FULL ENGLISH AT THE DEVONSHIRE ARMS -
What better way to celebrate St George's Day than with that great culinary tradition, the Full English Breakfast? More...
LOCAL CHEFS COMPETE FOR RED NOSE DAY HONOURS -
The team at the Devonshire Arms in Middle Handley are aiming to put a smile on costumers' faces with their own Comic Relief version of the 'Great British Menu' competition! More...
BATTLE OF THE RELISHES AT GREAT BRITISH PIE NIGHT -
Henderson's and Worcestershire Sauce battle it out for the title of top tastebud tickler at Devonshire Arms Great British Pie Night, Middle Handley More...
IT ALL COMES BACK TO FOOD! - NONNAS' GIAN BOHAN TALKS ITALY -
The passion of the Italian way of life is passed on by Gian Bohan, co- owner of Nonnas, and he does it through good food and company - with an enthusiasm that very quickly becomes infectious. More...
LET IT BEAN! -
The Highwayman Beefeater Grill In Chesterfield has recreated the iconic image of The Beatles crossing Abbey Road - using items from the great British breakfast! More...
DELHI 41 CELEBRATES SUCCESSFUL FIRST YEAR -
Delhi 41 on Whittington Moor has now been open for 12 months and is fast gaining a reputation as one of the best Indian Restaurants in Chesterfield. More...
CASA ACHIEVES 2nd AA ROSETTE FOR COCINA -
Chesterfield's Casa Hotel has scooped yet another accolade having been awarded a prestigious 2nd Rosette for Cocina restaurant. More...

RESTAURANT REVIEWS -
Reviews, and updates for local restaurants in and around Chesterfield. More...