Monday 27th December 2010

There were bumper bundles of joy at Chesterfield Royal Hospital on Christmas Day after 7 mums gave birth. 5 sets of parents gave permission for the details of the new additions to be released.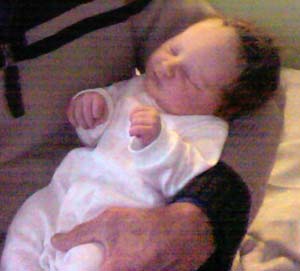 First born (that we have details for) was Poppy Louise Jones (pictured left) who arrived safely into the world at 6.59 am weighing a healthy 6lb 7 oz. Poppy had been due on Xmas Eve so proud parents - Amy and Craig from Higham - were prepared for a Christmas baby. Poppy is their third daughter, and new sister to Nicole (6) and Lily-May (3).
Amy told The Chesterfield Post that she was "tired, but very happy." It had been a long day, as she'd been up at 4am with Nicole and Millie, watching them open their presents before heading to Calow.

The whole family was very proud and delighted, with baby Poppy's new older sisters declaring her "the best Christmas present" they had.

And they've already given some thought to how they'll celebrate the day in years to come with Amy joking that they'll have turkey for lunch, with birthday cake for afters!

Next to give birth was Jodie Searson from Dronfield who is now the proud mum of Jack. He was born at 7.19am at 7lb 13 and a half oz.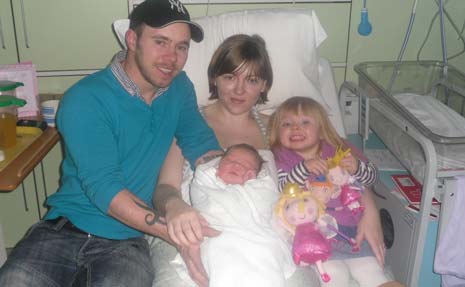 Rebecca Elliott and Lee Maggs from Danesmoor are proud to announce the birth of daughter Ruby Maggs (pictured above) who was also born in the morning at 11.18am weighing in at 8lb 6oz.

Ruby was eight days late - her due date was when the worst of the snow arrived - mum Becky admitted she was quite glad she'd waited, as they wouldn't have got out of the drive had she been on time! Thankfully the journey from their home in Danesmoor presented no such problems early on Christmas Day and little Ruby arrived just in time for lunch! Ruby is Lee and Rebecca's second daughter - her elder sister is still a little nervous and unsure about baby Ruby as yet, but Rebecca is glad to be home and looking forward to some family time getting to know the new arrival.
Two babies arrived in the afternoon, with Sarah and David Brown from Stanfree welcoming a daughter, Erin, born at 4.07pm and weighing 9lb.

Last, but definitely not least came the birth of Jamie, at 4.49pm and weighing 7lb 6oz and a half to parents Kirsty and Gareth Firman from Lea Brooks.
Congratulations and Best Wishes to all the new families from the Chesterfield Post.
RECENT STORIES
ROYAL INSPECTION FOR HOSPITAL -
The Royal Hospital at Calow lived up to its name on Friday as it welcomed HRH The Duchess of Cornwall. More...
A ROYAL VISITS THE ROYAL -
Chesterfield Royal Hospital announced today that HRH The Duchess of Cornwall will perform the official opening of the new £12m development More...
KICK THIS BUG INTO TOUCH -
Chesterfield FC and nurses from Derbyshire Community Health Services have joined forces to give one of the most virulent and severe winter bugs the 'Red Card'. More...
MODERN MAKEOVER PUTS STROKE PATIENTS FIRST -
Over 450 stroke patients in Chesterfield are to benefit from a £1.4m purpose-built facility for stroke sufferers will soon open at the Royal. More...
BLOOD DRAW TO SCORE DRAW -
A local donor who was one of the first to give blood at the new B2 NET stadium was Guest of Honour to see The Spireites grab a draw in the dying minutes of the game against Bradford on Saturday. More...
MORE FANS FOR ROYAL HOSPITAL -
A few weeks ago Chesterfield Hospital was appealing for friends on Facebook - now they're proud to announce they have fans of a different kind. More...
FLU ADVICE -
As swine flu cases once again begin to rise, Chesterfield Royal hospital is advising people who think they, or someone they know may have the illness to visit their website in the first instance for further advice. More...
STROKE SERVICES SHOWCASED AT HOSPITAL -
The statistics are frightening - around 150 000 people have a stroke every year, it's the largest form of disability and the 3rd most common cause of death in the UK More...
DON'T TAKE RISKS WHEN WALKING HOME-
As we're all out enjoying the Christmas Spirit, there's a warning that we need to take care whilst walking home. More...
MORE MRSA SCREENINGS THAN EVER BEFORE AT ROYAL -
The Chesterfield Royal Hospital has announced today that it has extended its MRSA screening programme to include emergency patients. More...
ROYAL GETS DIGITAL TONIC -
Chesterfield Royal Hospital is appealing for friends today. It's become one of the first trusts in the UK to set up a facebook profile More...
GIVE BLOOD, GIVE LIFE -
As Christmas approaches, the NHS Blood Transfusion Service is asking people in Chesterfield to think about giving one free but valuable gift this Christmas and donate a pint of blood. More...
NEW ERA FOR WOMEN'S HEALTH AS NEW UNIT OPENS -
A ground breaking Woman's Health Unit has opened today at the Chesterfield Royal and hopes to change the way the hospital provides gynaecology nursing and medical care. More...
HOSPITAL MAKE CONTINGENCY PLANS AHEAD OF WINTER -
Although it's only just November, Chesterfield Royal say they are already seeing a rise in admissions due to "winter illnesses" More...
YOUR HOSPITAL NEEDS YOU! -
North Derbyshire's patients are being asked to tell Chesterfield Royal how it can improve it's services. More...