Wednesday 29th December 2010

The statistics are frightening - around 150 000 people have a stroke every year, it's the largest form of disability and the 3rd most common cause of death in the UK - with 25 % of patients under 65 when they have one. Women are also 3 times more likely to die of a stroke than Breast Cancer.
Causes range from smoking, drinking and lifestyle factors (weight and diet), to high blood pressure and diabetes. Family History of strokes can be significant, along with a history of previous small strokes (TIA's).
Symptoms vary - but are all significant - and can range from headaches and confusion, to weakness on one side (unilateral). What is universal is that any signs will come on suddenly and should be checked out immediately. The national FAST (Face, Arm , Speech, Time) campaign highlights the condition , and details can be found online - www.dh.gov.uk.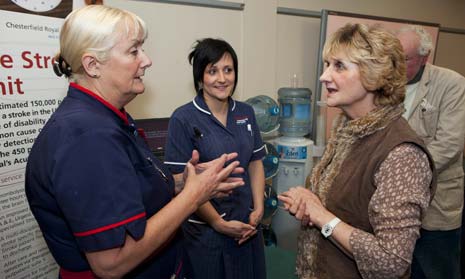 (L to R) Specialist Stroke Matron, Sue Potter and Nurse Practitioner Tina Vaughan talking to a member of the hospital board at the recent stroke evening

Chesterfield Royal Hospital currently has an 18-bed stroke unit ,which recently gained a Highly Commended judgement for their care systems from an inspection team and says it's committed to providing local patients with a high degree of care as near to home as possible. They also have a 20 bed Ward at Walton (Speedwell) that acts as a rehabilitation facility. There are now plans to merge these two wards in the spring and create a one-site, 36-bedded unit, which will provide patients with a high standard of continuous care in familiar surroundings.

New and effective treatments have also proved vital in limiting the effects of strokes if administered early enough (another benefit of having good localised services say nurses at the unit). One of those drugs was first used at the Royal a year ago and has been used on many patients over the last year - with good results.

The Chesterfield Post was invited to an event at the Hospital where the developments were showcased to Members of the hospitals Governing Board. We spoke to staff and patients about new treatments and plans for the future of the unit.

Thrombolysis is a drug given to qualifying patients on admission, with strict guidelines. It's not licensed for anyone over 80 and has to be given within three hours. If the assessments show that the patient has had a small stroke they will not be given the drug, nor if they have had a major one as treatment in those cases will differ. Currently the drug is only administered during certain hours though these will be extended shortly.

Nurse Practitioner Tina Vaughan took us through the procedure for administration of the drug on the ward saying, "Once the patient comes in by ambulance to A&E, they are given an NIHSS assessment which will establish symptoms and the severity of the stroke. Patients are usually CT scanned within 10 mins, with a stroke consultant from the wards on scene. Patients are then taken to the Stroke ward where they are weighed as the dose is given according to weight. The drug is then given, with a current fastest time of 25 mins from door to needle. We are working on getting that down though!"

Sue Potter is the Specialist Stroke Matron at the hospital and she told us, "When it works it's fantastic - we're still as enthusiastic each time we use it, it makes a real difference, even if it can't stop the stroke it can reduce the disabilities which it may cause".

Tina's advice to anyone who thinks they may be having a stroke is to get help fast. Do NOT dial a Doctor - ring 999 as time is critical. Even if you think it is a small stroke, don't be tempted to wait and see - the symptoms may not subside and the crucial 3-hour window may be lost for the drug.

Steve Brown was the first patient at the Royal to be given thrombolysis a year ago when he had a stroke on Dec 21st 2009. After treatment he was allowed home on Xmas Eve.

The Chesterfield Post spoke with Steve, who told us that he is unable to remember much about being ill and relies on his wife Jenny for information - he is though in better health and has no real effects from the stroke - although he still tires easily, particularly after walking any sort of distance and relies on his walking stick.

Steve added he, "Had been in good health, but had been in a stressful job, I was the proverbial white van man - working for myself and very long hours. I never relaxed. I'm driven now mind you, I'm never relaxed but have to rest after 4 or 5 hours - my sleep pattern is coming back, but it's all over place".

One year on Steve had this advice to anyone currently recovering from the effects of a stroke, "Don't let it grind you down, you do get there, be patient, there was no way I was stopping in hospital - I tried my damndest to get home and they let me out - attitude is everything, I'm taking 10 tablets every day - but I have to got to stick to the regime and get stronger. If you feel like doing something, do it, but don't push it. It's all about attitude, a positive attitude".

Steve's wife Jenny was with him when he had the stroke. It was, she admitted, "A stressful and scary time - we were going out, Steve said he felt weird and didn't look very well, sort of flopped back. He did speak again, but it was like the lights were on but no one was home - the trouble was Steve's symptoms were slightly different to those described in the ads."

She added that "The paramedic arrived in less than 10 mins", and, after being admitted to hospital, she was spoken to by the consultant about thrombolysis.
Her response was "Just do what you have to do - just make him better".

The Unit was described by Michaela, one of the Speech therapists on the team as, "A multi disciplinary unit which provides a decent service for the patients of North Derbyshire, it means that they don't have to go out of county to get a good service".

She added, "We're all proud of it and really excited about the rehab unit moving from Walton. It will mean a seamless transfer of care and this should aid and shorten recovery time as the patient will not have to re adjust to different surroundings and staff when they're transferred to Walton. It will reduce the handover time between one area and another which physiologically can be difficult for patients".

The last word went to Nurse Practitioner Tina Vaughan who told us, "The Stroke Unit at The Royal has improved hugely over the last 5 years - with the strategy in place for the next 10, it will improve a great deal more - we're all very proud of what we do here".



RECENT STORIES
SAFE AND SUSTAINABLE -
A 4 month long review of the future of children's congenital heart services is about to begin in England and the NHS is seeking the views of people in Chesterfield. More...
ROYAL INSPECTION FOR HOSPITAL -
The Royal Hospital at Calow lived up to its name on Friday as it welcomed HRH The Duchess of Cornwall. More...
A ROYAL VISITS THE ROYAL -
Chesterfield Royal Hospital announced today that HRH The Duchess of Cornwall will perform the official opening of the new £12m development More...
KICK THIS BUG INTO TOUCH -
Chesterfield FC and nurses from Derbyshire Community Health Services have joined forces to give one of the most virulent and severe winter bugs the 'Red Card'. More...
MODERN MAKEOVER PUTS STROKE PATIENTS FIRST -
Over 450 stroke patients in Chesterfield are to benefit from a £1.4m purpose-built facility for stroke sufferers will soon open at the Royal. More...
BLOOD DRAW TO SCORE DRAW -
A local donor who was one of the first to give blood at the new B2 NET stadium was Guest of Honour to see The Spireites grab a draw in the dying minutes of the game against Bradford on Saturday. More...
MORE FANS FOR ROYAL HOSPITAL -
A few weeks ago Chesterfield Hospital was appealing for friends on Facebook - now they're proud to announce they have fans of a different kind. More...
FLU ADVICE -
As swine flu cases once again begin to rise, Chesterfield Royal hospital is advising people who think they, or someone they know may have the illness to visit their website in the first instance for further advice. More...
WHEN A CHILD IS BORN -
There were bumper bundles of joy at Chesterfield Royal Hospital on Christmas Day after 7 mums gave birth. More...
DON'T TAKE RISKS WHEN WALKING HOME-
As we're all out enjoying the Christmas Spirit, there's a warning that we need to take care whilst walking home. More...
MORE MRSA SCREENINGS THAN EVER BEFORE AT ROYAL -
The Chesterfield Royal Hospital has announced today that it has extended its MRSA screening programme to include emergency patients. More...
ROYAL GETS DIGITAL TONIC -
Chesterfield Royal Hospital is appealing for friends today. It's become one of the first trusts in the UK to set up a facebook profile More...
GIVE BLOOD, GIVE LIFE -
As Christmas approaches, the NHS Blood Transfusion Service is asking people in Chesterfield to think about giving one free but valuable gift this Christmas and donate a pint of blood. More...
NEW ERA FOR WOMEN'S HEALTH AS NEW UNIT OPENS -
A ground breaking Woman's Health Unit has opened today at the Chesterfield Royal and hopes to change the way the hospital provides gynaecology nursing and medical care. More...
HOSPITAL MAKE CONTINGENCY PLANS AHEAD OF WINTER -
Although it's only just November, Chesterfield Royal say they are already seeing a rise in admissions due to "winter illnesses" More...
YOUR HOSPITAL NEEDS YOU! -
North Derbyshire's patients are being asked to tell Chesterfield Royal how it can improve it's services. More...