Monday 31st January 2011

A local donor who was one of the first to give blood at the new B2 NET stadium was Guest of Honour to see The Spireites grab a draw in the dying minutes of the game against Bradford on Saturday.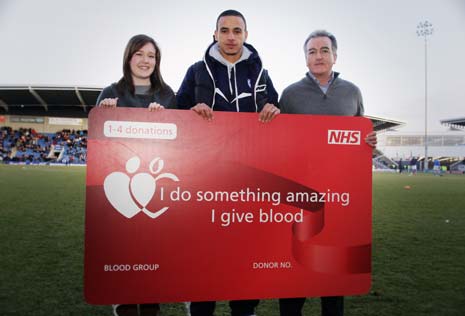 (l-r) Daughter, Jessica Taylor, Spireites Forward Dean Morgan and VIP Blood Donor, James Taylor

James Taylor, who has donated blood 52 times, was the lucky winner of a VIP day out after entering the prize draw at the first ever session hosted by the National Blood Transfusion Service at the stadium last November.

His daughter Jessica was with him as he enjoyed a three-course lunch, a tour of the ground and seats in the main HTM stand, all hosted by CFC Director Ashley Carson.

Commenting on the match, James Taylor said: "Chesterfield scored a last minute equaliser which not only made it an exciting end to the day but it also raised by blood pressure considerably as well."

He added: "It was a wonderful experience and a great day out for a football match, but the B2net is also a great venue to give blood, which I shall be doing again at the next B2net sessions in March."

Bookings are already being taken for the next Blood Donor sessions at the B2net Stadium on Monday 14th March, Thursday 17th March, Sunday 3rd April, Monday 16th May, Monday 13th June, and Monday 4th July.

Normally walk-in donors are welcome but such is the demand for the sessions at the B2net Stadium that bookings in advance are being advised by ringing 0300 123 23 23.

For more details about giving blood go to www.blood.co.uk
RECENT STORIES
H-A-P-P-Y
A report out yesterday suggests that staff morale within the NHS Derbyshire County remains among the highest throughout the NHS. More...
COUNTY'S DENTISTS CHAMPION PATIENT SCHEME -
Almost half of Derbyshire County's dentists are now championing a national scheme proving their commitment to patient care. More...
THE ROYAL GOES GLOBAL -
After conquering Facebook, the Chesterfield Royal Hospital has now reached another social networking milestone with its 1,000th YouTube viewing. More...
SAFE AND SUSTAINABLE -
A 4 month long review of the future of children's congenital heart services is about to begin in England and the NHS is seeking the views of people in Chesterfield. More...
ROYAL INSPECTION FOR HOSPITAL -
The Royal Hospital at Calow lived up to its name on Friday as it welcomed HRH The Duchess of Cornwall. More...
A ROYAL VISITS THE ROYAL -
Chesterfield Royal Hospital announced today that HRH The Duchess of Cornwall will perform the official opening of the new £12m development More...
KICK THIS BUG INTO TOUCH -
Chesterfield FC and nurses from Derbyshire Community Health Services have joined forces to give one of the most virulent and severe winter bugs the 'Red Card'. More...
MODERN MAKEOVER PUTS STROKE PATIENTS FIRST -
Over 450 stroke patients in Chesterfield are to benefit from a £1.4m purpose-built facility for stroke sufferers will soon open at the Royal. More...
MORE FANS FOR ROYAL HOSPITAL -
A few weeks ago Chesterfield Hospital was appealing for friends on Facebook - now they're proud to announce they have fans of a different kind. More...
FLU ADVICE -
As swine flu cases once again begin to rise, Chesterfield Royal hospital is advising people who think they, or someone they know may have the illness to visit their website in the first instance for further advice. More...
STROKE SERVICES SHOWCASED AT HOSPITAL -
The statistics are frightening - around 150 000 people have a stroke every year, it's the largest form of disability and the 3rd most common cause of death in the UK More...
WHEN A CHILD IS BORN -
There were bumper bundles of joy at Chesterfield Royal Hospital on Christmas Day after 7 mums gave birth. More...
DON'T TAKE RISKS WHEN WALKING HOME-
As we're all out enjoying the Christmas Spirit, there's a warning that we need to take care whilst walking home. More...
MORE MRSA SCREENINGS THAN EVER BEFORE AT ROYAL -
The Chesterfield Royal Hospital has announced today that it has extended its MRSA screening programme to include emergency patients. More...
ROYAL GETS DIGITAL TONIC -
Chesterfield Royal Hospital is appealing for friends today. It's become one of the first trusts in the UK to set up a facebook profile More...
GIVE BLOOD, GIVE LIFE -
As Christmas approaches, the NHS Blood Transfusion Service is asking people in Chesterfield to think about giving one free but valuable gift this Christmas and donate a pint of blood. More...
NEW ERA FOR WOMEN'S HEALTH AS NEW UNIT OPENS -
A ground breaking Woman's Health Unit has opened today at the Chesterfield Royal and hopes to change the way the hospital provides gynaecology nursing and medical care. More...
HOSPITAL MAKE CONTINGENCY PLANS AHEAD OF WINTER -
Although it's only just November, Chesterfield Royal say they are already seeing a rise in admissions due to "winter illnesses" More...
YOUR HOSPITAL NEEDS YOU! -
North Derbyshire's patients are being asked to tell Chesterfield Royal how it can improve it's services. More...