Wednesday 19th June 2013
The last week has seen Edale MRT pass the milestone of 50 callouts in 2013.

Their 50th job, on Saturday 8th June, was a request from a local farmer to free a sheep which was stuck on the crags at Burbage South. A couple of team members managed to release the sheep which had become wedged in a crack.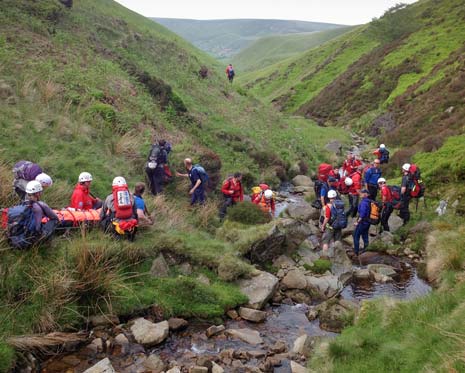 A DofE Award Scheme participant suffered a serious spinal injury after falling dopwn the steep sided Blackden Brook.

After a relatively quiet weekend (apart from the sheep!), on Monday evening they were called to two incidents simultaneously. A fell runner had injured his ankle while running near Burbage Bridge. The injured man was actually training to take part in the Nine Edges event in September which is held to raise money for the team!

While team members were treating the runner and evacuating him to the road, they were called to assist a lady who had experienced a recurrence of a back problem while walking near Wheelstones on Derwent Edge. EMRT called on the help of their neighbours from Glossop MRT to assist with carrying the lady down to the road, an evacuation which took just over two hours.

On Saturday 15th June, we were called to climber on Stanage Edge who had suffered a medical collapse. The Derbyshire, Leicestershire and Rutland Air Ambulance also attended. The serious nature of the climbers condition meant that he was anaesthetised at the scene by the helicopter crew and a team doctor, before being flown to the Northern General Hospital in Sheffield.

The team were assisted by some members of Scarborough MRT who were climbing nearby.

The week was rounded off with a dramatic rescue on the northern edge of Kinder Scout on Sunday evening. An 18 year old on a Duke of Edinburgh's Award expedition had fallen down the steep sided Blackden Brook, injuring her back and coming to rest in a stream.

One of her companions made their way down the hill to get a mobile phone signal and call for help. Glossop MRT were despatched and requested assistance from Edale team when the nature of the incident became clear.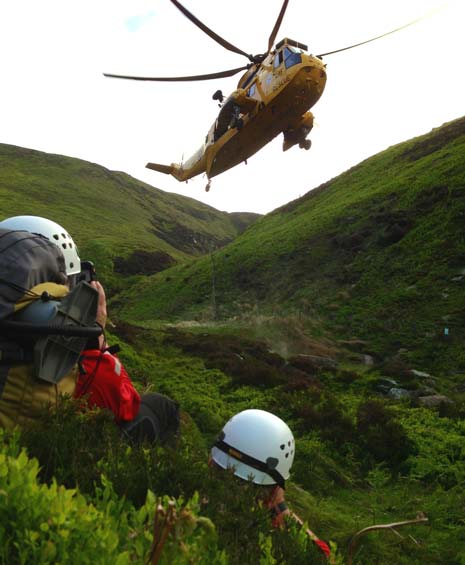 The RAF Sea King Helicopter arrives at Blackden Brook to winch the spinal injury patient to safety and off to hospital in Sheffield

The young lady had sustained a serious spinal injury during the fall and was treated on scene by a Paramedic and Doctor from Edale MRT. The remote location and the serious nature of her injuries meant that an RAF Sea King helicopter was called in to winch her directly from the scene (above) and fly her to hospital in Sheffield.


For more information about Edale MRT, see their website at www.edalemountainrescue.co.uk
RECENT STORIES
DERBY MRT JOIN EDALE MRT IN SEARCH FOR MISSING DRONFIELD MAN -
Derby MRT joined forces with Edale MRT on Thursday 23rd January, to search for 58 year old Kevin Herbert, missing from a nursing home in Dronfield. More...
BUSIEST MAY IN THE TEAM'S HISTORY... -
We've all enjoyed the lovely weather over the last few days but, as Summer arrives, with it comes a spate of callouts for Edale Mountain Rescue Team. More...
EDALE MRT - CARS, MOUNTAINS AND SHOPPING IN THE SNOW -
The surprise return of winter has seen Edale Mountain Rescue Team assisting a whole range of people around the Peak over the weekend. More...
DERBY MOUNTAIN RESCUE FIND NORTH WINGFIELD PENSIONER -
Derby Mountain Rescue Team located a missing 73 year old woman on Sunday 10th February, after a search in the North Wingfield area. More...
EMRT HELP IN SEARCH FOR APRIL JONES -
Edale Mountain Rescue Team volunteers were called out twice in the last 10 days to incidents in our area as well as helping with the search for missing April Jones. More...
2,000 HOURS AND COUNTING -
The last week has seen Edale Mountain Rescue Team called out 3 times. These jobs have taken the total man hours spent on rescues in 2012 to just over 2,000. More...
SOMEWHERE DIFFERENT FOR EDALE MRT -
Edale MRT have attended 3 incidents in the last week, including a callout for a climber who had fallen at Dovestone Tor on Derwent Edge. More...
EDALE MRT ASSIST STRANDED DRIVERS ON SNAKE PASS -
Edale MRT was called out yesterday by Derbyshire Police to reports of motorists stranded in heavy snow near Snake Summit on the A57 Snake Pass More...
EDALE MRT HELP SEARCH FOR MISSING DRONFIELD MAN -
After news came of the sad death of pensioner Roy Barnes today, the Edale Mountain Rescue Team also issued a statement. More..
ANOTHER BUSY WEEKEND FOR EDALE MRT -
On Saturday at 3pm Derbyshire Police called out the team to a climbing accident at Curbar Edge. More...
A BUSY WEEKEND! -
Edale Mountain Rescue Team has had another busy weekend with three rescues over Saturday and Sunday. More...
WHO ARE EDALE MOUNTAIN RESCUE TEAM? -
If you're out in the Peak District these are the people you hope you won't need to meet. More...
ANNUAL RAFFLE DRAWN IN SHEFFIELD -
Edale Mountain Rescue's 2010 raffle was drawn at the Sheffield branch of Decathlon, the sports retailer on Sunday 3rd October. More...