Friday 26th April 2013
pic courtesy Barry Dyke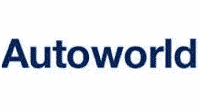 The Chesterfield Post are delighted to announce that Autoworld Chesterfield are the new sponsors for our expanded coverage this season of newly promoted Derbyshire County Cricket Club.

Having won the LV= County Championship Division 2 title last season, Derbyshire CCC have lots to look forward to in Division 1 this year - along with the Falcons' one day games in the Friends Life T20 and Yorkshire Bank 40 - after a busy Winter recruiting, developing and touring.

Judith Barcroft, Marketing and Communications Manager at Autoworld Chesterfield said, "Autoworld Chesterfield are delighted to be sponsoring The Chesterfield Post's expanded coverage of Derbyshire County Cricket Club for the 2013 season and hope there are plenty of winning reports to come during DCCC's return to the top tier of County Cricket."

There has been a tremendous amount of work behind-the-scenes at DCCC during the last few years, not least over the last 6 months.

New signings (including one of the best batsmen in the world, Shivnarine Chanderpaul), securing many player contracts, new Governance of the club and improvements from grass roots level upwards, mean they are fighting fit for the challenge ahead and brings an added momentum to the club's ambitions.

Sports Journalist Paul Fisher will as always, be covering the Falcon's T20 matches, The Chesterfield Cricket Festival and the pick of the 4 day County and 40 over games, along with his exclusive post-match interviews and stories from behind the scenes.

We are also delighted to welcome local photographer Barry Dyke, who will be bringing us some great images of the cricket action and players to go with Paul's reports, as well as for other sports and news stories, having made a start this week at the Derbys v Notts County Championship Div 1 game at the County ground (below).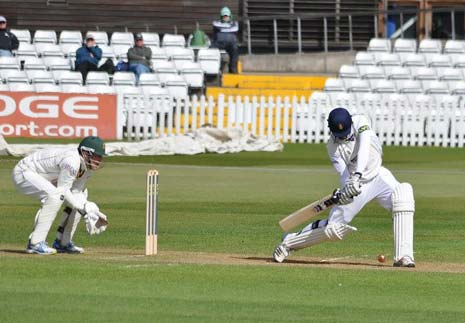 Derbyshire CCC Captain Wayne Madsen in action on the way to a 2nd innings 47 on the 3rd day of the LV County Championship Division 1 game against Notts

Barry has been heavily involved with Staveley MWFC for the last few years, both as their official photographer and the clubs Facebook creator/Manager - as well as a keen non-league football fan in general - but has decided to expand his photographic skills to include other sports, starting his new Facebook page, 'Sports Photos By Barry R Dyke'.

A talented Wildlife photographer as well, Barry has kindly agreed to join the team here at The Chesterfield Post and we'll using more of his top-notch images in the future.

We look forward to bringing you our expanded Derbyshire CCC and local cricket news coverage, sponsored by Autoworld Chesterfield, and hope it will encourage you to get behind the boys in their important and exciting season ahead.
Article sponsored by Autoworld Chesterfield
RECENT STORIES
FALCONS' BAD LUCK IN YB40 COMPETITION CONTINUES AS MATCH IS ABANDONED -
Derbyshire's bad luck at home in the Yorkshire Bank 40 over competition continued - not in losing the match in a cricketing format, but by being defeated by the English weather. More...
DERBYSHIRE v SURREY YB40 MATCH PREVIEW -
Derbyshire return to the County Ground this afternoon after a weekend trip to the North which saw the Falcons return with a win and a rain affected defeat. More...
TICKET OFFER AND DERBYSHIRE FIRE SERVICE AT FALCONS v SURREY GAME -
Falcons face Surrey in Wednesday's YB40 fixture and there's a special price half term ticket - along with the attendance of Derbyshire Fire Service after launch of new Community Partnership. More...
RAIN ENDS FALCON'S HOPES AT DURHAM -
Despite a fluent innings from Paul Borrington, rain ended any chances of Derbyshire reaching their revised target at the Durham Emirates ICG - as Durham claimed a 43-run Duckworth Lewis victory. More...
FOOTITT PUTS SCOTLAND TO THE SWORD. MATCH REPORT -
A career-best bowling performance from Mark Footitt blew the Scots away as Derbyshire captured victory in Edinburgh. More...
DERBYSHIRE CCC ANNOUNCE TRIO OF CHARITY PARTNERS FOR 2013 -
Cricket Derbyshire has announced its Official Charity Partners for 2013 - Sight Support Derbyshire, Derbyshire Community Foundation and Derbyshire, Leicestershire & Rutland Air Ambulance. More...
SUSSEX CLAIM NINE WICKET VICTORY ON FINAL MORNING AT COUNTY GROUND -
Sussex sealed a nine-wicket victory against Derbyshire on the final morning of their LV= County Championship Division One fixture at the County Ground. More...
STEVE STUBBINGS TO COACH SECOND XI -
Former Derbyshire batsman Stephen Stubbings has been added to the coaching team which will see Andrew Harris re-deployed as specialist Bowling Coach. More...
DERBYSHIRE CCC EXTEND PARTNERSHIP WITH UNIVERSITY OF DERBY -
Derbyshire County Cricket Club and The University of Derby have stepped up their established partnership ahead of the 2013 season. More...
SPIREITE SLATER HOPES TO SHINE FOR DERBYSHIRE CCC -
One to come through the Derbyshire CCC ranks is Ben Slater, born in Chesterfield, grew up in Bolsover More...
ALL ROUNDER HUGHES COMPLETES ENGLAND QUALIFICATION -
Derbyshire CCC announced today that Chesney Hughes has completed his residency and now plays for Derbyshire as an England Qualified cricketer More...
ALL ROUNDER HUGHES SIGNS NEW DEAL -
Chesney Hughes has signed a new two-a-half-year contract committing the all-rounder to the Club until September 2015. More...
DERBYSHIRE MEMBERS RUBBER-STAMP GOVERNANCE CHANGE -
Derbyshire County Cricket Club is welcoming a new era of corporate governance after crucial proposals for reform gained 96% of the Members' Vote. More...
DERBYSHIRE CCC APPOINT NEW PRESIDENT -
Her Majesty's Lord Lieutenant of Derbyshire since May 14th 2009, Willie Tucker, has been appointed President of Derbyshire County Cricket Club. More...
DERBYSHIRE CCC TO MAKE LEEK RETURN -
The Derbyshire versus Essex Yorkshire Bank 40 fixture on Sunday 9th June has been switched from the County Ground, Derby, to Highfield, Leek. More...
DERBYSHIRE CCC ANNOUNCES ANOTHER PROFIT -
Derbyshire County Cricket Club has recorded a profit of £23,310 for 2012; the club's sixth surplus in seven years. More...
DERBYSHIRE CCC CONFIRM PRE-SEASON SCHEDULE -
Derbyshire CCC's pre-season tour of Barbados will be followed by further friendly matches versus Somerset and Nottinghamshire prior to the start of the 2013 campaign More...
CRICKET DERBYSHIRE UNVEILS NEW DUO -
Derbyshire CCC have captured the headlines with their on-field recruitment recently; but the newly recruited off-field duo of Ryan Duckett and Andrew Bowley could prove equally important. More...
DERBYSHIRE CCC CONTINGENT ARRIVE IN SRI LANKA -
Captain Wayne Madsen is leading a seven-strong party to Sri Lanka as Derbyshire's preparations for the 2013 campaign continue. More...
DERBYSHIRE CCC 6 POINT STRATEGY FOR 2013-2019 -
Derbyshire County Cricket Club has released it's strategic six-point plan with the aim of inspiring ambition and purpose by promoting cricket in Derbyshire. More...
DERBYSHIRE CCC ANNOUNCE 2013 ACADEMY -
Cricket Derbyshire has announced its Academy intake for 2013 and a groundbreaking Academy partnership with the University of Derby. More...
DERBYSHIRE CCC SIGN CHANDERPAUL -
The current number two Test batsman in the world, Shivnarine Chanderpaul, has signed for Derbyshire CCC More...
KRIKKEN ISSUES RALLYING CRY AS DERBYSHIRE LAUNCH 2013 MEMBERSHIP -
Derbyshire will play First Division cricket next summer following their recent promotion as champions - but the price of Membership remains unchanged. More...