Tuesday 28th May 2013
Report by Chris Airey at www.derbyshireccc.com
Pic courtesy David Griffin Photography


Despite a fluent innings from Paul Borrington, rain ended any chances of Derbyshire reaching their revised target at the Durham Emirates ICG - as Durham claimed a 43-run Duckworth Lewis victory.

Mark Footitt - who claimed career-best figures of 5-28 on Sunday against Scotland - picked up three wickets to restrict the hosts, but an excellent 79 from Paul Collingwood guided Durham to 273-6 from their 40 overs.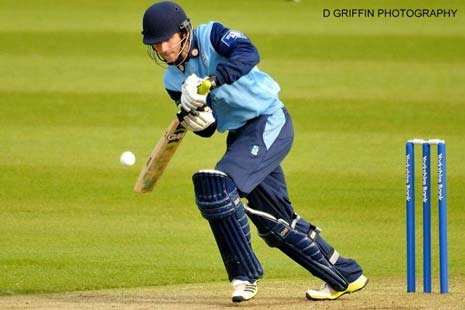 Paul Borrington on his way to a career-best 32 was not enought to overcome the early closure due to rain

Derbyshire made a solid start in reply but lost regular wickets, with Borrington top scoring with a career-best 32, before persistent rain forced an early closure with the Falcons behind on D/L.

Wayne Madsen finally won his first toss of the season at the seventh attempt, as the visitors elected to bowl first at Durham Emirates ICG - and the Falcons got the perfect start courtesy of the in-form Mark Footitt.

The left-arm paceman removed Mark Stoneman in his opening over as he lobbed an easy change to Billy Godleman in the deep and Mark Turner clean bowled the dangerous Mustard soon after for 15, to reduce Durham to 40-2 after six overs.

New batsman Paul Collingwood wasted no time in finding his feet, hitting Alex Hughes over his head for six in his opening over, and together with Borthwick, the pair put on 56 runs for the third wicket.

But Peter Burgoyne finally broke the flourishing partnership in somewhat fortunate circumstances, as Borthwick's attempted sweep went off his knee and into the hands of Richard Johnson with Durham on 96-3 after 17 overs.

Burgoyne and David Wainwright did a good job in the middle overs to reduce the hosts, before Footitt returned to break the 70-run stand as Ben Stokes was caught by Burgoyne at mid-off for 40.

Collingwood, however, continued his excellent innings, building another healthy partnership this time with Gordon Muchall, before Footitt once again ended the stand worth 52 runs as Collingwood was trapped lbw for 79 from just 83 balls, moving the hosts onto 221-5.

But the hosts' run rate continued to rise in the final overs and despite a run out in the final over, an unbeaten 57 from Gordon Muchall helped Durham end their 40 overs on 273-6.

A brief shower meant Derbyshire were set a revised target of 270 from 39 overs, and the reply got off to a bad start as the visitors lost Chesney Hughes for eight in the first over, losing their second wicket shortly after, as Shivnarine Chanderpaul found a fine edge through to keeper Mustard off Graham Onions for 11 as the visitors were reduced to 37-2 after eight overs.

Paul Borrington and Madsen shared a 30-run stand over the next six overs, but Borrington fell for a career-best 32 to Onions who claimed his third wicket, ending with magnificent figures of 3 for 27.

With Derbyshire 43 runs behind the Duckworth Lewis par score, the rain returned and no further play was possible at the Durham Emirates ICG.

To view the full Scorecard from www.espncricinfo.com, CLICK HERE
Article sponsored by Autoworld Chesterfield
RECENT STORIES
MADSEN AND CHANDERPAUL DEFIANT IN THE RAIN -
A fine 145-run partnership between Wayne Madsen and Shivnarine Chanderpaul has put Derbyshire into a strong position after a rain-effected opening day against Nottinghamshire. More...
RECORD BREAKING DERBYSHIRE STUN ESSEX AT LEEK -
Falcons took an impressive 63 run victory in the Yorkshire Bank 40 game against Essex Eagles at Highfield, Leek yesterday. More...
FALCONS & EAGLES DO BATTLE ON LEEK'S BIG DAY IN THE SUN -
The weather forecast is good - AND - supporters who purchase tickets in advance for Derbyshire Falcons v Essex Eagles, at Leek CC on Sunday, can still reap the benefits of discounted prices. More...
CARIBBEAN T20 ENDS DERBYSHIRE'S HOPES OF MARTIN GUPTILL'S RETURN IN 2013 -
Martin Guptill has ended speculation linking him with Derbyshire for the 2013 Friends Life t20 competition - but he has confirmed ambitions to play for the Club again. More...
DERBYSHIRE EARN A DRAW AFTER HUGHES' QUICK FIRE HALF CENTURY. REPORT -
A quick-fire half century from Chesney Hughes in Derbyshire's second innings, ensured the home fixture against Surrey ended in a draw today More...
FALCONS' BAD LUCK IN YB40 COMPETITION CONTINUES AS MATCH IS ABANDONED -
Derbyshire's bad luck at home in the Yorkshire Bank 40 over competition continued - not in losing the match in a cricketing format, but by being defeated by the English weather. More...
DERBYSHIRE v SURREY YB40 MATCH PREVIEW -
Derbyshire return to the County Ground this afternoon after a weekend trip to the North which saw the Falcons return with a win and a rain affected defeat. More...
TICKET OFFER AND DERBYSHIRE FIRE SERVICE AT FALCONS v SURREY GAME -
Falcons face Surrey in Wednesday's YB40 fixture and there's a special price half term ticket - along with the attendance of Derbyshire Fire Service after launch of new Community Partnership. More...
FOOTITT PUTS SCOTLAND TO THE SWORD. MATCH REPORT -
A career-best bowling performance from Mark Footitt blew the Scots away as Derbyshire captured victory in Edinburgh. More...
DERBYSHIRE CCC ANNOUNCE TRIO OF CHARITY PARTNERS FOR 2013 -
Cricket Derbyshire has announced its Official Charity Partners for 2013 - Sight Support Derbyshire, Derbyshire Community Foundation and Derbyshire, Leicestershire & Rutland Air Ambulance. More...
SUSSEX CLAIM NINE WICKET VICTORY ON FINAL MORNING AT COUNTY GROUND -
Sussex sealed a nine-wicket victory against Derbyshire on the final morning of their LV= County Championship Division One fixture at the County Ground. More...
STEVE STUBBINGS TO COACH SECOND XI -
Former Derbyshire batsman Stephen Stubbings has been added to the coaching team which will see Andrew Harris re-deployed as specialist Bowling Coach. More...
AUTOWORLD NEW SPONSORS OF 2013 CRICKET COVERAGE -
The Chesterfield Post are pleased to announce that Autoworld Chesterfield are the new sponsors for our expanded coverage this season of newly promoted Derbyshire CCC. More...
DERBYSHIRE CCC EXTEND PARTNERSHIP WITH UNIVERSITY OF DERBY -
Derbyshire County Cricket Club and The University of Derby have stepped up their established partnership ahead of the 2013 season. More...
SPIREITE SLATER HOPES TO SHINE FOR DERBYSHIRE CCC -
One to come through the Derbyshire CCC ranks is Ben Slater, born in Chesterfield, grew up in Bolsover More...
ALL ROUNDER HUGHES COMPLETES ENGLAND QUALIFICATION -
Derbyshire CCC announced today that Chesney Hughes has completed his residency and now plays for Derbyshire as an England Qualified cricketer More...
ALL ROUNDER HUGHES SIGNS NEW DEAL -
Chesney Hughes has signed a new two-a-half-year contract committing the all-rounder to the Club until September 2015. More...
DERBYSHIRE MEMBERS RUBBER-STAMP GOVERNANCE CHANGE -
Derbyshire County Cricket Club is welcoming a new era of corporate governance after crucial proposals for reform gained 96% of the Members' Vote. More...
DERBYSHIRE CCC APPOINT NEW PRESIDENT -
Her Majesty's Lord Lieutenant of Derbyshire since May 14th 2009, Willie Tucker, has been appointed President of Derbyshire County Cricket Club. More...
DERBYSHIRE CCC TO MAKE LEEK RETURN -
The Derbyshire versus Essex Yorkshire Bank 40 fixture on Sunday 9th June has been switched from the County Ground, Derby, to Highfield, Leek. More...
DERBYSHIRE CCC ANNOUNCES ANOTHER PROFIT -
Derbyshire County Cricket Club has recorded a profit of £23,310 for 2012; the club's sixth surplus in seven years. More...
DERBYSHIRE CCC CONFIRM PRE-SEASON SCHEDULE -
Derbyshire CCC's pre-season tour of Barbados will be followed by further friendly matches versus Somerset and Nottinghamshire prior to the start of the 2013 campaign More...
CRICKET DERBYSHIRE UNVEILS NEW DUO -
Derbyshire CCC have captured the headlines with their on-field recruitment recently; but the newly recruited off-field duo of Ryan Duckett and Andrew Bowley could prove equally important. More...
DERBYSHIRE CCC CONTINGENT ARRIVE IN SRI LANKA -
Captain Wayne Madsen is leading a seven-strong party to Sri Lanka as Derbyshire's preparations for the 2013 campaign continue. More...
DERBYSHIRE CCC 6 POINT STRATEGY FOR 2013-2019 -
Derbyshire County Cricket Club has released it's strategic six-point plan with the aim of inspiring ambition and purpose by promoting cricket in Derbyshire. More...
DERBYSHIRE CCC ANNOUNCE 2013 ACADEMY -
Cricket Derbyshire has announced its Academy intake for 2013 and a groundbreaking Academy partnership with the University of Derby. More...
DERBYSHIRE CCC SIGN CHANDERPAUL -
The current number two Test batsman in the world, Shivnarine Chanderpaul, has signed for Derbyshire CCC More...
KRIKKEN ISSUES RALLYING CRY AS DERBYSHIRE LAUNCH 2013 MEMBERSHIP -
Derbyshire will play First Division cricket next summer following their recent promotion as champions - but the price of Membership remains unchanged. More...