Monday 10th June 2013
Report by Chris Airey at www.derbyshireccc.com
Pic courtesy David Griffin Photography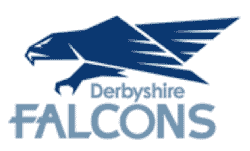 A fine all-round performance from Alex Hughes - including an unbeaten 102-run stand with Shivnarine Chanderpaul - sealed an impressive 63 run victory in this Yorkshire Bank 40 game for Derbyshire Falcons against Essex Eagles at Highfield, Leek on a sunny Sunday.

Opener Wes Durston set the tone hitting 71 from 46 balls before Chanderpaul hit an innings-high unbeaten 85 from 69 balls - including the century stand with Hughes who ended 59 not out - to help Derbyshire post their highest ever League List A score of 321.

The Falcons claimed wickets at regular intervals after the restart, with Footitt and Hughes picking up three each and Mark Turner and Tim Groenewald claiming two apiece, as Derbyshire bowled Essex out for 258, claiming the 63 run win.

Despite losing the toss, Derbyshire made an excellent start courtesy of Chesney Hughes. The powerful opener hit the first three balls of the match for four, however, his short vigil was over shortly after as he was trapped lbw by David Masters for 17 from 11 balls.

But this didn't slow up the hosts' run rate as Durston took the attack to the Essex bowlers, hitting seven fours and five sixes - including two maximums off one Napier over - on the way to 71 from just 41 balls, before he was bowled by Saj Mahmood to reduce Derbyshire to 111-2 after 14 overs.

Captain, Paul Borrington fell shortly after for a brisk 19 but Wayne Madsen and world number two Test batsman Shivnarine shared a 78-run stand to move the hosts towards 200, before Borrington fell for 33 from 33 balls, including two fours and a six.

Chanderpaul continued his timely innings hitting two fours and two sixes in his 40-ball half century, before partner Richard Johnson was bowled by Graham Napier for 14 from as many balls.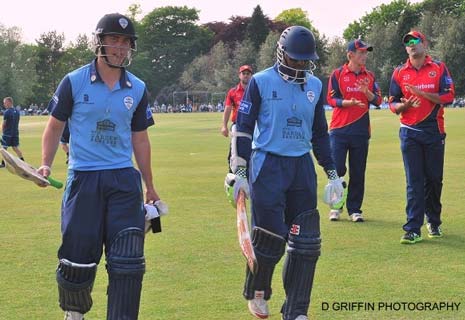 Alex Hughes (left) and Shivnarine Chanderpaul shared a 102 stand over the last 10 overs to give the Falcons their highest ever League List A Total of 321.

But that would be the last breakthrough for the visitors as Chanderpaul and Alex Hughes shared a 102-stand over the last 10 overs - guiding Derbyshire to their highest ever League List A total.

Chanderpaul hit five fours and two sixes in his unbeaten 85 from 69 balls, while Hughes completed a quick-fire half century, hitting six fours and three sixes on the way to 59 from 44 balls, including a six off the final delivery, to move Derbyshire onto 321-5 from their allocated overs.

The Falcons made an excellent start to the Essex innings claiming two early wickets courtesy of paceman Mark Turner. The 28-year-old first removed New Zealand Test opener Hamish Rutherford for 10 before having opening partner Tom Westley caught for 17 to reduce the visitors to 40-2.

But Owais Shah and Mark Pettini responded with a 61-run stand to move the visitors past three figures, before Tim Groenewald claimed two quick wickets shortly after to put the hosts in the ascendency. The 29-year-old trapped Shah lbw for 24 followed by dangerman Ryan ten Doeschate three overs later for six to reduce Essex to 117-4 after 17 overs.

Wickets continued to fall as Mark Footitt removed Captain, James Foster for seven, but Pettini and Graham Napier began the Essex fightback sharing a 65-run stand inside six overs to swing the momentum towards the visitors.

But the impressive stand was broken when Napier, who hit 38 from 16 balls including two fours and four sixes, was caught by Madsen off Footitt. And Footitt then removed Mahmood two balls later to leave the visitors struggling on 196-7.

Essex's hopes rested on the shoulders of 29-year-old Pettini, but his 68-ball vigil was ended soon after as he was caught by Groenewald off Hughes for 88, leaving the visitors on 200-8.

Tim Phillips and Masters shared a 52-run partnership from the following six overs, but this was ended when Phillips was well caught by Turner off Hughes. And Master was bowled by Hughes two overs later for 11 to seal a 63-run win at a sunny Highfield, Leek.

To view the full Scorecard from www.ESPNcricinfo.com - CLICK HERE.
Follow Paul Fisher on Twitter - @pkfsport
Article sponsored by Autoworld Chesterfield
RECENT STORIES
NEITHER SIDE TAKES ADVANTAGE ON DAY 1 AT THE COUNTY GROUND -
On a day which ebbed and flowed, both sides will claim they had a decent enough one. Day one's Match Report by Paul Fisher More...
DERBYSHIRE v SOMERSET. 4 DAY MATCH PREVIEW -
Derbyshire face their biggest match of the season to date as they host fellow championship strugglers Somerset at the County Ground More...
RAIN FALLS ON THE FALCONS AGAIN. MATCH REPORT -
Yorkshire Bank 40, Group B. County Ground, Derby.
Derbyshire Falcons, 36-2 v Scotland Saltires. Match Abandoned Derbyshire 1 point, Scotland 1 point. More...
DERBYSHIRE CCC v SCOTLAND YORKSHIRE BANK 40 MATCH PREVIEW -
Derbyshire's home campaign in the Yorkshire Bank 40 competition sees them without defeat. More...
DERBYSHIRE DRAW AT THE BRIDGE -
Michael Lumb struck a career-best 221 not out as Nottinghamshire versus Derbyshire ended in a rain-affected draw at Trent Bridge. More...
TIM GROENEWALD REACHES CAREER MILESTONE AT TRENT BRIDGE ON DAY 3 -
Tim Groenewald claimed his 200th career first-class wicket - but an unbeaten century from Michael Lumb frustrated the Derbyshire bowlers on another rain-affected day at Trent Bridge. More...
MATCH FINELY POISED AFTER A RAIN AFFECTED SECOND DAY -
Heavy rain washed out the final two sessions at Trent Bridge after Derbyshire lost quick wickets in the morning to leave the LV= County Championship fixture finely poised after the second day against Nottinghamshire More...
MADSEN AND CHANDERPAUL DEFIANT IN THE RAIN -
A fine 145-run partnership between Wayne Madsen and Shivnarine Chanderpaul has put Derbyshire into a strong position after a rain-effected opening day against Nottinghamshire. More...
FALCONS & EAGLES DO BATTLE ON LEEK'S BIG DAY IN THE SUN -
The weather forecast is good - AND - supporters who purchase tickets in advance for Derbyshire Falcons v Essex Eagles, at Leek CC on Sunday, can still reap the benefits of discounted prices. More...
CARIBBEAN T20 ENDS DERBYSHIRE'S HOPES OF MARTIN GUPTILL'S RETURN IN 2013 -
Martin Guptill has ended speculation linking him with Derbyshire for the 2013 Friends Life t20 competition - but he has confirmed ambitions to play for the Club again. More...
DERBYSHIRE EARN A DRAW AFTER HUGHES' QUICK FIRE HALF CENTURY. REPORT -
A quick-fire half century from Chesney Hughes in Derbyshire's second innings, ensured the home fixture against Surrey ended in a draw today More...
FALCONS' BAD LUCK IN YB40 COMPETITION CONTINUES AS MATCH IS ABANDONED -
Derbyshire's bad luck at home in the Yorkshire Bank 40 over competition continued - not in losing the match in a cricketing format, but by being defeated by the English weather. More...
DERBYSHIRE v SURREY YB40 MATCH PREVIEW -
Derbyshire return to the County Ground this afternoon after a weekend trip to the North which saw the Falcons return with a win and a rain affected defeat. More...
TICKET OFFER AND DERBYSHIRE FIRE SERVICE AT FALCONS v SURREY GAME -
Falcons face Surrey in Wednesday's YB40 fixture and there's a special price half term ticket - along with the attendance of Derbyshire Fire Service after launch of new Community Partnership. More...
RAIN ENDS FALCON'S HOPES AT DURHAM -
Despite a fluent innings from Paul Borrington, rain ended any chances of Derbyshire reaching their revised target at the Durham Emirates ICG - as Durham claimed a 43-run Duckworth Lewis victory. More...
FOOTITT PUTS SCOTLAND TO THE SWORD. MATCH REPORT -
A career-best bowling performance from Mark Footitt blew the Scots away as Derbyshire captured victory in Edinburgh. More...
DERBYSHIRE CCC ANNOUNCE TRIO OF CHARITY PARTNERS FOR 2013 -
Cricket Derbyshire has announced its Official Charity Partners for 2013 - Sight Support Derbyshire, Derbyshire Community Foundation and Derbyshire, Leicestershire & Rutland Air Ambulance. More...
SUSSEX CLAIM NINE WICKET VICTORY ON FINAL MORNING AT COUNTY GROUND -
Sussex sealed a nine-wicket victory against Derbyshire on the final morning of their LV= County Championship Division One fixture at the County Ground. More...
STEVE STUBBINGS TO COACH SECOND XI -
Former Derbyshire batsman Stephen Stubbings has been added to the coaching team which will see Andrew Harris re-deployed as specialist Bowling Coach. More...
AUTOWORLD NEW SPONSORS OF 2013 CRICKET COVERAGE -
The Chesterfield Post are pleased to announce that Autoworld Chesterfield are the new sponsors for our expanded coverage this season of newly promoted Derbyshire CCC. More...
DERBYSHIRE CCC EXTEND PARTNERSHIP WITH UNIVERSITY OF DERBY -
Derbyshire County Cricket Club and The University of Derby have stepped up their established partnership ahead of the 2013 season. More...
SPIREITE SLATER HOPES TO SHINE FOR DERBYSHIRE CCC -
One to come through the Derbyshire CCC ranks is Ben Slater, born in Chesterfield, grew up in Bolsover More...
ALL ROUNDER HUGHES COMPLETES ENGLAND QUALIFICATION -
Derbyshire CCC announced today that Chesney Hughes has completed his residency and now plays for Derbyshire as an England Qualified cricketer More...
ALL ROUNDER HUGHES SIGNS NEW DEAL -
Chesney Hughes has signed a new two-a-half-year contract committing the all-rounder to the Club until September 2015. More...
DERBYSHIRE MEMBERS RUBBER-STAMP GOVERNANCE CHANGE -
Derbyshire County Cricket Club is welcoming a new era of corporate governance after crucial proposals for reform gained 96% of the Members' Vote. More...
DERBYSHIRE CCC APPOINT NEW PRESIDENT -
Her Majesty's Lord Lieutenant of Derbyshire since May 14th 2009, Willie Tucker, has been appointed President of Derbyshire County Cricket Club. More...
DERBYSHIRE CCC TO MAKE LEEK RETURN -
The Derbyshire versus Essex Yorkshire Bank 40 fixture on Sunday 9th June has been switched from the County Ground, Derby, to Highfield, Leek. More...
DERBYSHIRE CCC ANNOUNCES ANOTHER PROFIT -
Derbyshire County Cricket Club has recorded a profit of £23,310 for 2012; the club's sixth surplus in seven years. More...
DERBYSHIRE CCC CONFIRM PRE-SEASON SCHEDULE -
Derbyshire CCC's pre-season tour of Barbados will be followed by further friendly matches versus Somerset and Nottinghamshire prior to the start of the 2013 campaign More...
CRICKET DERBYSHIRE UNVEILS NEW DUO -
Derbyshire CCC have captured the headlines with their on-field recruitment recently; but the newly recruited off-field duo of Ryan Duckett and Andrew Bowley could prove equally important. More...
DERBYSHIRE CCC CONTINGENT ARRIVE IN SRI LANKA -
Captain Wayne Madsen is leading a seven-strong party to Sri Lanka as Derbyshire's preparations for the 2013 campaign continue. More...
DERBYSHIRE CCC 6 POINT STRATEGY FOR 2013-2019 -
Derbyshire County Cricket Club has released it's strategic six-point plan with the aim of inspiring ambition and purpose by promoting cricket in Derbyshire. More...
DERBYSHIRE CCC ANNOUNCE 2013 ACADEMY -
Cricket Derbyshire has announced its Academy intake for 2013 and a groundbreaking Academy partnership with the University of Derby. More...
DERBYSHIRE CCC SIGN CHANDERPAUL -
The current number two Test batsman in the world, Shivnarine Chanderpaul, has signed for Derbyshire CCC More...
KRIKKEN ISSUES RALLYING CRY AS DERBYSHIRE LAUNCH 2013 MEMBERSHIP -
Derbyshire will play First Division cricket next summer following their recent promotion as champions - but the price of Membership remains unchanged. More...