Monday 5th March 2012


After gaining three valuable home points on Saturday, the Spireites are on the road tomorrow as they travel to Deepdale to take on Graham Westley's Preston.

Having moved up 2 places - and off the bottom of League One - John Sheridan's Chesterfield will be hoping to capitalise on the momentum gained through the weekend's victory.

There's more good news for the Blues with both James Hurst and Jimmy Juan likely to be back on the team sheet before long, though at the time of writing, there are as yet unconfirmed reports that on-loan David Davis has been recalled to Wolves tonight.

The Lily Whites sit in 15th, juat 7 places ahead of the Spireites (though with two games in hand) and have yet to find their form under Westley after his move from Stevenage.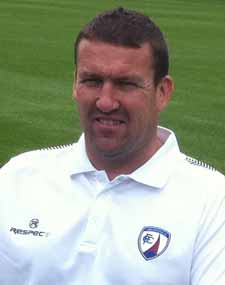 We spoke to First Team Coach Mark Crossley (left) ahead of Tuesday's clash and he admitted that, whilst thrilled with the win and the move up the table, there was still much work to do.

Three points and a clean sheet, you must have been pleased with Saturday's result?
"One nils - we need more of them if we're going to get out of the trouble that we're in, grinding out results. It wasn't the prettiest of games but at the end of the day, if we'd have played exceptionally well and won 1-0 we'd have been pleased - we're just as pleased that the lads have dug in and have ground out a result."

There must be a relief not to be at the bottom of the league - that's a psychological advantage isn't it?
"It is, it's happened a couple of times this season and then we've eventually drifted back down but it's tight down there, I think there's 8 teams down there now."

And you've dragged Tranmere into it too?
"Yes, Tranmere are now involved in a scrap as well! I don't think they've won for 11 games now. We've experienced that as we didn't win for 16. You can see a little bit of confidence coming back into the players and we'll try to instill that this week, their work rate has been phenomenal for us and whilst ever you've got 11 players out there working very hard, then you've got a chance."

4 points from safety, with 12 games left, it's still very mathematically possible isn't it?
"I think we need to win 6 games at least and maybe pick up a couple of points - we've only won 7 all season so it is going to be a mighty task. It's no use looking at the fixtures and who you are playing next - you automatically do that and I'm sick of going home on a Saturday night and thinking, 'if we win that game and they lose that game…' - when you're addicted to the game - and it does become an addiction - that's what you tend to do and you can only take each game as it comes."

You have two very tough games coming up against two very physical sides?
"I think if we can perform anything like we did against Preston in the JPT, then there's a big chance that we can get something out of the game as I think it was probably our best game of the season, so we'll be looking to re-enact that performance."

Jordan Bowery scored on Saturday - has he more than justified the two year deal you gave him?
"He has yes! 6'2", pace, power, good in the air, the lad just needs to keep believing in himself but he's gaining that now - you can see that in training on a day to day basis - he's warranted his place in the team and he just needs to go that one step further now. He's a big asset for the club in my opinion - he's got a good goal scoring record and he could turn into a 20-goal-a-season scorer, there's no doubt about that with that belief in himself."
Onto Tranmere - they have a new Manager in Graeme Westley - we know what he can do from Stevenage, but he hasn't got them going yet has he?
"I think it proves that when a new Manager comes in, he needs time to get them the way you want them to take things forward. You only have to look at his record at Stevenage, it's phenomenal. It's outstanding what he did for them and deservedly, he got his move to a bigger club. How long it will take for him to install his ways I don't know, at the moment it's not working but I'm sure, the reports on the way that Graeme works, it won't be too long before they start progressing."

What are you expecting from them?
"They didn't have a good result Saturday, so he'll be using his skills to try and turn that around. Speaking to people who know him in the game, the word is that he'll work very hard to try and turn Saturday's defeat into a win. He knows a lot about us from the last two seasons, he knows what we're all about so tactically, they'll be thinking they can win the game, but we're going there with a bit of confidence as our forms picked up recently."

And injuries - Drew Talbot played Saturday for the first time in a while, did he come through OK?
"Drew's Drew! He's on the ground more than most players but it's just the way he plays, he's in the thick of things and he puts his head where he's prepared to get hurt and that's what you like about Drew - he's in there fighting for the cause."

Jimmy Juan - is he likely to be back?
"It's unbelievable the way his ankle swelled up after Notts County but he made a miraculous recovery and the swelling's gone and he's walking OK. He wants to train this week so we'll have to see how he goes this morning and take it from there."

James Hurst - is he training this morning?
"James is 50/50. We're hopeful that he's going to be available for Tuesday's game, but at the moment it's looking unlikely but Saturday, he's definitely going to be OK for."

Any more injuries picked up on Saturday that you know about?
"A few knocks - I've just been in the treatment room and there are a few bruises and knocks, but I think that was just the sheer guts and determination of the lads, so they'll be training very lightly today, looked at and put through their paces before the big game tomorrow - we need everyone fit."

The b2net seems to have become a bit of a graveyard for Manager's lately with Les Parry the latest casualty after Saturday?
"He's a great guy Les, great entertainment and personally, I don't think he did a bad job at Tranmere, I think that because we've been down near the bottom and we've got some good results, Chairmen think they should be beating the bottom of the league teams - but I don't think we are a bottom of the league team. The way we've performed the second half of the season, I think we've given ourselves a fighting chance."

Any news on anyone coming in?
"We're looking - we've got to be careful - we've got a bit of momentum at the moment but we're always looking. If someone becomes available that we think could strengthen us, then I'm sure there'll be a chance to bring him in so we're speaking about players all the time. We're always looking."

For more information and other CFC news, go to www.chesterfield-fc.co.uk
RECENT STORIES
GREENWOODS SUPPLY SPIREITES' 'WEMBLEY LOOK' -
Chesterfield FC has announced that they will be kitted out with the JPT Wembley Final Suits by Greenwoods Menswear More...
DEADLINE SET FOR SALE OF WEMBLEY TICKETS -
Chesterfield fans have until 1pm on Wednesday 21st March to get their tickets for the Spireites JPT Final at Wembley! More...
'BLUES ON THE MOVE' PRIZE WINNERS FOR WEEK 44 -
Week 44 results. Check the Chesterfield Post every week to see if you're a winner or to join in! More...
FRUSTRATION ONCE AGAIN FOR THE SPIREITES -
It was to be a frustrating afternoon in Hertfordshire for the Spireites as, despite having held an early lead for much of the game, they brought back just one point from Stevenage. More...
"WE'RE GOING THERE TO WIN" SHERIDAN TALKS STEVENAGE -
Tonight Chesterfield are preparing to travel to Hertfordshire where they will take on 8th place Stevenage. More...
SPIREITES' WEMBLEY HALF PRICE SALE -
Chesterfield football club has told us today that, ahead of the Spireites trip to Wembley, Chesterfield fans can now get kitted out for the day at half the price. More...
SPIREITES MAKE A POINT AGAINST PRESTON -
After gaining a valuable 3 points on Saturday, at home against Tranmere, Chesterfield were hoping for a repeat performance which would see them remain off the bottom of League One. More...
FANS URGED TO WRITE THEIR OWN JPT HEADLINES -
Lifelong Chesterfield fans are being invited to hold the back page for the JPT, courtesy of an exclusive competition to interview their team's manager and players in the run-up to the final. More...
'BLUES ON THE MOVE' PRIZE WINNERS FOR WEEK 43 -
Week 43 results. Check the Chesterfield Post every week to see if you're a winner or to join in! More...
"A GREAT, GREAT 3 POINTS!" SHERIDAN -
After securing 3 points at home to Tranmere and climbing 2 places in the league table, a pleased Chesterfield Gaffer, John Sheridan, faced the press after the game. More...
JORDAN DOES THE JOB FOR THE SPIREITES -
There were just 2 changes to John Sheridan's starting squad facing Tranmere today, Drew Talbot and Danny Whitaker More...
"IT WILL GO RIGHT TO THE WIRE" - JOHN SHERIDAN -
Tomorrow, Tranmere Rovers travel to the b2net. The stalwarts of League One began the season well, but have seen a dip in form and are yet to win a league game in 2012. More...
FOOTBALL IS A WALK IN THE PARK FOR THE OVER 60's -
Chesterfield Football Club's Community Trust is encouraging the over 60's to keep fit by offering new sessions of 'Walking Football'. More...
SPIREITES CRASH TO ON FORM ADDICKS -
Manager John Sheridan made 4 changes to the squad facing league leaders Charlton at the b2net last night. More...
"IT'S A GREAT GAME FOR US" TOMMY WRIGHT -
It's top versus bottom tomorrow (Tuesday 28th February) as high flying League One leaders Charlton come to the b2net. More...
"INJURIES FORCED TEAM CHANGES" SPIREITES BOSS JOHN SHERIDAN -
After the game at Meadow Lane it was a disappointed Gaffer John Sheridan who talked to the media. More...
'BLUES ON THE MOVE' PRIZE WINNERS FOR WEEK 42 -
Week 42 results. Check the Chesterfield Post every week to see if you're a winner or to join in! More...
SPIREITES RETURN EMPTY HANDED FROM MEADOW LANE -
John Sheridan made 5 changes to the squad facing Notts County at Meadow Lane on a bright sunny afternoon. More...
"A BIG RESULT FOR THE CLUB" SPIREITES TOMMY WRIGHT -
Another week, another derby... this time against Notts County at Meadow Lane. More...
'BLUES ON THE MOVE' PRIZE WINNERS FOR WEEK 41 -
Week 41 results. Check the Chesterfield Post every week to see if you're a winner or to join in! More...
"FULL CREDIT TO THE TEAM" SHERIDAN -
It was a buoyant John Sheridan who faced the media after the Sheffield Wednesday game and, in an honest interview, told us how delighted he was to have bagged the 3 points. More...
SPIREITE'S TAME THE OWLS, MATCH REPORT -
It was a sell out crowd at the b2net, with only empty blue seats visible in the East stand's segregation area. More...
CAN THE SPIREITES CLIP THE OWLS' WINGS? -
An eagerly anticipated local derby at the B2net tomorrow will see the Spireites host Sheffield Wednesday. Preview by Luke Ingram More...
"THE BEST GAMES TO PLAY" SHERIDAN ON DERBIES -
Chesterfield Gaffer John Sheridan talks about the Bury game and tomorrows derby game with the Owls More...
LOCAL DERBY A SELL OUT -
With just 2 days to go to the big local derby, Chesterfield FC has announced that one of the most keenly anticipated clashes of the season is now a sell-out More...
"WRONG DECISIONS COST US" SHERIDAN -
After conceding a goal in the 88th minute sending the Spireites home with just 1 point rather than 3 they'd been heading for, a frustrated John Sheridan spoke to the press More...
"THE WHOLE NORTH OF THE COUNTRY WILL BE BEHIND US" -
We popped along to the b2net this morning to ask West Stand ticket holders how much the trip to Wembley meant to die hard Spireites More...
SPIREITES SHARE THE SPOILS WITH THE SHAKERS -
Another cold Tuesday night, another stadium - and the hard work of the Bury groundsmen had certainly paid off More...
LEAGUE CONFIRM NEW DATE FOR BLADES GAME -
The Football League has confirmed tonight that Chesterfield's away game against Sheffield Utd should be played on Wednesday 28th March More...
CAN THE SPIREITES MOVE THE SHAKERS?-
The Spireites are back on the road tonight, this time at Gigg Lane where they take on The Shakers. Asst Boss Tommy Wright talks Bury. More...
'BLUES ON THE MOVE' PRIZE WINNERS FOR WEEK 40 -
Week 40 results. Check the Chesterfield Post every week to see if you're a winner or to join in! More...
SPIREITES v CHARLTON GAME IS OFF -
Chesterfield has been cruelly denied the chance to stage today's home game against Charlton Athletic after local overnight temperatures plummeted down to -10. More...
SHERIDAN PREVIEWS CHARLTON GAME AND TALKS ENGLAND MANAGERS -
It's top v bottom this week at the b2net as the Addicks come into town More...
SPIREITES v CHARLTON GAME ON.... FOR NOW! -
With frozen temperatures predicted overnight there is some concern that The Spireites game against Charlton may have to be postponed. More...
A PROUD TIME FOR THE TOWN - CEO CHRIS TURNER -
We caught up with CEO of Chesterfield FC, Chris Turner and talked Wembley, tickets and being the talk of the town. More...
RECOGNITION FOR THE SPIREITES -
John Sheridan and goalkeeper Tommy Lee are nominated for January's npower League 1 Manager and Player of the Month Awards respectively More...
FULL JPT WEMBLEY TICKET DETAILS -
Full details have been released about the sale of tickets for the final of the Johnstone's Paint Trophy at Wembley More...
FOOTBALL LEGEND GORDON BANKS TALKS '66, SPIREITES, WEMBLEY & PELE -
Say the name 'Gordon Banks' and most people will think of the 1966 World Cup Finals or THAT goal which he saved from Pele, 4 years later in Mexico. More...
'BLUES ON THE MOVE' PRIZE WINNERS FOR WEEK 39 -
Week 39 results. Check the Chesterfield Post every week to see if you're a winner or to join in! More...
SPIREITES ANNOUNCE SUCCESSFUL START TO APPRENTICESHIPS-
10 local youngsters will shortly kick off a career in sport courtesy of a unique apprenticeship programme at Chesterfield FC More...
PROUD TO REACH WEMBLEY BUT LEAGUE IS MAIN THING - SHERIDAN -
Another busy but successful week for the Spireites, currently on their way to Carlisle where they take on the Cumbrians and hope for their 5th win in 5. More...
CLUB STATEMENT ON CARLISLE GAME -
Tomorrow's (Saturday 4th Feb) game is undoubtedly a long way to travel and the weather forecast is currently unpredictable. More...
"ONWARDS AND UPWARDS" SPIREITES DAVE ALLEN SPEAKS -
Dave Allen spoke to us about himself, his involvement with the club and his pride in the energy it has brought to the town and also, his plans for the club over the next few years. More...
WEMBLEY TICKETING ARRANGEMENTS ANNOUNCED -
Chesterfield FC has announced initial details about the ticketing arrangements for the JPT Wembley final. More...
"A GREAT ACHIEVEMENT" A DELIGHTED JOHN SHERIDAN -
It's the game the whole dressing room wanted to be involved in, having gained the advantage at home just 2 weeks ago, John Sheridan and his squad were hoping to keep on top at Boundary Park. More...
WEMBLEY HERE WE COME!!! -
It may be a bitterly cold night at Boundary Park, but 937 die hard fans made the trip up the M62 to see the Spireites make their bid for Wembley glory. More...
'BLUES ON THE MOVE' PRIZE WINNERS FOR WEEK 38 -
Week 38 results. Check the Chesterfield Post every week to see if you're a winner or to join in! More...
SPIREITES CAN ALMOST SMELL THE WEMBLEY TURF -
Spireites can, this weekend, almost smell the turf of Wembley as Chesterfield FC prepare for the 2nd leg of the JPT Northern final More...
"LIGHT AT THE END OF THE TUNNEL" MARK CROSSLEY TALKS BOURNEMOUTH -
The Chesterfield Post spoke with Spireites' Coach Mark Crossley after Friday's home win over Bournemouth. More...
RESURGENT SPIREITES PICK OFF THE CHERRIES -
After 3 wins on the bounce, John Sheridan and his squad hoped for the 'monkey' to once again keep its paws well and truly off their back More...
"WE'RE TRYING FOR PLAYERS NON STOP" JOHN SHERIDAN -
John Sheridan famously called it the 'monkey on his back' and there's no doubt that the first league win in 17 last Saturday has galvanised the team More...
A BUSY WEEK FOR THE SPIREITES -
Tomorrow, the Spirieites travel to the Community Stadium to take on 12th placed Colchester in this week's League One clash. More...
'BLUES ON THE MOVE' PRIZE WINNERS FOR WEEK 37 -
Week 37 results. Check the Chesterfield Post every week to see if you're a winner or to join in! More...
SHERIDAN HOPING LUCK CONTINUES AT COLCHESTER -
Spireites Manager John Sheridan speaks to The Chesterfield Post ahead of the game against Colchester. More...
"A GREAT RESULT" MANAGER JOHN SHERIDAN SPEAKS -
After last night's JPT victory over Oldham, a visibly relieved Gaffer John Sheridan talked to the press and said he was happy with the performance. More...
90 MINUTES TO WEMBLEY FOR SPIREITES -
The Spireites are this morning just 90 minutes away from Wembley and glory in the JPT Final after a 2-1 1st leg victory over Oldham More...
"A GREAT OPPORTUNITY" TOMMY WRIGHT -
Wembley is just two games away for the Spireites, as they prepare for the re-scheduled Johnstone's Paint Trophy clash this evening with Oldham Athletic. More...

Related Tags