Wednesday 3rd November 2010
Residents in North East Derbyshire are being offered a 50% discount on monthly membership at leisure centres in Dronfield, Eckington and
Sharley Park.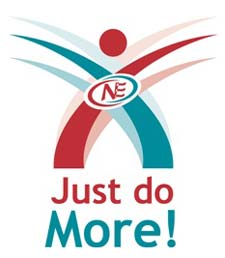 It comes as NE Derbyshire Council celebrate the success of their 'Just do more' weekend which saw hundreds of people experiencing a range of family activities from trampoling to table tennis at the leisure centres.

Budding Beckhams picked up top tips in what was the first of a new round of training sessions with Chesterfield Football Club - now being held every Saturday in Dronfield and Clay Cross.

Visitors had the chance to meet England and Great Britain swimmer, Ross Davenport, who won two gold medals in the 2006 Commonwealth Games, as part of the packed programme of activities.

Cllr Graham Baxter MBE, Council Leader, said: "We want to encourage people across North East Derbyshire to be more active and healthy and the message behind our new-look leisure scheme is simple - 'just do more!' "

"We welcomed residents of all ages and abilities to our centres over the weekend - it was great to see people trying something new, and finding out how they could be more active with their families.

"We hope to see them back soon!"

The new 'Just do More!' scheme, which replaces the council's existing Activo scheme, is available at the half price monthly discount to people signing up by 5th November.

For more information about what's on offer at the council's leisure centres, visit www.ne-derbyshire.gov.uk/just-do-more or call (01246) 231111.
RECENT STORIES
CHESTERFIELD ATHLETES CROWNED CHAMPIONS AGAIN -
Chesterfield Athletics Club were crowned champions of the Derbyshire Mini Sportshall League for the 2nd year running More...
COUNTY SUCCESS FOR YOUNG ATHLETES -
Chesterfield AC's Tasmin Boam, representing Derbyshire Dales, added the Schools' gold medal to her Derbyshire club title More...
OLYMPIC COACH APPOINTED TO HELP DERBYSHIRE ATHLETES -
A performance coach who led athletes to medal success at two Olympic Games has been appointed to work with some of Derbyshire's most talented emerging sports stars More...
KINGS STILL TOP OF THE TABLE -
Another cold night at Tupton Hall School provided three exciting, tight Footy Legends 6-a-side matches. More...
NEW LOCAL 6-A-SIDE FOOTBALL LEAGUE PROVES TO BE A WINNER -
A superb first week played on a cold crisp last Tuesday night on Tupton Hall's all weather pitch. More...
NCWA BECOMES A LIMITED COMPANY -
One local company has proved that, despite the recession, it's going from strength to strength. More...
TABLE TENNIS STAR PITCHFORD WINS SPORTSPERSON OF THE YEAR AWARD -
Chesterfield table tennis star Liam Pitchford has been named University of Derby Sportsperson of the Year at the Derbyshire Sports Awards. More...
SUCCESS ON WORLD STAGE FOR LOCAL YOUNGSTER -
Chesterfield Table Tennis player Liam Pitchford, has now been named as England's new senior No.1 More...
GOLD MEDALLIST VISITS NE DERBYSHIRE -
A Commonwealth Games gold medallist, took the plunge in NE Derbyshire. More...