Derbyshire Police Force has become only the second force in the country to be given an award recognising the efforts it has made to communicate more effectively with deaf people.

Chief Constable Mick Creedon was presented with a Royal National Institute for the Deaf Charter Mark "Louder than Words" by Mark Catling, Head of Business and Relationship Development at the Royal National Institute for the Deaf (RNID).

In order to achieve the mark, the force had to prove it is "offering a high quality deaf-aware service to customers and employees."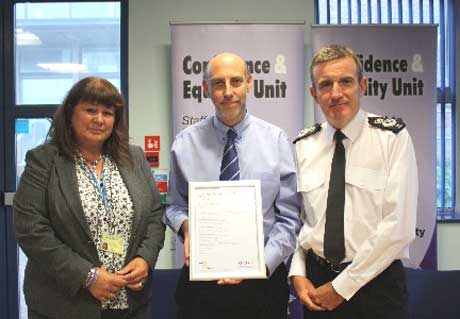 Derbyshire Police Chief Constable Mick Creedon (right) receives the Deaf Charter Mark from Mark Catlin, watched by Outreach Officer Jane Birkin.

Derbyshire has the highest number of deaf and hard of hearing people in the country and the force has made the following changes to better communicate with them:
Eighteen members of staff have passed level 101.1 of the British Sign Language Training with RNID
A virtual deaf awareness learning package has been made available to all staff
Portable hearing loops and testers are now available for use in receptions and enquiry offices
'Deaf information packs' have been placed in reception areas and enquiry offices
SMS contact numbers have been placed outside all police stations
New signs have been placed in the lifts and at barriers
Deaf/deaf-blind outreach events have taken place around the county
Staff now have access to BSL finger spelling cards
Chief Constable Mick Creedon said, "I\m delighted that the force has been awarded this charter mark.

"I believe we have made great strides in the way we communicate with deaf and hard of hearing people in the county.

"We will be regularly assessed by the RNID and I hope we can work together to better improve the service we offer to our communities."

Outreach Officer Jane Birkin, who has helped co-ordinate the project, said, "This has been a very rewarding and exciting piece of work to be involved in and I'm sure the charter mark will assist in building people's confidence in the force.

"Everyone has shown great commitment and motivation to help us in the work required to gain this charter, especially as there is only one other police force in the country to have achieved this."
RELATED STORIES
MIND HOW YOU GO -
Over 600 drivers in Chesterfield have been stopped since the start of the football season by police officers concerned about the misuse of 'access only' roads near the Football Stadium. More...
SUMMER ACTIVITIES HAVE POSITIVE EFFECT -
Recently released figures show that a range of activities organised for young people in Chesterfield during the summer holidays have had a positive impact on anti-social behaviour (ASB). More...
POLICE SEEK INFORMATION AFTER CAR DAMAGE -
Police in Chesterfield are appealing for information after a number of cars on the same street were damaged. More...

FIVE PEOPLE CAUTIONED -
Five people have been cautioned for possession of drugs after police in Chesterfield acted on information from residents about drug use in the area. More...
BOBBIES GET ON THEIR BIKES -
For the seventh year in a row local police have got on their bikes to raise money in memory of a colleague who died of cancer. More...
COUNCILLORS 'NIGHT ON THE TOWN' WITH POLICE -
Councillors from Chesterfield Borough Council's Licensing Committee are to spend an evening gaining an insight into issues faced every week by organisations working in the town centre. More...
NUISANCE BIKE PATROLS -
Police are catching up with nuisance off road motor bikers in the region. As part of Operation Earhart one man was arrested... More...
ASBO BAN -
Derbyshire Police and Chesterfield Borough Council have been granted an ASBO against a man who was continually drunk and caused harassment in Chesterfield town centre. More...
HELLO, HELLO, HELLO! -
One of a series of public consultations by Derbyshire Police took place in Chesterfield town centre on Monday 16th August. More...

Related Tags