Monday 13th September 2010
For the seventh year in a row local police have got on their bikes to raise money in memory of a colleague who died of cancer.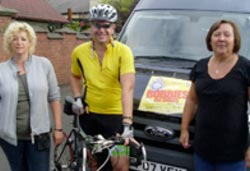 25 staff from across Derbyshire Constabulary set off from Bolsover Police Station at 9am on Thursday, September 9, cycling 85 miles to Skegness in tribute to Graham 'Bomber' Moore who was a Sergeant at Chesterfield. The ride was completed in around four hours and raised cash for Cancer Research and PACT (a charity which provides facilities for families of children with leukaemia).

PC Adam Galley, who was one of the 25 riders, said: "The ride was fantastic. The weather turned on us a little at Horncastle and then again at Skegness but that did not dampen anyone's spirit.

"I would like to thank JE James for providing us with the matching tops - we looked like a swarm of bees riding into Skegness."

PC Lynn Moore, who is Sgt Moore's widow, organised the bike ride.

She said: "This event has grown year on year with more riders than ever taking part in this year's event.

"We are hoping to beat the £2,500 we raised last year and on behalf of all the riders I would like to say thank you for your kind donations."

To find out more or to donate call PC Lynn Moore on 0345 123 333 or visit www.derbyshire.police.uk.
RECENT STORIES
HAVE YOU SEEN THIS MAN? -
If you're a resident of Bolsover you're being invited to look out for a 'burglar' this month. More...
2 OFF ROAD BIKES SEIZED -
As part of an ongoing crackdown against nuisance riders, Police in North Derbyshire have seized two off road bikes. More...
6 ARRESTED ON SUSPICION OF ASSAULT -
Police have arrested six men after a taxi driver was assaulted in a lay-by. More...
DANESMOOR MAN JAILED -
A 42-year old man has been jailed for 15 months for assaulting his ex-partner at her home in Clay Cross. More...
MIND HOW YOU GO -
Over 600 drivers in Chesterfield have been stopped since the start of the football season by police officers concerned about the misuse of 'access only' roads near the Football Stadium. More...
SUMMER ACTIVITIES HAVE POSITIVE EFFECT -
Recently released figures show that a range of activities organised for young people in Chesterfield during the summer holidays have had a positive impact on anti-social behaviour (ASB). More...
POLICE SEEK INFORMATION AFTER CAR DAMAGE -
Police in Chesterfield are appealing for information after a number of cars on the same street were damaged. More...

FIVE PEOPLE CAUTIONED -
Five people have been cautioned for possession of drugs after police in Chesterfield acted on information from residents about drug use in the area. More...
COUNCILLORS 'NIGHT ON THE TOWN' WITH POLICE -
Councillors from Chesterfield Borough Council's Licensing Committee are to spend an evening gaining an insight into issues faced every week by organisations working in the town centre. More...
NUISANCE BIKE PATROLS -
Police are catching up with nuisance off road motor bikers in the region. As part of Operation Earhart one man was arrested... More...
ASBO BAN -
Derbyshire Police and Chesterfield Borough Council have been granted an ASBO against a man who was continually drunk and caused harassment in Chesterfield town centre. More...
DERBYSHIRE CONSTABULARY RECEIVES DEAF CHARTER MARK - Derbyshire Police Force has become only the second force in the country to be given an award recognising the efforts it has made to communicate more effectively with deaf people. More...
HELLO, HELLO, HELLO! -
One of a series of public consultations by Derbyshire Police took place in Chesterfield town centre on Monday 16th August. More...

Related Tags