Tuesday 15th March 2011

Staveley MWFC recorded their biggest away win in the clubs NCEL history with a 8-0 thrashing of Bottesford Town FC and also recording their highest points tally in any one season and for good measure equalling the record number of league clean sheets with their 11th of the season.

A week before Bottesford had showed a spirited performance and run Staveley close.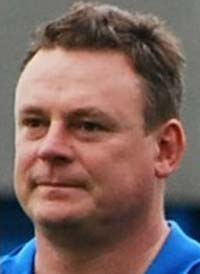 A week later and a pre-match individual player assessment in the open dressing room headed by Billy Fox (pictured left) included criticism of himself and others and demanded a more positive attitude and he obviously sent Staveley out with something to prove as a team and looking for improvement in individual performances.

If Foxy was looking for a reaction then he certainly got one.

From start to finish the Bottesford goal was peppered with shots galore and passing and movement that must rank as one of the best performances of the season.

Bottesford, a side who before the game had played 14 home games conceding just 22 goals were on their heels from the off.

The first goal came on 22 minutes when Jordan Eagers cutting in from the right, played in Chris Coy whose effort was well saved by the Bottesford keeper but Aymen Tahar pounced to slot the rebound home for his 18th goal of the season.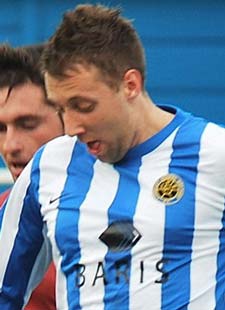 It was wave after wave of Staveley attack.

On 40 minutes Jordan Eagers floated a great ball to Chris Coy at the back stick and his header back across goal was excellently placed to Ryan Damms (pictured left) to slot the ball home from close range.

Just 3 minutes later Andrew Fox surging forward at will was up ended for what looked like a penalty but playing the advantage Ryan Damms slipped the defender and scored low into the corner of the net to make it 3-0.

With 45 minutes gone the score line reflected the dominance that Staveley held.

For 20 odd minutes in the second half Botteford found some spirit and Scott Dinnigan was tested in the Staveley goal.

On 68 minutes some great work by Joe Thornton down the left resulted in him pulling the ball back where Andrew Fox running on again slipped an accurate shot wide of the keeper to make it 4-0 and score his 12th goal of the season. Bottesford keeping their discipline were chasing shadows and Staveley sensed a big win.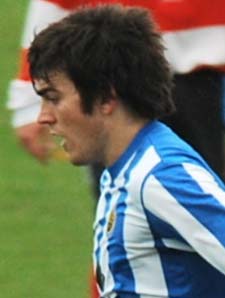 Joe Macguire (pictured left) returning from Harrogate Town played a great ball over the Bottesford Town back line and Ryan Damms cutting in from the left scored low down to make it 5-0 and complete a well taken hat trick on 77 minutes.

After 83 minutes it was 6-0 when Dean Walters cutting in from the right shot and his effort was blocked and the ball fell kindly for Ryan Damms to have the simplest of jobs to score from close range for his 29th goal of the season.

Staveley were unrelenting.

On 89 minutes Joe Macguire in the box scored after a good flowing move with a left foot shot high into the net and 2 minutes later he scored an excellently taken goal with a rasping right foot drive for his 6th goal of the season.

With the final whistle blown all 14 players who had been involved should take the applause for what was a simply fabulous footballing performance that stretches Staveley's unbeaten league run to spanning 136 days.

The promotion battle is a little clearer now in terms of clubs who hold real hopes of securing promotion.

With Leeds losing at Yorkshire Amateurs and Eccleshill at home to Glasshoughton and Pontefract ending Louth Town's promotion push it does seem that it's two from Staveley, Yorkshire Amateurs, Glasshoughton and Pontefract but Barton are holding out hoped but a 1-0 home defeat by Rossington Main has resulted in them having a mountain to climb in their remaining 12 games.

The mathematics currently determine that even if other teams were awarded 3 points per game (which is mathematically impossible as there are so many games between them), then Staveley's task to get promoted as Champions is to hit 83 points by securing 12 points from the remaining 7 games and 21 points available against Hemsworth (h), Appleby Frodingham (a), Askern Villa (a), Louth (h), Teversal (h), Pontefract (a), Handsworth (a).
RECENT STORIES
NCEL ANNOUNCE NEW SPONSOR -
Local company Baris, has just been announced as the sponsor of The Northern Counties East Football League. More...
STAVELEY'S FINAL FLOURISH -
Staveley MWFC brought the curtain down on their season with a 4-1 victory against a young Teversal side who put up a spirited performance. More...
STAVELEY OUT OF THE CUP -
Staveley MWFC went out of the NCEL QF's on penalties by 5-4 after 120 minutes of football that was not for the football purists. More...
"WE ARE THE CHAMPIONS!" -
Staveley MWFC are Champions Of NCEL Division 1 for the very first time in the clubs history. More...
STAVELEY EXTEND THEIR CUP RUN -
Staveley MWFC went through to the quarter-finals of the NCEL Cup with a convincing 2-0 victory away at Barton Town OB FC More...
STAVELEY DEMOLISH 'FROD' 5-1 -
Staveley MWFC's unrelenting push for promotion continued with force with a 5 - 1 demolition of Appleby Frodingham FC. More...
A CLUB ON THE UP -
Back in 2007, Staveley Miners Welfare Football Club faced extinction, their football club committee had resigned en masse due to retirement and just pure time issues. More...
STAVELEY CONTINUE THEIR PROMOTION PUSH -
Another 3 points in a tight game against Hemsworth MWFC who twice went behind early in each half means huge credit must be given for sticking to their tasks. More...
STAVELEY OUT OF THE CUP -
Staveley MWFC went out of the S&H Cup to Parkgate FC by 3-1 in what proved to be a game with little between the sides... More...
STAVELEY MAKE IT 32 POINTS OUT OF 36 AND 7 HOME WINS -
A 1-0 victory fought out against a spirited Bottesford Town side gave the league leaders a battle in front of another very pleasing attendance of 102. More...
STAVELEY EARN A DRAW -
Yorkshire Amateurs push for promotion seemed to necessitate that the 3 points be taken against Staveley and the loss of another 2 points by the Ammers is giving the chasing pack hope. More...
STAVELEY PUSH ON -
Staveley MWFC pushed further ahead at the top of the NCEL Division 1 with a 1-0 victory against AFC Emley, courtesy of a brilliant strike from Chris Fawcus on 68 minutes. More...
LUCKY NUMBER 7 -
Staveley MWFC made it 7 league wins from 7 beating AFC Emley 2-0 at Inkersall Road with 2 goals from the impressive Joe Thornton, one a thunderous 30 yard free kick. More...
STAVELEY LEAD THE PACK AFTER 3-0 WIN -
Staveley MWFC increased their lead at the top of the NCEL to 4 points with 2 games in hand and also maintain an 11-point gap on 3rd More...
A TEST OF CHARACTER -
Staveley MWFC faced a few questions about their character after the weekend's disappointments when Glasshoughton Welfare came to Inkersall Road. More..
STAVELEY GRIND OUT 2-1 WIN OVER LEEDS MET-
Staveley had one hell of a fight to put 3 more points on the board against Leeds Met Carnegie... More...
STAVELEY MWFC ON RECORD SEQUENCE -
Staveley's 2-1 victory against Grimsby Borough brought the club's best ever sequence of results with 20 wins, 3 draws and just 1 defeat in a 24 game run. More...
STAVELEY MWFC HIT TOP SPOT -
Staveley MWFC went to thetop of the NCEL Division 1 with a 6-1 victory against bottom of the league Brodsworth Welfare More...
SHIREBROOK v STAVELEY MATCH REPORT -
Staveley MWFC came away from Shirebrook Town FC with 3 deserved points in a game that they dominated from start to finish. More...