Sunday 3rd April 2011
by TERRY DAMMS
Pictures Coutesy of BARRY DYKE

Staveley MWFC are Champions Of NCEL Division 1 for the very first time in the clubs history. Staveley have not just won the title but have done so in style with club records seemingly being smashed for fun as this talented young bunch of players have gone from strength to strength.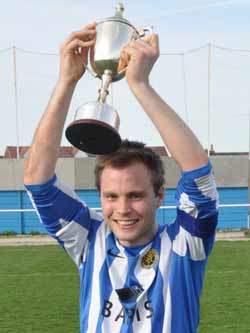 The clubs previous best ever undefeated league run of 20 games has now been equalled, spanning a breathtaking 167 days since the last league defeat in October.

Never before has a Staveley MWFC player ever reached 100 goals but now that record has also been broken by Ryan Damms who scored his 35th and 36th goal of the season, his second goal being his 100th goal for the club in just 4 seasons that ironically brought the NCEL Division title to Inkersall Road and allowed Captain Micheal Staley to finally lift the Championship Trophy (pictured left).

It was a strained game with Louth Town FC who rode their luck to turn the tables in patches against Staveley. The Louth woodwork was rattled 3 times, twice in the first half which had they been goals then Louth may have found themselves buried.

Great debate rang round Inkersall Road after 5 minutes when Andrew Fox burst through on the keeper, clipping the ball past him he was upended and as the crowd waited for the referee's decision, it was a penalty and presumably a red card, but the goalkeeper must have had a lucky day with not even a yellow card being brandished. Ryan Damms again varying his choice of where to put his penalty put it to the keeper's right with the keeper diving left no doubt remembering where the Staveley striker put his spot kick in the earlier season game at Louth.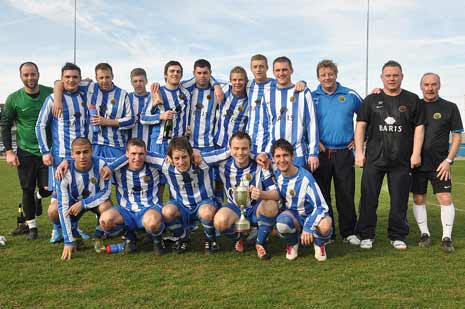 Manager Billy Fox (2nd from right) with his Championship winning Staveley Team

Staveley were cruelly denied a second goal after 15 minutes. Jordan Eagers cutting in from the right beating his man sent a superb effort curling with his left foot goal bound but it was the woodwork that saved Louth and the ball rebounded into the hands of the Louth keeper. If ever a full back got roasted then today was the day with Chris Coy being simply at times unplayable with the Louth right back and the Louth back line gasping for air at times as he went past them as if they were stationary.

One such run saw Coy beat 4 men cutting in from the left he thought the ball was to nestle in the bottom corner but somehow the Louth keeper got his hand to it and onto the post as the ball bounced back fatuously into the keepers hands, it then seemed it was perhaps going to be the keepers day and the score was kept to 1-0.

After 24 minutes Louth got back into a game that perhaps by now ought to have been over. Opting for the more direct style a long ball down the centre of the Staveley defence saw Joe McGuire head the ball but with Scott Dinnigan also coming out for the ball a corner was won with the ball just going wide of the Staveley post. From the resultant corner Dan Pawson scrambled the ball home and Louth were level. This gave Louth heart but Staveley kept working the Louth defence predominantly with Chris Coy and his great work rate and pace.

The sides went in at half time 1-1 with Staveley no doubt cursing their luck and Louth thinking they had a real chance to upset the Staveley apple cart. With the wind behind them Staveley looked to be the dominant force and they went looking for that all important second goal.

Joe Thornton's introduction on the right for Jordan Eagers returning after a hamstring injury, brought added complications for the Louth rearguard as he showed some good early touches.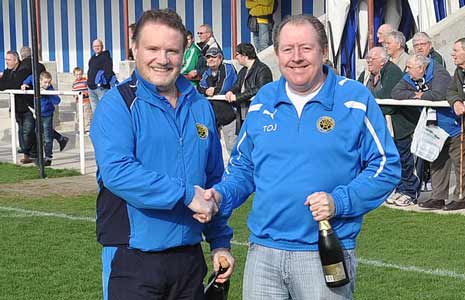 Staveley MWFC Chairman Terry Damms (left) and Vice Chairman Tony Bruce celebrate the Championship coming to Staveley

Staveley once again rattled the woodwork when Joe McGuire's terrific header went so close, but again the Louth keeper rode his luck and the danger was cleared. It wasn't going to happen, so it seemed, but football statistics can sometimes produce a quirkiness that belies belief.

On 68 minutes Andrew Fox floated a free kick to the far post and Joe Thornton rose tremendously at the back post and headed back across goal and after one bounce Ryan Damms reacted first to head the ball home for that impressive 100th goal for his club, which eventually would bring the single point Staveley went looking for to get that title.

Staveley's delight was short lived however and they were undone again by a rearguard lapse 4 minutes later when Carl Martin was able to send the ball back over the Staveley defence and keeper with a soft but important goal for the visitors.

On 77 minutes Staveley thought they had won it when a loose ball down the middle saw Ryan Damms beat the centre half and advancing goalkeeper to head the ball home with the referee not awarding a free kick until the raising of the assistant referee's flag brought the disallowing of the goal, much to the surprise of the onlooking crowd of 123, Staveley's best league attendance of the season.

Louth thought they had spoiled the party when in injury time they had an effort waved away by the well placed assistant referee with claims that the ball had crossed the line, but that would have been so harsh on Staveley but a point was enough to signal the celebrations to begin as Staveley MWFC had put themselves out of reach of all their chasing opponents and they were crowned NCEL Division 1 Champions of the first time in the clubs history.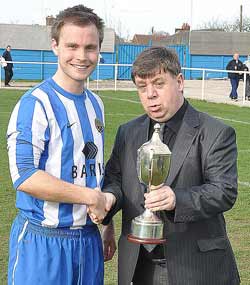 The NCEL Chairman David Morrall presented the Trophy to Captain Michael Staley (pictured left) and it was held aloft with pride and passion as the champagne bottles were once again uncorked in sheer delight for the lads who walked off to a rapturous round of applause by the smiling Staveley supporters who rightly have a management team and playing staff to be very much proud of.

Billy Fox was, immediately after the game, concerned over the lapses that gifted Louth their goals - but the lifting of the title seemed to eventually sink in that he had achieved what no other manager had done at Staveley MWFC, namely leading the club to winning it's first ever title.

As always, playing his own part down, he said "It's down to the lads, not me and they have been magnificent and fully deserve their day today. It's been a very long season and with more than 50 odd games played. They have been tremendous to work with. They are young, are willing to learn and they work so hard for this football club they sometimes just don't know when to lie down and be beaten. It's not over yet because on Wednesday night we have a league cup quarter final against Handsworth and a chance to progress into the semi finals."

Well done Staveley MWFC from all at The Chesterfield Post and our readers.
RECENT STORIES
STAVELEY THROUGH IN FA CUP BATTLE -
Staveley MWFC made the next round of the FA Cup with a 4-0 score line that probably flattered them against Winterton Rangers in a game full of incidents. More...
STAVELEY MAKE IT 3 OUT OF 3 -
Staveley MWFC got their second league victory in a week with a 2-1 victory against Winterton Rangers who last season finished 5th More...
AWAY WIN AND A CLEAN SHEET IN NCEL PREMIERSHIP OPENER FOR STAVELEY -
Staveley MWFC opened up their NCEL Premiership campaign with a deserved 1-0 victory at Brighouse Town FC. More...
STAVELEY V CHESTERFIELD FRIENDLY MATCH REPORT -
NCEL Division 1 Champions, Staveley MWFC, played npower League 2 Champions, Chesterfield, at Inkersall Road last Wednesday evening. More...
"WE DON'T WANT TO TAKE THE PASSION OUT OF FOOTBALL" -
On Wednesday Howard Webb refereed the friendly between Staveley MWFC and Chesterfield and spoke with the Chesterfield Post. More..
NCEL ANNOUNCE NEW SPONSOR -
Local company Baris, has just been announced as the sponsor of The Northern Counties East Football League. More...
STAVELEY'S FINAL FLOURISH -
Staveley MWFC brought the curtain down on their season with a 4-1 victory against a young Teversal side who put up a spirited performance. More...
STAVELEY OUT OF THE CUP -
Staveley MWFC went out of the NCEL QF's on penalties by 5-4 after 120 minutes of football that was not for the football purists. More...
STAVELEY EXTEND THEIR CUP RUN -
Staveley MWFC went through to the quarter-finals of the NCEL Cup with a convincing 2-0 victory away at Barton Town OB FC More...
STAVELEY DEMOLISH 'FROD' 5-1 -
Staveley MWFC's unrelenting push for promotion continued with force with a 5 - 1 demolition of Appleby Frodingham FC. More...
A CLUB ON THE UP -
Back in 2007, Staveley Miners Welfare Football Club faced extinction, their football club committee had resigned en masse due to retirement and just pure time issues. More...
STAVELEY CONTINUE THEIR PROMOTION PUSH -
Another 3 points in a tight game against Hemsworth MWFC who twice went behind early in each half means huge credit must be given for sticking to their tasks. More...
STAVELEY SHOW THEIR CLASS -
Staveley MWFC recorded their biggest away win in the clubs NCEL history with a 8-0 thrashing of Bottesford Town FC. More...
STAVELEY OUT OF THE CUP -
Staveley MWFC went out of the S&H Cup to Parkgate FC by 3-1 in what proved to be a game with little between the sides... More...
STAVELEY MAKE IT 32 POINTS OUT OF 36 AND 7 HOME WINS -
A 1-0 victory fought out against a spirited Bottesford Town side gave the league leaders a battle in front of another very pleasing attendance of 102. More...
STAVELEY EARN A DRAW -
Yorkshire Amateurs push for promotion seemed to necessitate that the 3 points be taken against Staveley and the loss of another 2 points by the Ammers is giving the chasing pack hope. More...
STAVELEY PUSH ON -
Staveley MWFC pushed further ahead at the top of the NCEL Division 1 with a 1-0 victory against AFC Emley, courtesy of a brilliant strike from Chris Fawcus on 68 minutes. More...
LUCKY NUMBER 7 -
Staveley MWFC made it 7 league wins from 7 beating AFC Emley 2-0 at Inkersall Road with 2 goals from the impressive Joe Thornton, one a thunderous 30 yard free kick. More...
STAVELEY LEAD THE PACK AFTER 3-0 WIN -
Staveley MWFC increased their lead at the top of the NCEL to 4 points with 2 games in hand and also maintain an 11-point gap on 3rd More...
A TEST OF CHARACTER -
Staveley MWFC faced a few questions about their character after the weekend's disappointments when Glasshoughton Welfare came to Inkersall Road. More..
STAVELEY GRIND OUT 2-1 WIN OVER LEEDS MET-
Staveley had one hell of a fight to put 3 more points on the board against Leeds Met Carnegie... More...
STAVELEY MWFC ON RECORD SEQUENCE -
Staveley's 2-1 victory against Grimsby Borough brought the club's best ever sequence of results with 20 wins, 3 draws and just 1 defeat in a 24 game run. More...
STAVELEY MWFC HIT TOP SPOT -
Staveley MWFC went to thetop of the NCEL Division 1 with a 6-1 victory against bottom of the league Brodsworth Welfare More...
SHIREBROOK v STAVELEY MATCH REPORT -
Staveley MWFC came away from Shirebrook Town FC with 3 deserved points in a game that they dominated from start to finish. More...