Tuesday 3rd April 2012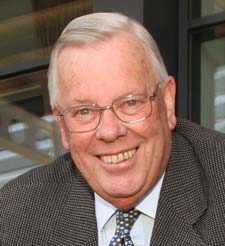 He's long been the 'face' of Chesterfield Football Club and has guided it though highs and lows during his near 3 decades at the helm of the Board.

Today, Barrie Hubbard has announced he is to step down from that role within the next two months and though sad to leave, feels that it is absolutely the right time to do so.

A proud and affable man, Barrie has seen the club experience the euphoria of promotion and the despair of relegation and also has watched his beloved club torn apart by financial scandal. A long time campaigner for a move from the old Saltergate ground, he was the man credited with persuading Dave Allen to invest in the club and fund the new b2net stadium. The club moved lock, stock and barrel to Whittington Moor in July 2010 and, the rest as they say, is (recent) history.

Listen here to his full and frank interview with the Chesterfield Post or read below...
He has mostly been at the helm during a period which has seen, three promotions, three relegations, two Wembley Play-Off Finals, an historic FA Cup Semi-Final, and winning the Johnstone's Paint Trophy Final at the new Wembley Stadium only this season.

His lasting legacy is to have master-minded the club's re-location to the new
£13million, 10,300 all-seater B2net Stadium in 2010 after 139 years at Saltergate, and he leaves a football club, with state of the art facilities, which most importantly is financially stable.

We spoke to Barrie today at the ground (you can listen to the interview above) and he told us why this decision is the right one, his personal and professional hopes for the future - and why he believes the club will experience even more success.

Barrie - you announced your retirement today. Not an easy decision?
"No, not an easy one, but one that I think is sensible - the Directors knew about it some time ago, but with Wembley and one thing and another we decided to leave it as long as possible, but I didn't want to leave it until the end of the season as that would have been bad, so I thought this was a good time really, not much happening so I thought let's do it and get it out of the way."

Why have you chosen to retire now?
"As you know, I came in '83, 29 years ago, as Chairman then too and then I thought, well I was going to go when we got this place up and running - that's going nice now and we've got it sorted - we've had a few hiccups, behind the scenes this is, not on the pitch - we've had hiccups on the pitch this year!

"We're now on an even keel, we know exactly where we're going - the five year plan that Dave bought to the club is still in existence - it's just that if we get relegated this year, then we've got to get promotion next year - which we will do, there's no doubt in my mind - we know what to do, the players we want.

"We have a lot of players now whose contracts are up, I'm not saying by any means that they'll all go, but the opportunity's there for us to look at what's there and move on."
You've been here a long time, this will be your legacy won't it - this lovely new stadium?
"It will won't it? And I look back now and think what it was like when I came in 1983, and look at it now - at least it's in a better situation than it was then, even though I'm going when we've not had the season we expected - we expected a lot better - but these things happen, up and down and that's what it's about. I look back and think this is great and this will be here for a long time."
What are your memories of the 29 years - good and bad?
"A lot of good ones, can't think of many bad ones. We went to Wembley twice and then the play-offs - won one lost one - we did well in the Carling Cup, I remember going to Liverpool and getting 4 goals and drawing 4-4, that was a great day. We went to the semi final in '97, that's something I don't think will ever happen to a little club like ours again. And of course going down last week to Wembley and picking up a cup, I can't remember us ever having done that before.

"We've had some good times, we've had some bad times - this season hasn't been one of the best! But again, the supporters have been great and they know that these things happen and that we've all got to stick together and next year is as good as last season and make sure that we come back, like Swindon."

You've seen a lot, what's made you want to get as involved with the club as you have - you're a lifelong Spireite, you could have just bought a seat and a season ticket?
"Exactly! When I came in '83 it wasn't as though I'd planned to do it - it was a very quick decision. They were in a real mess at the time, going to the wall, about a fortnight left and I came then, with other people obviously, and we managed to sort it out then, it was very difficult.

"That's been the story of my life at Chesterfield, we've never had a lot of money, never had a benefactor, like some clubs have had in the lower divisions and we've had to work at keeping going and it's been a big job. We've just had to make sure we didn't spend what we couldn't afford as there was nowhere in the olden days to get money from, only ourselves, and although we've all put some money in, before Dave was involved, it was just enough to keep it going, which we've done and, when I look back at some of the times we've had, that's a feat to keep the place going. Of course when we moved down here and Dave injected a lot of money - a tremendous amount of money - it was only that made it possible."

What's next for Barrie?
"I'm going to play some more golf - I pay £800 a year and I played once or twice last year! This year, I'm going to try and get one or two rounds a week in. I'm going to have to take the missus down to Tesco! We're going to go out, I'm going down to Spain more - I used to go for a month at a time at one time and then with this new stadium, it took a lot of time and we couldn't do it as we had to spend more time here - which we did and thoroughly deserved it, what's happened now has been well worth the holidays we had to miss out on, but, that's by the by. I always thought eventually there'd be some time coming and that's coming now, so it will be a big wrench but I'll find plenty to do, definitely!"

You've been the 'face' of Chesterfield Football Club for a long time, who do you think should take over now?
"I've been pushing and pushing for Dave (Allen) to take over and on Saturday, he did tell me he was going to, which was great as I think he deserves to be Chairman of the Football club.

"He's worked so hard, he's put so much money in to get the upstairs working right and it's a lot of money it brings in - and that's the money the football club needs. He's been in the leisure industry all his life, football is a sport but it's also a leisure industry and he's done it before and I think he should be Chairman, as the majority of the money here is his, even though all the directors on the Board, apart from 2 have got sizable amounts of money in and they've got to be thanked as well.

"It's not just my job and Dave's job, everybody has worked very, very hard and I know that they back Dave to the hilt and I was delighted when he said he would do it.

"He'd said 'I can't afford the time', but now at last he's said he will do it, and that's great for me and one of the reasons I've been able to announce it really now, as I couldn't really say I'm going to retire and they'd say 'who's going to take over' and me say 'I don't know' - but now Dave has said he'll do it, so that's great."

You're confident the club is in safe hands?
"Oh, I am yes, very much so - and that's why I know that next season will be successful."

Must have been disappointing for you this season?
"Oh it has, it's been awful. I don't understand it either. We've played games where we've played some great football, we've played games where we've played half unbelievable, and the other half we have been atrocious, don't know why, the players don't know why, the Manager doesn't know why - he hasn't changed anything.

"Sheffield United, Scunthorpe, Stevenage - we were 2-0 up against Stevenage and then 2-2, and Sheffield United, we were as good as them if not better in the first half, but then second half, they go and get three. Scunthorpe again, they said to me (the Directors), why are you at the bottom of the league, I don't know with a team like you've got for the first half, the second half ... what do you do, I don't know! Same people, so I don't really know.

"I don't know the problem but it's been a real downside for us all, Manager, players, us - we didn't expect to win the league, but we thought we might be half way and we could have been.

"When Tommy Lee got injured, that didn't do us any favours, he got injured and we did let a lot of goals in during the time that he was off - but you can't blame any one person, I mean I'm not blaming Tommy, it's not his fault he got injured, but I think that went a long way to what's happened this season."

But despite the season, you leave a very proud man I'm sure?
"Yes, because we've won a cup as well - which we've never done before - and 18,000 had a great day out. I know we've got to come back to reality and think about the league but, if we get promotion next year, no one will mention relegation this year, but they'll all mention going to Wembley for the cup.

"That was excellent and I'm really pleased for the supporters, to get a day out away from the tension that we've had here this season. It was a good day out and I'm sure they all enjoyed it .We couldn't have wished for a better day, or a better result!"

What's your message to the fans and the club generally?
"As far as the fans are concerned, I'd like to thank them for all the support I've had during the time here. We've had times when they've thought I wasn't the best man on the earth - and rightly so sometimes - I've most likely made more mistakes here than anyone else because I've had to make more decisions than anyone else, but the supporters have been really supportive of me.

"They all speak to me, I know them all - well not all of them - but a vast majority and I'll miss them. They are a big part of any football team because they'll look back now and say we're going to get relegated perhaps and then they'll look what we've got here and they'll look what we've had in the past here when we've got relegated and that was absolutely nothing - so if we start again next season with a new Chairman and an addition to the Board, then we'll do well and it'll be great for me to come down and see them.

"I know they'll do well next year and I know a lot of the supporters have said to me, OK, we've gone down and if we do go down, we'll be really disappointed, but we'll come back and we may come back better.

"Last year we were Champions and that's a big thing, as only one team gets to be Champions of the league. We scored a lot of goals and we let a lot of goals in ourselves so it wasn't perfect, but it was a damned good season compared to this one - but I think we might be a lot better next year and I hope that everyone will stick by us because it's going to be fun next year."

And you'll be back watching as often as possible?
"I'll be back - I'm looking forward to coming! I've never done it - ever - in the 29 years - I had a year off in the 85/86 season and I had 14 months off in the Darren Brown era, so out of the 29 years, it's not been many times I've had off, but I'll be here until they carry me out. This is the place for me. I don't know any other football club, I don't know how people can support one club one week and one another.

"To me, this is the only club I'm interested in and I'll be here as long as they let me come. Even when they don't let me come I'll get in somehow - in disguise!"

For more information and other CFC news, go to www.chesterfield-fc.co.uk
RECENT STORIES
BOWERY BOOSTS SPIREITE'S SURVIVAL HOPES -
Chesterfield travelled to Hartlepool today knowing a win secures League One status for another week at least, conditional of course, on other results going their way too. More...
SPIREITES HOPING NOT TO DROWN AT THE 'POOL -
A 4-0 win over Wycombe and results going for them prevented CFC becoming the first league team to be officially relegated and re-ignited hopes of survival More...
"WE NEED TO STICK TOGETHER" STRIKER JORDAN BOWERY -
Jordan Bowery, Chesterfield FC's gifted young striker and scorer of one of the goals of the match, also faced the press after Monday's 4-0 win over Wycombe. More...
'BLUES ON THE MOVE' PRIZE WINNERS FOR WEEK 48 -
Week 48 results. Check the Chesterfield Post every week to see if you're a winner or to join in! More...
"WE'LL BOUNCE BACK" SPIREITES ASST MANAGER TOMMY WRIGHT -
It was a realistic and upbeat Tommy Wright who faced the press after the Spireites crushed Wycombe 4-0 at the b2net today. More...
SPIREITES PULL LEGS OUT FROM UNDER CHAIRBOYS -
Easter Monday's home fixture came upon us with Chesterfield still hoping for the miracle that would guarantee them survival in League One next season. More...
WYCOMBE WANDER ALONG TO THE B2NET-
The phrase "still mathematically possible" continues to apply to Chesterfield's chances of avoiding relegation. However many Spireites must believe that "we're going down" now seems to be the reality. More...
"YOU NEVER KNOW IN FOOTBALL" SPIREITES BOSS SHERIDAN -
Fittingly the Spireites go into the Easter weekend's fixture list praying for a miracle run which will see their hopes of remaining in League One next season reborn. More...
'BLUES ON THE MOVE' PRIZE WINNERS FOR WEEK 47 -
Week 47 results. Check the Chesterfield Post every week to see if you're a winner or to join in! More...
"I'LL FIGHT ALL THE WAY" SHERIDAN -
After seeing his side lose to Scunthorpe United at home on Saturday, it was a reflective John Sheridan who faced the press to give his reaction to the game. More...
A WIN FOR THE IRON THROWS SPIREITES INTO THE FIRE -
It was billed as the game that the Spireites needed to win in order to begin the fightback against relegation More...
'WE HAVE TO BELIEVE' ASST MANAGER TOMMY WRIGHT -
Spireite Asst Boss Tommy Wright faced the press pre Scunthorpe and gave a frank assessment of the Sheffield Utd game prospects against The Iron. More...
SPIREITES v SCUNTHORPE - DAVE DOVE'S MATCH PREVIEW -
Scunthorpe United are at the B2net Stadium on Saturday to face a Chesterfield side who have had very contrasting results in their last two games. More...
ADDITIONAL CAR PARKING FOR SPIREITES' FANS -
To help alleviate parking congestion on match days, Chesterfield Borough Council has told us it will be opening one of its car parks for this seasons remaining CFC home games More...
EVANS OPEN AS SPIREITES LOSE AT BRAMALL LANE -
John Sheridan made two changes to the line up starting at Bramall Lane tonight. Both Lester and Ford did not make the trip More...
CHESTERFIELD HOPE TO BLUNT THE BLADES. PREVIEW -
It's 'Game On' tonight at Bramall Lane as the Spireites take on Sheffield United in the latest local derby. More...
BOSS SHERIDAN - "WE KNOW WHAT WE HAVE TO DO" -
Spireites Gaffer John Sheridan Speaks To The Chesterfield Post ahead of the local derby at Bramall Lane. More...
SPIREITES FREEZE TICKET PRICES FOR NEXT SEASON -
Chesterfield FC has announced it is to freeze prices for next season for both season tickets and match day tickets. More...
"TOWN SHOULD BE PROUD OF ITSELF" SPIREITES CEO CHRIS TURNER -
Ahead of Wembley, Chesterfield FC's CEO, Chris Turner, told the us that to win the JPT would mean the club had achieved something this year More...
"I'D SACRIFICE TODAY'S JPT WIN FOR LEAGUE SAFETY" JOHN SHERIDAN -
After beating Swindon 2-0 to bring home the Johnstone's Paint Trophy, a clearly ecstatic John Sheridan expressed his pride in the players and his delight at winning the trophy. More...
WINNERS! SPIREITES WIN JPT WEMBLEY FINAL 2-0 -
The Spireites were victorious at Wembley for the 2nd time, two 2nd half goals decided the game in front of nearly 50,000 supporters. More...
COUNTDOWN TO KICK OFF. PAUL FISHER'S WEMBLEY PREVIEW -
The Spireites head to Wembley in decent form, with only 1 defeat in 5 matches and face Swindon in a competition they have performed very well in. More...
"THIS ONE'S FOR THE FANS" SPIREITES BOSS JOHN SHERIDAN TALKS WEMBLEY -
It's just over 24 hours until Chesterfield step out onto the hallowed Wembley turf to take on League Two leaders Swindon. More...
JACK LESTER - "I'M REALLY EXCITED!" -
The second player we spoke with, striker Jack Lester, is also looking forward to the final at Wembley and he began by telling us how much he is looking forward to the occasion. More...
TOMMY LEE - GEARED UP AND READY FOR WEMBLEY -
We spoke with some of the Chesterfield players ahead of Sunday's JPT final, first, Goalkeeper Tommy Lee shared his thoughts with us on the game ahead. More...
SPIREITES' CEO CHRIS TURNER SPEAKS AHEAD OF WEMBLEY -
It's 17 years since the Spireite Army of fans has had the chance to grace the Capital and watch their team at Wembley - but their time has finally come More...
BUMPER CROWD HEADING TO WEMBLEY -
Ticket sales for Sunday's JPT Final between Chesterfield and Swindon Town have broken the 45,000 barrier with cup fever taking a firm hold of both sets of fans. More...
"I WANT WHAT YOU WANT" SPIREITES BOSS SHERIDAN -
After Tuesday's home defeat against Huddersfield, Manager John Sheridan faced the media and he told he was disappointed to have lost. More...
ALAN WILKINSON, SPIREITE, IS READY FOR WEM-BER-LEE -
It really has been a funny old season this year, bottom of the league and without much luck, but with a Wembley final to look forward to. More...
CFC VW CAMPER VAN OFF TO WEMBLEY -
The Road to Wembley will be a memorable one quite literally for one local businessman who has chosen to show his support for his local team through a very unique labour of love. More...
TERRIERS TAKE A BITE OUT OF SPIREITE SURVIVAL HOPES -
John Sheridan made 3 changes from Saturday, with Lester and Whitaker, both in the starting line up last week, on the bench. More...
WARNING OF LONDON ENGINEERING WORKS ON SUNDAY -
With just a few days to go until Chesterfield's JPT Wembley final, we have been informed that there will be engineering work in the capital on the 25th March. More...
A TASTE OF THINGS TO COME? -
With just under a week to go until over 16,000 Chesterfield fans make the trip to Wembley, the JPT trophy itself paid an advance visit to town yesterday. More...
"IT WAS A GOOD POINT" SPIREITES' MANAGER JOHN SHERIDAN -
Manager John Sheridan took time out to speak to us before tonight's game against Huddersfield at the B2net. More...
CAN THE SPIREITES MUZZLE THE TERRIERS? -
Huddersfield Town are the visitors to the B2net Stadium tonight, in a League One fixture that sees both sides needing maximum points More...
'BLUES ON THE MOVE' PRIZE WINNERS FOR WEEK 45 -
Week 45 results. Check the Chesterfield Post every week to see if you're a winner or to join in! More...
"WE JUST HAVE TO GET ON WITH IT" JOHN SHERIDAN -
Karl Robinson's MK Dons will travel North tomorrow to the b2net. Currently in 5th place they have had a strong season and are hoping to continue their challenge on the play off positions come May. More...
GREENWOODS SUPPLY SPIREITES' 'WEMBLEY LOOK' -
Chesterfield FC has announced that they will be kitted out with the JPT Wembley Final Suits by Greenwoods Menswear More...
DEADLINE SET FOR SALE OF WEMBLEY TICKETS -
Chesterfield fans have until 1pm on Wednesday 21st March to get their tickets for the Spireites JPT Final at Wembley! More...
'BLUES ON THE MOVE' PRIZE WINNERS FOR WEEK 44 -
Week 44 results. Check the Chesterfield Post every week to see if you're a winner or to join in! More...
FRUSTRATION ONCE AGAIN FOR THE SPIREITES -
It was to be a frustrating afternoon in Hertfordshire for the Spireites as, despite having held an early lead for much of the game, they brought back just one point from Stevenage. More...
"WE'RE GOING THERE TO WIN" SHERIDAN TALKS STEVENAGE -
Tonight Chesterfield are preparing to travel to Hertfordshire where they will take on 8th place Stevenage. More...
SPIREITES' WEMBLEY HALF PRICE SALE -
Chesterfield football club has told us today that, ahead of the Spireites trip to Wembley, Chesterfield fans can now get kitted out for the day at half the price. More...
SPIREITES MAKE A POINT AGAINST PRESTON -
After gaining a valuable 3 points on Saturday, at home against Tranmere, Chesterfield were hoping for a repeat performance which would see them remain off the bottom of League One. More...
FANS URGED TO WRITE THEIR OWN JPT HEADLINES -
Lifelong Chesterfield fans are being invited to hold the back page for the JPT, courtesy of an exclusive competition to interview their team's manager and players in the run-up to the final. More...
"THE CONFIDENCE IS COMING BACK" MARK CROSSLEY -
After gaining 3 valuable home points on Saturday, the Spireites are on the road tomorrow as they travel to Deepdale to take on Graham Westley's Preston.More...
'BLUES ON THE MOVE' PRIZE WINNERS FOR WEEK 43 -
Week 43 results. Check the Chesterfield Post every week to see if you're a winner or to join in! More...
"A GREAT, GREAT 3 POINTS!" SHERIDAN -
After securing 3 points at home to Tranmere and climbing 2 places in the league table, a pleased Chesterfield Gaffer, John Sheridan, faced the press after the game. More...
JORDAN DOES THE JOB FOR THE SPIREITES -
There were just 2 changes to John Sheridan's starting squad facing Tranmere today, Drew Talbot and Danny Whitaker More...
"IT WILL GO RIGHT TO THE WIRE" - JOHN SHERIDAN -
Tomorrow, Tranmere Rovers travel to the b2net. The stalwarts of League One began the season well, but have seen a dip in form and are yet to win a league game in 2012. More...
FOOTBALL IS A WALK IN THE PARK FOR THE OVER 60's -
Chesterfield Football Club's Community Trust is encouraging the over 60's to keep fit by offering new sessions of 'Walking Football'. More...
SPIREITES CRASH TO ON FORM ADDICKS -
Manager John Sheridan made 4 changes to the squad facing league leaders Charlton at the b2net last night. More...
"IT'S A GREAT GAME FOR US" TOMMY WRIGHT -
It's top versus bottom tomorrow (Tuesday 28th February) as high flying League One leaders Charlton come to the b2net. More...
"INJURIES FORCED TEAM CHANGES" SPIREITES BOSS JOHN SHERIDAN -
After the game at Meadow Lane it was a disappointed Gaffer John Sheridan who talked to the media. More...
'BLUES ON THE MOVE' PRIZE WINNERS FOR WEEK 42 -
Week 42 results. Check the Chesterfield Post every week to see if you're a winner or to join in! More...
SPIREITES RETURN EMPTY HANDED FROM MEADOW LANE -
John Sheridan made 5 changes to the squad facing Notts County at Meadow Lane on a bright sunny afternoon. More...
"A BIG RESULT FOR THE CLUB" SPIREITES TOMMY WRIGHT -
Another week, another derby... this time against Notts County at Meadow Lane. More...
'BLUES ON THE MOVE' PRIZE WINNERS FOR WEEK 41 -
Week 41 results. Check the Chesterfield Post every week to see if you're a winner or to join in! More...
"FULL CREDIT TO THE TEAM" SHERIDAN -
It was a buoyant John Sheridan who faced the media after the Sheffield Wednesday game and, in an honest interview, told us how delighted he was to have bagged the 3 points. More...
SPIREITE'S TAME THE OWLS, MATCH REPORT -
It was a sell out crowd at the b2net, with only empty blue seats visible in the East stand's segregation area. More...
CAN THE SPIREITES CLIP THE OWLS' WINGS? -
An eagerly anticipated local derby at the B2net tomorrow will see the Spireites host Sheffield Wednesday. Preview by Luke Ingram More...
"THE BEST GAMES TO PLAY" SHERIDAN ON DERBIES -
Chesterfield Gaffer John Sheridan talks about the Bury game and tomorrows derby game with the Owls More...
LOCAL DERBY A SELL OUT -
With just 2 days to go to the big local derby, Chesterfield FC has announced that one of the most keenly anticipated clashes of the season is now a sell-out More...
"WRONG DECISIONS COST US" SHERIDAN -
After conceding a goal in the 88th minute sending the Spireites home with just 1 point rather than 3 they'd been heading for, a frustrated John Sheridan spoke to the press More...
"THE WHOLE NORTH OF THE COUNTRY WILL BE BEHIND US" -
We popped along to the b2net this morning to ask West Stand ticket holders how much the trip to Wembley meant to die hard Spireites More...
SPIREITES SHARE THE SPOILS WITH THE SHAKERS -
Another cold Tuesday night, another stadium - and the hard work of the Bury groundsmen had certainly paid off More...
LEAGUE CONFIRM NEW DATE FOR BLADES GAME -
The Football League has confirmed tonight that Chesterfield's away game against Sheffield Utd should be played on Wednesday 28th March More...
CAN THE SPIREITES MOVE THE SHAKERS?-
The Spireites are back on the road tonight, this time at Gigg Lane where they take on The Shakers. Asst Boss Tommy Wright talks Bury. More...
'BLUES ON THE MOVE' PRIZE WINNERS FOR WEEK 40 -
Week 40 results. Check the Chesterfield Post every week to see if you're a winner or to join in! More...
SPIREITES v CHARLTON GAME IS OFF -
Chesterfield has been cruelly denied the chance to stage today's home game against Charlton Athletic after local overnight temperatures plummeted down to -10. More...
SHERIDAN PREVIEWS CHARLTON GAME AND TALKS ENGLAND MANAGERS -
It's top v bottom this week at the b2net as the Addicks come into town More...
SPIREITES v CHARLTON GAME ON.... FOR NOW! -
With frozen temperatures predicted overnight there is some concern that The Spireites game against Charlton may have to be postponed. More...
A PROUD TIME FOR THE TOWN - CEO CHRIS TURNER -
We caught up with CEO of Chesterfield FC, Chris Turner and talked Wembley, tickets and being the talk of the town. More...
RECOGNITION FOR THE SPIREITES -
John Sheridan and goalkeeper Tommy Lee are nominated for January's npower League 1 Manager and Player of the Month Awards respectively More...
FULL JPT WEMBLEY TICKET DETAILS -
Full details have been released about the sale of tickets for the final of the Johnstone's Paint Trophy at Wembley More...
FOOTBALL LEGEND GORDON BANKS TALKS '66, SPIREITES, WEMBLEY & PELE -
Say the name 'Gordon Banks' and most people will think of the 1966 World Cup Finals or THAT goal which he saved from Pele, 4 years later in Mexico. More...
'BLUES ON THE MOVE' PRIZE WINNERS FOR WEEK 39 -
Week 39 results. Check the Chesterfield Post every week to see if you're a winner or to join in! More...
SPIREITES ANNOUNCE SUCCESSFUL START TO APPRENTICESHIPS-
10 local youngsters will shortly kick off a career in sport courtesy of a unique apprenticeship programme at Chesterfield FC More...
PROUD TO REACH WEMBLEY BUT LEAGUE IS MAIN THING - SHERIDAN -
Another busy but successful week for the Spireites, currently on their way to Carlisle where they take on the Cumbrians and hope for their 5th win in 5. More...
CLUB STATEMENT ON CARLISLE GAME -
Tomorrow's (Saturday 4th Feb) game is undoubtedly a long way to travel and the weather forecast is currently unpredictable. More...
"ONWARDS AND UPWARDS" SPIREITES DAVE ALLEN SPEAKS -
Dave Allen spoke to us about himself, his involvement with the club and his pride in the energy it has brought to the town and also, his plans for the club over the next few years. More...
WEMBLEY TICKETING ARRANGEMENTS ANNOUNCED -
Chesterfield FC has announced initial details about the ticketing arrangements for the JPT Wembley final. More...
"A GREAT ACHIEVEMENT" A DELIGHTED JOHN SHERIDAN -
It's the game the whole dressing room wanted to be involved in, having gained the advantage at home just 2 weeks ago, John Sheridan and his squad were hoping to keep on top at Boundary Park. More...
WEMBLEY HERE WE COME!!! -
It may be a bitterly cold night at Boundary Park, but 937 die hard fans made the trip up the M62 to see the Spireites make their bid for Wembley glory. More...
'BLUES ON THE MOVE' PRIZE WINNERS FOR WEEK 38 -
Week 38 results. Check the Chesterfield Post every week to see if you're a winner or to join in! More...
SPIREITES CAN ALMOST SMELL THE WEMBLEY TURF -
Spireites can, this weekend, almost smell the turf of Wembley as Chesterfield FC prepare for the 2nd leg of the JPT Northern final More...
"LIGHT AT THE END OF THE TUNNEL" MARK CROSSLEY TALKS BOURNEMOUTH -
The Chesterfield Post spoke with Spireites' Coach Mark Crossley after Friday's home win over Bournemouth. More...
RESURGENT SPIREITES PICK OFF THE CHERRIES -
After 3 wins on the bounce, John Sheridan and his squad hoped for the 'monkey' to once again keep its paws well and truly off their back More...
"WE'RE TRYING FOR PLAYERS NON STOP" JOHN SHERIDAN -
John Sheridan famously called it the 'monkey on his back' and there's no doubt that the first league win in 17 last Saturday has galvanised the team More...
A BUSY WEEK FOR THE SPIREITES -
Tomorrow, the Spirieites travel to the Community Stadium to take on 12th placed Colchester in this week's League One clash. More...
'BLUES ON THE MOVE' PRIZE WINNERS FOR WEEK 37 -
Week 37 results. Check the Chesterfield Post every week to see if you're a winner or to join in! More...
SHERIDAN HOPING LUCK CONTINUES AT COLCHESTER -
Spireites Manager John Sheridan speaks to The Chesterfield Post ahead of the game against Colchester. More...
"A GREAT RESULT" MANAGER JOHN SHERIDAN SPEAKS -
After last night's JPT victory over Oldham, a visibly relieved Gaffer John Sheridan talked to the press and said he was happy with the performance. More...
90 MINUTES TO WEMBLEY FOR SPIREITES -
The Spireites are this morning just 90 minutes away from Wembley and glory in the JPT Final after a 2-1 1st leg victory over Oldham More...
"A GREAT OPPORTUNITY" TOMMY WRIGHT -
Wembley is just two games away for the Spireites, as they prepare for the re-scheduled Johnstone's Paint Trophy clash this evening with Oldham Athletic. More...

Related Tags