Monday 23rd May 2011

Unsurprisingly it's been a quiet but pivotal week for Chesterfield's new Mayor Cllr Peter Barr.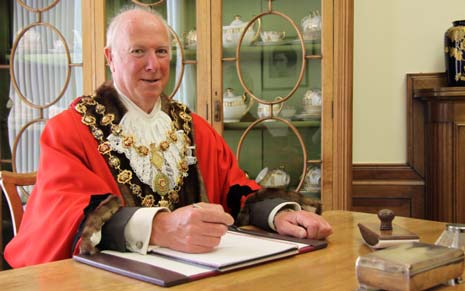 Sworn in on Wednesday, and with his civil service held on Saturday, events have so far centred on marking the beginning of his year in office.

A year in office that he didn't expect - the Mayor and his Mayoress wife Jean had expected to play the role of deputy to Mick Bagshaw but after the local election result saw him lose his seat, they had to step into the role a year early.

In his first interview with The Chesterfield Post, His Worship admitted that they were hugely proud to hold office saying, "It's a huge honour - when I first got elected 8 years ago, I'd look at people who'd been Mayor but never thought I'd do it. Mind you I worked up through the Committees and I never thought I'd be Chair of those either. A year ago someone suggested I could become Mayor and I started to think about it."

There were however tinges of sadness the night he learned he was to be the 371st holder of office, "Of course, the elections happened and Mick Bagshaw, who was to become Mayor and had been a good Deputy and who was very much looking forward to becoming Mayor, lost his seat, so there was a real sting on the night of the elections when I realised I would be the next Mayor. I'm very much looking forward to my year though."

With his background in business, where he worked successfully in manufacturing for 40 years, his focus is on business in the town and "looking forward to seeing how they develop and are responding in these times. I had 40 years in manufacturing, with continual pressures - price of raw materials, labour costs and competition, people can do things cheaper abroad so that's a real battle."

With the reputation currently of Chesterfield as a vibrant and developing town which is bringing in new investment and business, the Mayor agreed that this was a thing he was proud of and looking forward to taking it forward, "There's huge investment going on, and yes, it's an exciting time for me to be Mayor. People I spoke to on the doorstep, people from down south who have come here to bring business think it's great, a lovely town and are looking to settle here - they're really impressed and happy here. We're in a great place, a lovely town with its nearness to the Peak District and City facilities too on the doorstep."

He conceded that Chesterfield has changed from it's manufacturing past but still maintained a high level of revenue from the commercial sector, law firms and accountancy being just two. He thinks that's no bad thing, "I'm pleased with the way the town has developed, with how it's grown. It's a changing world with companies getting smaller as competition comes in with new technology."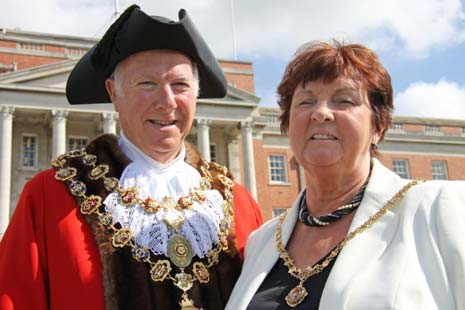 The new Mayoress too is looking forward to the year ahead. She's a Chesterfield girl and is proud of that but says, "Though I think I know the town pretty well, I'm looking forward to finding out the things I don't know about it as I'm sure I will."

Her background is in education, where she has been a lecturer all her working life and though semi retired, this remains one of her passions and she is committed to being as supportive as she can to that during her year. She is however also enthused by whatever else may come along and is looking forward to "meeting other people and learning about other areas in the town."

The couple have two boys, Christopher and Robin and they too are very proud and supportive, though the Mayoress joked that they had been, "amazed to see their dad talk so much at the taking of the oath ceremony, they're used to him only saying a couple of words!"

Moving on to the Charities, the Mayor told us why he had picked those two in particular. Ashgate Hospice is close to his heart and after hearing just how much money it needed to function every year and how dependent it was on volunteers the Mayor felt compelled to help.

The Chesterfield Cancer Drop In Centre ['Nenna Kind Centre'] too had remained in his mind after he'd seen the fundraising stall on the Medieval Market (they won) and, after seeing how they'd developed, was impressed enough to invite them to be one of the chosen charities for this year.

With His Worship's business background it was fitting that his first event was held at B2net, visiting the Derbyshire Young Enterprise Awards where the Mayor admitted he was, "inspired to walk in and see the quality of work by the children, supporting small businesses is important and listening to those young people showed me that there is a lot of talent out there, a lot of innovative skills to develop. I was thrilled to see it, how much talent there is out there and how good our young people are."
RECENT STORIES
SURPRISE FOR CIVIC SECRETARY -
Chesterfield Mayor's civic secretary Vivien Miller has been presented with an award from the Parachute Regimental Association for her work with the Shoebox appeal More...
FORCES SHARE LIFE WITH CHESTERFIELD -
Once again Chesterfield today took part in a week aimed at supporting and honouring Armed Forces connected with the town, past and present. More...
MAYOR FLIES THE FLAG ABROAD -
Last week, His Worship The Mayor, Peter Barr had just returned from a trip to Darmstadt as we spoke with him. More...
TOWN PAYS ITS RESPECTS TO FORMER MAYOR -
Over 100 councillors and council employees lined the steps of the Town Hall today to pay their respects to former Mayor, Cllr Nicky Qazi More...
CHESTERFIELD ARMED FORCES DAY 2011 -
Chesterfield is to honour once again the Armed Forces Community, from current serving troops to veterans. More...
FORMER CHESTERFIELD MAYOR AND COUNCILLOR DIES -
It's been announced that Nicky Qazi, a much respected and admired former Mayor and Councillor of Chesterfield Borough Council has died, aged 81 years. More...
CROWDS TURN OUT FOR CHURCHES -
Despite heavy rain, hundreds lined the streets to watch the Annual Procession of Witness (the 'Whit Walk') through the town centre More...
MICK BAGSHAW, CIVIC THANKS -
We have today received the following Letter from Mick and his partner Ruth asking us to convey the message of thanks to residents of the Borough. More...
NEW MAYOR'S PARADE BRINGS TOWN TO A STANDSTILL -
Today, in a Civic Service, the Mayor was introduced to the town and his Mayoralty celebrated with a service More...
SO WHO IS THE NEW MAYOR OF CHESTERFIELD? -
Peter Barr was born in Chesterfield in 1940 and as a young boy watched the craftsmen working in his Grandfather's coach building business, Metcalf's on Saltergate. More...
THE OUTGOING MAYORS SPEECH -
Cllr Keith Morgan responded to the New Mayor at the swearing in ceremony today with his outgoing speech More...
NEW MAYOR TAKES THE OATH -
Chesterfield has a new Mayor tonight after Cllr Peter Barr was sworn in as the 371st Mayor of Chestefield. More...
ON PARADE FOR THE MAYOR -
It was a case of 'all change' this week as this year's Mayoral Cadets were sworn in at the Town Hall by the Mayor and Mayoress of Chesterfield. More...
THE MAYOR DRAWS AT THE B2NET -
The Mayor's Appeal 'Football Raffle' was drawn during half time of the game against Bury on Easter Monday at the B2net. More...
PASTORS, POTATOES AND POPPIES -
It's been another busy week for the Mayor, beginning with the visit of Camilla to the Royal hospital to officially open the new wards.More...
THE MAYORAL WEEK -
The Mayoral week began with the Complimentary Dinner, a 'thank you' to all the councillors and council workers who've been part of the Mayoral year. More...
PASTORS, POTATOES AND POPPIES -
It's been another busy week for the Mayor, beginning with the visit of Camilla to the Royal hospital to officially open the new wards.More...
THE MAYORAL WEEK -
Last week was a relatively quiet one for the Mayor, as events pick back up after Christmas but, as ever, a productive one. More...
A DAY TO REMEMBER AND RESPECT -
The Mayor and Mayoress of pay tribute to those who suffered in the Holocaust, signing the Commemoration Book in the Town Hall More...
FESTIVE FUNDRAISING WITH THE MAYOR AND MAYORESS -
It's been a quiet Christmas for the Mayor and Mayoress - but, though there weren't many engagements over the Festive period, it was still a profitable one for their charities More...
PRIDE OF CHESTERFIELD -
Ten young soldiers, after undergoing a gruelling selection process, today swore their Oath of Allegiance to the Queen during an emotional ceremony at the Mayor's Parlour. More...
IN THE COURSE OF ANOTHER BUSY
WEEK -
The Mayor and Mayoress of Chesterfield had attended Pathways AGM. This Charity, situated on Sheffield Road,... More...
A BUSY WEEK -
Invitations are coming in to the Town hall all the time, unbelievably some already for Carol Concerts, and the Mayor expressed his gratitude to the Deputy Mayor. More...
TABLE TOP SALE AND FAYRE -
The event is part of the Mayors Charity Appeal and is in aid of Fairplay and the Samaritans. More...
CHESTERFIELD DOING WELL - Our Discussion with His Worship the Mayor of Chesterfield this week began on the subject of the Development of Chesterfield. More...
COUNTING CUPPAS- So, just HOW many cups of tea will the Mayor drink during official engagements in his year of office? More...
THE MAYOR AND THE ARMED FORCES. Chesterfield has very close links with all the Armed Forces and those ties remain something which the Town is immensely proud of.
More...
THE MAYOR'S FIRST COLUMN -
The Mayoral Parlour is a real paradox ... steeped in tradition with souvenirs from visiting dignitaries lining the cupboards and robes of office in the corner. More...