Friday 7th January 2011

Local Schools benefit after Government U-turn on School Sport Partnership funding.
Chesterfield MP Toby Perkins, who serves on the Shadow Education Front Bench, has spoken out after Michael Gove, the Education Minister, announced in the House of Commons that the School Sport Partnership programme would now continue until at least next summer.
It was announced in October that the SSP would be axed from March 2011, bringing to a close the £162 million programme focused on raising sport participation in schools and improving the health of young people across the UK.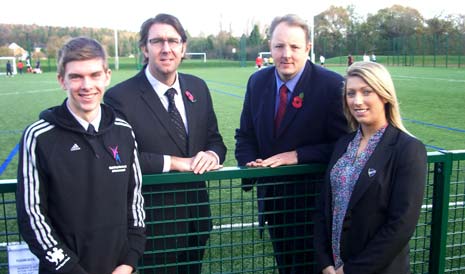 Brookfield Community School, a Specialist Sports College had taken part In the scheme and reported hundreds of additional students taking part in activities such as table tennis and learning about the importance of diet and fitness and Toby Perkins had held emergency talks with the school about the scheme during a national campaign opposing the cuts. High profile sports celebrities Dame Kelly Holmes and Darren Campbell had also spoken out.

Now, in what is seen as a staggering climb down, Michael Gove announced that the Government had decided to allocate a further £47 million to keep the SSPs going until next summer. The minister also intimated that schools would be given £65million to cover two years of additional sports teaching after existing funding, under the School Sports Partnership, ends in the summer.
Toby Perkins commented, "This is a partial success for the thousands of young people across the country who currently benefit from the SSP programme, getting fit and enjoying all that comes with an active lifestyle.

"On the one hand, the Government has admitted the folly of their original decision to cut this programme. On the other hand, there is no guarantee that SSPs or additional spending to improve sporting participation in schools will exist in any significant way after the Olympics.

"This would be a hammer blow to any real Olympic Legacy and a huge backwards step for youngsters of all abilities and backgrounds".

Mark Tournier, who is Partnership Development Manager at Brookfield School also welcomed the move, saying "I am pleased the Government has recognized the impact School Sport Partnerships have made on the lives of young people in Chesterfield. The announcement of further funding supporting a School Sport Coordinator type role is a small step in the right direction."
RECENT STORIES
LOCAL MP SPEAKS OUT FOR SPORT -
MP For NE Derbys, Natascha Engel, yesterday challenged Education Secretary Michael Gove in Parliament over the money owed to School Sport Partnerships More...
COUNCILS MOOT PLANS FOR A MERGER TO SAVE £1.5M -
2 local Councils confirm that they're looking at combining some resources to provide a cost cutting service for residents. More...
A BUSY START TO THE YEAR FOR MP NATASCHA -
With the cuts in budgets and services really starting to bite, we are seeing a far greater number of people coming to surgery as well as dropping in. More...
COUNCIL APOLOGISES TO TENANTS OVER RENT ERROR -
Chesterfield Borough Council has today apologised after an administrative error was discovered in around 4% of it's rent payments. More...
COUNCIL LEADER IN LINE FOR AWARD -
NEDDC Leader, Cllr Graham Baxter MBE will soon tread the red carpet after being short-listed for a prestigious national accolade for his work in leading the authority. More...
YOUR CHANCE TO BECOME A LOCAL COUNCILLOR -
Ahead of the local Elections in May, North East Derbyshire District Council is encouraging locals with an interest in becoming a Councillor to find out more. More...
LOCAL PHARMACIST WINS AWARD -
Toby Perkins MP presented an Award to a Chesterfield Pharmacist in recognition of her work in helping to combat blood clots. More...
COUNCIL TESTS LOCAL TAXI FIRMS -
Chesterfield Borough Council has conducted an undercover operation to try and catch private taxi firms plying for trade. More...
NATASCHA ENGELS YEAR IN PARLIAMENT REVIEW -
NOT WHAT WE VOTED FOR! Last year was dominated by one of the fiercest General Election battles this country has known. More...
VOLUNTEER SHINES AT AWARDS -
A Chesterfield Law Centre worker is celebrating after winning a prestigious award at a ceremony aimed at celebrating the work of volunteers at organisations in the town. More...
MP TAKES TO THE SHOP FLOOR... -
Visitors to Barnardo's charity shop in Chesterfield were served by a very familiar face last Saturday.Toby Perkins MP for Chesterfield, joined the shop's workforce for the day. More...
VICTORY FOR CHESTERFIELD! -
Chesterfield MP Toby Perkins celebrated with delighted residents, businesses and campaigners as DCC rejected plans for a waste incinerator plant on Dunston Road. More...
CHESTERFIELD MP SPEAKS OUT AGAINST SPENDING REVIEW -
Toby Perkins MP told the Chesterfield Post: "Chesterfield is going to be badly affected b the cuts, probably more so than anywhere else in Derbyshire" More...
NATASCHA ENGEL MP CHECKS ON NEW SERVICES AT LOCAL SURGERY -
North East Derbyshire MP, Natascha Engel, has seen first hand how the introduction of new initiatives has benefitted patients in Clay Cross. More...
CHESTERFIELD MP AWARDED A FRONT BENCH ROLE -
A few days after the Shadow Cabinet was announced by new Labour leader Ed Miliband, news comes that Chesterfield MP, Toby Perkins, has been awarded a post on the frontbench team.More...
TOBY PERKINS MP SPEAKS ABOUT NEW SHADOW CABINET -
Chesterfield Post Editor Karen Johnson spoke with Toby about his thoughts on the new Shadow Cabinet announced by Ed Miliband on friday. More...
CHESTERFIELD LABOUR PARTY NUMBERS RISE -
After Ed Miliband was elected Leader of the Labour Party at the party Conference last week, Chesterfield Labour Party is reporting a rise in it's membership, More...
LOCAL MP "DELIGHTED" BY ED MILIBAND WIN -
Natascha Engel, Labour MP for NE Derbyshire has declared she is "delighted" after Ed Miliband was elected Leader of the Labour Party. More...
SUPPORT FOR EDUCATION FOR
ALL CHILDREN WORLDWIDE -
Chesterfield MP Toby Perkins joined TV presenter Gary Lineker and his wife Danielle to support for the 1 GOAL campaign at the Houses of Parliament. More...
VANDALS 'HAVEN' IS UNSAFE SAYS MP -
Residents and businesses near to a Chesterfield skate park are claiming they're under siege from youths who congregate there. More...
WORLD'S BIGGEST COFFE MORNING HITS THE SPOT IN BRIMINGTON -
On Friday September 24th, Brimington Bowls Club was the venue for an World's Biggest Coffee Morning event ,raising money for Macmillan Support. More...