Monday 7th February 2011
RESOUNDING WIN FOR PANTHERS U10's

PANTHERS (U10's) 60 - 10 TUPTON (U10's)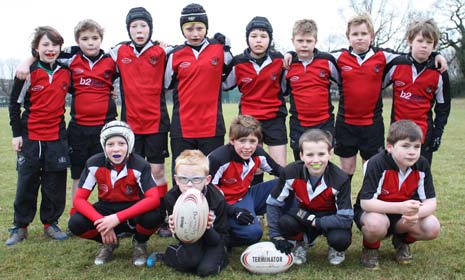 The Chesterfield Panthers U10 Squad before their game v Tupton

For the second week in a row, the Under 10's produced a feast of tries to beat a spirited Tupton team that never gave up trying.

In a game that was a good advertisement for the work that both of the local clubs are doing to encourage mini rugby, the tries for Chesterfield came from Tom Hawkins, Jacob Layton, Oliver Jenkins, Jack Burton, Harvey Fletcher and Joe Curley.


PANTHERS (2nd XV) 0 - 5 BELPER (3rd XV)

On a wet and windy afternoon the two sides produced a very competitive game of rugby that saw Belper come out as winners with the only score of the day.

Man of the match for Panthers was Lee Laughton.


PANTHERS (U16's) 34 - 0 COALVILLE (U16's)

After a gap of two seasons the Panthers side renewed their acquaintance with Coalville in a keen and well-contested game.

Playing against the strongest pack that they have encountered this season, the Panthers forwards dug deep and with some excellent play which was combined with the skilful running of the backs the home side came out on top.

Tries scorers were Jordan Ingledew (2), Joe Purseglove, Matt McMaster, James Marriott and Josh Jackson. Ingledew also kicked two conversions.


Man of the match was Rob Davison.


WEST BRIDGEFORD (U14's) 24 - 14 PANTHERS (U14's)

Chesterfield travelled to a very windy West Bridgford to find the home side in the mood to revenge their heavy defeat earlier in the season and fielding a much stronger squad.

From the kick off, West Bridgford showed they were going to be very competitive and put pressure on Chesterfield with some forceful running. Strong tackling prevented any score and eventually the Panthers took control when James Marshall, playing at No. 8 broke from a maul 30 metres out to score under the posts. Alistair Taylor converted.

West Bridgford's strength was their fast backs and they began to use them very effectively to run at the Chesterfield side and eventually a try came.

Chesterfield counter-attacked from the re-start and Alex Winnard cut in from the right wing to score under the posts after beating the defence with a clever weaving run. Taylor converted again to bring the score to 5 -14 at half time.

The second half saw several personnel and positional changes which gave all the squad a run out but inevitably this disrupted the rhythm of the side. This gave West Bridgford the opportunity that they were seeking and they ran in three very good tries to seal their victory.

Man of the match was James Marshall.

KESTEVEN (U13's) 5 - 10 PANTHERS (U13's)

Panthers Under 13's got their NLD Shield campaign off to a winning start with a well-deserved victory in a game that was dominated by a strong wind throughout.

After surviving some early pressure from a strong Kesteven side, Panthers took control when Joe Heath went over to open the scoring and give a five-point lead which was held to half time.

The second half saw a much more determined start by Chesterfield and they were the team applying the pressure. Great play by the forwards and a well-controlled scrum saw Matt White break away down the blind side to score again for the Panthers.

Kesteven didn't give up and went on to score a well deserved try, keeping them in contention to the end - but it was the Chesterfield lads that took the final honours.

Man of the match was Matt Poole.
The Club is actively seeking to strengthen the Ladies squad. Any Ladies wishing to join the squad for training and matches can get more information via the Club's website at www.chesterfieldrugby.co.uk or by phoning 01246 857480.
RECENT STORIES
MATCH REPORTS,
9th - 10th APRIL 2011 -
With traffic delaying the Panthers arrival until 10 mins before ko, the game began with Nottinghamians taking the play to their visitors. More...
COUNCIL PRESENTS £750 CHEQUE TO PANTHERS -
The Panthers are delighted to have been the recipients of a grant of £750 from the DCC Leadership Fund More...
PANTHERS HOST ANNUAL TAG RUGBY FESTIVAL -
Chesterfield Panthers hosted the Annual Tag Rugby Festival for Junior schools from throughout the Borough at Stonegravels. More...
NEWS & MATCH REPORTS, 2nd - 3rd APR 2011 -
After a shaky start from both sides Panthers gained the upper hand and a forwards try from James Marshall gave them the lead More...
MATCH REPORTS,
26th - 27th MAR 2011 -
A strong first half performance and then some solid defensive work in the second period saw the Panthers win through More...
MATCH REPORTS,
12th - 13th MAR 2011 -
A decisive win by 6 tries to 1 over favourites Ashfield has put Chesterfield U14's into the Three Counties' Shield final. More...
MATCH REPORTS,
26th - 27th FEB 2011 -
Panthers 1st XV returned to winning ways with a comfortable league victory over Leesbrook. More...
MATCH REPORTS,
19th - 20th FEB 2011
AND OTHER NEWS -
The U13's earned a 3rd NLD Shield victory, topping their group and earning a semi final place, the 3rd squad from the Juniors to do so. More...
MATCH REPORTS, 22nd - 23rd JAN 2011 -
Strong forward work through the 2nd half gradually broke Ilkeston's defence and on 70 mins, Fergus Wish scooped up a pass to crash over the line More...
MATCH REPORTS, 15th - 16th JAN 2011 -
After the long enforced break, the Panthers Ladies finally got back into action with this away trip to Oxford... More...
MATCH REPORTS, 20th - 21st NOV 2010 -
Panthers took arguably the youngest side in the league to third placed East Leake and pulled off a great win. More...
LAST MINUTE TRY SEALS CUP WIN -
After a six week lay off due to bad weather both teams were desperate to play rugby and on a morning ideal for rugby a cracking game ensued. More...
RUGBY STARS RETURN TO WHERE IT STARTED -
Chesterfield Panthers RUFC played host last week to a group of players, all local lads, who had started their careers at Stonegravels More...
MATCH REPORTS, 13th - 14th NOV 2010 -
The game began with both sides exchanging attacks and neither really getting the upper hand until Panthers managed to work some space... More...
MATCH REPORTS, 6th - 7th NOV 2010 -Chesterfield made the long journey to Grantham for their latest league encounter and put in a creditable performance, although the score-line doesn't reflect their dominance. More...
MATCH REPORT -
U14's v ASHBY
31st OCTOBER -
There were no Halloween horrors as an excellent team performance from the Panthers brought a well-deserved victory. More...
WORK BEGINS ON NEW RUGBY GROUND -
Work has begun on the Chesterfield Panthers RUFC's new ground at Dunston after a "First Sod Turning" ceremony was held last week More...
MATCH REPORTS, 16th - 17th OCT 2010 -
With the long journey to the West Midlands for this National Vase game, the Panthers team took to the field without time to warm up, reflecting in their first half performance. More...
MATCH REPORTS, 9th - 10th Oct 2010 -
Panthers played host to a good, well organized side from Boston and a high scoring game ensued. More...
MATCH REPORTS, 2nd - 3rd OCT 2010 -
Panthers lost to Belper in this away league game with the players and spectators wondering how? More...
MATCH REPORTS, 25th - 26th SEPT 2010 -
Panther's second team manager Mark Blair was delighted to have a squad of 26 players for this home game with Hope Valley. More...
A WHIZZ-BANG FRIDAY NIGHT PROMISED-
Friday evening (1st Oct) will see the Club putting on a firework display that will light up the sky in the neighbourhood... More...
MATCH REPORTS, 18th - 19th SEPT 2010 -
Panthers lost to their local rivals Tupton much to the obvious delight of the opposition supporters. More...
MATCH REPORTS, 11th - 12th SEPT 2010 -
Panthers travelled to the seaside for their first league game of the season and ran out comfortable winners in a high scoring game. More...
LAND BOUGHT FOR NEW FACILITIES -
Chesterfield Panthers Rugby Union Football Club is pleased to announce the acquisition of land at Dunston... More...