Friday 25th February 2011

"We mustn't underestimate the importance of tackling climate change" - Secretary Of State For Energy and Climate Change Rt Hon Chris Huhne MP visiting Chesterfield yesterday.

After the high profile visit to Chesterfield yesterday by Lib Dem Deputy Leader Simon Hughes, the town completed the double with Secretary of State for Energy and Climate Change, The Rt Hon Chris Huhne MP, also making a visit to see for himself the work done by Chesterfield Borough Council and the private sector, in order to try and reduce the carbon footprint by using renewable energy. The Council has also been trying to raise domestic awareness of the issue.

Chris Huhne MP visited Chesterfield a few years ago to see the excellent examples in renewable technology being set by the Borough Council. On this visit he visited the latest major private development in Chesterfield - the four-star Casa hotel.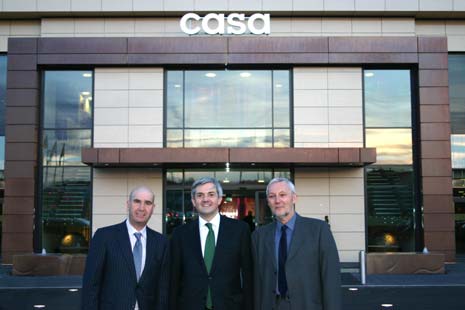 The Rt Hon Chris Huhne MP (centre) visits the CASA hotel in Chesterfield with Cllr Ray Russell (right) welcomed by hotel owner Steve Perez (left)

The hotel, which opened in November 2010, has several energy saving technologies including air source heat pumps that divert energy from one zone of the building to another as the sun moves around the building throughout the day.

The building design itself uses materials that reduce energy consumption and the low energy boiler system minimises the energy required.

Cllr Ray Russell, Leader of Chesterfield Borough Council said: "We have led by example to the private sector on how renewable energy technologies and building design can benefit both their business and the environment generally.

"There are a growing number of private sector companies in the Borough who have introduced such technology to their buildings and we now have strict guidelines in our planning policies for new builds to incorporate energy efficiency measures."

Council buildings that have renewable installations include the Healthy Living Centre at Staveley,Queen's Park Sports Centre, the Tourist Information Centre, the Town Hall and its business innovation centres.

The Chesterfield Post was able to speak to Chris Huhne during his short visit to the Hotel and he explained why the issue is such an important one - "Clearly, we have to be concerned about the future and the future of our children and grandchildren, we need to look at long term damage, not short term costs.

"Flood damage claims have cost the country £4.5 billion in the last 10 years alone, a rise from £1 billion in the previous 10."

He added, "Chesterfield has a really good track record. I visited 5 years ago and the Council has pioneered a lot of important thinking in this area, and I am delighted to see the hotel has continued this tradition. If you have a council that thinks about this long term and works with planners you can do sensible things - the siting of this hotel is brilliant and good news for residents, coming from sensitive planning. Chesterfield has a proud reputation."

We asked him if it would be cost prohibitive for existing businesses to change over to a greener way of working, he told us "Capital construction costs are higher but running costs are a lot lower and that more than justifies the capital costs.

"A language any business will understand is that you have to invest something to get something - a hotel like this which doesn't use oil for example, is much more stable in terms of cost as it's not driven by variable oil and gas prices. Getting off the oil and getting onto green, clean, secure energy hook is what we're trying to do at Government level and Chesterfield is walking the walk."

He told us that some of his job is about spreading the word, "We're gradually building energy issues into people's thinking. It's beginning to change, but we have to make sure we have the technology to do what we want to do but in different ways. Next year, we're bringing in a big subsidy of £5,000 for electric vehicles, again, it's still a more to buy an electric car but there are less running costs - charge it up every night, it's less than buying diesel or petrol."

He also commented on the instability in the oil markets, "The more difficult International markets become, the more expensive and risky, it makes sense to move business to a low carbon economy."
RECENT STORIES
LOCAL GOVERNMENT MINISTER'S PRAISE FOR CHESTERFIELD -
Chesterfield today welcomed the town's third Government Minister in two weeks, Andrew Stunell OBE MP. More...
LOCAL MP CALLS FOR FAIRER SHARE OF PORK CASH -
Rising costs of wheat, used as feed for pigs, has meant that local farmers are suffering huge losses as supermarkets refuse to pay more for pork More...
WANT YOUR SAY? REGISTER TO VOTE -
Residents across North East Derbyshire are being reminded that they have just over a month to register to vote in the upcoming local and parish elections. More...
COUNCIL TAX FROZEN FOR CHESTERFIELD RESIDENTS -
It's been announced by Chesterfield Borough Council tonight at its budget setting meeting, that there is to be no increase in its Council Tax for next year More...
SIGNED, SEALED, DELIVERED -
It's now official. The historic partnership between two local councils was signed this morning at Bolsover District Council HQ. More...
SERVICES PROTECTED AS BUDGET IS SET -
Despite a tough financial year, NE Derbyshire District Council, is on track to achieve a balanced budget which protects frontline services. More...
TOBY PERKINS MP SPEAKS ABOUT AUTO WINDSCREENS -
As news of the huge local job losses caused by the collapse of Auto Windscreens continues to sink in, and Chesterfield MP Toby Perkins today issued a statement More...
TRAINING DISCOUNTS FOR YOUNG DRIVERS -
Young drivers in Chesterfield have the chance to receive £60 off the cost of Pass Plus training in exchange for attending a 2-hour road safety workshop. More...
LEADING LIB DEM SIMON HUGHES VISITS CHESTERFIELD -
"Every young person out of work is a wasted talent." That's Lib Dem Deputy Leader Simon Hughes in Chesterfield earlier today. More...
THOUSANDS SET TO BENEFIT FROM HISTORIC MERGER -
An innovative partnership between 2 Derbyshire councils is to be signed on the 1st March and is set to benefit thousands of families immediately. More...
PITCOM MAKE IT HAPPEN FOR PRIMARY SCHOOLS -
MP Natascha Engel has written to all local primary schools urging them to enter the 'Make IT Happen' technology competition. More...
£52m CASH BOOST FOR NE DERBYSHIRE COUNCIL HOMES -
In the biggest allocation of cash in the East Midlands, council tenants in NE Derbys are set to benefit from a £52m spending programme to improve their homes. More...
MP FACES GRILLING FROM LOCAL YOUNGSTERS -
David Dimbleby may not have been present but that didn't stop local youngsters taking part in a Question Time style session with MP Natascha Engel. More...
LOCAL COUNCIL FREEZES COUNCIL TAX -
Good news for some residents in Chesterfield after NE Derbyshire District Council announced it's looking to freeze this year's Council Tax bill. More...
CHESTERFIELD MP CALLS ON GOVT TO HELP SAVE AUTO WINDSCREENS JOBS -
Chesterfield MP Toby Perkins today issued a statement regarding the potential loss of 400 local jobs at Hasland based Auto Windscreens More...
'VISIONARY' COUNCILLOR WINS TOP AWARD -
He oversaw the transformation of a local Council in the fastest time in Local Government history and now receives the country's top councilor honour. More...
CAN YOU MAKE A DIFFERENCE? -
If you've ever listened to a Councillor and thought you'd do better, or you care about your community and think you could help to improve services in the area, then read on... More...
LOCAL MP SPEAKS OUT FOR SPORT -
MP For NE Derbys, Natascha Engel, yesterday challenged Education Secretary Michael Gove in Parliament over the money owed to School Sport Partnerships More...
COUNCILS MOOT PLANS FOR A MERGER TO SAVE £1.5M -
2 local Councils confirm that they're looking at combining some resources to provide a cost cutting service for residents. More...
A BUSY START TO THE YEAR FOR MP NATASCHA -
With the cuts in budgets and services really starting to bite, we are seeing a far greater number of people coming to surgery as well as dropping in. More...
COUNCIL APOLOGISES TO TENANTS OVER RENT ERROR -
Chesterfield Borough Council has today apologised after an administrative error was discovered in around 4% of it's rent payments. More...
COUNCIL LEADER IN LINE FOR AWARD -
NEDDC Leader, Cllr Graham Baxter MBE will soon tread the red carpet after being short-listed for a prestigious national accolade for his work in leading the authority. More...
YOUR CHANCE TO BECOME A LOCAL COUNCILLOR -
Ahead of the local Elections in May, North East Derbyshire District Council is encouraging locals with an interest in becoming a Councillor to find out more. More...
LOCAL PHARMACIST WINS AWARD -
Toby Perkins MP presented an Award to a Chesterfield Pharmacist in recognition of her work in helping to combat blood clots. More...
COUNCIL TESTS LOCAL TAXI FIRMS -
Chesterfield Borough Council has conducted an undercover operation to try and catch private taxi firms plying for trade. More...
KIDS 1, GOVE 0 -
Local Schools benefit after Government U-turn on School Sport Partnership funding. More...
NATASCHA ENGELS YEAR IN PARLIAMENT REVIEW -
NOT WHAT WE VOTED FOR! Last year was dominated by one of the fiercest General Election battles this country has known. More...
VOLUNTEER SHINES AT AWARDS -
A Chesterfield Law Centre worker is celebrating after winning a prestigious award at a ceremony aimed at celebrating the work of volunteers at organisations in the town. More...
MP TAKES TO THE SHOP FLOOR... -
Visitors to Barnardo's charity shop in Chesterfield were served by a very familiar face last Saturday.Toby Perkins MP for Chesterfield, joined the shop's workforce for the day. More...
VICTORY FOR CHESTERFIELD! -
Chesterfield MP Toby Perkins celebrated with delighted residents, businesses and campaigners as DCC rejected plans for a waste incinerator plant on Dunston Road. More...
CHESTERFIELD MP SPEAKS OUT AGAINST SPENDING REVIEW -
Toby Perkins MP told the Chesterfield Post: "Chesterfield is going to be badly affected b the cuts, probably more so than anywhere else in Derbyshire" More...
NATASCHA ENGEL MP CHECKS ON NEW SERVICES AT LOCAL SURGERY -
North East Derbyshire MP, Natascha Engel, has seen first hand how the introduction of new initiatives has benefitted patients in Clay Cross. More...
CHESTERFIELD MP AWARDED A FRONT BENCH ROLE -
A few days after the Shadow Cabinet was announced by new Labour leader Ed Miliband, news comes that Chesterfield MP, Toby Perkins, has been awarded a post on the frontbench team.More...
TOBY PERKINS MP SPEAKS ABOUT NEW SHADOW CABINET -
Chesterfield Post Editor Karen Johnson spoke with Toby about his thoughts on the new Shadow Cabinet announced by Ed Miliband on friday. More...
CHESTERFIELD LABOUR PARTY NUMBERS RISE -
After Ed Miliband was elected Leader of the Labour Party at the party Conference last week, Chesterfield Labour Party is reporting a rise in it's membership, More...
LOCAL MP "DELIGHTED" BY ED MILIBAND WIN -
Natascha Engel, Labour MP for NE Derbyshire has declared she is "delighted" after Ed Miliband was elected Leader of the Labour Party. More...
SUPPORT FOR EDUCATION FOR
ALL CHILDREN WORLDWIDE -
Chesterfield MP Toby Perkins joined TV presenter Gary Lineker and his wife Danielle to support for the 1 GOAL campaign at the Houses of Parliament. More...
VANDALS 'HAVEN' IS UNSAFE SAYS MP -
Residents and businesses near to a Chesterfield skate park are claiming they're under siege from youths who congregate there. More...
WORLD'S BIGGEST COFFE MORNING HITS THE SPOT IN BRIMINGTON -
On Friday September 24th, Brimington Bowls Club was the venue for an World's Biggest Coffee Morning event ,raising money for Macmillan Support. More...