Tuesday 6th March 2012



Chesterfield Athletic Club's Alicia Barrett stamped the form of her recent victory in the Northern Champs with another Gold Medal performance in the England Athletics Indoor Champs at Birmingham's NIA, winning the U15 Girls' 60m hurdles in a new personal best of 8.92s, putting her 6th in the UK all-time rankings.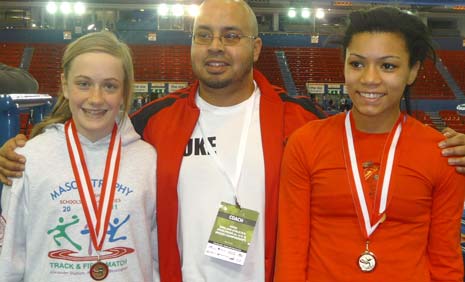 Alicia Barrett (right) wins another Gold at the England Athletics Indoor Champs at Birmingham's NIA, with training partner Emma Schaanning (left) who took Bronze pictured with Coach, Daniel Duke

Having had her last outdoor season decimated by injury, Alicia has enjoyed a superb indoor season culminating in this victory at the highest level.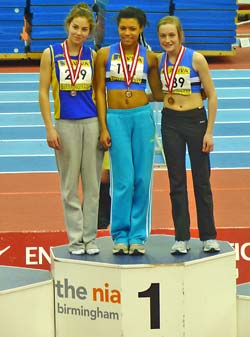 To add to the local club's success, her training partner, Emma Schaanning, took the Bronze Medal in 9.27s, and U17M pole-vaulter Edward Selvey also took Bronze in his event with a new personal best leap of 3.90m.

Other results:

U20 Mens:
Levi Curtis, 4th, 400m (ht) 51.24s (pb);
Nathan Pentin, 9th, pole vault 3.90m.

U20 Women:
Paige Collings, 7th, pole vault 3.30m;
U15 Girls:
Ellie O'Connor, 8th, 60m (s/f) 8.54, (8.36s ht);
Ella Barrett, 6eq, pole vault 2.70m (equalled pb).
British Universities Champs:

Sen Mens:
Ben Mourbey, 6th, high jump 1.95m
RECENT STORIES
PART OF SOMETHING SPECIAL -
Young people in Chesterfield were given their chance to shine at an event, hosted by Destination Chesterfield and Derbyshire Sport, at the b2net stadium this morning. More...
SIR CHRIS HOY URGES LOCAL RESIDENTS TO 'SHINE' THIS SUMMER -
Four-time Olympic Champion, Sir Chris Hoy has urged Chesterfield residents to take to the streets on June 29th for the London 2012 Torch Relay More...
OLYMPIC GOLD MEDALLIST PAUL GOODISON VISITS CHESTERFIELD -
The countdown to London 2012 is on in earnest and for one local competitor it just can't come quickly enough. More...
LOCAL YOUNG ATHLETES SHINE AS NEW SEASON BEGINS-
Joe Walker was awarded the Club's 'Athlete of the Day' for his winning treble (all Grade 1), while Emma Schaanning took the female honours More...
YOUNG ATHLETES ON TRACK FOR NEW SEASON SUCCESS -
The young athletes of Chesterfield & District AC started off the new season with a narrow second place behind old rivals Amber Valley More...
CHESTERFIELD AC ATHLETES SHINE IN AREA FINALS -
Chesterfield AC athletes again contributed massively to victories for Derbyshire in 3 of the 4 age-groups of the Aviva Sportshall East Midlands Final More...
LOCAL U12 FOOTBALL TEAM CHAPIONS WITH 100% RECORD -
Somersall Rangers FC U12s are celebrating after claiming their Division Championship for the 2nd year in succession - without dropping a single point all season! More...
NORTH DERBYSHIRE SCHOOLS AMONGST WINNERS AT WINTER SCHOOL GAMES -
Teams from The Bolsover School and Hasland Hall Community School were among the winners at the Derbyshire Winter School Games. More...
ATHLETICS GIRLS RUN AWAY WITH BEST TEAM IN DERBYSHIRE-
Chesterfield were crowned best team in the Derbyshire Mini Cross-Country League at the end-of-season awards. More...
187 DERBYSHIRE ATHLETES SHARE OF £40,000 BURSARIES -
187 promising sports performers from Derbyshire have shared more than £40,000 after each being awarded a bursary More...
CHESTERFIELD ATHLETES CROWNED CHAMPIONS AGAIN -
Chesterfield Athletics Club were crowned champions of the Derbyshire Mini Sportshall League for the 2nd year running More...
COUNTY SUCCESS FOR YOUNG ATHLETES -
Chesterfield AC's Tasmin Boam, representing Derbyshire Dales, added the Schools' gold medal to her Derbyshire club title More...
OLYMPIC COACH APPOINTED TO HELP DERBYSHIRE ATHLETES -
A performance coach who led athletes to medal success at two Olympic Games has been appointed to work with some of Derbyshire's most talented emerging sports stars More...
KINGS STILL TOP OF THE TABLE -
Another cold night at Tupton Hall School provided three exciting, tight Footy Legends 6-a-side matches. More...
NEW LOCAL 6-A-SIDE FOOTBALL LEAGUE PROVES TO BE A WINNER -
A superb first week played on a cold crisp last Tuesday night on Tupton Hall's all weather pitch. More...
NCWA BECOMES A LIMITED COMPANY -
One local company has proved that, despite the recession, it's going from strength to strength. More...
TABLE TENNIS STAR PITCHFORD WINS SPORTSPERSON OF THE YEAR AWARD -
Chesterfield table tennis star Liam Pitchford has been named University of Derby Sportsperson of the Year at the Derbyshire Sports Awards. More...
SUCCESS ON WORLD STAGE FOR LOCAL YOUNGSTER -
Chesterfield Table Tennis player Liam Pitchford, has now been named as England's new senior No.1 More...
JUST DO MORE -
Residents in North East Derbyshire are being offered a 50% discount on monthly membership at leisure centres in the area. More...
GOLD MEDALLIST VISITS NE DERBYSHIRE -
A Commonwealth Games gold medallist, took the plunge in NE Derbyshire. More...