Friday 18th May 2012



Young people in Chesterfield were given their chance to shine at an event, hosted by Destination Chesterfield and Derbyshire Sport, at the b2net stadium this morning.

The Shine 2012 celebration co-incided with the arrival of the Olympic Flame in the UK today. Attended by local dignitaries, including the Mayor and Mayoress of Chesterfield and many sporting and cultural representatives from local organisations, a packed day included talks from Chesterfield Olympians and Paralympians and Olympic hopefuls, and performances by Derbyshire's Poet Laureate, Matt Black.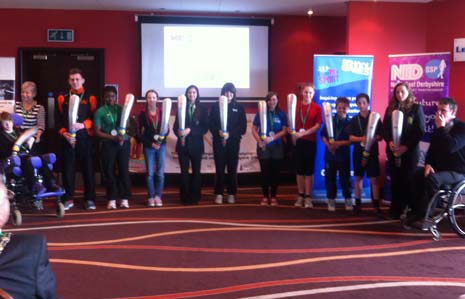 13 replica torches, (above) created as part of a design competition last were also presented to school representatives from across the town. Designed as a symbol of friendship between schools and their communities the torches will be made available to local event organisers for the duration of the Olympics and Paralympics.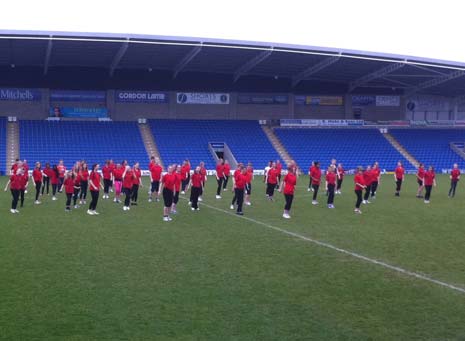 100 students from Brookfield School (above) also took part in a synchronsied 'Big Dance School Pledge' which saw them take to the pitch at the b2net at 1pm to join other schools around the world dancing to the same choreography at the same time in attempt to break the current record, held by the Netherlands (264,188 and 1,472 locations). Rehearsals had been punctuated by some unfortunate timing of the b2net sprinklers, provoking squeals of laughter!

Guests also heard from local people selected to be torch bearers and were entertained by children from Newbold CE Primary school and their rendition of 'Just like an athlete'.

Chesterfield's own Olympic hopeful, Liam Pitchford, who is currently No 1 in the UK Table Tennis rankings, will learn next week whether he has qualified for a place in the UK Olympic squad.

18 year old Liam says he's desperate to hear, but hopeful of inclusion, "We find out next Tuesday, so exciting and nervous times at the moment! I'm world number 19 and UK number 1, there's 3 places for the team event and 3 players that are quite a bit above the rest, so I'm hoping I'm in."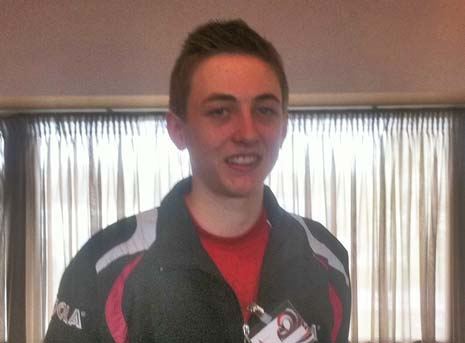 A Chesterfield lad, Liam (above) is indicative of how local grass roots clubs and volunteers make a difference and proof that anyone can be a top athlete with hard work and support, "I started at 9 at Brimington junior school, it was a rainy lunchtime and two friends and I went in - just to do something - really liked it, and carried it on! Colin Deaton started us off - he sadly died 4 years ago - and we progressed to the England team.

"Local support has been vital" Liam told us, "I've had a lot of support from Derbyshire Sport and ICON and have the Table Tennis Academy in Sheffield so I can stay at home luckily and I don't have to travel. Funding is difficult but it is improving. It's great what these guys do financially and I can put it to training and travelling.

"My parents are very proud, they'd be proud whatever I did, they support me but they don't get too involved as I prefer it that way. They have tickets for the table tennis so hopefully they'll see me!"

Chesterfield girl, Ellie Koyander, (below) has the honour of being the youngest athlete to represent the UK as part of Team GB at the Vancouver 2010 Winter Olympics. She is a 'mogul' competitor which is, "A freestyle discipline, bumps of snow on a steep slope, with 2 jumps, my favourite trick is a back flip at the bottom."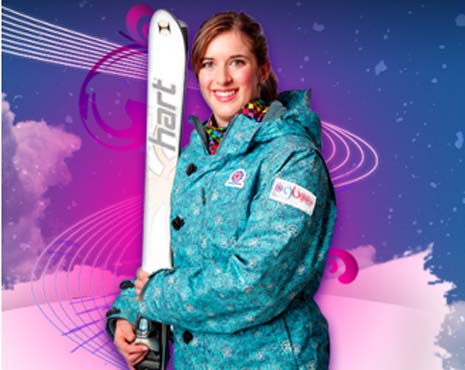 Picture courtesy of Ellie's website www.elliekoyander.com

I grew up in Chesterfield and was also very active, a real action girl, and learned to ski when I was 1 and a half years old on family holidays. We did lots of family holidays and then snow domes and the Ski Centre at Sheffield and realised that I was pretty good at it. I saw the Winter Olympics in 2006 - I didn't know mogul was an Olympic sport, and was determined to do it. Four years later I did at Vancouver."

She agrees with Liam that opportunities are vital, "Facilities are really important, you need a great centre, Brampton Manor and the Derbyshire Institute of Sport have been brilliant in providing us with facilities . It's a great base as well, a second home, and they're always very friendly and welcoming and it means we're able to work hard."

Ellie is grateful for all the help and support locally, "Financially, I am a student, I am fully funded, we can't thank ICON enough, not just the businesses already involved, but also new ones that we'd like to come on board. It is a great cause and we do need your help - having it is so important to us as we go off to represent Great Britain."

Martin Mansell (below) is a Paralympian who won 9 medals as a swimmer in the 1984-88 games. He now helps to inspire and support young people as they strive to become top of their game.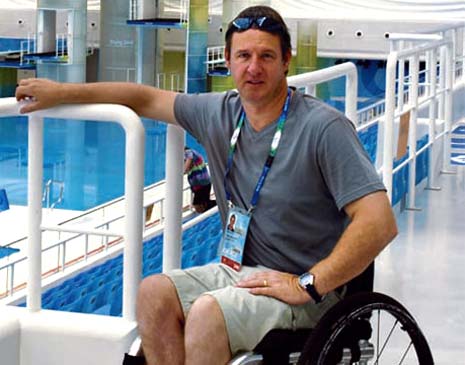 picture courtesy of www.bmsi.ru

He told us that it's an important role, and one he is very proud to have, "It was incredible to represent my country. The first time was wonderful but to get selected twice was more of an honour. The 1988 games - the turning of the Paralympic period, now known as the modern Paralympics - were an honour to be at and see the transformation between the two. A very proud moment, irrespective of whether you won a medal or not, but obviously winning medals tops it all off for you.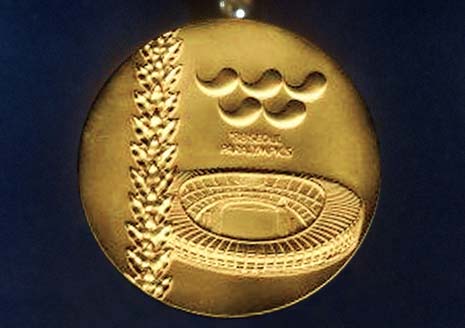 "The medals (above) sit at home, out of the way, but occasionally I bring them out for events like these, but it's always in your head, you know what you've done but now it's about inspiring others to do what I've done.

"It's great that the games are here, and that one of the things that won the games for us was the inclusiveness of the Paralympics within, so that's great, and another big stepping stone for the Paralympics to move on - and we'll see what 2012 does. Rio de Janiero has to follow on for the Summer games and the pressure will be on them. Beijing was a fantastic experience, but London will do a great job and I'm so looking forward to being there."

He says that future Investment is key, "We all talk about 2012, I'm thinking beyond that now, what are we doing in Derbyshire to inspire people and cultural things as well, not just sport, but dance and physical activity. 2014 (The Commonwealth Games in Glasgow) and 2016 in Rio are coming - what can we do so young people in 20 years will be sitting like we are now and talking about inspiration?"

Cllr john Burrows, Leader of the Borough Council, told the room that, "It has been interesting to hear how businesses support these young athletes, there is a great deal of support from the business community but we do need to recognise that parents deserve recognition for the work they put in to helping their children to achieve."
RECENT STORIES
STAINES FIRES UP LONDON 2012 -
When the starting gun is raised for the start of the first track event at the 2012 Olympics, the man firing it is likely to be Newbold man Gordon Staines More...
NOMINATIONS SOUGHT FOR DERBYSHIRE SCHOOL SPORT AWARDS -
The sporting achievements of Derbyshire school pupils and teams will be celebrated later this year at the DSSA Sports Awards. More...
GRACE VAULTS INTO GOLD MEDAL POSITION -
It's hoped that one young gymnast from Chesterfield will be emulating her father and heading for the Olympics in years to come. More...
KUKRI SUPPORTS DSSA WITH NEW KIT SPONSORSHIP -
Kukri has become the Official Kit Supplier of the Derbyshire Schools' Sports Association (DSSA), as part of a new sponsorship agreement. More...
ENGLAND 2, GERMANY 0. SOMERSALL SET THE EURO STANDARD -
Somersall Rangers U12s team set the standard for England to aim for at the Euros, by beating two German teams in their own back yard. More...
ONE OF THE CHOSEN FEW -
A man from Chesterfield who has devoted his life to sport has now been chosen to play a major part at London 2012. More...
CHESTERFIELD LOCAL SET TO CARRY PARALYMPIC FLAME -
Jayne Allen from Chesterfield has been chosen as one of just 100 Sainsbury's customers to carry the Paralympic flame after being nominated through her local store in Matlock. More...
LOCAL GROUPS SET TO BENEFIT FROM FUNDING -
Over 40 groups to benefit from grants of up to £250 each from Derbyshire's Community Sports Trust funded through the government's Social Action Fund. More...
SIR CHRIS HOY URGES LOCAL RESIDENTS TO 'SHINE' THIS SUMMER -
Four-time Olympic Champion, Sir Chris Hoy has urged Chesterfield residents to take to the streets on June 29th for the London 2012 Torch Relay More...
OLYMPIC GOLD MEDALLIST PAUL GOODISON VISITS CHESTERFIELD -
The countdown to London 2012 is on in earnest and for one local competitor it just can't come quickly enough. More...
LOCAL YOUNG ATHLETES SHINE AS NEW SEASON BEGINS-
Joe Walker was awarded the Club's 'Athlete of the Day' for his winning treble (all Grade 1), while Emma Schaanning took the female honours More...
YOUNG ATHLETES ON TRACK FOR NEW SEASON SUCCESS -
The young athletes of Chesterfield & District AC started off the new season with a narrow second place behind old rivals Amber Valley More...
CHESTERFIELD AC ATHLETES SHINE IN AREA FINALS -
Chesterfield AC athletes again contributed massively to victories for Derbyshire in 3 of the 4 age-groups of the Aviva Sportshall East Midlands Final More...
LOCAL U12 FOOTBALL TEAM CHAPIONS WITH 100% RECORD -
Somersall Rangers FC U12s are celebrating after claiming their Division Championship for the 2nd year in succession - without dropping a single point all season! More...
NORTH DERBYSHIRE SCHOOLS AMONGST WINNERS AT WINTER SCHOOL GAMES -
Teams from The Bolsover School and Hasland Hall Community School were among the winners at the Derbyshire Winter School Games. More...
CHESTERFIELD AC'S ALICIA BARRETT STRIKES GOLD AGAIN-
Chesterfield AC's Alicia Barrett stamped the form of her recent victory in the Northern Champs with another Gold Medal performance in the England Athletics Indoor Champs More...
ATHLETICS GIRLS RUN AWAY WITH BEST TEAM IN DERBYSHIRE-
Chesterfield were crowned best team in the Derbyshire Mini Cross-Country League at the end-of-season awards. More...
187 DERBYSHIRE ATHLETES SHARE OF £40,000 BURSARIES -
187 promising sports performers from Derbyshire have shared more than £40,000 after each being awarded a bursary More...
CHESTERFIELD ATHLETES CROWNED CHAMPIONS AGAIN -
Chesterfield Athletics Club were crowned champions of the Derbyshire Mini Sportshall League for the 2nd year running More...
COUNTY SUCCESS FOR YOUNG ATHLETES -
Chesterfield AC's Tasmin Boam, representing Derbyshire Dales, added the Schools' gold medal to her Derbyshire club title More...
OLYMPIC COACH APPOINTED TO HELP DERBYSHIRE ATHLETES -
A performance coach who led athletes to medal success at two Olympic Games has been appointed to work with some of Derbyshire's most talented emerging sports stars More...
KINGS STILL TOP OF THE TABLE -
Another cold night at Tupton Hall School provided three exciting, tight Footy Legends 6-a-side matches. More...
NEW LOCAL 6-A-SIDE FOOTBALL LEAGUE PROVES TO BE A WINNER -
A superb first week played on a cold crisp last Tuesday night on Tupton Hall's all weather pitch. More...
NCWA BECOMES A LIMITED COMPANY -
One local company has proved that, despite the recession, it's going from strength to strength. More...
TABLE TENNIS STAR PITCHFORD WINS SPORTSPERSON OF THE YEAR AWARD -
Chesterfield table tennis star Liam Pitchford has been named University of Derby Sportsperson of the Year at the Derbyshire Sports Awards. More...
SUCCESS ON WORLD STAGE FOR LOCAL YOUNGSTER -
Chesterfield Table Tennis player Liam Pitchford, has now been named as England's new senior No.1 More...
JUST DO MORE -
Residents in North East Derbyshire are being offered a 50% discount on monthly membership at leisure centres in the area. More...
GOLD MEDALLIST VISITS NE DERBYSHIRE -
A Commonwealth Games gold medallist, took the plunge in NE Derbyshire. More...