Wednesday 30th May 2012



Jayne Allen from Chesterfield has been chosen as one of just 100 Sainsbury's customers to carry the Paralympic flame after being nominated through her local store in Matlock.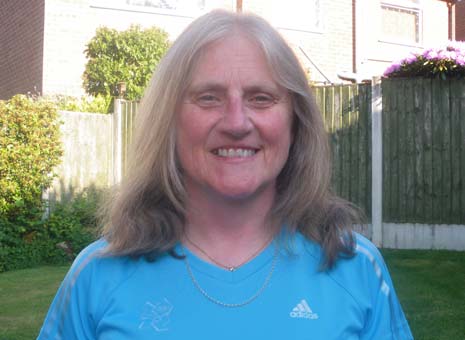 On the 29th August, Jayne, (above), who works at Highfields School, Matlock, will carry the 2012 Paralympic Games Torch as part of the 2012 Paralympic Torch Relay.

Over the last 10 years, Jayne has encouraged thousands of young people into volunteering & Leadership courses and these collectively have in turn, dedicated many thousands of volunteering hours, sharing their passion & helping others become actively involved in PE & sport in the community.

Last year, Jayne received the 'Queens Award' for services to volunteering for her work developing Highfields School Leadership Academy in Matlock, Derbyshire. This year, in recognition of further pioneering work developing international links, Sports leaders UK honoured her by presenting the Academy with the first ever 'World Leader' status for Leadership & Volunteering.

Once the Flame has been lit, it will be carried by Jayne and the other torch-bearers, on a very special 24 hour relay from Stoke Mandeville in Aylesbury, the spiritual home of the Paralympic Movement, to the Olympic Park in Stratford, East London, where the Flame will be used to officially open the 2012 Paralympic Games. The relay will take place over 24 hours from 28th to 29th August.

To commemorate and celebrate this once in a lifetime occasion, there will be a series of public events, called Flame Festivals, during the August Bank Holiday weekend, with activities and a live stage show. By going along to a Flame Festival, people can help to light the way to the Paralympic Games with fun activities and a lantern procession.

Jayne said: "I am so excited to have been chosen to carry the Paralympic Flame. I am really honoured to be taking part in a momentous occasion for both the UK and Highfields School and can't wait to carry the Paralympic Flame."
RECENT STORIES
DERBYSHIRE YOUTH SAILING TEAM DEFEND NATIONAL SCHOOLS CHAMPIONSHIP -
A 36 strong team of Derbyshire Youth Sailing members is sailing at the National School Sailing Association (NSSA) Golden Jubilee Regatta 2012 in Weymouth this week More...
CHESTERFIELD LADIES FC SAY THANKS AND PITCH FOR NEW PLAYERS -
Chesterfield Ladies FC say that they would like to thank Co-operative Membership Community Fund for their award and valuable work in the local community. More...
STAINES FIRES UP LONDON 2012 -
When the starting gun is raised for the start of the first track event at the 2012 Olympics, the man firing it is likely to be Newbold man Gordon Staines More...
NOMINATIONS SOUGHT FOR DERBYSHIRE SCHOOL SPORT AWARDS -
The sporting achievements of Derbyshire school pupils and teams will be celebrated later this year at the DSSA Sports Awards. More...
GRACE VAULTS INTO GOLD MEDAL POSITION -
It's hoped that one young gymnast from Chesterfield will be emulating her father and heading for the Olympics in years to come. More...
KUKRI SUPPORTS DSSA WITH NEW KIT SPONSORSHIP -
Kukri has become the Official Kit Supplier of the Derbyshire Schools' Sports Association (DSSA), as part of a new sponsorship agreement. More...
ENGLAND 2, GERMANY 0. SOMERSALL SET THE EURO STANDARD -
Somersall Rangers U12s team set the standard for England to aim for at the Euros, by beating two German teams in their own back yard. More...
ONE OF THE CHOSEN FEW -
A man from Chesterfield who has devoted his life to sport has now been chosen to play a major part at London 2012. More...
LOCAL GROUPS SET TO BENEFIT FROM FUNDING -
Over 40 groups to benefit from grants of up to £250 each from Derbyshire's Community Sports Trust funded through the government's Social Action Fund. More...
PART OF SOMETHING SPECIAL -
Young people in Chesterfield were given their chance to shine at an event, hosted by Destination Chesterfield and Derbyshire Sport, at the b2net stadium this morning. More...
SIR CHRIS HOY URGES LOCAL RESIDENTS TO 'SHINE' THIS SUMMER -
Four-time Olympic Champion, Sir Chris Hoy has urged Chesterfield residents to take to the streets on June 29th for the London 2012 Torch Relay More...
OLYMPIC GOLD MEDALLIST PAUL GOODISON VISITS CHESTERFIELD -
The countdown to London 2012 is on in earnest and for one local competitor it just can't come quickly enough. More...
LOCAL YOUNG ATHLETES SHINE AS NEW SEASON BEGINS-
Joe Walker was awarded the Club's 'Athlete of the Day' for his winning treble (all Grade 1), while Emma Schaanning took the female honours More...
YOUNG ATHLETES ON TRACK FOR NEW SEASON SUCCESS -
The young athletes of Chesterfield & District AC started off the new season with a narrow second place behind old rivals Amber Valley More...
CHESTERFIELD AC ATHLETES SHINE IN AREA FINALS -
Chesterfield AC athletes again contributed massively to victories for Derbyshire in 3 of the 4 age-groups of the Aviva Sportshall East Midlands Final More...
LOCAL U12 FOOTBALL TEAM CHAPIONS WITH 100% RECORD -
Somersall Rangers FC U12s are celebrating after claiming their Division Championship for the 2nd year in succession - without dropping a single point all season! More...
NORTH DERBYSHIRE SCHOOLS AMONGST WINNERS AT WINTER SCHOOL GAMES -
Teams from The Bolsover School and Hasland Hall Community School were among the winners at the Derbyshire Winter School Games. More...
CHESTERFIELD AC'S ALICIA BARRETT STRIKES GOLD AGAIN-
Chesterfield AC's Alicia Barrett stamped the form of her recent victory in the Northern Champs with another Gold Medal performance in the England Athletics Indoor Champs More...
ATHLETICS GIRLS RUN AWAY WITH BEST TEAM IN DERBYSHIRE-
Chesterfield were crowned best team in the Derbyshire Mini Cross-Country League at the end-of-season awards. More...
187 DERBYSHIRE ATHLETES SHARE OF £40,000 BURSARIES -
187 promising sports performers from Derbyshire have shared more than £40,000 after each being awarded a bursary More...
CHESTERFIELD ATHLETES CROWNED CHAMPIONS AGAIN -
Chesterfield Athletics Club were crowned champions of the Derbyshire Mini Sportshall League for the 2nd year running More...
COUNTY SUCCESS FOR YOUNG ATHLETES -
Chesterfield AC's Tasmin Boam, representing Derbyshire Dales, added the Schools' gold medal to her Derbyshire club title More...
OLYMPIC COACH APPOINTED TO HELP DERBYSHIRE ATHLETES -
A performance coach who led athletes to medal success at two Olympic Games has been appointed to work with some of Derbyshire's most talented emerging sports stars More...
KINGS STILL TOP OF THE TABLE -
Another cold night at Tupton Hall School provided three exciting, tight Footy Legends 6-a-side matches. More...
NEW LOCAL 6-A-SIDE FOOTBALL LEAGUE PROVES TO BE A WINNER -
A superb first week played on a cold crisp last Tuesday night on Tupton Hall's all weather pitch. More...
NCWA BECOMES A LIMITED COMPANY -
One local company has proved that, despite the recession, it's going from strength to strength. More...
TABLE TENNIS STAR PITCHFORD WINS SPORTSPERSON OF THE YEAR AWARD -
Chesterfield table tennis star Liam Pitchford has been named University of Derby Sportsperson of the Year at the Derbyshire Sports Awards. More...
SUCCESS ON WORLD STAGE FOR LOCAL YOUNGSTER -
Chesterfield Table Tennis player Liam Pitchford, has now been named as England's new senior No.1 More...
JUST DO MORE -
Residents in North East Derbyshire are being offered a 50% discount on monthly membership at leisure centres in the area. More...
GOLD MEDALLIST VISITS NE DERBYSHIRE -
A Commonwealth Games gold medallist, took the plunge in NE Derbyshire. More...