Tuesday 15th May 2012



The countdown to London 2012 is on in earnest and for one local competitor it just can't come quickly enough.

Sailor Paul Goodison won Gold in Beijing, in the Laser class and once again competes for the UK, defending his title - taking to the water in Weymouth in August.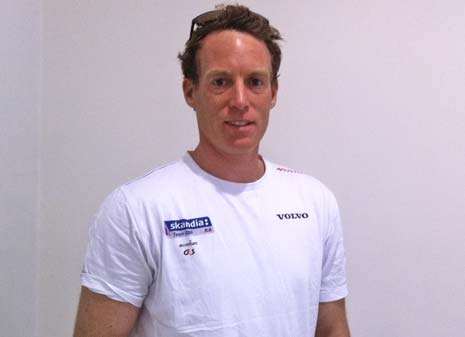 Paul, (above) from Sheffield, was visiting Chesterfield yesterday, on a whistlestop tour which saw him give an inspirational talk to children at Holymoorside Primary school and a chance to wear his medal. We caught up with him just afterwards as he visited one of sponsors - Volvo dealer Autoworld.

A man who is obviously passionate about what he does, he is also humble about his achievements, admitting that he can't quite believe he is living his dream. He told us that he's excited at the prospect ahead and also keen to inspire kids to take a chance on their talents and, like him, go for Gold.

An exciting year ahead?
"Yes for sure. It's quite strange, I was just talking to the kids earlier and showing them my medal and it doesn't seem five minutes since we were coming home from Beijing and excited about London - but thinking it was a long way away and here we are, 12 or 13 weeks until the games kick off! It's pretty exciting."

How important do you think the Olympics are to England - being in England?
"I think it's massive! Looking back to China last time round when the country wasn't in the best state, I heard from friends back home that it was almost a two week break of maybe people not getting into their jobs, but getting wrapped up in the Olympics and getting excited about British success and I think that with the games being here, it's an amazing opportunity - not only for the athletes but for everybody in the country to get behind us and make it a real special two weeks.

"I look back at all the games, I was in Sydney when it was on and it was just amazing. If you can get to where it's all happening, the atmosphere is unbelievable. Sydney was so, so special but I wasn't competing - and then Athens and then China and I just think it's going to be fantastic."

How special is it for you to defend your title, as Champion in your own country?
"I can remember when the announcement got made and we were like 'Wow, here's our chance!' - and then, after winning in China, it got even more exciting. I think it's going to be a fantastic event and I'm obviously excited - but there's a job to do and I want to make sure we don't get too distracted by the excitement so we can deliver again."

You're a fairly local lad, what attracted you to sailing? Sheffield isn't known for being a waterlogged city!...
"Football was my big thing as I'd grown up - I wanted to be a footballer and I had a knee injury and missed out on a couple of games here and there. As time went past I got more enjoyment out of going sailing and competing. I guess the biggest thing was that if things didn't go right at football, there's always someone else to blame, whereas with sailing, the buck stopped with me and if I was successful it was down to me and if I wasn't, it wasn't! I liked the ownership and the responsibility and I love getting out on the water, every day and every environment is different and there's something slightly new everytime."
You're a 'Laser' class sailor, tell us something about that...
"There are 10 Olympic classes, some are for individuals, some are for teams of two. Match races are for teams of three and all the boats vary, the Laser, which I sail, is one design - I guess you'd liken it to go-kart racing. I turn up and it's exactly the same as the 48 others on the start line. You have a lottery each week to see which boat you've got to make it fair, and it's the most level playing field you can get in sailing. I know I'm on an equal playing field when I start, that's what makes it so exciting. Whereas in some other classes, you can get equipment, some people have got better equipment in lighter or stronger winds some people are spending £250,000 in development, some are spending £10,000. That way, it's a different race - some classes are like an F1 technology race, ours aren't. It's all down to you, more of a skill race."

How's training going - you're about three months away?
"It's just all going well - winning in Miami at the beginning of the year, then second in Palma a month ago. The real key now is to spend all this time in Weymouth, getting to know the Olympic waters.

"If I look back to this time, before China, it was quite a really tough schedule - being in the UK for 10 days, then out to China for 2 weeks, and then back and it was almost frustrating as you felt like you were losing a lot of days training, travelling to be there on their Olympic waters. I live less than a mile from the waters at Weymouth; I can look out of my bedroom window every morning and see the Olympic waters. That's pretty inspiring and, just being able to not waste that time feels good."

And The Olympics are the pinnacle of your career - we have Dame Ellen MacArthur, we have yourself, both local people, not having grown up near water - how important are facilities locally in achieving your dream?
"Oh massive! I think without the structure and the facilities for the kids to get out on the water, for the kids to get out there sailing, then there aren't going to be any Olympic Champions of the future.

"It is literally - you start learning at 4 or 5 years old and I guess it's the kind of sport where experience is the key - the more time you've been on the water and experienced a situation, whether it be wind, water or tactically - the better position you will be in to choose the right option.

"I think Volvo are doing a great thing supporting all the youth sailing at grassroots and there's now Zone Championships and development and the nationals and it's so much bigger than when I was coming through. Then it was mainly down to our parents. There was myself and another family where we'd take it in turns to drive round Yorkshire and we'd have a schools organised series and where we got our racing from before we went nationally. I think now there's a lot more opportunity for the kids to do the regional stuff and it's got to be kept up to scratch!"

Sponsorship - you've touched on Volvo, sponsorship is vital in allowing you the freedom to do it full time isn't it ?
"For sure - you can't achieve Olympic level without devoting your life to it. I tried after University to go to Sydney and didn't quite make it and, another 4 years solid, I ended up fourth at Athens and then another 8 years, it's up to the Gold meda . You can't just do it as a part time thing if you want to be successful and it's frustrating because it does take a lot of time, but when you have got the right support, you can spend the time focussed - it is essential."

On to the next generation - you've been at Holymoorside this morning, talking to the children there, that must be a great part of your job, being able to inspire the next generation?
"Yes for sure, it's a long time since I've been into school to see the kids, and it's almost a bit daunting! I've got used to speaking to a hundred people in a business environment which I felt very uncomfortable with, but to turn up to a school this morning - it's pretty cool looking out and seeing all the young generation of potential athletes.

"I look back when I was a kid at people like Daley Thompson and I used to think he was amazing, but that sort of thing was out of my reach. But the kids today had their chance to put my medal around their neck and have their photo taken and they were beaming! I think that's what they need, some inspiration - they need to realise that you don't need to be someone special. If you work hard and you do the right things, you can get to where you want to be and I hope they took that message in."

And that really is the message isn't it - to just keep trying and stay focused?
"The big thing for me is that sport is about having fun, hanging out with your mates and enjoying yourself, and when I was a kid I didn't ever think I would get to this. It wasn't until I held Ben's (Ainsley) Silver medal after the Atlanta games that I thought 'I'm not far off this guy, maybe there's the potential'. What kept me doing it is that I love it - it's fun and I enjoy it! If you enjoy something and you want to do more of it, that's how you get better."
RECENT STORIES
GRACE VAULTS INTO GOLD MEDAL POSITION -
It's hoped that one young gymnast from Chesterfield will be emulating her father and heading for the Olympics in years to come. More...
KUKRI SUPPORTS DSSA WITH NEW KIT SPONSORSHIP -
Kukri has become the Official Kit Supplier of the Derbyshire Schools' Sports Association (DSSA), as part of a new sponsorship agreement. More...
ENGLAND 2, GERMANY 0. SOMERSALL SET THE EURO STANDARD -
Somersall Rangers U12s team set the standard for England to aim for at the Euros, by beating two German teams in their own back yard. More...
ONE OF THE CHOSEN FEW -
A man from Chesterfield who has devoted his life to sport has now been chosen to play a major part at London 2012. More...
CHESTERFIELD LOCAL SET TO CARRY PARALYMPIC FLAME -
Jayne Allen from Chesterfield has been chosen as one of just 100 Sainsbury's customers to carry the Paralympic flame after being nominated through her local store in Matlock. More...
LOCAL GROUPS SET TO BENEFIT FROM FUNDING -
Over 40 groups to benefit from grants of up to £250 each from Derbyshire's Community Sports Trust funded through the government's Social Action Fund. More...
PART OF SOMETHING SPECIAL -
Young people in Chesterfield were given their chance to shine at an event, hosted by Destination Chesterfield and Derbyshire Sport, at the b2net stadium this morning. More...
SIR CHRIS HOY URGES LOCAL RESIDENTS TO 'SHINE' THIS SUMMER -
Four-time Olympic Champion, Sir Chris Hoy has urged Chesterfield residents to take to the streets on June 29th for the London 2012 Torch Relay More...
LOCAL YOUNG ATHLETES SHINE AS NEW SEASON BEGINS-
Joe Walker was awarded the Club's 'Athlete of the Day' for his winning treble (all Grade 1), while Emma Schaanning took the female honours More...
YOUNG ATHLETES ON TRACK FOR NEW SEASON SUCCESS -
The young athletes of Chesterfield & District AC started off the new season with a narrow second place behind old rivals Amber Valley More...
CHESTERFIELD AC ATHLETES SHINE IN AREA FINALS -
Chesterfield AC athletes again contributed massively to victories for Derbyshire in 3 of the 4 age-groups of the Aviva Sportshall East Midlands Final More...
LOCAL U12 FOOTBALL TEAM CHAPIONS WITH 100% RECORD -
Somersall Rangers FC U12s are celebrating after claiming their Division Championship for the 2nd year in succession - without dropping a single point all season! More...
NORTH DERBYSHIRE SCHOOLS AMONGST WINNERS AT WINTER SCHOOL GAMES -
Teams from The Bolsover School and Hasland Hall Community School were among the winners at the Derbyshire Winter School Games. More...
CHESTERFIELD AC'S ALICIA BARRETT STRIKES GOLD AGAIN-
Chesterfield AC's Alicia Barrett stamped the form of her recent victory in the Northern Champs with another Gold Medal performance in the England Athletics Indoor Champs More...
ATHLETICS GIRLS RUN AWAY WITH BEST TEAM IN DERBYSHIRE-
Chesterfield were crowned best team in the Derbyshire Mini Cross-Country League at the end-of-season awards. More...
187 DERBYSHIRE ATHLETES SHARE OF £40,000 BURSARIES -
187 promising sports performers from Derbyshire have shared more than £40,000 after each being awarded a bursary More...
CHESTERFIELD ATHLETES CROWNED CHAMPIONS AGAIN -
Chesterfield Athletics Club were crowned champions of the Derbyshire Mini Sportshall League for the 2nd year running More...
COUNTY SUCCESS FOR YOUNG ATHLETES -
Chesterfield AC's Tasmin Boam, representing Derbyshire Dales, added the Schools' gold medal to her Derbyshire club title More...
OLYMPIC COACH APPOINTED TO HELP DERBYSHIRE ATHLETES -
A performance coach who led athletes to medal success at two Olympic Games has been appointed to work with some of Derbyshire's most talented emerging sports stars More...
KINGS STILL TOP OF THE TABLE -
Another cold night at Tupton Hall School provided three exciting, tight Footy Legends 6-a-side matches. More...
NEW LOCAL 6-A-SIDE FOOTBALL LEAGUE PROVES TO BE A WINNER -
A superb first week played on a cold crisp last Tuesday night on Tupton Hall's all weather pitch. More...
NCWA BECOMES A LIMITED COMPANY -
One local company has proved that, despite the recession, it's going from strength to strength. More...
TABLE TENNIS STAR PITCHFORD WINS SPORTSPERSON OF THE YEAR AWARD -
Chesterfield table tennis star Liam Pitchford has been named University of Derby Sportsperson of the Year at the Derbyshire Sports Awards. More...
SUCCESS ON WORLD STAGE FOR LOCAL YOUNGSTER -
Chesterfield Table Tennis player Liam Pitchford, has now been named as England's new senior No.1 More...
JUST DO MORE -
Residents in North East Derbyshire are being offered a 50% discount on monthly membership at leisure centres in the area. More...
GOLD MEDALLIST VISITS NE DERBYSHIRE -
A Commonwealth Games gold medallist, took the plunge in NE Derbyshire. More...