Tuesday 19th October 2010

After a mammoth FIVE-hour session in the Derbyshire County Council Chamber, Planning Councillors overwhelmingly rejected an application by Cyclamax to build an Incinerator on a former Industrial site in Dunston 8 votes against 1.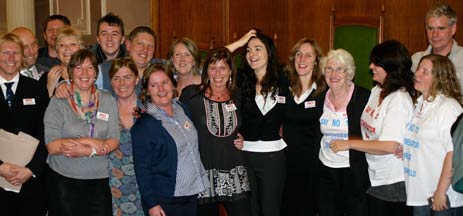 Julie Harrington (4th from left, front row) celebrates victory with the rest of the "Chesterfield Against the Incinerator" campaigners

The company had sought planning permission to build a waste disposal facility on the disused Cammac Coal site over two years ago, saying the plant would bring jobs to the area. They also insisted it was safe and that there were no issues building it so close to residences and schools.
Locals thought differently however and, in what was praised by the Councillors as a well-organized, exemplary campaign, they sought to challenge the facility. Today, over 300 of them descended on Matlock's County Hall to hear whether their battle had been successful.

The Committee reported that this application had generated the highest ever number of objections in Derbyshire, with just over 10,000 proforma letters, and 850 individual objections. Only 4 letters had been sent in support of the proposal. In all nearly 15,000 objections were received.
After two years of wrangling and argument with experts on both sides producing evidence about what was likely to occur if the waste site went ahead and the proposal being rejected by Chesterfield Borough Council, County Planning Officer, Rob Murfin, had recommended that the permission should be granted in his 91 page report, presented to advise the Committee.
That report was the subject of debate in the Chamber, along with fears addressed by local campaigners about Health and Safety. During the five-hour debate, 25 people spoke out against permission being granted.
They included Toby Perkins, MP for Chesterfield, Councillors and many residents and local business owners who felt that their lives and livelihoods would be destroyed if it got the go ahead.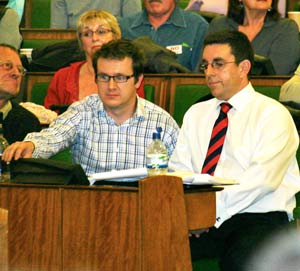 Cyclamax made representations at the meeting too, saying that they still believed that it was the right thing to do. They reported that they had been examining and debating the proposal for 27 months with the Environmental process running for 16 months alone.

They have sought planning permission on 10 sites, and say they have not encountered the level of opposition seen here anywhere else. They see the plants as an opportunity for investment, bringing jobs and wealth to the area.
In a tense decision-making process that followed the debates, individual members of the 9-man Planning Committee gave their views.
One had huge concerns about the traffic on Dunston Road, saying that the site would be a danger , an accident waiting to happen - saying he wouldn't want it on his shoulders if someone were killed on that site.
One of his colleagues was more concerned about the impact on local businesses, saying he felt that "the perception that this will have a serious economic effect on local businesses" could not be ignored.

Another was mindful of what he called "the fear" of the local community - he said it wasn't put on, or an excuse - it was real and ingrained. He also voiced concerns about Health and the perception that this facility would be detrimental to the health of those living and working nearby.
One Councillor did agree with the proposal however, saying that he had faith in the planning system and that he felt sure that the Environmental Agency would work with the company and this fact, coupled with inevitable leaps in technology would benefit public health.
Two more agreed with the concerns about traffic and access, with just one more voice in favour of the application. He said that, although 15 thousand objections had been received, with over 40,000 people living in Chesterfield it could not be classed as a majority
It was left to the Chair to give his opinion. Whilst admitting that he had some sympathy with the technology and that he understood the need for getting rid of waste he felt that the impact on local businesses would be too great to ignore.

"Some of the most passionate speakers," he said, "were those speaking for the local business community".

He also spoke out concerning the issue of Tree Protection Orders, some of which would have to be rescindered in order to create access for the plant. He reminded planners that these are legal documents and should not be taken lightly.
And so to the vote. The Chair asked for a raising of hands in Opposition to the report being passed and Planning Permission being granted. Eight hands went up and a cheer erupted in the Chamber (see the video below!). 15,000 people and 8 Councillors had ensured that a Waste Disposal site is now unlikely be sited on Dunston Road.




Cyclamax does have a right of Appeal that they say they will consider once the Planning Report is received.
OTHER STORIES
7 ARRESTS AT CHESTERFIELD V SHREWSBURY GAME -
Trouble, which flared at the B2Net after the Spireites victory over Shrewsbury, resulted in seven arrests Derbyshire police have confirmed. More...
FULL STEAM AHEAD FOR RESTORED STEAM ENGINE -
There was a treat in store for steam buffs when a recently restored engine made it's mainline comeback in Chesterfield on Saturday. More...
8 PROJECTS SECURE FUNDING TO REDUCE UNEMPLOYMENT -
Chesterfield Borough Council has announced it is to fund eight projects aiming to get people back into work through it's Working Neighbourhoods Fund More...
BOROUGH COUNCIL LEADER RESPONDS TO CUTS -
Cllr Ray Russell told the people of Chesterfield that the Council are doing everything they can to protect services to residents. More...
"THANKS" TO THE INCINERATOR CAMPAIGNERS FROM THE COUNCIL -
CBC issued us with a short statement in which they expressed their delight and the decision and praised the team behind what was described as a "well run and exemplary campaign". More...
THE SPENDING REVIEW: HOW WILL IT IMPACT OUR TOWN -
After today's spending review by George Osborne, with £81bn to be cut from public spending in all, how will that affect people In Chesterfield and their services? More...
AFTER THE INCINERATOR DECISION -
As the impact of the decision began to sink in, the Chesterfield Post got immediate reaction from several key players. More...
INCINERATOR TRIUMPH EXTRA: QUOTES -
Several people spoke at the meeting to air their concerns about the site ahead of the final decision. More...
COUNCIL BEGINS DRIVE TO SAVE £4m OVER THE NEXT DECADE -
Chesterfield Borough Council will today begin a Public/Private Partnership arrangement which will help to save up to £4million over the next 10 years More...
INCINERATOR: CAMPAIGNERS LAUNCH 11th HOUR CHALLENGE -
Campaigners believe that one important factor in the decision has been overlooked and are asking for an archaelogical assessment More...
REPORT INTO INCINERATOR RECOMMENDS APPROVAL -
Ahead of the Planning meeting at Derbyshire County Hall on Tuesday, the Strategic Director's report will recommend to the Committee that planning permission for the site is approved. More...
LOCAL LIBRARIES HELP RESIDENTS TO RECHARGE THEIR BATTERIES -
Chesterfield residents are being encouraged to recharge their batteries quite literally as they visit libraries this month. More...
MOTHER'S PRIDE -
Liam Pitchford, local Table Tennis star, is celebrating after bringing home two medals from The Commonwealth Games in Delhi. More...
PROTESTERS WELCOME FOR THE DEPUTY PM -
As Nick Clegg arrived in Chesterfield this morning, a group gathered by the school entrance, waving placards and protesting about the Coalition cuts. More...
REACTION TO NICK CLEGG'S SPEECH -
After Mr Clegg had spoken at Spire junior School, we caught up with members of the audience who told us what they thought of the speech. More...
ACTIONS SPEAK LOUDER THAN
WORDS -
Deputy prime Minister Nick Clegg speaks about funding plans for Education to an invited audience at the Spire Junior School in Chesterfield More...
LOCAL SPORTING HEROES HONOURED -
Unsung sporting heroes from across the area have been honoured for their achievements. More...
KEEP WARM THIS WINTER -
Residents across North Derbyshire are being encouraged to find out more about keeping warm this winter at a series of drop-in events. More...
RECOGNITION GIVEN TO CHESTERFIELD'S GARDENERS -
The 2010 Chesterfield in Bloom awards took place at the Ringwood Hall Hotel with several entrants competing for the competition's highly regarded titles.More...
296 JOBS FOR CHRISTMAS AT CLAY CROSS STORE -
Candidates preparing to work at Tesco's new Clay Cross town centre store have been taking part in community projects to help develop their team building skills. More...
GIVEN THE RUNAROUND BY WILKINSONS -
Nina Bradwell, 51, from North Wingfield near Chesterfield was handed the keys to her brand new family car after winning the Wilkinsons' prize draw competition. More...
CASA HOTEL ENTERS FINAL STAGES OF DEVELOPMENT -
Excitement is growing as Chesterfield's new £20 million four-star hotel prepares to open. More...
IT STARTED AS A NORMAL DAY IN THE OFFICE -
7/7 2005 saw Matlock GP Dr Peter Holden at his offices at the BMA in Tavistock Square where he spends two days a week. More...
NEDDC LIFEGUARDS ARE THE BEST IN THE COUNTRY -
Lifeguards working for North East Derbyshire District Council have been recognized as being the best in the UK after coming top in a competition. More...
TORNADO HITS BARROW HILL! -
Don't worry, not a freak weather incident, but around 1,000 people flocked to Barrow Hill Roundhouse Railway to ride behind the famous A1 steam locomotive 'Tornado' More...
REPORT FROM THE FRONTLINE - THE INCINERATOR MARCH -
Chesterfield Post Editor Karen Johnson spoke with Campaign Leader Julie Harrington and local MP's Toby Perkins and Natascha Engel for their thoughts on the Campaign and march. More...
OFFICIAL LAUNCH OF THE CHESTERFIELD POST -
The Chesterfield Post was officially launched today at a lunchtime ceremony at the Winding Wheel Ballroom in Chesterfield Town Centre. More...
NEW LOOK FOR AN OLD FAVOURITE 2 -
Shoppers shared in the fun and watched The Mayor and Mayoress of Chesterfield cut the ceremonial ribbon to officially open the revamped Wilkinson's store, More...
MARCH AGAINST THE INCINERATOR -
On Saturday 9th October members of the public march to protest against the planning application for a hazardous waste incinerator on Dunston Road. More...
MORE ABOUT 'DESTINATION CHESTERFIELD' -
The Chesterfield Post brought you news of an exciting new project, run by business leaders and councillors in the town and launched earlier this week. We now can tell you more... More...
MULTI-MILLION POUND CASH BOOST FOR CHESTERFIELD -
Over 600 million pounds of significant development potential is around Chesterfield waiting to be accessed over the next few years. More...
NEW LOOK FOR AN OLD FAVOURITE -
Wilkinsons on Vicar Lane is set for a makeover this month as part of the company's nationwide initiative to invest in local towns. More...
UK OLDER PEOPLE"S DAY 2010 -
'Getting and Staying active in later life' - that's the theme for this
Year's Older People's Day 2010. More...
HAVE YOUR SAY ON CHESTERFIELD'S TAXIS -
Chesterfield residents, taxi drivers and operators are being asked for their views on a new taxi licensing policy. More...
DON'T MESS AROUND -
Chesterfield Borough Council has launched a new campaign aimed at tackling dog owners who don't clean up their dog mess. More...
EVERY VOLUNTEER HELPS -
Despite the murky weather, hundreds of people visited Tesco's Community Fair. More...
WELL DRESSED CHESTERFIELD -
Reviving a tradition
dating back to 1864, Chesterfield this week celebrates Well Dressing. More...
HOTEL BUILD BRINGS CASH TO CHESTERFIELD - As Chesterfield continues to battle these recession-hit times, one new Hotel complex that's under construction is already bringing a much needed jobs and cash boost to the town. More...
HELP SHAPE THE FUTURE OF STAVELEY - Residents of Staveley are being asked by Chesterfield Borough Council to make comments and give their views of a draft appraisal on the Staveley Conservation Area. More...
MEADOWHALL CELEBRATES 7,000 OPENINGS -
Thousands of well-wishers crowded into Meadowhall shopping centre on Saturday to celebrate it's 20th birthday. More...
JOBS AND TOURISM BOOST - Work has begun today on a new multi million pound hotel development that will bring investment and
jobs to NE Derbyshire. More...
CHESTERFIELD WOMAN ROBBED IN HER OWN HOME - Police are appealing for information after a robbery at a house on Vincent Crescent, Chesterfield on Saturday August 28. More...
FROM THE U.S.A. TO US - A new face has just been appointed to a key position within the 20 million pound Casa Hotel Development in Chesterfield. More...
DAVID MILIBAND VISITS CHESTERFIELD - Part 2. Questions from the Market Hall Meeting with Labour supporters and Members. More...
DAVID MILIBAND VISITS CHESTERFIELD David Miliband, MP, has spent today (Monday 23rd August) visiting Chesterfield to talk to Labour and Trade Union Members at a meeting in Market Hall during his campaign for the Labour Party Leadership... More...
CHESTFEST
Despite the mixed weather hundreds of young people gathered in Chesterfield's Queen's Park at the weekend for Chestfest.The music and arts event... More...
CAN YOU HELP A FUTURE STAR TO SHINE? A brave Chesterfield schoolgirl, born with a life threatening heart defect requiring surgery, is now seen as one of the most promising football talents in the UK... More...

Related Tags