Tuesday 20th September 2011
by TERRY DAMMS

If ever 90-minutes of football fitted the old adage of "a game of two halves" - then this FA Cup Tie did!

In the first period, and really from the kick off, Staveley were thoroughly ragged at times through a great deal of self induced complacency that probably should have produced a score line that would have looked more apt on the Pickering Cricket Scoreboard.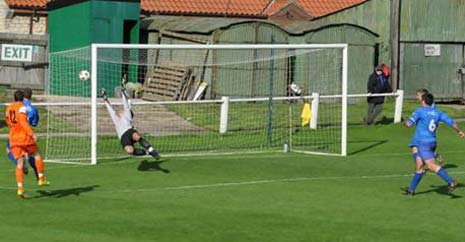 Staveley had a first 45 minutes that they will simply want to forget.

The scene was set in the 20 seconds, a harmless looking header won some 40 yards from goal looped over the Staveley centre pairing and a wonderful save by Ian Deakins denied Pickering a dream start.

In the second minute the Staveley back line at sixes and sevens decided to half push up and half drop, total confusion and the Pickering centre forward was through but again Ian Deakin saved one on one.

On 4 minutes, Staveley broke when Andrew Fox played an excellent 40-yard on to the top side of the sloping pitch where Aymen Tahar beat his man but his cross was cleared. Staveley seemed to have settled and began to look dangerous on the break.

A couple of free kicks gave Staveley opportunities but nothing came from them. Neat one two passing on the edge of the Pickering penalty area began to cause the home side some concern after 20 minutes when Chris Coy flicked the ball over the defender and volleyed goal bound but the Pickering keeper saved well.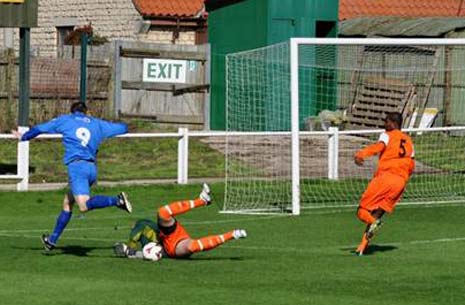 Ian Deakin makes a fine save

Andrew Fox went close on 26 minutes when his shot was saved after a good one two. The signs were still there that Staveley were not defending well and Ian Deakin once again had to be alert denying the Pickering centre forward saving well at his feet.

Staveley were forced into an early change after 30 minutes when Aymen Tahar was forced off with a strain and was replaced by Todd Jordan.

Staveley made their own problems on 32 minutes. Losing the ball on the top side there must have been 5 or 6 Staveley players ball chasing and this just left oceans of space infield when Pickering played a simple ball - Michael Staley looked as if he had it covered but he slipped letting in Stuart Rice to race in on goal. Ian Deakin stood up well and saved the shot but the ball spun over him and Staley could not reach the spinning ball that picked up pace and spun into the Staveley net for a 1-0 lead for the hosts on 32 minutes.

On 38 minutes the referee showed the first yellow card to Gavin Smith.

On 41 minutes another error gifted Pickering their second goal when the Staveley centre pairing midjudged a 70 yard punt by the goalkeeper, the ball was flicked on and Kingsley Wetherald could not believe his luck as he bore down on goal and rounded Ian Deakin with Michael Staley once again watching the ball hit the net just out of his reach to gift Pickering the 2-0 lead.

To be fair, Staveley had held the majority of possession but they had looked so disjointed defensively which, after the last 9-league and cup games, came as a surprise, but perhaps they were due a 'mare?

Staveley started the second half very much as Pickering had done in the first half although where Pickering spurned their early chances, Staveley took theirs.

Joe Thornton on for Luke Fletcher made an immediate impact. Running onto a one two with Andrew Fox he put in a superb cross that Pickering managed to deflect for a corner.

From the resultant corner, Joe Thornton put it in to the far post and Tom Jones headed home to give Staveley a foothold back into the game on 48 minutes.

It was now all Staveley - pushing Pickering back on their heels and testing the pace of the home side's rearguard.

On 55 minutes, Todd Jordan took a bad knock in the face and he needed treatment and much to the frustration of the Staveley bench, he was held off for nearly 2-minutes until the referee checked there was no blood stains from the youngster's nose.

Throw in after throw in was being won by Staveley as Pickering's defence came under constant pressure. Tom Jones, putting a cross in, saw the ball run through to Joe Thornton who went one on one with the keeper but his shot was saved - the rebound coming to Chris Coy whose goal bound shot was blocked.

However Pickering gave Staveley a warning down the right as they carved open a chance but the far post cross went begging and the danger was cleared.

It was, apart from the odd counter attack, all Staveley.

A superb move came on 64 minutes when Todd Jordan played a pass to Joe Thornton who passed the ball back and got a superb return pass from Andrew Fox - the Staveley substitute running on one on one with the keeper who again, saved well at the near post to give Staveley their 10th corner of the game.

The corner was cleared but played back wide to Andrew Fox, who cut back in and spun a great cross in for Gavin Smith whose header was tipped over by the keeper for another corner.

Staveley broke and Joe Thornton, cutting across field, played in Martin Foster but the keeper - who was now beginning to look like the Pickering hero - once again saved his shot. Staveley threatened again but Simon Barraclough, having to work back after losing possession was booked for a foul.

Pickering were somewhat relying on the danger from their right - causing Staveley some problems down their left with too many crosses flashing across the Staveley area as the visitors pushed on for the equaliser, leaving gaps down the sides especially down the bottom side of the pitch.

On 75 minutes Staveley threw their last dice when Ryan Damms replaced Gavin Smith.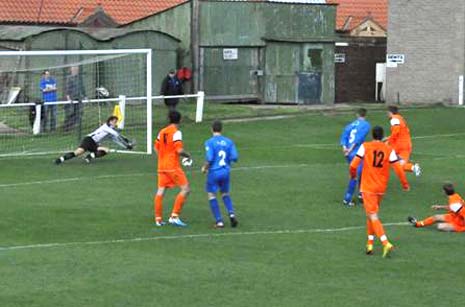 Simon Barraclough makes it 2-2

Todd Jordan looped a ball forward and Chris Coy challenged - the ball was cleared but Todd Jordan again challenged strongly, heading the ball back forward and it fell to Simon Barraclough, whose instinctive early shot from 20 yards found the corner of the net to bring Staveley level on 76 minutes. Game on!

Staveley were really on top, carving the home side defence up with slick one-two's and an array of balls into the box and over the top as they went looking for the winner.

Staveley's 12th corner of the game was again played to the far post headed back by Tom Jones for Andrew Fox to just head over. Chris Fawcus playing central, put in a good challenge that gave Pickering a corner and a respite on 82-minutes.

Corner after corner came for Staveley as they pressured the home side. Tom Jones had a header cleared off the line as Pickering held on by the thinnest of threads.

Ian Deakin had to be alert on 82 minutes when he came out wide to smother the ball as Pickering looked to counter.

Pickering on 86 minutes looked like they could win it when Kingsley Wetherald was through but he put his shot just wide of the Staveley net.

Chris Fawcus again had to defend as Staveley were piling men forward leaving gaps and holes all over the place for the counter. Todd Jordan became the third Staveley player to be booked as the game was nearing the 90-minutes.

Simon Barraclough looked as if he had won it - but the Pickering right back cleared off the line again and a minute later, Martin Foster cutting in from the right swung a great left foot cross in where Ryan Damms's header beat the keeper but not the cross bar.

Final Score, Pickering 2 - 2 Staveley MWFC.

It was 90-minutes of enteraining football but both managers must look closely at some of the defending and oceans of space that they gave the opposition.

It's back to Inkersall Road on Wednesday evening for the replay, with the winners being one of 116 clubs from the first qualifying round being joined by 44 Conference North and South clubs in the second qualifying round and, of course, one of them being £3,000 better off for the privilege of playing in that next round. 
RECENT STORIES
STAVELEY MWFC EDGED OUT OF PRESIDENT'S CUP -
Staveley MWFC were edged out in the quarter finals of the NCEL Presidents Cup by 4-3 at Tadcaster Albion FC. More...
STAVELEY DIG DEEP FOR VICTORY -
Staveley MWFC dug in deep in the second half at Thackley to protect the superiority they held in the first half, coming away with a 2-1 victory More...
STAVELEY SAFELY THROUGH -
Squires Gate FC, were disposed of with ease by Staveley MWFC, who cruised into the last 32 of the FA Vase for the 2nd year running with a superb team performance More...
SMWFC JUNIOR RESULTS: 27th NOV -
Staveley's Under 16's were away to Bramley Sunnyside and lost their 100% winning record More...
JADED STAVELEY SCRAPE A POINT -
Manager Billy Fox lamented his jaded side as they got out of jail against a lively Brighouse team. More...
STAVELEY REACH LAST 64 OF FA VASE -
Staveley MWFC made the trek to Merseyside to West Cheshire Division 1 leaders Ashville FC in the FA Vase 2nd round More...
STAVELEY LOOK TO THE NEXT GAME -
We have moved on after last week's disappointment in the FA Cup with a 3-0 defeat against highflying Hyde FC from the Blue Square North More...
STAVELEY PICK UP POINT AGAINST RETFORD -
10 man Staveley MWFC were disappointed to be held to a 1-1 draw against Retford - even after Captain Tom Jones was sent off after 13 minutes. More...
STAVELEY MAKE BEST EVER NCEL START -
Staveley made it 5 league wins from 5 starts beating Hall Road Rangers 2-0 with Manager Billy Fox adding that record to the ever increasing list More...
STAVELEY PROGRESS IN FA CUP -
Staveley MWFC made it through the Preliminary Round Replay of the FA Cup with a 3-1 fully deserved victory against Evostick South side Goole AFC More...
FA CUP REPLAY STRETCHES STAVELEY TO THE LIMIT -
An 87th minute equaliser for Goole AFC saved their blushes and earned them a replay at Staveley MWFC on Tuesday night More...
STAVELEY MAKE IT 7 WINS OUT OF 7 -
Staveley MWFC made it 7 wins from 4 league and 3 cup games in a 23 day period and went 2 points clear at the top of the NCEL Premiership More...
STAVELEY THROUGH IN FA CUP BATTLE -
Staveley MWFC made the next round of the FA Cup with a 4-0 score line that probably flattered them against Winterton Rangers in a game full of incidents. More...
STAVELEY MAKE IT 3 OUT OF 3 -
Staveley MWFC got their second league victory in a week with a 2-1 victory against Winterton Rangers who last season finished 5th More...
AWAY WIN AND A CLEAN SHEET IN NCEL PREMIERSHIP OPENER FOR STAVELEY -
Staveley MWFC opened up their NCEL Premiership campaign with a deserved 1-0 victory at Brighouse Town FC. More...
STAVELEY V CHESTERFIELD FRIENDLY MATCH REPORT -
NCEL Division 1 Champions, Staveley MWFC, played npower League 2 Champions, Chesterfield, at Inkersall Road last Wednesday evening. More...
"WE DON'T WANT TO TAKE THE PASSION OUT OF FOOTBALL" -
On Wednesday Howard Webb refereed the friendly between Staveley MWFC and Chesterfield and spoke with the Chesterfield Post. More..
NCEL ANNOUNCE NEW SPONSOR -
Local company Baris, has just been announced as the sponsor of The Northern Counties East Football League. More...
STAVELEY'S FINAL FLOURISH -
Staveley MWFC brought the curtain down on their season with a 4-1 victory against a young Teversal side who put up a spirited performance. More...
STAVELEY OUT OF THE CUP -
Staveley MWFC went out of the NCEL QF's on penalties by 5-4 after 120 minutes of football that was not for the football purists. More...
"WE ARE THE CHAMPIONS!" -
Staveley MWFC are Champions Of NCEL Division 1 for the very first time in the clubs history. More...
STAVELEY EXTEND THEIR CUP RUN -
Staveley MWFC went through to the quarter-finals of the NCEL Cup with a convincing 2-0 victory away at Barton Town OB FC More...
STAVELEY DEMOLISH 'FROD' 5-1 -
Staveley MWFC's unrelenting push for promotion continued with force with a 5 - 1 demolition of Appleby Frodingham FC. More...
A CLUB ON THE UP -
Back in 2007, Staveley Miners Welfare Football Club faced extinction, their football club committee had resigned en masse due to retirement and just pure time issues. More...
STAVELEY CONTINUE THEIR PROMOTION PUSH -
Another 3 points in a tight game against Hemsworth MWFC who twice went behind early in each half means huge credit must be given for sticking to their tasks. More...
STAVELEY SHOW THEIR CLASS -
Staveley MWFC recorded their biggest away win in the clubs NCEL history with a 8-0 thrashing of Bottesford Town FC. More...
STAVELEY OUT OF THE CUP -
Staveley MWFC went out of the S&H Cup to Parkgate FC by 3-1 in what proved to be a game with little between the sides... More...
STAVELEY MAKE IT 32 POINTS OUT OF 36 AND 7 HOME WINS -
A 1-0 victory fought out against a spirited Bottesford Town side gave the league leaders a battle in front of another very pleasing attendance of 102. More...
STAVELEY EARN A DRAW -
Yorkshire Amateurs push for promotion seemed to necessitate that the 3 points be taken against Staveley and the loss of another 2 points by the Ammers is giving the chasing pack hope. More...
STAVELEY PUSH ON -
Staveley MWFC pushed further ahead at the top of the NCEL Division 1 with a 1-0 victory against AFC Emley, courtesy of a brilliant strike from Chris Fawcus on 68 minutes. More...
LUCKY NUMBER 7 -
Staveley MWFC made it 7 league wins from 7 beating AFC Emley 2-0 at Inkersall Road with 2 goals from the impressive Joe Thornton, one a thunderous 30 yard free kick. More...
STAVELEY LEAD THE PACK AFTER 3-0 WIN -
Staveley MWFC increased their lead at the top of the NCEL to 4 points with 2 games in hand and also maintain an 11-point gap on 3rd More...
A TEST OF CHARACTER -
Staveley MWFC faced a few questions about their character after the weekend's disappointments when Glasshoughton Welfare came to Inkersall Road. More..
STAVELEY GRIND OUT 2-1 WIN OVER LEEDS MET-
Staveley had one hell of a fight to put 3 more points on the board against Leeds Met Carnegie... More...
STAVELEY MWFC ON RECORD SEQUENCE -
Staveley's 2-1 victory against Grimsby Borough brought the club's best ever sequence of results with 20 wins, 3 draws and just 1 defeat in a 24 game run. More...
STAVELEY MWFC HIT TOP SPOT -
Staveley MWFC went to thetop of the NCEL Division 1 with a 6-1 victory against bottom of the league Brodsworth Welfare More...
SHIREBROOK v STAVELEY MATCH REPORT -
Staveley MWFC came away from Shirebrook Town FC with 3 deserved points in a game that they dominated from start to finish. More...