Friday 29th October 2010

Many people wouldn't describe a performance in front of a packed out theatre as 'intimate' ... but anyone at the Pomegranate watching Shappi Korsandi perform her hit show 'Moon on a stick' will understand the sentiment.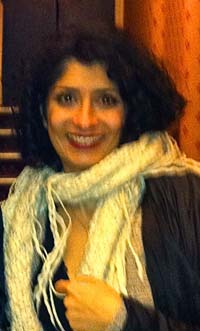 From the moment the offstage announcement was made - "Ladies and Gentlemen, please put your hands together to welcome on stage ... er ... me!" - the tone for an evening with a one woman comedic 'tour de force' was set.

The set was minimal - a table, mic and bottle of water in the first half, a book and beer in the second (more on this later).

Walking on to the stage she declared her admiration for the old theatre, "It's like a Victorian brothel," she said, "but it's great to be in a place like this, like being in my front room".

Her first request was for the theatre lighting to be turned up in order that she could see the audience and that caused several members on the front row (including yours truly!) to squirm.

Some had good cause to as Shappi trained her razor sharp wit towards them.

Loved up couples were ribbed good naturedly, along with teenagers and one hapless Australian on the front row too, visiting grandparents and recovering from a broken heart.

It was unscripted, intimate (that word again), chatty and wickedly funny. The audience - made up of all ages, surprisingly I thought having expected just the HIGNFY generation in their forties, but, teens, families and the retired - possibly due to Shappi's Radio 4 popularity - entered into the spirit of the evening, audience participation being the name of the game.

After an all too soon interval, Shappi returned to the stage clutching a beer, declaring she felt so comfortable in Chesterfield that she'd have a beer with us and we embarked on a whistle-stop tour of Shappi's life.

Firstly at school - "no one realised I was dyslexic till I was grown up, being Iranian, teachers knew I was learning Farzi too so they just presumed, 'oh she's learning to write backwards for that' ".

As a teenager - commenting that teens had it easy nowadays, "can you imagine my life without hair straighteners? I looked like a boom mike till I was 34".

As a twenty-something - Things were no easier for her as a young person experiencing dating, "My dad gave me cash and said 'pay for your own pizza, that way you don't owe 'em anything and you're not obligated'. I was broke and still a virgin by the time I was 23".

And her family - "My dad was a comedy writer in Iran. Not a very good one. That's why we had to leave."
Her career - "I was so nervous on Question Time, I actually had Kelvin McKenzie (ex Editor of the Sun) holding my hand".

On Radio 4 - "I still can't believe they let me on there!" And the comedy circuit, "I had a couple of jobs the same night at very short intervals. Unfortunately the cab driver hired to take me between jobs thought I was a stripper - and was quite surprised to learn I ad libbed and discussed the Middle East in my job. I had a feeling that he was imagining me dancing round my pole in my burkha".

As a newly single mum, much of her humour was directed at break up and life in the immediate aftermath. Though a horrible life changing time for her it has also provided a rich seam of comedy material that struck a chord with many of us parents in the audience.

Her son is obviously the light of her life, "When I gave birth to him I felt like someone had ripped my heart out, given it arms and legs, set it off, said it'll grow up, take drugs and drink, and then you'll have to leave it behind."

On fellow pushy mums, "One mum said to me, my eight month old twins are geniuses, or should that be genii? … I said to her - I don't know, why don't you ask THEM?".

It was sadly 10pm before we knew it and Shappi was leaving the stage after a laughter filled, but oddly thought provoking evening.

Down to earth and one of her audience to the last, Shappi stood in the foyer and signed autographs and had her photo taken with a steady line of people.

If I had to sum up the fun filled phenomenon that is Shappi Korsandi in 7 words, they'd be "What you see is what you get." Natural and self-depreciating, with a social conscience too boot, I came away with the distinct feeling that she really had enjoyed her show as much as we, the audience did.
OTHER STORIES
AND THEN THERE WAS LIGHT -
Over 12,000 guests packed into the Meadowhall Shopping centre to see the first ever 'Christmas light switch on concert' with stars including Olly Murs, Alesha Dixon and Eliza Doolittle. More...
NEW GAMES AREA OPENS -
A new sports facility for youngsters in Chesterfield has now been officially opened at Highfield Park in Newbold. More...
NEW PLANNING TRACKING SYSTEM LAUNCHED -
A new on-line facility has been launched today enabling local people to search for, track and comment on planning applications in North East Derbyshire. More...
LOOK OUT - THERE'S BIKES ABOUT! -
Watch out for bikes - that's the message Derby and Derbyshire Road Safety Partnership is sending to drivers in it's latest publicity campaign. More...
COUNCIL SEEKS TO REASSURE RESIDENTS
AS PHONE PROBLEMS CONTINUE -
Hundreds of Chesterfield residents are still without phone or internet access as engineers battle to repair 400m of underground cables More...
SPIREITES ADD SPARKLE TO BONFIRE NIGHT -
As Bonfire Night approaches, Chesterfield Football Club has announced it will be opening its car park at the B2net Stadium More...
100 NEW JOBS FOR TOWN AS NEW STORE OPENS -
There was a huge jobs boost for Chesterfield when Matalan opened it's doors to the public for the first time on Saturday morning. More...
PARADE LIGHTS UP CHESTERFIELD -
Samba dancers, The Mayor and Mayoress, Panto Dame and villain along with many home made lanterns all gathered in front of a illuminated Crooked Spire. More...
JONTY HEARNDEN IMPRESSED BY LOCAL MARKET -
We spoke to Jonty after he had completed the Mayor and Mayoress's 'Bargain Hunt' in Chesterfield Market on Thursday More...
YOUR COUNCIL
NEEDS YOU! -
The way that Chesterfield Borough Council is run could be about to change. The Council is currently undergoing a review of it's decision-making structure More...
GIANT FIRE BIRD TO ILLUMINATE THE GARDEN OF LIGHT -
A giant Fire Bird Sculpture, created by local students will set Queen's Park alight this weekend. More...
TOP COMEDIAN CELEBRATES MARKET FESTIVAL WITH HIT SHOW -
Ahead of her visit to Chesterfield to take part in the festival, we had a chat with comedian Shappi Korsandi who will be performing her hit show 'Moon on a stick' at the Pomegranate Theatre on the 28th. More...
7 ARRESTS AT CHESTERFIELD V SHREWSBURY GAME -
Trouble, which flared at the B2Net after the Spireites victory over Shrewsbury, resulted in seven arrests Derbyshire police have confirmed. More...
FULL STEAM AHEAD FOR RESTORED STEAM ENGINE -
There was a treat in store for steam buffs when a recently restored engine made it's mainline comeback in Chesterfield on Saturday. More...
8 PROJECTS SECURE FUNDING TO REDUCE UNEMPLOYMENT -
Chesterfield Borough Council has announced it is to fund eight projects aiming to get people back into work through it's Working Neighbourhoods Fund More...
BOROUGH COUNCIL LEADER RESPONDS TO CUTS -
Cllr Ray Russell told the people of Chesterfield that the Council are doing everything they can to protect services to residents. More...
"THANKS" TO THE INCINERATOR CAMPAIGNERS FROM THE COUNCIL -
CBC issued us with a short statement in which they expressed their delight and the decision and praised the team behind what was described as a "well run and exemplary campaign". More...
THE SPENDING REVIEW: HOW WILL IT IMPACT OUR TOWN -
After today's spending review by George Osborne, with £81bn to be cut from public spending in all, how will that affect people In Chesterfield and their services? More...
AFTER THE INCINERATOR DECISION -
As the impact of the decision began to sink in, the Chesterfield Post got immediate reaction from several key players. More...
INCINERATOR TRIUMPH EXTRA: QUOTES -
Several people spoke at the meeting to air their concerns about the site ahead of the final decision. More...
PEOPLE POWER TRIUMPHS IN INCINERATOR
BATTLE -
After a mammoth FIVE-hour session in the Derbyshire County Council Chamber, Planning Councillors overwhelmingly rejected planning for the incinerator. More...
COUNCIL BEGINS DRIVE TO SAVE £4m OVER THE NEXT DECADE -
Chesterfield Borough Council will today begin a Public/Private Partnership arrangement which will help to save up to £4million over the next 10 years More...
INCINERATOR: CAMPAIGNERS LAUNCH 11th HOUR CHALLENGE -
Campaigners believe that one important factor in the decision has been overlooked and are asking for an archaelogical assessment More...
REPORT INTO INCINERATOR RECOMMENDS APPROVAL -
Ahead of the Planning meeting at Derbyshire County Hall on Tuesday, the Strategic Director's report will recommend to the Committee that planning permission for the site is approved. More...
LOCAL LIBRARIES HELP RESIDENTS TO RECHARGE THEIR BATTERIES -
Chesterfield residents are being encouraged to recharge their batteries quite literally as they visit libraries this month. More...
MOTHER'S PRIDE -
Liam Pitchford, local Table Tennis star, is celebrating after bringing home two medals from The Commonwealth Games in Delhi. More...
PROTESTERS WELCOME FOR THE DEPUTY PM -
As Nick Clegg arrived in Chesterfield this morning, a group gathered by the school entrance, waving placards and protesting about the Coalition cuts. More...
REACTION TO NICK CLEGG'S SPEECH -
After Mr Clegg had spoken at Spire junior School, we caught up with members of the audience who told us what they thought of the speech. More...
ACTIONS SPEAK LOUDER THAN
WORDS -
Deputy prime Minister Nick Clegg speaks about funding plans for Education to an invited audience at the Spire Junior School in Chesterfield More...
LOCAL SPORTING HEROES HONOURED -
Unsung sporting heroes from across the area have been honoured for their achievements. More...
KEEP WARM THIS WINTER -
Residents across North Derbyshire are being encouraged to find out more about keeping warm this winter at a series of drop-in events. More...
RECOGNITION GIVEN TO CHESTERFIELD'S GARDENERS -
The 2010 Chesterfield in Bloom awards took place at the Ringwood Hall Hotel with several entrants competing for the competition's highly regarded titles.More...
296 JOBS FOR CHRISTMAS AT CLAY CROSS STORE -
Candidates preparing to work at Tesco's new Clay Cross town centre store have been taking part in community projects to help develop their team building skills. More...
GIVEN THE RUNAROUND BY WILKINSONS -
Nina Bradwell, 51, from North Wingfield near Chesterfield was handed the keys to her brand new family car after winning the Wilkinsons' prize draw competition. More...
CASA HOTEL ENTERS FINAL STAGES OF DEVELOPMENT -
Excitement is growing as Chesterfield's new £20 million four-star hotel prepares to open. More...
IT STARTED AS A NORMAL DAY IN THE OFFICE -
7/7 2005 saw Matlock GP Dr Peter Holden at his offices at the BMA in Tavistock Square where he spends two days a week. More...
NEDDC LIFEGUARDS ARE THE BEST IN THE COUNTRY -
Lifeguards working for North East Derbyshire District Council have been recognized as being the best in the UK after coming top in a competition. More...
TORNADO HITS BARROW HILL! -
Don't worry, not a freak weather incident, but around 1,000 people flocked to Barrow Hill Roundhouse Railway to ride behind the famous A1 steam locomotive 'Tornado' More...
REPORT FROM THE FRONTLINE - THE INCINERATOR MARCH -
Chesterfield Post Editor Karen Johnson spoke with Campaign Leader Julie Harrington and local MP's Toby Perkins and Natascha Engel for their thoughts on the Campaign and march. More...
OFFICIAL LAUNCH OF THE CHESTERFIELD POST -
The Chesterfield Post was officially launched today at a lunchtime ceremony at the Winding Wheel Ballroom in Chesterfield Town Centre. More...
NEW LOOK FOR AN OLD FAVOURITE 2 -
Shoppers shared in the fun and watched The Mayor and Mayoress of Chesterfield cut the ceremonial ribbon to officially open the revamped Wilkinson's store, More...
MARCH AGAINST THE INCINERATOR -
On Saturday 9th October members of the public march to protest against the planning application for a hazardous waste incinerator on Dunston Road. More...
MORE ABOUT 'DESTINATION CHESTERFIELD' -
The Chesterfield Post brought you news of an exciting new project, run by business leaders and councillors in the town and launched earlier this week. We now can tell you more... More...
MULTI-MILLION POUND CASH BOOST FOR CHESTERFIELD -
Over 600 million pounds of significant development potential is around Chesterfield waiting to be accessed over the next few years. More...
NEW LOOK FOR AN OLD FAVOURITE -
Wilkinsons on Vicar Lane is set for a makeover this month as part of the company's nationwide initiative to invest in local towns. More...
UK OLDER PEOPLE"S DAY 2010 -
'Getting and Staying active in later life' - that's the theme for this
Year's Older People's Day 2010. More...
HAVE YOUR SAY ON CHESTERFIELD'S TAXIS -
Chesterfield residents, taxi drivers and operators are being asked for their views on a new taxi licensing policy. More...
DON'T MESS AROUND -
Chesterfield Borough Council has launched a new campaign aimed at tackling dog owners who don't clean up their dog mess. More...
EVERY VOLUNTEER HELPS -
Despite the murky weather, hundreds of people visited Tesco's Community Fair. More...
WELL DRESSED CHESTERFIELD -
Reviving a tradition
dating back to 1864, Chesterfield this week celebrates Well Dressing. More...
HOTEL BUILD BRINGS CASH TO CHESTERFIELD - As Chesterfield continues to battle these recession-hit times, one new Hotel complex that's under construction is already bringing a much needed jobs and cash boost to the town. More...
HELP SHAPE THE FUTURE OF STAVELEY - Residents of Staveley are being asked by Chesterfield Borough Council to make comments and give their views of a draft appraisal on the Staveley Conservation Area. More...
MEADOWHALL CELEBRATES 7,000 OPENINGS -
Thousands of well-wishers crowded into Meadowhall shopping centre on Saturday to celebrate it's 20th birthday. More...
JOBS AND TOURISM BOOST - Work has begun today on a new multi million pound hotel development that will bring investment and
jobs to NE Derbyshire. More...
CHESTERFIELD WOMAN ROBBED IN HER OWN HOME - Police are appealing for information after a robbery at a house on Vincent Crescent, Chesterfield on Saturday August 28. More...
FROM THE U.S.A. TO US - A new face has just been appointed to a key position within the 20 million pound Casa Hotel Development in Chesterfield. More...
DAVID MILIBAND VISITS CHESTERFIELD - Part 2. Questions from the Market Hall Meeting with Labour supporters and Members. More...
DAVID MILIBAND VISITS CHESTERFIELD David Miliband, MP, has spent today (Monday 23rd August) visiting Chesterfield to talk to Labour and Trade Union Members at a meeting in Market Hall during his campaign for the Labour Party Leadership... More...
CHESTFEST
Despite the mixed weather hundreds of young people gathered in Chesterfield's Queen's Park at the weekend for Chestfest.The music and arts event... More...
CAN YOU HELP A FUTURE STAR TO SHINE? A brave Chesterfield schoolgirl, born with a life threatening heart defect requiring surgery, is now seen as one of the most promising football talents in the UK... More...

Related Tags