Monday 15th September 2014
Pics Courtesy and © Claire Louise Davison Photography (Full album HERE)
and Courtesy and © Barry R Dyke (Full album HERE)
Many thanks to Claire and Barry for their amazing images of the day!

The much heralded inaugural Chesterfield Marathon took place in town yesterday (Sunday 14th September), with runners pounding the streets all over Chesterfield in aid of various charities.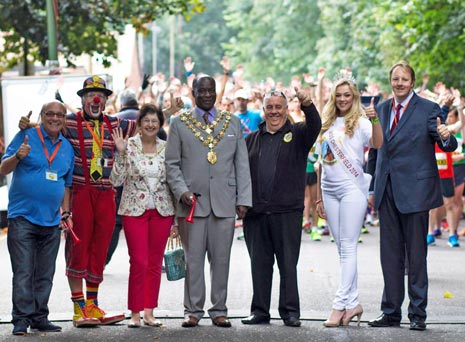 (l-r) Comedian Mick Miller, Entertainer Miki Travis, The Mayoress and Mayor of Chesterfield, Kids 'n' Cancer founder Mike Hyman, Miss Chesterfield 2014 Stephanie Hill and Chesterfield MP Toby Perkins get ready to start the 2014 Chesterfield Marathon.

The Marathon, making its return to Chesterfield for the first time in three decades - but also the first ever in the town to include a Full, Half and Team Race - attracted athletes from all over the UK, Europe and even as far as Australia, though both the male and female winners were local.




Both pictured above with their Trophies, are the Full Marathon winners and new record holders, Gareth Lowe from Clowne, completed the race in 2:37:45, whilst Chesterfield lady Helen Mort was first past the finishing line for the women in a time of 3:06:14.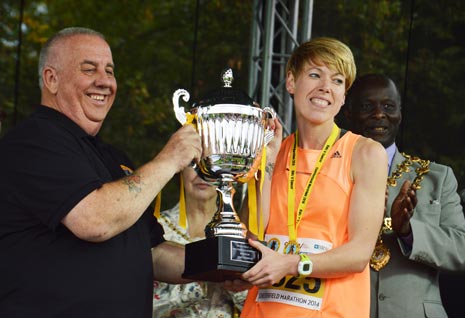 After being presented with her trophy (above), Helen told us that she was delighted, "I feel amazing! I was worried whether I'd be able to run as I have not been very well, so I was just happy to run it.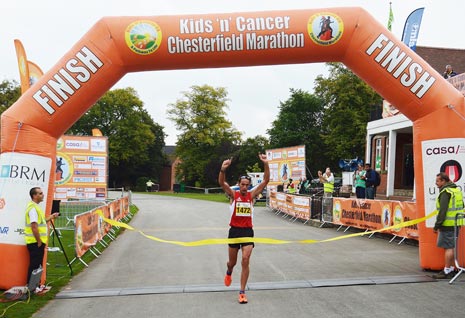 Men's Full Marathon Winner Gareth Lowe crosses the finish line

"I didn't have any particular expectations but it was the support of the people on the way round which helped me pull it out of the bag. It's the first one and the person that won the men's race is from Clowne, which is great!"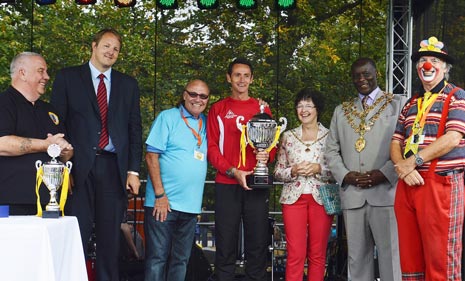 (l-r) Mike Hyman, Toby Perkins MP, Mick Miller, Gareth Lowe, Mayoress of Chesterfield Vicky-Ann Diouf, Mayor of Chesterfield, Cllr Alexis Diouf, Miki Travis

Helen is also Derbyshire's Poet Laureate and, asked whether she would be writing of her experience, she joked, "I'm going to have to now! I initially had this idea that I would write a line for every mile, but I'm far too knackered to do that, so I will have to do that later!"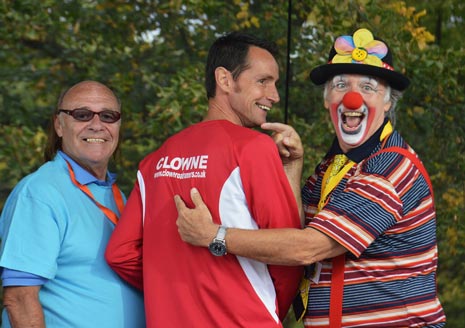 Mick Miller with Gareth Lowe - the Marathon Winner form Clowne meets Clown Miki Travis

MP for Chesterfield Toby Perkins was at the event, helping to hand out medals to the runners and he told The Chesterfield Post it was, "Wonderful! Hopefully we'll look back on this as the inaugural of what becomes a well established event. It's put the town on the map and it's got thousands of people competing, visiting Chesterfield and raising money for important causes. We had two local winners in a race that attracted competitors from all over the UK."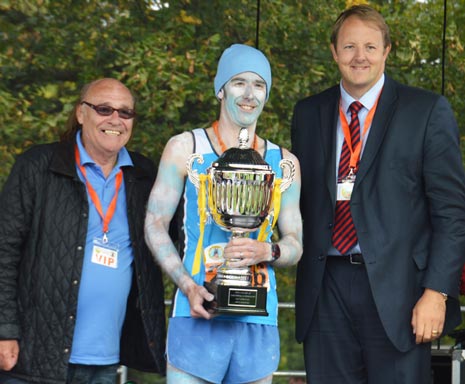 Half Marathon Winner and part time 'Smurf' Dave Archer - who posted a time of 1:13:21 - with Mick Miller and Chesterfield MP Toby Perkins

His Worship The Mayor, Cllr Alexis Diouf, was also present and, speaking afterwards he said, "It's wonderful to see all these people out enjoying what Chesterfield has to offer. I've heard from many people here for the first time, saying how wonderful it is and the weather has been good too!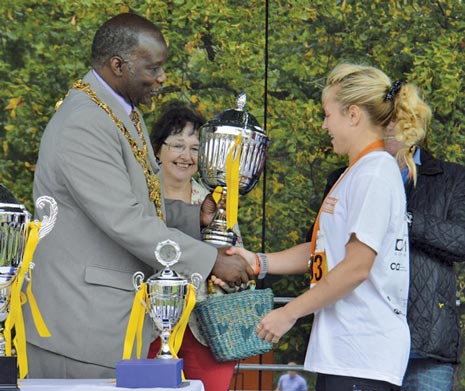 Mayor of Chesterfield Cllr Alexis Diouf presents the winning Half Marathon Trophy to Ladies winner Nicola Gleadall, who finished in 1:25:21

"It's great for Chesterfield whether they've made something or whatever; it's good for the image of the town. This is what it's all about, people getting together and enjoying their town."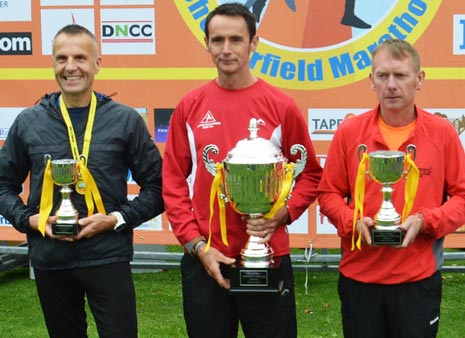 The 1st, 2nd and 3rd placed Mens winners of the Chesterfield Full Marathon, Robert Burn 2:51:11 (left) 3rd, Tim Clayton - 2:46:14 (right) 2nd and winner Gareth Lowe

Commenting on the road closures which had seen many people concerned that they couldn't move around Chesterfield easily, he said, "I'm sorry about the closures and people will take that into account when there is another event, to see what can we do to minimise the disruption to people.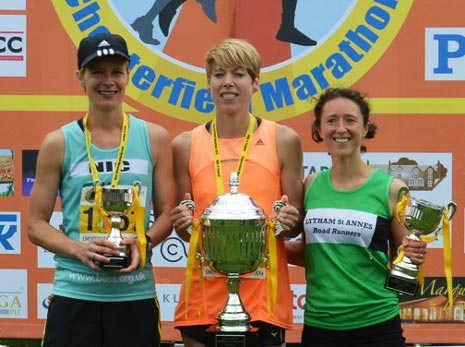 The 1st, 2nd and 3rd placed Ladies wiiners of the Chesterfield Marathon, Nicola Wright 3:26:00 (left) 3rd, Emily Hargreaves 3:15:57 (right) 2nd and winner Helen Mort

"As an event, we are very pleaesd that people have turned up and are enjoying Chesterfield and at least for today, people are enjoying Chesterfield and what Chesterfield is about."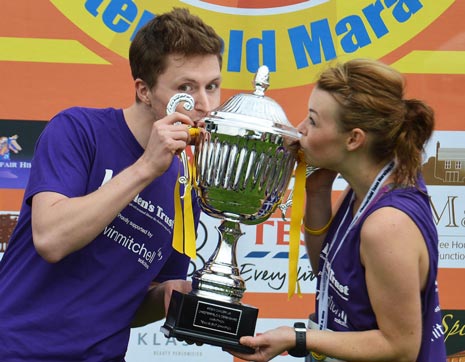 Team Relay Marathon winners Joe Dunne and Leanne Dungworth, who were 2 of the 4 person Irwin Mitchell's team, lead by Emma Cowell, who were running for Helen's Trust and finished in a time of 3:10:10

Despite many high profile people in attendance, the unsung heroes of the day were the many volunteer marshalls who were placed around the course, handing out drinks and cheering on the runners as they flagged.

Two such ladies were Rachel and Christine, stationed just inside Queen's Park and a no doubt welcome sight as runners neared the finish line.

They spoke to The Chesterfield Post as they helped encourage weary legs over the last few minutes and said, "We're doing it as we are runners too. We did the Great North Run last weekend, so we know how it feels to be struggling. We are both local and think it's brilliant for Chesterfield. If they do it again it will get bigger and better. It's been really good fun!"

Full results and times (as PDF's) for the Marathon races can be see here:
www.kidsncancer.org.uk/chesterfield_marathon/

Mike Hyman, Founder of Kids 'n' Cancer, the charity which had organised and backed the marathon, said, "Today is absolutely awesone, I am running on fumes, running on two hours sleep! My assistant Andrea Hooley is the same, she and my wife June along with our small but dedicated team, have been responsible for putting this together.

"We have done a professional job with limited resources and, looking round the park today, you can see what a success we've made of it. I want to make this the best in the midlands, as good as the North Run!"

Having organised the event, the charity - which helps support families to make the journey to the US to receive Proton Therapy treatment, not accessible in the UK for a few years, but often funded by the NHS - had also hosted a reunion of families who had benefitted from the treatment, bringing over two of the doctors from Oklahoma and families they've treated from all around the UK.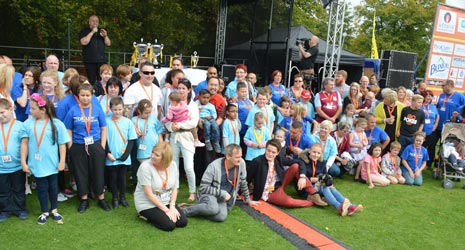 One of those families was Sue Fleming and her son Dylan, (pictured below), with Sue telling us her story, "I'm here to raise awareness, as so many people don't realise that children get cancer and it's life changing. It does happen and I think people need to know that - and be aware of what to look out for.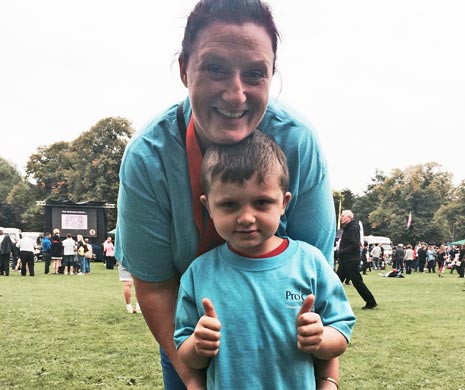 "Dylan was diagnosed just before his first birthday and spent his third birthday in hospital having his first round of chemo. His name was put forward by Sheffield Children's Hospital to go to Oklahoma. I never thought the panel would accept us but they did - 12 days later we were out there!

"We spent 9 weeks there and everybody was supportive and helpful. It was like home from home. We could look after Dylan and just get on with it."

Talking of Dylan's diagnosis, Sue admitted it was a bolt from the blue, "Dylan was absolutely fine and I went to change his nappy one night and it was full of blood. I took him to hospital thinking it was a water infection, and after tests I was taken outside and told to expect the worst. It was life changing.

"Dylan had cancer in his bladder and regular radiotherapy would have caused issues with his hips because of where the radiation goes. Proton Therapy is much more precise and less damaging.

"It was a lovely option for us to take up. He's not completely in remission, it's 5 years till he gets the all clear but, we're just over two years in. We think about it every day."

Sadly, thousands of children are diagnosed with cancer each year and Sue offered these words of comfort to parents of sick children, "It does get better. I can remember at times being in pieces. It's never the same again, but you learn to cope. You need a sounding board and there are charities like Macmillan and Clic Sergeant - use them, don't sit at home alone. Don't be afraid to talk to people - you are not alone."

One family going through this is of course the King family, who have seen their son Ashya battling brain cancer. They are now in Prague where his Proton Therapy treatment is soon to begin and, today, he was in everyone's thoughts.

Doctor Andrew Chang and Dr Michael Confer from the centre in Oklahama - where many children are sent - were in attendance at the Queen's Park in a special marquee which had been set aside for the reunion of families who had received treatment and they spoke with media, talking of the treatment and why it is thought to be so effective.

Dr Confer said, "We are pleased to be here. It's great to see the patients! This is going to go down as one of the great days of my life. It's great to have a supportive group - what we can do for these families is magical."

Dr Chang added, "We treat the patients that come over from the UK. The NHS does a wonderful job sending patients over and the big event for us is the patient reunion, where we get to see patients and their families gathered together to see how they are doing. We form very close bonds with the families so it's great to see them."

Talking of Proton Therapy, Dr Chang explained, "It's a precise form of radiation therapy, which minimises the risk of side effects later on. Whilst X rays are like shot guns, the Proton Therapy is like a target rifle, allowing us to pinpoint the radiation into the area we want to, whilst limiting the radiation to the normal healthy tissue.

"We are one of 15 centres in the US and we have the privilege of being one of the two centres which the NHS uses for treatment.

"The Ashya King story has propelled Proton Therapy into the public mindset of the UK and that happened to coincide with our visit here. It's not more effective than normal radiotherapy, but it has less side effects, it impacts less on the lives on the patients. 'PT' is one way we can use to keep treatment rate the same but still lower the side effect profile."

Doctor Confer added, "We hope that with research and development, we can help different types of cancer. As Proton therapy becomes more widely available, more indications will open up for various types of cancer, as research is found to show the efficacy remains the same whilst the side effects are reduced."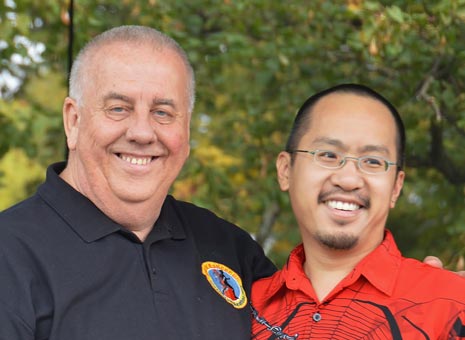 Finally, Mike Hyman spoke to the media about Ashya King and Kids 'n' Cancer's involvement with the cause, saying that, if needed, the charity will help with the cost of the treatment for the family, "We offered to fund the treatment and as a charity, that offer still stands. It's been difficult for this family as the parents have been incarcerated 300 miles from their son.

"We stand by it - we only look at the children - we don't means test and I don't think they should be in the situation they're in.

"I'm expecting to go to Prague on Wednesday or Thursday this week. We're in conversation with the family and a lot of money has been raised. We are talking with the family and if they don't need the money that we have raised, they have graciously said that we can use it to help other children in similar situations.

"Kids 'n' Cancer help families unconditionally with advice and funding, paying for the siblings to go out as well so they can go out as a unit. We're there to help keep families together."

Asked about contact with Ashya's family, Mike said, "I have been in contact with the family directly and am still in contact with them. This family has a lot of problems, they have been guided by their Spanish lawyers and they haven't been accessible to the media, so every time we have spoken to them, it has been in a private and confidential manner as their lawyers have advised."
Full results and times (as PDF's) for the Marathon races can be see here:
www.kidsncancer.org.uk/chesterfield_marathon/
RECENT STORIES
NEW FITNESS & LEISURE CENTRE TAKING SHAPE IN QUEEN'S PARK -
Eight months after work began, Chesterfield's flagship new Leisure Centre is beginning to take shape.
More & Audio...
TOUR OF BRITAIN ROUTE THROUGH DERBYSHIRE REVEALED -
The Aviva Tour of Britain route through Derbyshire has been revealed today, and local businesses are being encouraged to make the most of the boost to tourism it will bring. More...
A GUIDE TO ROYAL ASCOT 2015 -
The UK has its fair share of special events in the horse racing world, but one of the most exciting and luxurious is Royal Ascot. More...
FOOTGOLF TO 'KICK OFF' AT TAPTON GOLF COURSE -
The latest sporting craze has made its way to the region - and is set to kick off at one of Chesterfield's most popular golf courses. More...
CHELTENHAM FESTIVAL 2015 - A PREVIEW -
For horse racing fans there are few events that take place during the year that are enjoyed more than the Cheltenham Festival! More...
THE SPIREITES COMMUNITY TRUST BLOG No 3 - FITNESS AT CHRISTMAS -
They tell me that it is just under two weeks to Christmas Day on the Radio this morning and the pace of shopping, cleaning, decorating, planning are all stepping up but what about my fitness campaign? More...
THE SPIREITES COMMUNITY TRUST BLOG No 2 - WARM GLOW OF WINTER WALKING -
Wow, things have chilled down outside a little this week! Winter is definitely nibbling at my fingers but this has not put me off my quest for greater fitness, in fact it has driven me outside with my aging but faithful training companion, Jack (the Russell) to walk and shuffle along. More...
THE SPIREITES COMMUNITY TRUST BLOG No 1 -
FITNESS FEVER! -
This may seem like a strange time to start a fitness campaign but to be honest, how do you pick when to start something like this? More...
REWARD FOR YOUNG STARS AT THE PROACT -
The Chesterfield FC Community Trust Junior Awards have been presented at an event held at the Proact Stadium this morning More, Pics & Audio...
POTENTIAL PREMIER LEAGUE RELEGATION CANDIDATES - GUEST ARTICLE -
While all eyes will be on the chase for the Premier League title during the upcoming 2014/2015 season, there could be an intriguing battle at the other end of the table. More...
COMMONWEALTH GAMES MEDAL SUCCESS FOR LOCAL ATHLETES -
Derbyshire athletes enjoyed a string of medal successes at the Commonwealth Games, achieving podium finishes in swimming, shooting, table tennis and hockey. More...
HOLMEBROOK PARK HOSTS 'FESTIVAL OF FOOTBALL' -
Chesterfield football fans can put their best foot forward at a festival of football to celebrate the reopening of pitches at Holmebrook Valley Park. More...
67 YEAR OLD JOHN IS THE 1000th ENTRANT TO CHESTERFIELD MARATHON -
A 67-year-old man from Clay Cross has become the 1,000th person to sign up for the Chesterfield and Derbyshire Marathon. More...
SPIREITES' CEO SET TO TAKE PART IN THE CHESTERFIELD HALF MARATHON -
Chesterfield FC Chief Executive Chris Turner is one of the latest people to sign-up for the Chesterfield and Derbyshire Marathon. More...
CHESTERFIELD ACTOR TAKES ON LUCKY MARATHON 13 IN HIS HOMETOWN -
Chesterfield actor George Telfer is set to take part in his 13th marathon - but his first on home soil. More...
DOUBLE WIN FOR 12 YEAR OLD YACHTSMAN DANIEL WELLBOURN HESP -
The first two events in the 14th Derbyshire Youth Sailing Peak Dinghy Spares Series have been won by 12 year old Daniel Wellbourn Hesp from Bonsall, a member of Carsington Sailing Club. More...
TAPTON GOLF PRO RECOGNISED FOR DEDICATION TO COACHING -
A leading North Derbyshire golf pro has been recognised by a prestigious instructor board for his dedication to coaching. More...
CHESTERFIELD MARATHON DISCOUNT OFFER TO SHEFFIELD HALF MARATHON RUNNERS -
Runners in the cancelled Sheffield Half Marathon are being given a discount to enter in the Chesterfield and Derbyshire Marathon in September. More...
YOUNG LOCAL SKATER INVITED TO INTERNATIONAL TRAINING CAMP -
Two talented young iceSheffield ice skaters have been invited to a high-profile international training camp in Germany. More...
CYCLING LEGEND'S NEW 'OS RIDE' APP HAS PEAK DISTRICT
IN TOP 5 RIDES -
A new app from cycling legend Chris Boardman showing his favourite routes, has been launched with the Peak District featuring in the top five rides. More...
THE PROS AND CONS OF 'IN-PLAY' BETTING -
Recently, 'in-play betting' has become popular. So, what is it about? Here are some of the the pros and cons of betting in-play. More...
CHESTERFIELD PUB POKER PLAYER SECURE VEGAS 100 PLACE -
A pub Poker player from Chesterfield has secured one of the final places on a trip to Las Vegas! More...
CHELTENHAM FESTIVAL 2014 PREVIEW -
The 2014 Cheltenham Festival is coming up fast, with all eyes in the racing world looking towards the highlight of the national hunt season. More...
FRANKE SISSONS: MORE SUPPORT FOR YOUTH SPORT -
Franke Sissons, who employ over 80 people at its Carrwood Road factory in Chesterfield, is also a keen supporter of youth sport and good causes locally. More...
LOCAL JUNIOR TENNIS PLAYER NAMED AS AEGON FUTURESTAR -
Up-and-coming junior tennis player, 13 year old Bradley Buckland from Chesterfield, has been included on the Lawn Tennis Association's (LTA) Aegon FutureStars programme More...
SHIREBROOK STUDENT KICK BOXES HER WAY TO 2 GOLD MEDALS -
A 16-year-old kick boxer is showing off her talent in the ring winning two gold medals in a national competition. More...
CHESTERFIELD 'OZBOXER' STRIKES GOLD IN ESSEX -
15-year-old Chesterfield boxer Jade Ashmore, has bagged a gold medal at the finals of the National ABAE Female Championships in Essex. More...
UEFA GIVE HIGH PRAISE TO CHESTERFIELD FC -
Chesterfield FC officials have received a glowing endorsement from UEFA following the European Women's Under-17 Championship, which featured four games staged at the Proact Stadium. More...
GERMANY TRIUMPH OVER SPAIN AT THE PROACT IN THE U17 LADIES EURO FINAL -
Germany came from behind to beat Spain, in a thrilling penalty shoot-out, in the final of the Women's Under-17 European Championship at Chesterfield FC's Proact Stadium. More...
FOOTBALL FANS INVITED TO SEE LADIES U17 EURO CHAMPS FINAL -
Football fans are invited to Chesterfield FC's PROACT Stadium as the best young female footballers in Europe play for victory in the Final of the UEFA European Women's Under-17 Championship More...
SEMI FINALS LINE UP FOR LADIES U17 EURO CHAMPIONSHIPS -
Football heavy weights England, Italy, Germany and Spain have reached the semi finals of the UEFA Euro Women's Under-17 finals being hosted by The FA. More...
ENGLAND'S YOUNG LIONESSES ROAR TO VICTORY OVER AUSTRIA -
It was a case of 'girl power' on Friday night as Chesterfield's PROACT stadium hosted their first match of four as part of the UEFA European Women's U-17 Championship. More...
HERE COME THE GIRLS! -
England fans are urged to get to the PROACT Stadium on Friday 29th November, and be part of an exciting evening of women's football, as the England team will play their second match of the much-awaited UEFA European Women's Under-17 Championship. More...
WIN TICKETS TO SEE ENGLAND'S FEMALE FOOTBALL STARS OF TOMORROW -
Chesterfield FC hosts many prestigious games, including the Final, in this year's UEFA U17 European Women's Championships and we have 5 FREE Family tickets to the match on Friday 29th November to give away! More...
STUDENT CREATES FIRST UK WEBSITE FOR TEENS WITH CEREBRAL PALSY -
A Chesterfield teenager with cerebral palsy is using her gap year to help other young people with the condition, by creating the UK's first website dedicated to them
More...
PROACT TO HOST WOMEN'S U17 UEFA EURO CHAMPIONSHIP FINAL -
It has been confirmed that Chesterfield FC's Proact Stadium will host four games in the UEFA Women's European Under-17 Championship Finals, including the Final itself. More...
LOCAL STUDENT 'PITCHES' IN WITH KENYAN CHILDREN -
One local student has been described as a 'credit to Chesterfield' after completing a volunteer project in Africa. More...
A CHESTERFIELD SWIMMING STAR IN THE MAKING -
A swimming star in the making, 9-year old Natalia Mettam, has become the first person to complete her swimming Honours Award, at Staveley's Healthy Living Centre. More...
LOCAL MUM WENDY (BODY) BUILDS HER WAY TO SUCCESS AT 45 -
The old adage says that "life begins at 40" and one local lady has proved that as she took 2nd place in a body building competition, having only taken up the discipline a year ago. More...
CASA HOTEL ARE NEW SPONSORS OF OTHER SPORTS COVERAGE ON THE POST -
We are pleased to announce that Chesterfield's multi-award winning 4 star hotel, the Casa, are the new sponsors of the Chesterfield Post's 'Other Sports' section, showing their support for local sport in the community. More...
A SPORTS CENTRE FOR THE 21st CENTURY -
We have today received images of what the proposed new Leisure Centre at Queen's Park Annexe would look like. More...
CHESTERFIELD LADIES NEW KIT GRANT AND NEW PLAYER SEARCH -
Chesterfield Ladies are proud to announce the club has received a grant from the Premier League Players Kit Scheme. The kit will be used by the new Under 11's team. More...
CHALLENGE MONTY'S 60 60 SCORE AT GRASSMOOR GOLF CLUB -
Grassmoor Golf Club is to hold a challenge to see if anyone can beat international Golfing superstar Colin Montgomerie's 60 60 Driving Range score! More...
CHESTERFIELD TOWN GIRLS U16s FOOTBALL TEAM LOOKING FOR FRESH LEGS -
Chesterfield Town Under 16s Girls football team are staging trials for new players during June/July. More...
EXCITING TIMES AHEAD AS SPORTS ACADEMY OPENS IN CHESTERFIELD -
It's an exciting new adventure for us - Dave Bentley, former professional footballer and former Chesterfield Academy Manager More...
BOXING SPIREITE SET FOR THIRD PRO FIGHT THIS WEEK -
Boxing Spireite 'Razor' Rod Smith is preparing for his third professional fight later this week. More...
BOXING CLEVER. LIFE AFTER OZBOX -
Six young people who train with Derbyshire Constabulary's OzBox team have gone on to win bouts as amateur boxers. More...
ENGLAND LEGEND SIR GEOFF HURST VISITS CHESTERFIELD TOWN FC U13s -
Chesterfield Town FC U13s were joined by England football legend and McDonald's Director of Football, Sir Geoff Hurst at their home ground on Sunday 7th April More...
CHESTERFIELD LADIES FC UPDATE FOR FEBRUARY -
Chesterfield Ladies FC's results and performances during February 2013. More...
OLYMPIC SQUASH BOOST FOR BRAMPTON MANOR -
Brampton Manor Sports Club in Chesterfield has secured Olympic legacy funding from Sport England's Inspired Facilities fund to upgrade it's Squash and Racketball courts to elite competition standard. More...
WORLD NEWS: NADAL CLAIMS FIRST POKER TOURNAMENT WIN -
Tennis legend and Team PokerStars Pro Rafa Nadal has won his first ever PokerStars tournament - the King of Clay can now add the online poker victory to the 11 Grand Slam titles he already has to his name. More...
CHESTERFIELD LADIES FC UPDATE FOR DECEMBER AND JANUARY -
Chesterfield Ladies FC's results and performances during Dec 2012 and Jan 2013. The weather has caused some disruption - with many games called off. More...
NEW KIT FOR CHESTERFIELD LADIES FC -
Chesterfield Ladies U18's Whites have been supplied with a new kit - a big thanks to the Derbyshire Freemasons. More...
LOCAL WRESTLER ON THE BILL AS FAMOUS SHOW COMES TO THE WINDING WHEEL -
UWE Megaslam American Wrestling, famed for it's all action family friendly American Wrestling events, are preparing to slam down for a debut in Chesterfield at The Winding Wheel More...
CHESTERFIELD FIGHTER BOXES CLEVER FOR
CHARITY -
Boxer Greg Scott-Briggs is happy to be written off before he meets a knock-out king in Derby next month. More...

CHESTERFIELD LADIES FC NOVEMBER UPDATE -
An update for Chesterfield Ladies Football Club of their results and performances during November 2012. More...
LOCAL SPORTING STARS CONTEND 2012 DERBYSHIRE SPORTS AWARDS -
Chesterfield sporting star Liam Pitchford and Chesterfield Town FC are among those to have been shortlisted for the 2012 Derbyshire Sports Awards. More...
CHESTERFIELD LADIES FC KICK START THEIR SEASON-
With the new 2012/2013 Football Season under way, Chesterfield Ladies FC teams have had differing starts. More...
SPORTING TALENT IN SCHOOLS RECOGNISED AT DSSA SPORTS AWARDS -
Teams from Glebe Junior School and Ashgate Croft School were among the winners at the 2012 Derbyshire Schools' Sports Association Sports Awards. More...
PODIUM OFFERS BURSARIES FOR LOCAL YOUNG ATHLETES -
A scheme that offers bursaries to promising young athletes in Derbyshire is currently inviting applications for 2013. More...
GAMESMAKER FATHER & DAUGHTERS "UNBELIEVABLE MEMORIES" -
Father and Daughter, Richard and Sian Pentin, have recently spent two weeks in London as Gamesmakers at the London 2012 Paralympic Games. More...
ROCKIE ROCKETS CLAY CROSS INTO 7TH HEAVEN. REPORT -
For Clay Cross Town FC, the season started with 4 straight league wins, followed by 2 defeats. It was vital to stop the rot and get back to winning ways and they did so in style! More...
OLYMPIAN ELLIE KOYANDER BACKS ACTIVE DERBYSHIRE COMPETITION -
Inspiring Derbyshire Olympian Elllie Koyander has thrown her support behind the 'Inspired By The Games' themed competition More...
OLYMPIC MILESTONES MARK LASTING LEGACY FOR COUNTY-
The Olympics will leave a lasting, permanent legacy across Derbyshire with the unveiling of eleven milestone markers on September 9th. More...
INSPIRED BY THE OLYMPICS? ACTIVE DERBYSHIRE WANTS TO HEAR FROM YOU -
Active Derbyshire is launching a competition for individuals and families who have been inspired by the amazing summer of sport More...
"IT WAS AN AMAZING EXPERIENCE" OLYMPIC VOLUNTEER KAY ADKINS -
The Olympics has now drawn to a close and is being hailed a huge success for Team GB. Olympic Volunteer Kay Adkins tells us of ther experience at London 2012 More...
YOUNG DERBYSHIRE ATHLETES HURDLE TO SUCCESS -
All-conquering Junior Girl 75m hurdlers, Alicia Barrett and Emma Schaanning, reaped the rewards of their hard work in training, winning Gold and Silver at this year's ESAA Champs More...
DERBYSHIRE YOUTH SAILING TEAM DEFEND NATIONAL SCHOOLS CHAMPIONSHIP -
A 36 strong team of Derbyshire Youth Sailing members is sailing at the National School Sailing Association (NSSA) Golden Jubilee Regatta 2012 in Weymouth this week More...
CHESTERFIELD LADIES FC SAY THANKS AND PITCH FOR NEW PLAYERS -
Chesterfield Ladies FC say that they would like to thank Co-operative Membership Community Fund for their award and valuable work in the local community. More...
STAINES FIRES UP LONDON 2012 -
When the starting gun is raised for the start of the first track event at the 2012 Olympics, the man firing it is likely to be Newbold man Gordon Staines More...
NOMINATIONS SOUGHT FOR DERBYSHIRE SCHOOL SPORT AWARDS -
The sporting achievements of Derbyshire school pupils and teams will be celebrated later this year at the DSSA Sports Awards. More...
GRACE VAULTS INTO GOLD MEDAL POSITION -
It's hoped that one young gymnast from Chesterfield will be emulating her father and heading for the Olympics in years to come. More...
KUKRI SUPPORTS DSSA WITH NEW KIT SPONSORSHIP -
Kukri has become the Official Kit Supplier of the Derbyshire Schools' Sports Association (DSSA), as part of a new sponsorship agreement. More...
ENGLAND 2, GERMANY 0. SOMERSALL SET THE EURO STANDARD -
Somersall Rangers U12s team set the standard for England to aim for at the Euros, by beating two German teams in their own back yard. More...
ONE OF THE CHOSEN FEW -
A man from Chesterfield who has devoted his life to sport has now been chosen to play a major part at London 2012. More...
CHESTERFIELD LOCAL SET TO CARRY PARALYMPIC FLAME -
Jayne Allen from Chesterfield has been chosen as one of just 100 Sainsbury's customers to carry the Paralympic flame after being nominated through her local store in Matlock. More...
LOCAL GROUPS SET TO BENEFIT FROM FUNDING -
Over 40 groups to benefit from grants of up to £250 each from Derbyshire's Community Sports Trust funded through the government's Social Action Fund. More...
PART OF SOMETHING SPECIAL -
Young people in Chesterfield were given their chance to shine at an event, hosted by Destination Chesterfield and Derbyshire Sport, at the b2net stadium this morning. More...
SIR CHRIS HOY URGES LOCAL RESIDENTS TO 'SHINE' THIS SUMMER -
Four-time Olympic Champion, Sir Chris Hoy has urged Chesterfield residents to take to the streets on June 29th for the London 2012 Torch Relay More...
OLYMPIC GOLD MEDALLIST PAUL GOODISON VISITS CHESTERFIELD -
The countdown to London 2012 is on in earnest and for one local competitor it just can't come quickly enough. More...
LOCAL YOUNG ATHLETES SHINE AS NEW SEASON BEGINS-
Joe Walker was awarded the Club's 'Athlete of the Day' for his winning treble (all Grade 1), while Emma Schaanning took the female honours More...
YOUNG ATHLETES ON TRACK FOR NEW SEASON SUCCESS -
The young athletes of Chesterfield & District AC started off the new season with a narrow second place behind old rivals Amber Valley More...
CHESTERFIELD AC ATHLETES SHINE IN AREA FINALS -
Chesterfield AC athletes again contributed massively to victories for Derbyshire in 3 of the 4 age-groups of the Aviva Sportshall East Midlands Final More...
LOCAL U12 FOOTBALL TEAM CHAPIONS WITH 100% RECORD -
Somersall Rangers FC U12s are celebrating after claiming their Division Championship for the 2nd year in succession - without dropping a single point all season! More...
NORTH DERBYSHIRE SCHOOLS AMONGST WINNERS AT WINTER SCHOOL GAMES -
Teams from The Bolsover School and Hasland Hall Community School were among the winners at the Derbyshire Winter School Games. More...
CHESTERFIELD AC'S ALICIA BARRETT STRIKES GOLD AGAIN-
Chesterfield AC's Alicia Barrett stamped the form of her recent victory in the Northern Champs with another Gold Medal performance in the England Athletics Indoor Champs More...
ATHLETICS GIRLS RUN AWAY WITH BEST TEAM IN DERBYSHIRE-
Chesterfield were crowned best team in the Derbyshire Mini Cross-Country League at the end-of-season awards. More...
187 DERBYSHIRE ATHLETES SHARE OF £40,000 BURSARIES -
187 promising sports performers from Derbyshire have shared more than £40,000 after each being awarded a bursary More...
CHESTERFIELD ATHLETES CROWNED CHAMPIONS AGAIN -
Chesterfield Athletics Club were crowned champions of the Derbyshire Mini Sportshall League for the 2nd year running More...
COUNTY SUCCESS FOR YOUNG ATHLETES -
Chesterfield AC's Tasmin Boam, representing Derbyshire Dales, added the Schools' gold medal to her Derbyshire club title More...
OLYMPIC COACH APPOINTED TO HELP DERBYSHIRE ATHLETES -
A performance coach who led athletes to medal success at two Olympic Games has been appointed to work with some of Derbyshire's most talented emerging sports stars More...
KINGS STILL TOP OF THE TABLE -
Another cold night at Tupton Hall School provided three exciting, tight Footy Legends 6-a-side matches. More...
NEW LOCAL 6-A-SIDE FOOTBALL LEAGUE PROVES TO BE A WINNER -
A superb first week played on a cold crisp last Tuesday night on Tupton Hall's all weather pitch. More...
NCWA BECOMES A LIMITED COMPANY -
One local company has proved that, despite the recession, it's going from strength to strength. More...
TABLE TENNIS STAR PITCHFORD WINS SPORTSPERSON OF THE YEAR AWARD -
Chesterfield table tennis star Liam Pitchford has been named University of Derby Sportsperson of the Year at the Derbyshire Sports Awards. More...
SUCCESS ON WORLD STAGE FOR LOCAL YOUNGSTER -
Chesterfield Table Tennis player Liam Pitchford, has now been named as England's new senior No.1 More...
JUST DO MORE -
Residents in North East Derbyshire are being offered a 50% discount on monthly membership at leisure centres in the area. More...
GOLD MEDALLIST VISITS NE DERBYSHIRE -
A Commonwealth Games gold medallist, took the plunge in NE Derbyshire. More...